This is a series profiling the producers on our list who make natural wines. Within this series we will be highlighting some of the extraordinary and rare bottles and vintages that have helped to shape our appreciation of natural wines over the years. Previous posts from our 100 Great Natural Wines series include Austria, as well as a hefty chunk of France, and can be found, here. 
The Loire, for our purposes, rises in the France's volcanic heartland of the Auvergne & Forez, and empties into the Atlantic 1000 km distant. "… the river that moves sideways, boldly challenging the psychic cartography which decrees that everything about France is aligned north to south", as John Lanchester describes it.
The modern natural wine movement, if we can characterise a grouping of vignerons and vigneronnes as a movement, was arguably born in the Loire. It had several strands: La Dive Bouteille was the first festival that convened likeminded growers who were experimenting with low-intervention winemaking. Over the years it has grown and grown, spawning imitators and offshoots, and attracting growers and visitors from throughout the wine world. Another strand was the evolution of biodynamics via Nicolas Joly and Mark Angeli and the idea of a renaissance des appellations.
Further fuel has been added to the natural wine fire, by the inflexibility and even stupidity of national and local wine bureaucracy and the notable victimisation of certain growers. Olivier Cousin, Sebastian David & Alexandre Bain and others have become causes celebres in their campaigns to ensure that appellation reflects the honest endeavour of the organic/biodynamic farmer.
The Loire has been our natural education and the teachers have been many: Olivier Cousin, whose wines were among the first to set us on our journey; Pierre and Catherine Breton; Claude & Etienne Courtois; Thierry Puzelat and Thierry Germain and others.
And what can we say: we adore Chenin Blanc in all its many forms, and believe that Cab Franc handled with love is a world-class variety. And Pineau d'Aunis, Romorantin, Grolleau Gris, Gamay, Côt, Menu Pineau, planted on the right soils, farmed in the right manner and made with minimal intervention, can make noteworthy and brilliant wines.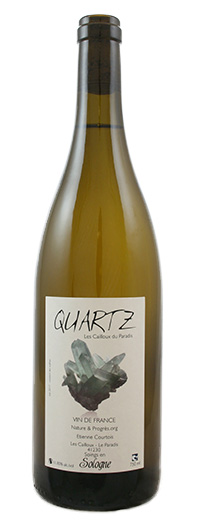 QUARTZ ~ LES CAILLOUX DU PARADIS
Situated in the heart of Sologne, 35 km from Blois, Claude Courtois and his sons elaborate their wines according to ancestral methods and are zealous advocates of natural wine.  "Nature admits no lie", as Carlyle said, and Courtois (Claude) often says that his wine is made from "true grapes." The wines he crafts are a pure and vibrantly alive, testament to outstanding biodynamic winemaking.
He is one of the wild men of the region, fierce, generous and capricious, guiding beautiful naturally expressive wines to the bottle. Claude Courtois has created a small farm which exemplify what biodynamics is all about in terms of biodiversity and self-sufficiency, although he does not consider himself to be a biodynamic grower and is not fond of being pigeon-holed or having his methods categorized.
Recently, he has handed the reins to one of his sons, Etienne, and just kept a couple of hectares for himself. Together they farm a balanced and completely chemical-free 13 hectares of vines in the heart of the Sologne. Courtois also grows organic wheat, which he feeds to his cows who provide the manure for the vines. "Nothing comes into my vineyard," he says, meaning no chemicals ever. He has created a well-balanced, biodiversity with trees, fruit trees, vines, and woods. No pesticides, herbicides, fungicides, chemical fertilizers, or synthetic chemicals of any kind are allowed on the vines or in the soil of the vineyards. He has his own methods for promoting the diverse life of the soil.
The grapes – Gamay, Cabernet Franc, Côt (Malbec), Cabernet Sauvignon, Sauvignon Blanc & Pineau d' Aunis and maybe up to a further forty varieties (ye dare not ask) — are harvested by hand and only indigenous yeasts are used during fermentation. Claude regards the soil on his farm as a living organism. He lives in harmony with nature and the wines he crafts are a pure and vibrantly alive testament to outstanding biodynamic winemaking. I mean winemaking. The wines here aren't submitted to a rigid temperature control and there are fluctuations along the seasons, which doesn't seem to harm the wines, it could even make them more apt to stand their SO2-free life without accident.
With Courtois you should not speak about the variety. It is always about the terroir of the cuvée. There are probably around twenty cuvées, made by design or caprice or the restless desire to experiment and push boundaries.
Racines Rouge is from hand-harvested, destemmed and gently pressed grapes (around 30 varieties inc Cabernet Franc, Côt & Cabernet Sauvignon from 20 hl/ha). Only natural yeasts are used and the juice undergoes an extended maceration. Vinified in barrel and then aged for 36 months in oak. Deep purple in the glass the nose is redolent with pounded stones, plum, cherries, warm iron and damp chalk. The palate has great depth of dried currant, fig and plum hewn to a deep mineral bed. The wine has lovely acidity, a terrific structure and finishes with red berry fruit and mineral zest. Such vitality as if the roots referred to had sucked the life blood from the very soil. Roots by name and by nature. This wine would be in anyone's top list of natural wines. As would the coruscating Racines Blanc (a blend of around 10 white grapes featuring Romorantin, Menu Pineau, Chardonnay, Sauvignon amongst others). There is always a Romorantin from Etienne, and occasionally a version with skin contact. Plume d'Ange and Or' Norm are two Sauvignons from different terroirs, the latter given a period on skins. For red, there is Etourneaux, a very fine Gamay, and the bright and crunchy L'Incaunais, from the native Gascon grape. And many others beside.
The troubadors of fin-vin amour can update the annals of Courtois love with this fabulous wine that redefines the rules of Sauvignon.
Quartz, Les Cailloux du Paradis. In fact, the grape is largely irrelevant. Quartz by name, quartz by terroir, quartz and all!
Naturally-made wine that effortlessly transmits vintage and place and may cause one to pause and rethink the potential of Sauvignon, especially, if like me, you tend to think of this grape as overwrought, over-sulphured and underwhelming. This example is hand-harvested, destemmed and gently pressed, fermented with natural yeasts whilst the juice undergoes an extended maceration. It's all vinified in barrel and aged for 12-24 months in oak, depending on vintage.  The wine finishes long and vibrant, with great mineral, core fruit presence and a lingering inner mouth perfume of pear eau de vie. This is a truly outstanding, complex wine, because it changes from minute to minute with a restless antic disposition and thrilling energy that the very best naturally-made wines possess and yet is rooted in the very crystalline minerality that bequeaths its name to the special cuvée.
Why we love this: Utterly rooted in their terrain, they are deep, rootsy-earthy, slow wines, brewed with patience, intuition and love. Don't call them organic or biodynamic or natural. Don't call them at all; they'll call you. The Quartz is on the lighter side, shiny, reflective, all edges and dazzling facets.
If you like this: Etienne Courtois makes three versions of pure Sauvignon – all wildly different and redolent of their respective terroirs. And ageing regimes. Or Norm is truly extraordinary, a short period of skin maceration giving the wine its golden-amber hue and apricot-skin-and-flesh texture.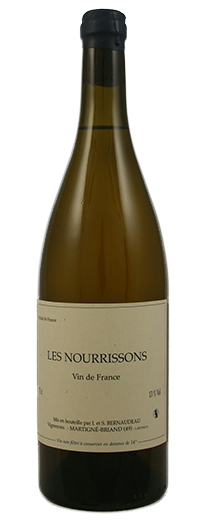 LES NOURRISSONS ~ STEPHANE BERNAUDEAU
Covering the Cheningles
Stéphane trained in the Loire region to be a 'bûcheron' (lumberjack/ logger/woodman.). It was not ok, so he ended up working for the great Mark Angeli in the village of Thouarcé, where he still helps out to this day. In 1999 he started working for himself, farming a few acres before acquiring a patchwork of parcels, partly rented and partly purchased.  Currently he has a total of 2.5-hectares of vines consisting of three parcels of Chenin, one of which is located at Aubigné-sur-Layon, another at Thouarcé and the last in the village of Cornu, as well as two devoted to red vines, one Gamay, the other Grolleau and Cabernet, both situated in Thouarcé.
Les Nourrissons is his 100-year-old one-hectare plot of Chenin Blanc and Verdelho, biodynamically farmed, producing on average 1,000 bottles a year. Stéphane ploughs with a horse, picks ripe, makes a natural ferment and ages for fourteen months on the lees in barrels used for three wines. This is a wine of power, tension, acidity and fantastic length.
So where does this sit in our Chenin pantheon? Roasted almonds leading into beeswax, some sweet apples and quinces opening out to reveal some beautiful aromas and flavours of fresh cut pineapple and honey. Sumptuous and rich with a suggestion of waxed apples, herbs and cheese, a touch of wood tannin grip. A profound wine, this would age for fifteen to twenty years.
Why we love this: Old vines and a soupçon of Verdehlo? This cuvée has that bit extra.
If you like this: Lying in Parnay, just outside Saumur (heading towards Chinon), the Clos Romans is a site Germain describes with boyish enthusiasm, as 'magic'. Having made the pilgrimage to this Clos again earlier this year, he'll get no argument from us. Sitting high above the river, the vine's roots burrow down through the limestone, towards Parnay's famous troglodyte dwellings below. The wine it creates certainly has an enchanted feel that is hard to pin down. This is dramatically tense, crystalline, mineral-bound and soaringly pure Chenin, with dazzling, earthy and stone fruit notes, fine, old vine structure and a lifted, saline finish. It is epic Chenin where the limestone seems to have wept tears of joy into the wine – it is the cru within the cru of Thierry Germain's, the oldest vines, all raging purity and longer than the collected works of Proust.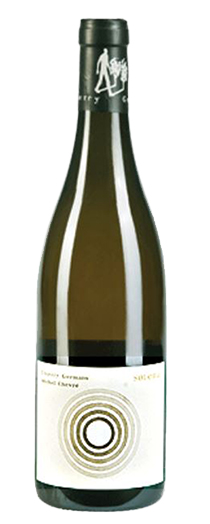 SOLERA 97, 98, 99, 00 ~ THIERRY GERMAIN
Chenin-sherry or letting the ox out of the box
In 1997 Thierry Germain and his right-hand man, Michel Chèvre, decided to embark on a new venture, to experiment with elaborating a pure Chenin using the solera technique. This method involves blending older with more recent vintages to "que le vieux éduque le jeune". The solera dates back to the original vintage – in this case 1997.
Thierry and Michel therefore decided to keep a barrel of Insolite (from the best Chenin terroir comprising silex over limestone). This was fermented six months under the yeast veil. Next year they topped up with 10% of the juice from the 98 vintage. The natural yeasts of the voile allowed the fermentation to start again.
The process was renewed in 1999, then again in 2000, each with 10% of the new vintage integrated into the original barrel.
After this the wine continues its quiet maturation for fifteen years in barrel. The result is astonishing – a wine of power, complexity, freshness, a veritable bouquet of aromatics and noble rancio notes. It would probably take you longer to drink a glass of this than to count all the bottles that were produced of this extraordinary wine. A quintet of us drank this from a carafe.
Why we love this: Because it was more than the sum of its parts. Because it reminded me of the Vecchio Samperi from De Bartoli and then some. Because wines can push and break boundaries.
If you like this: Sylvie Augereau, of La Dive Bouteille, is walking the walk with her wine called "Peau." The vineyard site is a pretty, colourful hill on which the Loire comes knocking. The soil is rather sandy and it turns red with a little iron on the Chenin hill and the ground is strewn with large white shells. And above all, the century-old vines are beautiful. Sylvie works with Georgian qvevri for her white. The clay receives the grapes gently, and like magic, fermentation begins soon after, and is never violent. She observes: "I think the life (of the wine) is made more harmonious by this bulbous and pointed form. It seems to me that there is more harmony in the wine. Since the skins are macerated for nine months, the wine should be harder, but instead there is more creaminess; a velvety quality; greater unity." The wine has a fabulous golden-amber colour, is dry with a beautiful aromatic complexity mixing white flowers, candied lemon and apricot with some hints of honey. The delicate tannins are supported by equally fine acidity. The wines from Anjou tend to have a perceptible autumnal warmth that is beguiling. Most of them are rich, golden, earthy and spicy. Where the malo is inhibited the Chenin scythes across the tongue, where it occurs naturally (as in this case) the wines remind us of just churned farmhouse butter melting in an orchard on a warm autumn afternoon. If I had to find one word that captured the feel of Anjou Chenin it would be "russet" – that almost coarse texture allied to gently ripening apples.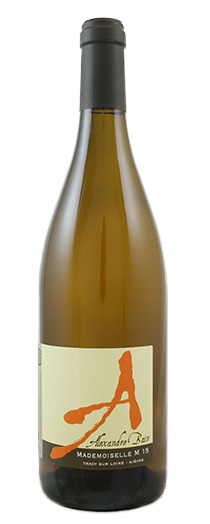 MADEMOISELLE M ~ ALEXANDRE BAIN
M Power
Alexandre's passion for working the land was inspired by his grandfather who was a farmer. At 18 he decided to go to winemaking school in Beaune. He then worked for several different vignerons until he was finally able to buy a few hectares of vines in 2007. Alexandre tends his land biodynamically, works with horses (his horse is named Phenomène), and make wines with minimal intervention. He further believes natural wine is the most authentic product of terroir and for this reason his terroir must not be altered by chemicals or by sulphites, which will obscure the hard work he does in the vineyard.
Planted on soils of mainly clay and limestone, his vines of Sauvignon Blanc span across 11 hectares of variegated clay and limestone soils. Alexandre Bain's approach is to produce terroir-driven wines which express the domaine's unique parcels. When asked about his choices in terms of élevage, Alexandre Bain explains that they "depend on the wines' needs, but last at least 18 months."
Alex's philosophy is to protect the environment as much as he can. For him, natural wines are far from being just a trend, but rather a considered approach which he cares about enormously. He is a member of the Association for Natural Wines whose aim is to put forward a cahier des charges with a view to regulating the use of the term 'natural wine'. The criteria required to become a member of this association is very strict, with 15 steps.
Alexandre Bain is more than mere winemaker; he is a market-gardener, beekeeper and farmer. He promotes biodiversity in his vines by introducing fruit trees and beehives. The aim is to promote a diversity of species in the vineyard. He uses draft-horses to till the soils between his vines. A proponent of biodynamics, his wines are neither chaptalised, nor fined, nor filtered, and the sole yeasts used are those naturally found on the grapes. He combines the best of ancestral methods of vinification with the use of modern tools to follow the progress of his wines during fermentation.
He would see himself as defending the traditions of appellation, but the notion of appellation has been so abused by tasting panels and bureaucratic bodies, that working in a traditional, environmentally sensitive – and natural – fashion is not recognised as "typical of the appellation." Alex is one of the few growers who takes biodynamics seriously in Pouilly, and works diligently to restore the health of the soil through preparations and sprays. He works by hand in the vines, uses animal traction to prevent compaction of the soil. He harvests later than most, achieving physiological maturity in the grapes and higher sugar levels (also more colour in the skins). His yields, always manual – no machine harvesting here – are between 30-40% of the allowed rendement for Pouilly-Fumé. He does not use temperature control, fermentations are wild, long and ambient; the wine is not touched, there is full and natural malolactic conversion and no filtering (just natural settling). The wines spend around two years being nourished with their lees.
Mademoiselle M is a stunner. This cuvée comes from Kimmeridgian limestone soils (marl with tiny oyster sediments), a richer and more structured soil. It is made without added sulphites and aged in used barrels for 18 months. Complex fruity aromas (citrus fruits, white fruit, exotic fruits) and terrific mineral notes. On the palate the balance is perfect, without the exuberance of the nose, but, on the contrary, great finesse, superb minerality, breadth, freshness and very good length with a strong bitter end note.
All Alex's wines are textural, weaving together aromatics (three season's worth – from spring through summer to early autumn), spice and butter notes from the lees-maturation, and finishing on the complex cut of mineral salts.
Why we love this: Sauvignon given the oxygen to grow, treated tenderly and as variety which can both showcase terroir and achieve a kind of rich maturity, has a nobility that many will not credit. The Mademoiselle M has everything one requires from this grape in balance, with the extra element of real verve.
If you like this: Although we do not work with him anymore, Sébastien Riffault's Sancerres have set the benchmark for natural winemaking in this region of the Loire. Akmeniné and Skelvedra (I remember the 08 and 09 of these wines) were wild, turbid brews, botrytis-rich, oxidative, nutty, occasionally volatile. They were extraordinary wines and certainly divisive, portrayed by critics as everything that was wrong with natural wine. Yet, many of the practices that Sébastien (re)initiated: ploughing with horses, attention to biodynamic procedures, allowing the grapes to ripen to physiological maturity, manual harvest at less than half the allowed yields, allowing plenty of oxygen at crushing and starting the ferment, wild yeasts and old oak barrels and full malo conversion, are now being adopted by young growers elsewhere in the Loire, who equally don't believe that Sauvignon should be lean, green and mean.
*
Interested in finding more about the wines mentioned? Contact us directly:
shop@lescaves.co.uk |  sales@lescaves.co.uk | 01483 538820
*Note: We are still open for business, doing deliveries, and keen to help everyone with their booze needs in this difficult time. Natural wine lovers can visit our online shop and order online!