Heidi Nam Knudsen is the wine-buyer for the Ottolenghi group and General Manager of Nopi restaurant.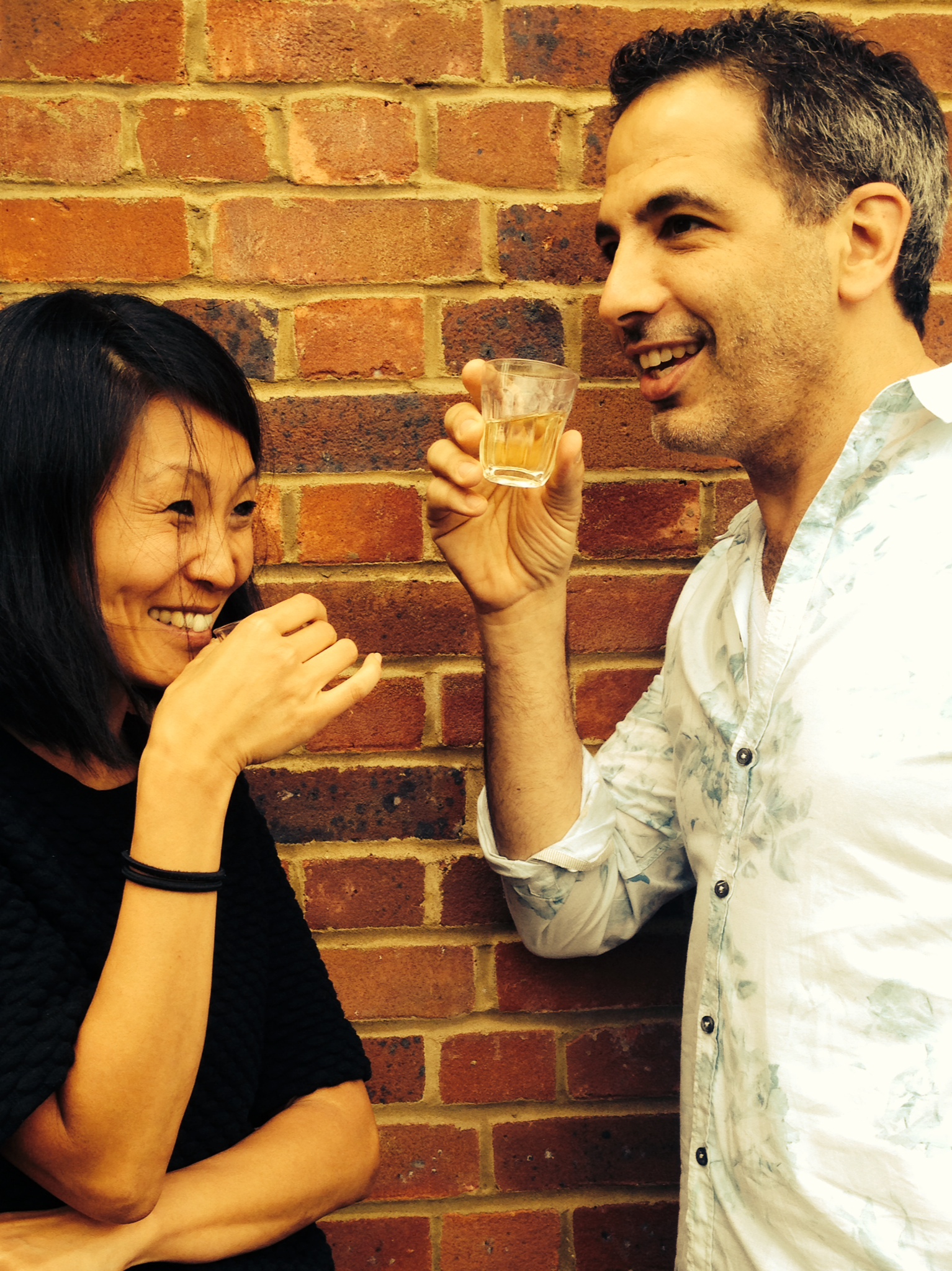 Why wine? How did you get your start?
I was always fascinated by mixing flavours and textures and I went on to train as a "mixologist" back in the nineties when everyone wanted to be Dick Bradsell. I was never that interested in wine as I always had an allergic reaction to drinking wines. My love and curiosity for natural remedies and unprocessed food led me to join Wholefoods Market in 2002, and there I discovered Meinklang wines, and since then my love for wine has continued to grow.
Where did your passion for natural wines come from?
Meinklang completely changed my perception of wine. There was a purity and a transparency in the wines that made me curious of where they came from. This made me want to find and know more wines like these. When my friends started buying food from farmer's markets and become more and more interested in sustainability, they still would buy wines full of added sulfites, from vineyards that had been sprayed with a thousand chemicals and made in huge, factory style wineries. This never made any sense to me. 
You pour predominantly natural wine at Ottolenghi's restaurants. Have these kinds of wines always been a firm fixture of the group – and have Yotam Ottolenghi and his team been on board with them from the start – or has it been a slow conversion to a mainly au naturel list?
When I started in 2010 we already had some natural wines on the list but slowly I changed all of the wines to natural wines. I have been extremely lucky in that my directors have given me a lot of freedom to choose wines that I feel work with our food and ethos. Not all wines have been winners with them but kudos to [my directors] for being open minded!
Which wines fly out of the cellar and which are tougher sells?
Verdicchio Gino from Fattoria San Lorenzo is always a big seller – it is such a good value wine and always delicious. But it all very much come down to which wines the FOH teams are in favour of. Wines from Cantina Giardino, Jean Pierre Robinot, Joan Ramon Escoda, Cava Recaredo and La Stoppa just to name a few, are always firm favorites.
On the same note, have there been any wines you loved but just didn't shift, and was it tough to let them go? 
Massa Vecchia Bianco – this was on the list when I first started and I loved it so much but it just didn't sell. Same with Pierre Frick Pinot Gris 2006 – insanely beautiful wine but sadly our guests didn't agree. Also Patrick Corbineau – so much soul and emotion in the wine – it always made me happy-sad to drink but unfortunately it didn't move our guests the same way! I listed Dinavolino in 2010 and just couldn't sell it and ended up buying all the bottles myself. But when I listed it again in 2014 it all of a sudden flew! 
How have you seen wine change over the years? Are your customers asking specifically for more for natural wines these days? Are they more accepting of unusual styles? Or is the status quo still the status quo?
I have definitely seen a shift in our guests's preferences. When I started in 2010 I wanted to only serve Prosecco Col Fondo but both my directors and staff were nervous about it so we had both a non-cloudy Prosecco and a cloudy Prosecco on our small list for a while. One day I decided to just go with the cloudy one and now it's all we serve in all of our restaurants. We definitely have more guests asking for Vegan and Biodynamic wines. I think in general people are very slowly becoming more aware of where things come from and as the interest for the provenance and sustainability of food has increased massively; slowly it is happening with wines too. We have many guests asking for Orange wines now too, which never used to happen when I first started!
You always feature a few wines from Georgia on your list. Tell us why you have a strong personal attachment to wines from this country.

 
I actually tasted Georgian Wines for the first time at the first ever Real Wine Fair! They were so different and I was fascinated by everything about them even if I couldn't quite get my head around them! They really intrigued me and when Les Caves started importing the Pheasants Tears wines, I listed them, as I found they worked really well with our food. When I visited Georgia, it all made even more sense to me as Georgian cuisine features many of the same vegetables, herbs and spices that we use in our recipes.
A mere decade ago, natural wine was still very much on the fringe. Today it seems almost mainstream (gasp!). What challenges do you think these wines and their winemakers face today and in the future?
I think it will continue to be a challenge to explain to our staff and guests that many of these wines are made in tiny quantities and often completely by hand and therefore the price will often reflect this too. [It's also a challenge to ask] people to have patience with these wines – to age them so as to see the evolution – particularly how wines made with no sulphur can age. Plus, it can be hard for sommeliers to understand that sometimes a wine is just not ready and it isn't fair to the wine or its maker to pour even if you have bought big quantities and you need to sell them. Things like this give natural wines a bad rep because guests will think that the mousiness or undeveloped flavours, structure, etc is because it is a natural wine.
I think as winebuyers and sommeliers we face a great responsibility in presenting these wines in way so that our guests and clients understand that these wines are not a trend thing – these wines are real and made by real people who in many cases have made wines like this for generations. I am very curious (and worried)  to see if the bubble for natural wines will burst at some point as it seems as if it is a "cool" thing to drink these kind of wines in certain cities.
How do you go about ensuring that your wait staff are sufficiently confident and knowledgeable to be able to sell (and sometimes defend!) these wines?
We do wine tastings and trainings every single week and often daily in our briefings. We do most of our wines by the glass so anyone can taste almost anything, whenever they want to/need to. All new wines go on by the glass to begin with to make everyone familiar with them. Often they stay by the glass. I also run a Wine Academy within the company.
You list a fair amount of orange/skin contact wines which seem to match so beautifully with the arrange of sunshine flavours, spices and herbs in Ottolenghi's dishes. Do you have a few favourite pairings?
Ageno La Stoppa is perfect with Valdeon Cheesecake, pickled beetroot, almonds and thyme honey. Christian Tschida Himmel Auf Erden Weiss and Lemon Sole, burnt butter, nori. Winifred from Gut Oggau with Beetroot, rhubarb, Gorgonzola. Beef sirloin, truffle, fennel and Jean Pierre Robinot Le Regard. 
Peering into your crystal ball, where do you see UK wine lists heading both in terms of wine styles/regions/varieties and in terms of structure/size/price points?
I think Austrian wines will continue to grow; The quality of wines coming out of Austria is phenomenal and many are at a really good price point. I'm sure English wines will also continue to grow – especially in Brexit land.
It seems that guests in our restaurants are becoming less and less hung up on appellations and more open minded to try lesser known grape varieties from lesser known regions as the value of these wines is often so good.
I think more restaurants will have shorter, more dynamic lists. It is more and more the norm that floor staff can sell both wine and food and not be reliant on having one sommelier on the floor.
Are there any 'unicorn' wines you'd love to list at the restaurants?
I'd love some Houillon – Overnoy Ploussard or Kenjiro but Les Caves never seem to offer me any…….. ! 🙂
And finally, your own personal desert island wine?!
Tough choice between Gabrio Bini Zibibbo and Canta Manana – both wines are perfect for desert island sipping!