Intelligent design
Jurgen worked with Eben Sadie for a vintage in Spain (at Terroir Al Limit in Priorat) and also in South Africa. He did further stints in France (at Matassa with Tom Lubbe and with Stephane Ogier at Roc d'Anglade) and in New Zealand and Russia (where he made the premium wines for a big winery during 2008 and 2009). Subsequently, he worked for 4 years at Lammershoek with Craig Hawkins, but since January 2015 has concentrated solely on Intellego and renting vineyards for his project.
Intellego's philosophy is decidedly minimal intervention throughout the winemaking process, the wines being a celebration of the hard work done in the vineyard. For Jurgen, it is intuitive winegrowing, an evolution through experimentation on small pockets of land selected in the Swartland Appellation. The passion behind the project is the real work that happens in the vineyard with a hands-on approach, understanding seasonal influences and adjusting based on constant observation of the terroir. A major objective is to create optimum soil conditions through organic practises where the vines will be nurtured for an indefinite period of time, creating conditions for each block to have their own individual character. Each vintage, we observe a progression, a refinement in the wines.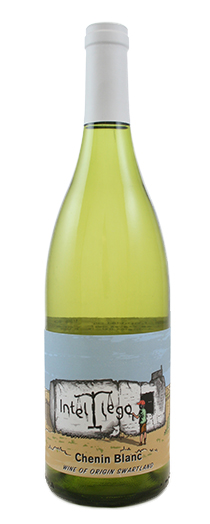 The first wine Jurgen made was Intellego Chenin. It used to be a blend of two parcels, a combination of granite and sandstone sites in the South and South West Swartland appellation, but now the bush vines are on a single granite site planted in 2002 and are dry-farmed. The plot is situated on an east-facing slope with a lot of early morning sun during spring and summer, which assists in early ripening. The top layers of the soil are very sandy and well drained contributing to the fresher, "mineral" style. Due to low yield, there is always a high concentration in the small bunches that give excellent texture together with poor soil that lifts the intensity of the wine.
The grapes are manually harvested and whole bunch pressed, the juice fermented in old French oak 500L barrels, where it ages for 10 months. Ferment is with indigenous yeasts and ambient, the wine matures in 9-year-old 225l French oak barrels with is a full malolactic fermentation. No fining, no filtration and very low sulphur addition. These bush vines Chenin yield fruit with impressive purity and firm acidity. This particular wine has the crunch of green apples and a fine linear quality and ages exceptionally well.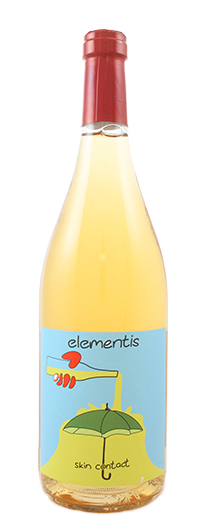 The Elementis Skin Contact comes from dry-farmed 38-year-old bush vines on oak leaf soil which consists of three layers: sand, gravel and deeper clay. Grapes are destemmed, fermented in a plastic 1000L tank for 13 days on the skins; once a day drained juice is used to wet the cap. The wine is aged in 500-litre old French oak barrels for 9 to 10 months where the malo completes.
Elementis has a cloudy unfiltered apple-juice with the lees in suspension. Extraordinarily pretty aromatics; notes of dried fruits, flowers, dried herbs, ginger and other spice. The palate has a weightless intensity about it and possesses layers of flavour. The finish is long with a pleasant grippiness.
The label is beautiful. Elementis is a Latin word and refers to the four natural elements of earth, water, fire & air. The bottle symbolises the region from where the grapes originate while the umbrella is the contrast as it symbolises the style in which the wine is made – skin contact. The red of the hand symbolises fire, the yellow water, the green umbrella earth and the blue air.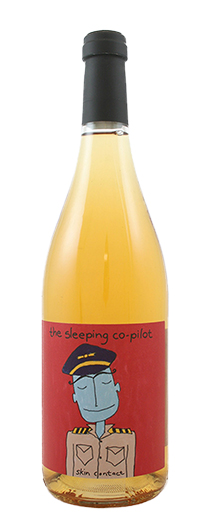 Sleeping Co-Pilot comes from a parcel of Viognier planted in 2003 exposed to the Atlantic Ocean and receiving a constant breeze in the afternoon but also in a very dry position. Soils here are glen rosa and oak leaf. Yields are a minuscule 20 hl/ha. Grapes are manually harvested and fermented whole bunch in open tanks with 14 days maceration on skins before maturing in 7-year-old French oak barrels (300 & 500 litre) for 10 months and bottled without filtration or fining. Bold amber wine, stunning vibrancy on the nose and beautiful freshness from the stems, a Viognier that is extraordinarily light on its feet.
And so, to the reds, and Halagasha Pinotage. Yes, Pinotage. This version comes from dry-farmed vines growing in soils of decomposed granite on a south west facing slope at 200m altitude.  The whole bunches undergo semi-carbonic maceration for 8 days and ferment ambiently with indigenous yeasts before being transferred into neutral 225L French oak barrels (12 years old) for 5 months and then spending 4 weeks in stainless steel. Halagasha is the Xhosa (one of the official languages of South Africa) term for celebrating a football goal. And this is a wine worth celebrating with red fruit and peppery spice on a nice line of acidity.
Like so many of Jurgen's wines, it has delightful angles.
The Pink Moustache comes in a bottle with another striking label. In this instance, facial hair symbolizes the three different styles of wine red(beard), rose (clean skin) and the light red(moustache). This wine represents the lighter red style and the word pink describes the colour as it's a mix between a pink/light red. The wine itself is a blend of Syrah, Cinsault and Mourvèdre, the ratio changing according to the vintage from a parcel facing the ocean, benefiting from an afternoon sea breeze effect in the afternoon. The Syrah bush vines were planted in 2001, in oakleaf soil with ferricrete as the top layer. The ferricrete sedimentary rock is renowned for higher levels of iron and good water retention beneficial for dry land farmed conditions. The Cinsault was planted in 1988 on a sandy site not far from the Syrah.  The grapes are manually harvested. Syrah and Mourvèdre are whole bunch pressed and fermented in old French oak barrels for five months, whereas the Cinsault is whole bunch fermented for 4 days, and aged in old French oak barrels for 5 months. This a delicious drink: light ruby red with aromas of red berries, flowers, herbs and pepper. The palate is light, fresh and fruity with fine acidity and a juicy long aftertaste.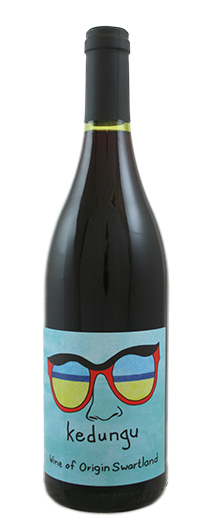 The vineyard for the Kedungu is cooler and ripens a bit later than the rest with summer breezes and excellent soil water retention contributing to the wine's fresh fruit profile. Planted on a south east facing slope at an altitude of 210m, on decomposed granite with quartz as well, this wine features Syrah (mainly) with a big dollop of Cinsault and a little Mourvèdre.  The grapes are semi-carbonic fermented for 8 days in closed tanks, with a small percentage in open fermenters, and then matured in 228l and 500l old French oak barrels for 9 months, with a further month in stainless steel tanks. Bottling is without filtration or fining, just a little sulphur at bottling. Syrah, the backbone of this blend, contributes to the structure and freshness of the wine. Cinsault adds a lovely mid palate vibrance with loads of red fruits. Mourvèdre is known for great tannin structure and depth as well as darker fruit. The result is a southern Rhône-seque red, earthy, smoky and savoury with bramble fruit and notes of fynbos.
After a great surfing experience in Bali, we ended on a high with the best surf at this special spot called Kedungu in my hungover state. This experience and energy were transferred into the wine when we bottled a few months after my trip.
The final red is Intellego Syrah, the grapes for which come from two parcels. One has decomposed granite soils, the other iron, one on a north east facing slope, the other looking south east. The grapes are whole bunch fermented in plastic and stainless-steel vats, then pressed after 10 days, before being racked to age in 225l and 500l old French oak barrels where they undergo malolactic fermentation. This Syrah has remarkable elegance with delicious floral varietal character (violets), currant fruits meshed with wild herbs and subtle notes of pepper and finishing with fine tannins and a flicker of saltiness. Really fine and lovers of northern Rhône Syrah will adore this.
2019 Intellego Chenin
2019 Elementis Skin Contact
2019/20 Sleeping Co-Pilot
2020The Pink Moustache
2020 Halagasha
2018/19 Kedungu
2017 Intellego Syrah
*
Interested in finding more about the wines mentioned? Contact us directly:
shop@lescaves.co.uk |  sales@lescaves.co.uk | 01483 538820
*Note: We are still open for business, doing deliveries, and keen to help everyone with their booze needs in this difficult time. Natural wine lovers can visit our online shop and order online!