Between working as Managing Editor at The World of Fine Wine magazine, studying for the prestigious Master of Wine exam, teaching monthly wine courses and judging at international wine competitions, Victoria Daskal tastes over 1,500 different wines per year. She founded Mummy Wine Club in August 2018. Mummy Wine Club now offers a Monthly Wine Subscription Club, with wines sourced mainly from Les Caves de Pyrene.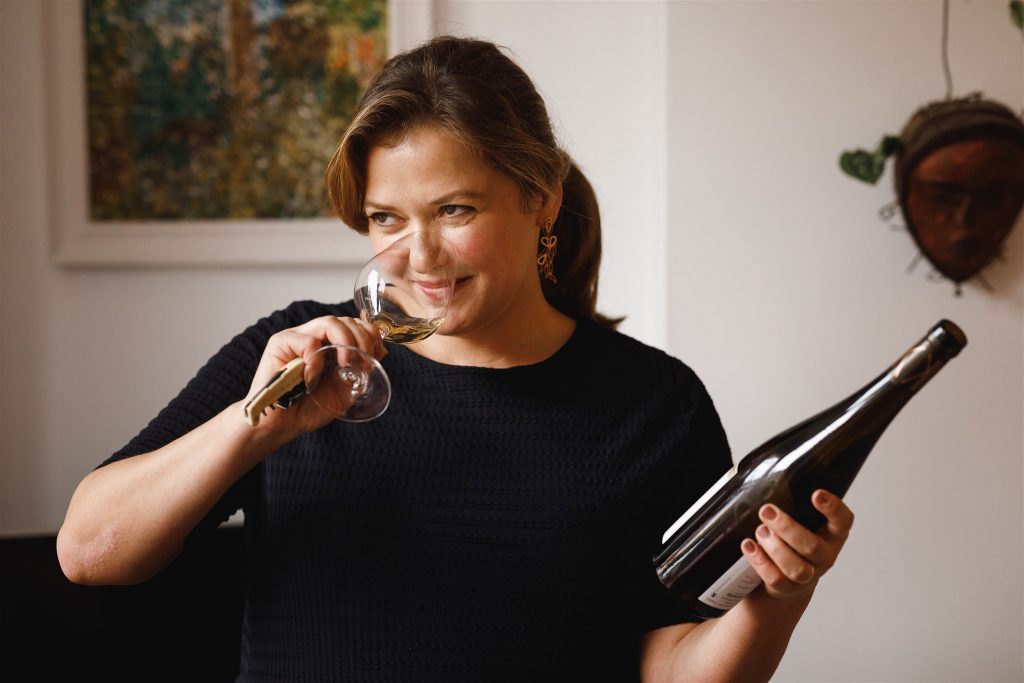 Please tell us about your wine background.
In 2005 I was still living in Boston– and working in a not very interesting finance job ­–when I enrolled in an evening wine course. My teacher was a Harvard history graduate that infused each tasting with references to culture, history, and geography. I was blown away over how much more there was to wine than what's in the glass.
That following year I moved to the south of France, helped out at a rosé winery, and did the OIV MSc in International Wine Management. The programme took me around 45 different wine regions in 11 months.
I came to London to work with Jancis Robinson MW, became a fine wine sales advisor for Laithwaites, and then did wine video production for Slurp. Meanwhile I completed the WSET Diploma and started teaching on the side. For the past six years I've been at The World of Fine Wine as managing editor and began the Master of Wine programme.
What was the inspiration behind Mummy Wine Club? Was this ignited by the lockdown?
Actually, Mummy Wine Club was founded in August 2018 when I had my second baby. There are plenty of lovely baby yoga, baby massage, and sensory classes in Chiswick, where I live, but there's not much for new mums to do just for themselves where babies are welcome.
I knew a few mums in the area who loved wine, food, travel, etc. and I thought I could create something where they can explore their interests and still bring the baby. Every week I was offering casual wine courses from home where mums could bring their baby and learn about wine regions from Europe to South America. It wasn't about drinking, it was about learning the different grape varieties, regions, history, tasting technique, and wine and food pairing.
Pretty quickly the babies grew up and couldn't tag along to the tastings, so the Mummy Wine Club events evolved into themed dinners and wine masterclasses in the weekends and evenings.
In 2020, Mummy Wine Club made another pivot with the launch of a monthly wine subscription club. The idea had been brewing since last year, but lockdown made it a priority.
Is this a club just for mums?
No, it really is for anyone who loves good wine and wants to be introduced to new producers, regions, and varieties through a curated monthly wine box.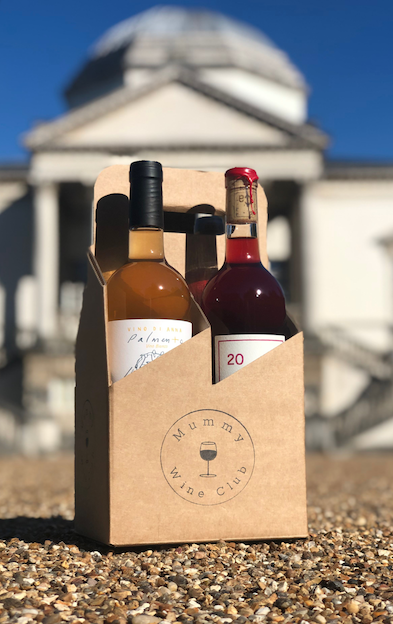 How does it work?
Anyone can subscribe online and choose between mostly white, mostly red, or the everything case (my favourite!) and also select the frequency (monthly or every other month). Delivery is free on subscriptions in mainland UK. If you fall in love with a new wine you can repurchase online from Mummy Wine Club.
What level of wine knowledge would I need to have to enjoy the tastings?
It's open to all levels – I've had complete beginners who weren't certain that wine was made from grapes all the way up to veteran wine professionals who were interested to attend a local wine event. But the atmosphere is very warm and welcoming, more like a supper club with a wine topic to discuss, rather than an overly technical class.
Tell us more about the virtual wine tastings. 
I started offering virtual wine tastings in June as part of a local summer festival that was conducted online this year. Since then I have had requests to present virtual tastings for private groups and each one has been tailored to the organizers' requirements. Generally, we cover 3-4 wines in a one-hour online tasting. I send the bottles to each participant in advance along with instructions on chilling, serving, and what foods to prepare to enjoy during our tasting. During the virtual call we go through the wines one by one and I invite each of the participants to make comments or ask questions about the wines to keep it interactive. It's really good fun and very convenient for people to not have to travel anywhere. They tune in for an hour- learn about the wines with their friends- and then when it's done they can be home enjoying the rest of the bottle.
I also include a free virtual tasting for subscribers to go over the wines in their box each month, and this month will be inviting a special guest from one of the wineries to join us on the call.
Please describe the kind of wines you might find in the subscription club.
Each month there is a theme that connects the wines – whether it's a region, a variety, a mood, or a something even more unexpected that they have in common.
All of the wines tend to be from smaller—usually family—producers that are working in organic or sustainable ways. I'm really interested in indigenous varieties and lesser known regions with interesting back stories so that's what I look to include in my selections.
Above all though, they have to be delicious and inspiring, not something you'd come across in the supermarket. Price wise, the wines would retail around £15-30 a bottle.
Give us a couple of examples of wines that are drinking particularly well.
COS Nero di Lupo, Calcarius Roz, Goisot Exogyra Virgula and Le Roc were among the firm favourites so far. I was receiving texts for days after each delivery from subscribers raving about how delicious the wines were with pictures of them in the garden, in the park, on the beach. That was very satisfying.
How are you improving the experience of buying wines?
With each monthly box, subscribers receive an email explaining the theme of the box and the inspiration behind it. They can click through and read information on each of the wines which includes tasting notes, story about the producers, grape variety, region, food pairing ideas, etc. Plus they get the invitation to a free virtual tasting later that month to connect with myself and other fellow members to discuss the wines and ask questions.
How long have you been running the club for, and what's the feedback been like so far? 
The Monthly Wine Subscription Box has just launched in July. The feedback has been very positive and encouraging with new subscribers coming on board – mostly through word of mouth. The feedback on the wines has been very good. Even if I've had honest comments like "I would never have normally purchased an orange wine, it was a little funky, but actually I'm glad to have been introduced to it." Or "I'd like to have two bottles that are bit 'safe' and classic in style, and have two that are a bit more adventurous and out there". I take all that on board. I want this club to feel like a journey into unknown wine territory with a trusted friend.
Subscribe to Mummy Wine Club HERE.
Purchase wines from the club HERE.