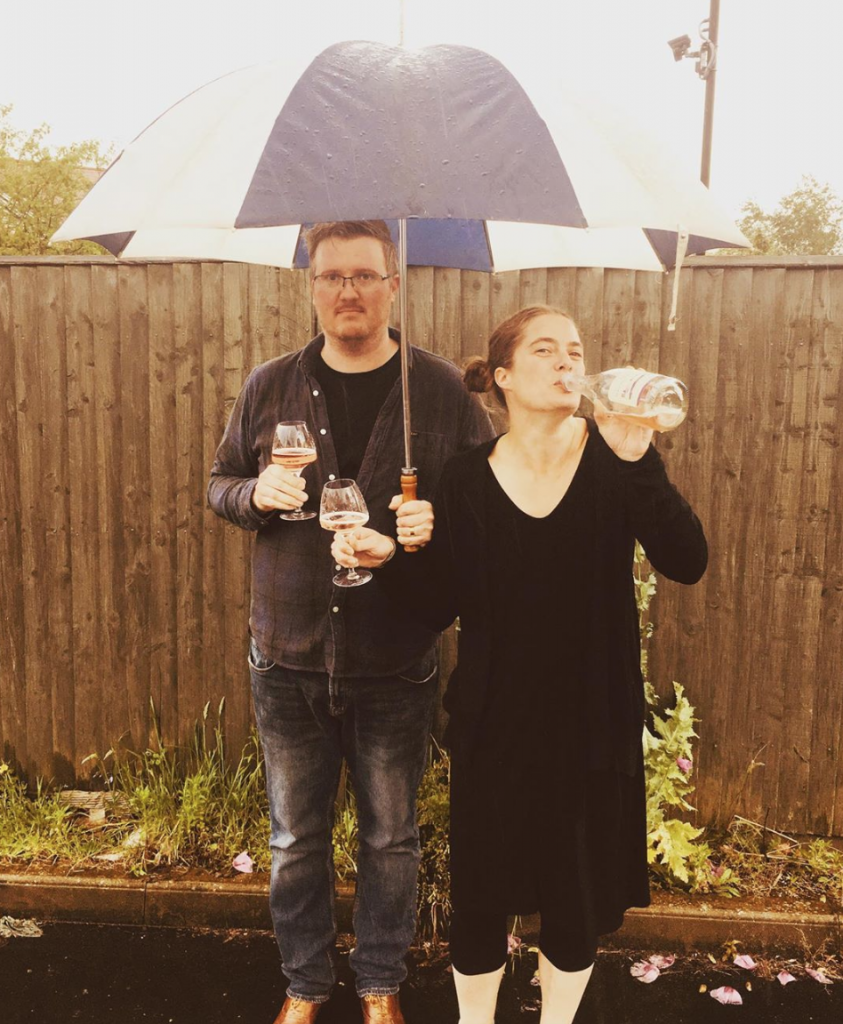 Now is the summer of our replenishment. Looking out the window at the mizzle as I write this, I think summer may be an exaggeration, but the wine coffers will nevertheless be full-to-bursting with a mixture of new vintages and the odd newcomer. And by the time I finish this, the sun will be out. Or not.
Rhône
We begin in the Rhône for a change and some blink-and-you-will-miss-them wines. After a seemingly interminable absence (one that has made the heart grow even fonder) we are pleased to welcome back Hervé Souhaut's northern Ardechois wines, namely the silky Syrah and the firm granite-spined Souteronne (Gamay). These are cool-climate wines that meld a lovely floral component with springy acidity and mineral salts.

The Gramenon wines continue to go from strength to strength. The first contingent of the 18s has arrived, namely the Vie On Y Est (who says the French can't do puns? Pas moi!), which possesses a vinosity and energy only really found in the wines of Condrieu, and the Poignée des Raisins, a youthful Grenache with some carbo red-fruitiness.
2018 Vie On Y Est, Domaine Gramenon
2018 Poignée des Raisins, Domaine Gramenon
2018 Souteronne, Domaine Romaneaux-Destezet
2018 Syrah, Domaine Romeaux-Destezet
Loire
New season's Sauvignon and glouglou reds are in, here are three domaines, where the wines are extraordinarily serious.
Jean Francois Chene is a man whose white wines have an oxidative bent. Indeed, so attached to the voile network is he, that he calls his wine O2, testament to three years ageing in barrels under flor, and a further period in bottle. Patience is a virtue when assaying these powerful wines and they benefit from a spell in the carafe. The reds are two variations on a glou, one glou being Le Boit Sans Soif, in the clear bottle with the jovial Peppa Pig label, a wine-not-wine, as it clocks in below the legal level of abv. Les Joues Rouges is old vines Cab Franc, semi-carbonic, serious yet playful.
Les Cailloux du Paradis, run by Etienne Courtois, is the source of the some of the most inspirational natural wines we have ever tried. Biodynamic farming, fastidious harvesting, and long fermentations with even lengthier elevage in barrel on the lees, makes for some profound specimens of whites and reds. New vintages of Quartz, Or Norm and Plume d'Ange, three terroir manifestations of Sauvignon; two Romorantins, one prosaically called Romorantin and the other Camille Blanc, and a new wine called Secalaunia, being a blend of Sauvignon, Romorantin, Menu Pineau, Gascon & Gamay.  Matured for 100 months. Carafe it and worship it. On the red side, we will be receiving the brisk L'Icaunais (a.k.a Gascon) and Etourneaux, the very striking Gamay, as well as Pappa Courtois' Racines Blanc and Racines Rouge in new vintages.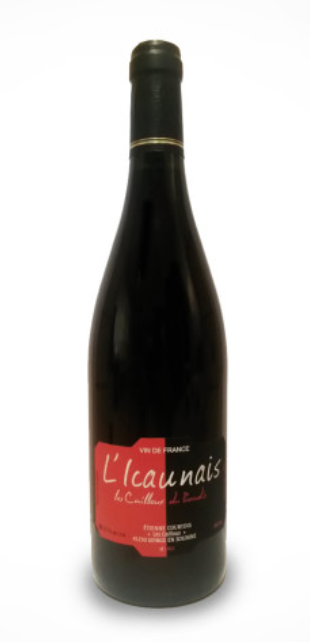 Les Cailloux du Paradis, Etienne Courtois:
2017 Quartz
2015 Or Norm
2017 Plume d'Ange
2015 Romorantin
2015 Camille Blanc 
2010 Secalaunia
2016 L'Icaunais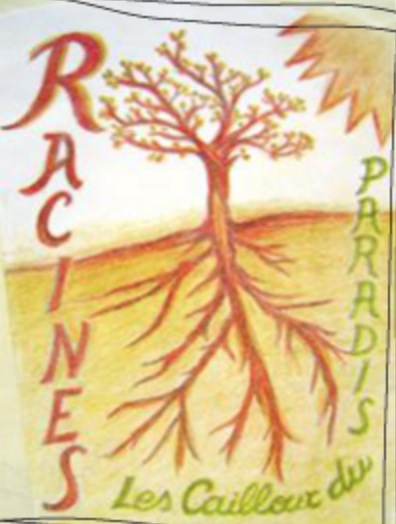 Courtois:
2016 Racines Blanc
2016 Racines Rouge
We wrote about the brilliant Pouilly-Fumés of Alex Bain in a recent blog. Ripe, hand-harvested biodynamically-farmed grapes, wild ambient ferments, full malolactic, long elevage on the lees, no filtration, just natural settling, no racking, and minimal to zero sulphur, these are exalting the special properties of each terroir.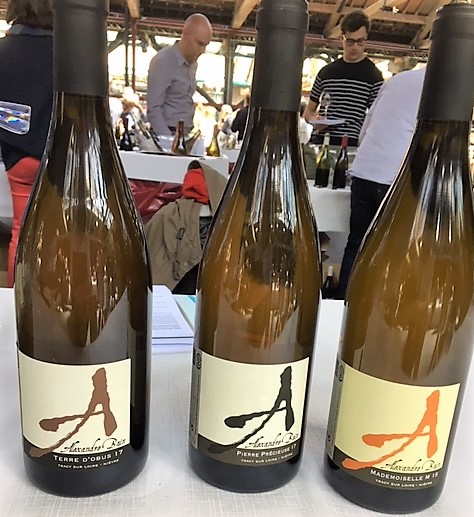 2010 O2 Voile, La Coulée d'Ambrosia
2015 La Boit Sans Soif, La Coulée d'Ambrosia
2013 Les Joues Rouges, La Coulée d'Ambrosia
Jura
For news of new wines – and old favourites – from Domaine des Bodines; Les Bottes Rouges; Domaine de la Borde and Domaine Saint-Pierre, head to our website!
Provence
Dominique Hauvette is an uncompromising vigneronne who converted her farming to biodynamics. The terroir is amazing; you can imagine that great wines would come from this wild, rocky and garrigue-forested part of theworld and you would not be wrong. We have listed the Hauvette Cornaline (think Trevallon) for around fifteen years, a reserved red that cracks a smile after about seven years. What a wine!
And here's the white newbie. The Dolia Alpilles Blanc merits the epithet "Grand Vin." Clairette, Marsanne and Roussanne from a one-hectare vineyard plot, is effectively a field blend. Whole cluster pressed and fermented and aged in the cement eggs that Dominique was one of the first to use for her wines. An initial floral/herbal nose leads gently to notes of white peach and honey; the wine is all about weighty texture and natural phenolics, showing waxy golden fruit with garrigue back notes of pine resin and lemon thyme.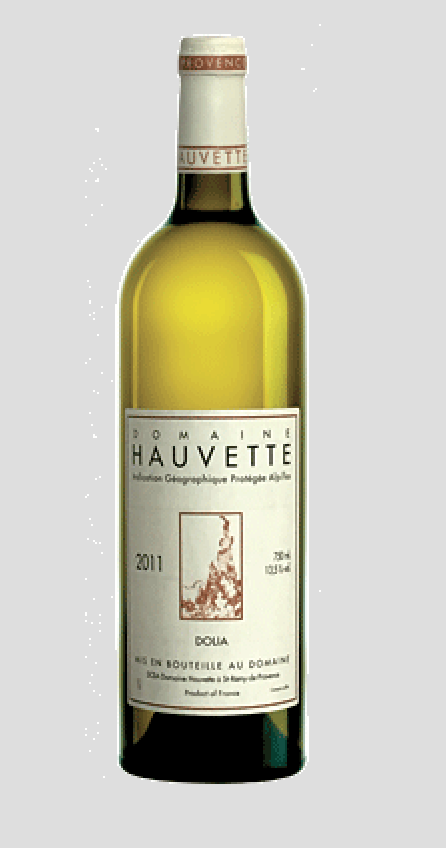 2013 Dolia Alpilles Blanc, Domaine Hauvette
Languedoc
A Fleur de Peau is a new orange wine from the stable of Clos du Gravillas. Nicole and John have been actually been making and perfecting this style since 2015. In 2018 they have really nailed it. From their glorious sun-bleached stony lime-clay vineyards, this is destemmed Muscat a Petits Grains, macerated for two weeks with pigeage and remontage – yes, like a red wine. Deep orange colour and aromas of – you guessed it – orange flowers, and a substantial palate that has a very agreeable bitterness and a herbal twist to offset the floral component.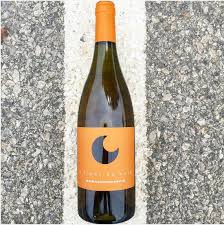 2018 A Fleur de Peau, Clos du Gravillas
South West France
And now for a blast from the past. Buzet Totem, Domaine du Pech 2004. Just released. The blend is 50% Merlot and an even split of the two Cabs, but this ain't no Bordeaux facsimile.
Viticulture is biodynamic, the conversion began around this time. No fertilizers have been used for twenty years. Since 2000 yields have been significantly reduced and since 2004 the drive towards biodynamic methods of cultivation has included the use of medicinal plants as well as minerals and other biodynamic preparations, thereby necessitating minimal treatments with copper or use of sulphur. Ludovic is proactive in the vineyard, removing leaves from the canopy to allow circulation of air.
Totem has a 30-day cuvaison in wooden vat, an indigenous, ambient ferment, and then spends 14 years slumbering in a 200-year-old foudre, and then is bottled without filtration, fining or sulphur added. So crazy that it works. A wine to bring a smile to the recently-retired Bob Parker's craggy visage.
2004 Buzet "Totem", Domaine du Pech
Burgundy
The latest vintage of one of our favourite red wines, namely Julien Guillot's Macon Rouge 910, Clos des Vignes du Maynes. Check out this post for the full story of the wine. Suffice to say that the 2018 is back on brilliant form, light, saline with searing purity. Julien's wines seem to have an intimate connection with the soil, but rather than being earthy, they are fresh and very bright.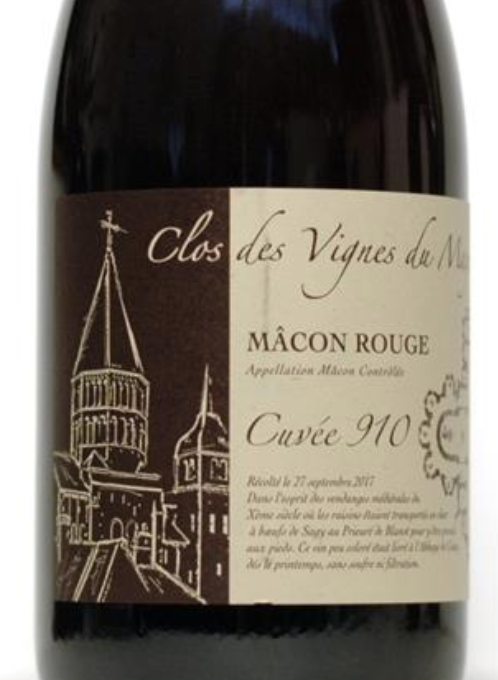 2018 Macon Rouge "910" Clos des Vignes du Maynes
*
Interested in finding out more about the wines mentioned? Contact us directly:
shop@lescaves.co.uk |  sales@lescaves.co.uk | 01483 538820