Archil Guniava Wine Cellar and Vineyard are located in Zestaphoni, Kvaliti Village, at the family home, where generations of the family have lived. Vines are planted across 1.5 hectares of vineyards. This location provides excellent soil structure and a conducive climate for grapes. The vineyard plot is planted to many grape varieties: Tsolikouri, Tsitska, Krakhuna, Otskhanuri Sapere, Dzelshavi, Dondghlabi and Mgaloblishvili, the latter two being very rare and whose reputation Archil is dedicated to restoring. Everything is fermented in old qvevris buried in the marani (cellar). Natural winemaking methods are naturally employed with native ferments and nothing added; normally the wines would be made Imeretian-style with approximately 15% maceration on skins, but in the lighter 2019 vintage they were made without skins (bar the Dondghlabi).
The climate in this part of Imereti is subtropical, warm rather than hot, and quite humid in the summer. The soils are clay over limestone, this latter feature giving the wines their particular freshness and vitality. Organic farming methods are practised.
Grapes are harvested by hand, destemmed and crushed into the beeswax-lined qvevri. Ferments are ambient and take around two weeks to complete. All wines undergo natural malolactic fermentation and are bottled without filtration, fining or sulphur added.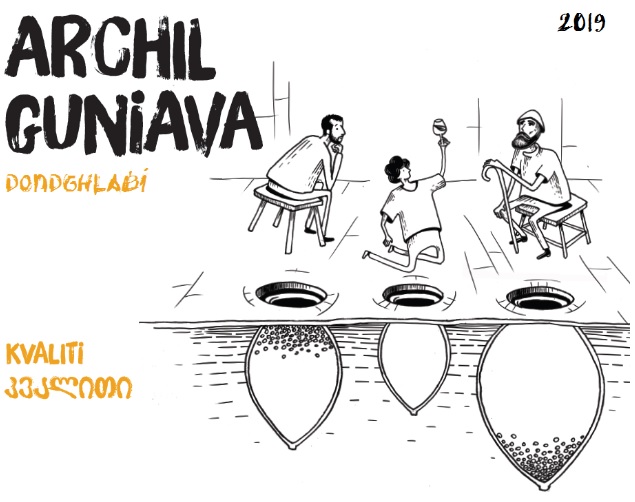 We begin with the very rare Dondghlabi. Despite the fact that the grapes spend four months macerating on their skins (and nine months in qvevri in total), the resulting wine is still light-gold in colour and light on its feet with aromas of wild herbs and grapefruit. Archil remarks: "Dondghlabi is an old Imeretian variety of grape, very common 60-70 years ago, but now on the verge of extinction. My ancestors loved this wine so much that I decided to recover it. 2019's Dondglabi is the first vintage for me. I only have 400 bottles of it. It is considered as one of the lightest wines. Skin contact is 100% for 4 months, but it's still light, with different varietal aromas."
In a country overflowing with ancient grape varieties, Krakhuna is one of the oldest. And is happily easier to pronounce than many other Georgian grapes! Indigenous to Imereti in the west of the country, grown in and around the villages of Sviri, Obcha and Dimi, 'Krakhuna' means 'crisp' in the local dialect. It's an appropriate nickname for this high-acid grape, which winemakers often describe as 'crunchy' in texture. Given the humid conditions of west Georgia, it can be challenging to grow with its naturally thin skins which make it susceptible to rot and mildew. As a consequence, Krakhuna produces only moderate yields and the grapes must necessarily be harvested by hand and sorted. Krakhuna is often blended with Tsolikouri and Tsitska to make delicious white wines. Archil's version offers notes of apricots, ripe citrus, vanilla with honeyed tones and lovely acidity to balance.
In upper and central Imereti, Tsitska is principally used to make sought after sparkling wines. Typical of the numerous indigenous grape varieties, Tsitska is confusingly known by several other names depending on where it is grown. If you come across Shanti or Tsitsko, you still have Tsitska. In the villages of central Imereti, it is also called Male Tsitska. In foreign ampelographical works (Viala and Vermoreli, Guioni, Piula and Goete), Tsitska is also mentioned and briefly described under the name Tsitska da Chanti.
The only thing you need to know about Tsitska is that it's delicious. This version is plush with aromas of yellow fruits such as quince, melon and apple with a honeyed top note too. Again, a lovely nervy acidity keeps the wines fresh and tangy.
Archil's Tsitska-Tsolikouri-Krakhuna (60-20-20) is another wine that majors on freshness and purity of fruit. Citrus and fresh cut apple to the fore, background hints of dry honey and herbs. A particularly versatile food wine, it goes equally well with chicken, beef or cheese.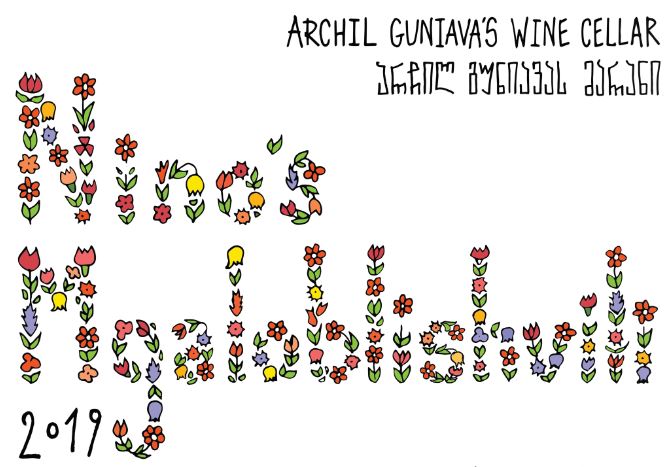 Mgaloblishvili is an old red grape variety indigenous to Imereti. Its name – "Mgaloblishvili" is connected to the famous 19th century Georgian ampelographer with the same surname. Throughout the 19th century and till halfway through the 20th, the Mgaloblishvili vine was one of the most widespread varieties in Imereti region, but soon fell out of favour.
Interestingly (or not) Mgaloblishvili (also spelled 'Mgaloblichvili') is the first Vitis vinifera cultivar to have been scientifically identified for its reduced sensitivity to mildew. Although not very widespread outside its native Imeretian wine region, the red grape variety successfully curbs the development and spread of spores of the fungus Plasmopara viticola. While North American (such as Vitis labrusca and V. riparia) or Asian varieties (such as V. amurensis) are known to have acquired resistance to mildew following long co-evolution with the pathogen, such adaptation mechanisms had not been characterised on European vines. Vitis vinifera is in fact known for its sensitivity to the disease that arrived from the Americas at the end of the 19th century.
Archil recalls that his family owned a 100 + year-old Mgaloblishvili vineyard, which was eventually replanted with other vine varieties. Then, during the era of partial prohibition, when selling wine became illegal for farmers and all grapes went state wine factories, there was no demand for Imeretian red grapes, which was the main reason for this and a whole host of other autochthonous varieties becoming virtually extinct.
Archil and the older generation of vignerons, however, always remembered the high quality of this variety and a few years ago he decided to re-establish this vine. After a lengthy search he found it in a state nursery, took cuttings, and replanted it in his vineyard. Now he has 700 plants yielding grapes – and a further 300 about to come on stream.
Nino is Archil's daughter. She assumed responsibility to plant and take care of these particular vines (with father's help!) and to make the wines. The first vintage was four years ago- a grand total of 60 bottles. This year they will make 1000 bottles. They are the only producers of this wine in Georgia.
The grapes are destemmed and spend nine days on skins in qvevri. The wine is naturally made and nothing added as with Archil's other wines. It is such a pretty wine, almost rosé in colour with appealing aromas of flowers, red fruits and pepper.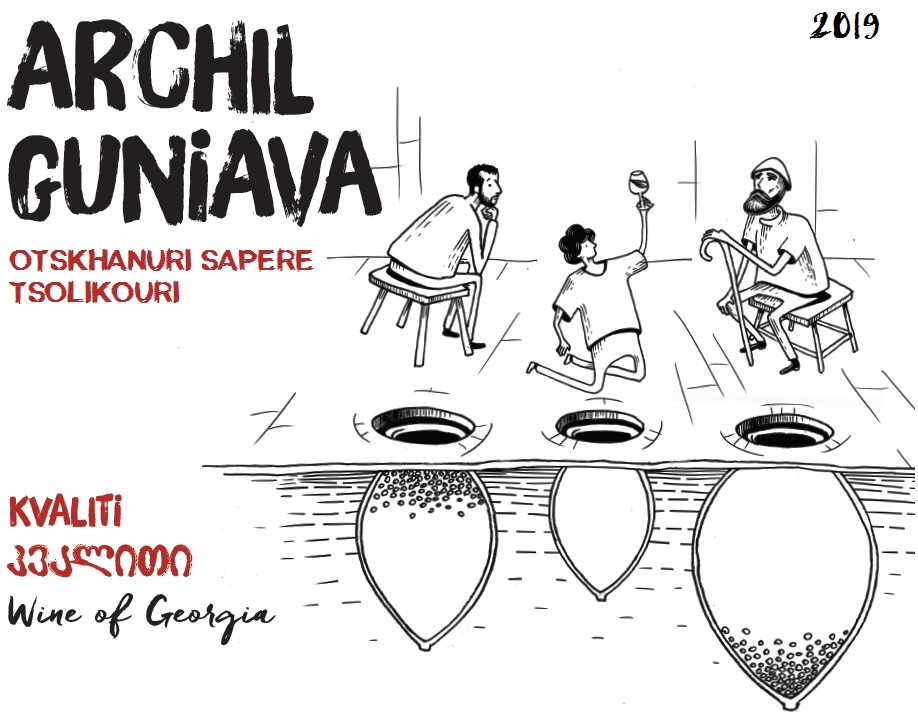 Grape genealogy suggests Otskhanuri Sapere is a transitional variety between a cultivated and a wild vine. Grown throughout the Imereti region of western Georgia, Otskhanuri Sapere ripens in mid to late October. Like Saperavi, this is a teinturier grape, producing wines with a deep, opaque ruby colour. In their youth, the wines are grippy and structured with high tannins and acidity. Exhibiting flavours of forest fruits, red berries, and herbs, these wines have great aging potential. Otskhanuri Sapere is considered Imereti's best red grape variety.
Archil used to try to make a wine using only the Otskhanuri Sapere. He discovered that (for him) the resulting wine was too strong, so now blends the Otskhanuri Sapere with Tsolikouri, with the proportion being 30/70. Firstly, he presses the Tsolikouri and adds it to a qvevri. Then, in November, he harvests the Otskhanuri Sapere, presses the grapes and adds the juice and chacha to the qvevri. According to Archil, even with the Tsolikouri fermented, it is not a problem to add the Otskhanuri Sapere. The maceration lasts for one month. To finish the wine, he continues to use the same winemaking process that he uses for the other qvevri wines. Even with the Tsolikouri making up the balance, this is a more structured wine with aromas and flavours of blackberry, cherry, dark berries.
2019 Dondghlabi
2019 Krakhuna
2019 Tsitska
2019 Tsitska-Tsolikouri-Krakhuna
2019 Mgaloblishvili
2019 Otskhanuri Sapere
*
Interested in finding more about the wines mentioned? Contact us directly:
shop@lescaves.co.uk |  sales@lescaves.co.uk | 01483 538820
*Note: We are still open for business, doing deliveries, and keen to help everyone with their booze needs in this difficult time. Natural wine lovers can visit our online shop and order online!