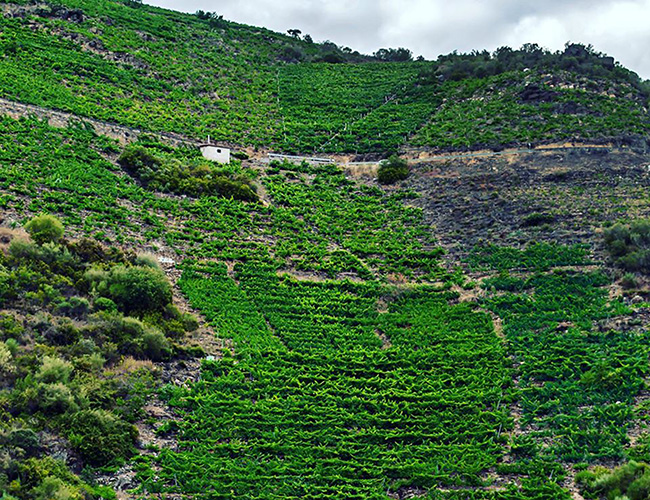 Sheer Brilliant Folly
The Romans used slave labour to plant terraced vineyards along the Sil and Minho riverbanks. Today, Ribeira Sacra growers still have to work like slaves to prune, tend, and harvest grapes from these improbably situated vines. A few sites, including Cividade, Marcelino, and Viña A Ferreira, are so inaccessible that when the grapes are harvested, they are lowered to boats waiting on the Sil River, brought to landings that can be reached by road, and finally hauled to the wineries. All the vineyards have makeshift rails adapted from mining, with mechanical lifts that are winched up and down, carrying one person at a time, a few tools, and, during harvest, containers of grapes.
Ribeira Sacra is where the men (and women) are truly vital, because the cosecheros (those who tend and harvest the vineyards) must also be capable of what is known as heroic viticulture.
It is one of only two areas in Spain (Catalunya's Priorat is the other) that requires this "heroic viticulture". The region's steeply-tiered slate bancales, or terraces, have a great deal to do with why the wines of Ribeira Sacra can be so profoundly terroir-driven, intriguing, and delicious, and why this area has the potential to produce wines as great as those from anywhere in Spain.
It may be a region of old vines, but it is a new region in terms of international recognition and respect:
Besides, when the first quality wines started travelling around the world, it was hard to believe that there was no track record and no tradition for such wines in the region. I remember when the name of the region and the spectacular images of the perpendicular vineyards on the steep slopes of the banks of the rivers caught the attention of people, and the zone got more famous than the wines themselves. Because the wines were few and the producers even fewer. The history of quality wine and wine culture in Spain is recent, very recent, and some of these old regions are like emerging regions or more than what we usually refer to as the New World. In a way, Spain is very much New World for fine wines, and we are still finding our roots, regions, landscapes and local varieties. And there's no better example than Ribeira Sacra – Luis Gutierrez
Guimaro means rebel in local dialect. Cultivated since Roman times, the steep terraced vineyards are some of the most picturesque and treacherous to work in the world of wine – think Douro, Cote Rotie, or Mosel.  Like those most dramatic terruños, winegrowing here is not for the faint of heart; it takes spirited determination, unwieldy optimism, a sense of tradition, and a willingness to collaborate.
Guimaro is a small family estate and one of the pioneers in Ribeira Sacra. Five generations of viticultors (colleteiros) have made wine. The property has 9 ha with a further 14 ha contracted; all work in the vineyards done by the Rodríguez family. Pedro took over the winery in 2001, but his parents Carmen and Manuel are still active in the viticulture part.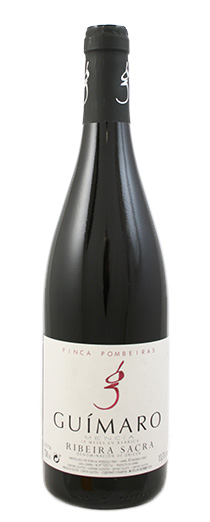 Finca Pombeiras, a relatively new wine from Guímaro comes from a single 0.45 ha plot – facing south – of 70-year-old Mencía vines with 15% Galician indigenous varieties – Caiño, Merenzao, Sousón, Mouraton, Garnacha tintorera… planted as high as 450 metres elevation on decomposed slate soils.  This is the adega's only cuvée fermented entirely with whole grape clusters (in foudre). Having undergone fifty days of maceration, it then sees 8-10 months in used 500-litre French oak barrels.  This cuvee is markedly more umami, savoury, and earthy in comparison to the other single vineyard cuvées.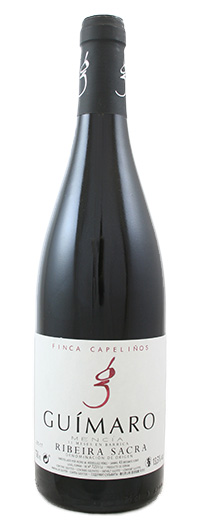 It is worth comparing to the Finca Capeliños, another field blend also majoring in Mencia, this time from a 100-year-old 0.6 ha plot of vines on south-west facing slatey soils. 65% whole bunches are used, the wine is macerated for a long time on its skins in an open wooden conical tank, ferments naturally, is lightly pressed and then matured for 12 months in used 225-litre French oak barrels and for a further period in bottle. Bright cherry colour in the glass, the nose is very complex with red fruits and mineral, almost graphite aromas. On the palate there are nuances reminiscent of wild blackberries and rose petals on a mineral background and a delicious sapidity.
2018 Finca Pombeiras Tinto
2018 Finca Capeliños Tinto
*
Interested in finding more about the wines mentioned? Contact us directly:
shop@lescaves.co.uk |  sales@lescaves.co.uk | 01483 538820
*Note: We are still open for business, doing deliveries, and keen to help everyone with their booze needs in this difficult time. Natural wine lovers can visit our online shop and order online!