This is a series profiling the producers on our list who make natural wines. Within this series we will be highlighting some of the extraordinary and rare bottles and vintages that have helped to shape our appreciation of natural wines over the years. Previous posts from our 100 Great Natural Wines series include Austria, as well as a hefty chunk of France, and can be found here. 
The natural landscape has changed dramatically in Spain over the last ten years or so. Some time ago, conservative winemaking ruled. Many wines seemed to be a vehicle for oak rather than the other way around. High alcohol and extraction were prized. Tastes change. Soon the potential for making interesting and gastronomic wines was being realised. Here, after all, was a country of some thirty regions endowed with superb farming conditions, each with their respective climates and microclimates, growing a wealth of autochthonous grapes. Spain Part One can be found here.
Agostado Palo Cortado ~ Bodegas Cota 45
Putting on the albariza
Cota 45 is a project revolving around still white wines made under flor from numerous old Palomino clones, rediscovering styles of Manzanilla that were made in the 18th and early 19th centuries.
Ramiro Ibáñez Espinar, is a restless and talented winemaker who, with experience in Bordeaux and Australia as well as his native Sanlúcar, runs a winemaking consultancy under the name GL Cero used by various bodegas in the Marco de Jerez. He is s hugely enthusiastic about the potential of albariza soil and the recovery of traditional local grape varieties, many of which are all but lost, and which are no longer permitted in the Consejo regulations. He makes all sorts of interesting wines to demonstrate the terroir and personality of each vineyard and grape variety without letting too much flor obscure it. Ramiro was a founder member of Manifiesto 119, a group of like-minded local wine producers who want to experiment with the old varieties and winemaking techniques, make unfortified sherry and give more importance to the grapes and the vineyard, not to mention restoring casas de viña. They chose this name after the 119 grape varieties (40 of them in Cádiz) catalogued in Andalucía in 1807 by the first Spanish ampelographer, Simón de Rojas Clemente. Like Ramiro, the group makes table wines as well as sherry, and while few of them carry the DO, they are still sought after and hard to obtain due to the small quantities made. One of the projects is called UBE and focuses on old vine Palomino from different clones fermented in an old Manzanilla butt without flor.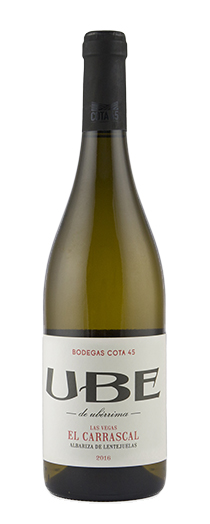 UBE Miraflores uses old clones of Palomino and is mix of three different albarizas (chalky soil with high fossil content): lentejuelas (grainy); tosca cerrada (lower chalk content, harder) and lustrillo (chalky with iron) The grapes derive from five different vineyards of the Pago Miraflores area in Sanlúcar – the largest and most heterogeneous vineyard area of Sanlúcar. This blend of different albariza soils and vineyard gives the equivalent of a "village" Sanlúcar wine. UBE Carrascal is from the Las Vegas vineyard, the highest in the Pago de Carrasacal, and the closest area to the Atlantic. The vines are original rootstock Palomino and the terroir is lentejuelas, a grainy type of Albariza soil. The wine is fermented in 500 litre sherry butts with indigenous yeasts, aged in very old barrels and bottled after a light filtration and minimal sulphites added. What is also delightful is the uplift of beautiful chalky acidity and the wines weigh in at an eminently drinkable 12-12.5% abv. Los Angeles (thirst)slakers!
The grapes for the Agostado Palo Cortado are harvested by hand and then left to dry in the sun for a short amount of time (soleo), then being trod by foot before fermentation in old butts of 500 litres with native yeasts. The wine is then matured both biologically and oxidatively in a mix of old butts (70-150 years old) and put into bottle without fortification. This is an extraordinary mouthful, almost amber in colour. The nose is deceptively light and relaxed with aromas of ripe fruit, hints of straw, spiced apples and faint traces of flor. The palate is medium-bodied with faintly toffee apple flavours of early oxidation and a faint bitter flor note.
The texture is dry and chalky and it finishes dry though there is a very faint suggestion of residual sugar which is balanced by a good level of acidity making it very elegant, long and delicious.
Why we love this: Where terroir meets process. This wine takes you on a journey. Palo Cortado is no mere halfway house; it offers an integration of amontillado flor overtones with the subtle oxidation of an oloroso all shot through with a line of albariza minerality.
If you like this: Botella Debajo de la Mesa is a wine without boundaries. Since 1994 Pedro Olivares has been consulting for one of the most important Andalusian wineries called Toro Albalá, located in Aguilar de La Frontera in Montilla-Morales. He had always wanted to make a special fino pasada wine. After months of tasting hundreds of barrels of fino he discovered two special abandoned 500 litre barrels filled with wine made from unfortified Pedro Ximenez. Records indicated that the wine was put into barrel in 1942. The wine was aged on the lees by mixing oxidative and biological static (i.e. not solera) processes. No sulphur was added. Extraordinary nose of green almond and hazelnuts, fig jam and grilled plums, good acidity, bitter toasty finish. One for the history books and for meditative sip-age.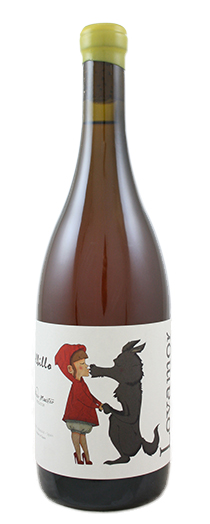 Lovamor ~ Alfredo Maestro
Quoth the wine raver… Lovamor!
Do we love Albillo? Or what? It appears both fruitily in Nicolas Marcos' La Fanfarria Blanco alongside Albarin, one Cangas wine you will never rue, and in the toothsome Lovamor by Alfredo Maestro.
But what is it?
In 2010, ampelographers using DNA analysis, discovered a parent-offspring relationship between Albillo and the Italian/Val d'Aostan/Blanc de Morgexian grape variety Prié Blanc which was growing in the Ávila province under the name Legiruela, but it is not yet clear which grape is the parent and which grape is the offspring.
Our mini-maestro of pure Albillo is the affable iconoclast Alfredo Maestro, who established his small bodega in 1998 in his hometown of Peñafiel, Ribera del Duero. Alfredo seeks out neglected vineyards around Castilla y León and Castilla-La Mancha, takes the parcels over, and works them organically. In the cellar, Alfredo works au naturel, eliminating all winemaking additives – including sulphur.
Over time, Alfredo has accumulated nine hectares across Castilla y León and La Mancha along with establishing a second small bodega near Madrid. Lovamor is made with fruit sourced from low-yielding 100-120-year-old Albillo bush-vines grown at 800-1100 metres elevation in the Ribera del Duero. Here the soils are sandy, clay-calcareous, and the climate is Spanish-continental with cold winters, hot days and cold nights during the summer months, all of which combine to produce wines with robust fruit and brisk acidity if the grapes are farmed well and picked at the right time.
This cuvee sees a wee bit of skin contact and is fermented with wild yeasts in steel vats with 6-8 days of skin. It matures in vat on the lees, clarifies naturally over the winter, and is eventually bottled unfined & unfiltered without the addition of SO2.
Lovamor's appearance is slightly turbid and pink-tinged with savoury, funky notes woven through orchard fruits, flowers, and mineral notes as well as a red apple skin, phenolic bite on the dry finish. And we have a lot of love/amore for the label, little Red Riding Hood planting a smacker on the lips of the wolf.
Why we love this: There can't be many amber wines at this price that pack so much flavour, being loaded with ripe fruit, mineral salts and tannins.
If you like this: Rafa Bernabe used to make wild wines from vines grown in the dunes next to a lagoon in the Parque Natural de La Mata y Torrevieja. These vines now belong to Andres Carrul who farms and makes wines in the same natural idiom. We enjoy the Benimaquia Tinajas (six months on skins), a basket of marmalised orange fruit, but Rafa's Vino de Simon was extraordinary, pure Merseguera, a limber athlete that shows your tongue a clean pair of heels. The tongue-arching acidity made you weep (with joy), minerals scrunched into the skin of the fruit imbue the warp and weft of the wine, and the whole ensemble had the relaxed rasping gargle of a Lou Reed or Bob Dylan, in their pomp.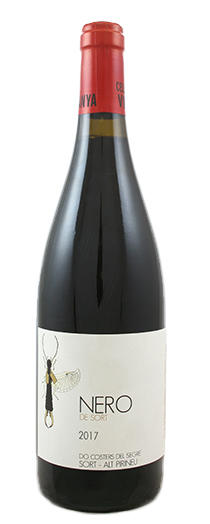 Nero De Sort Pinot Noir ~ Celler Batlliu De Sort
Pinot? Sorted!
Passionate about wine and the Pallars region, the quartet of Josep Rabasa, Ramon Aytés, Guillem Puras and Aleix Aytés, planted the first vines of Pinot Noir on the Barreró estate in the winter of 2007.
Surrounded by forests of oaks, durons and hackberries, and in the area of influence of the National Park of St. Mauricio Lake, the vineyards are located on the slopes of the "batlliu" of Sort, from which the winery takes its name. Old meadows of grass were reconverted into vineyards 200 years after the grapevine became extinct in the region. These are alpine climes with vines growing at 800-900 metres above sea level.
Josep and Ramon work mainly with Pinot Noir plus some Riesling and Viognier, planted on calcareous and slate soils, and farmed only with products permitted in ecological agriculture, with total respect for the vital cycle of the vine and traditional processes. The winery is located beside the barn, among the vines, with spectacular views of the valley of Sort and the Batlliu.
Grapes are manually harvested with a small percentage of grapes fermented whole in plastic vats and then transferred to tanks where the wine is aged for 10 months. The process is natural with minimal intervention and no additions other than a little bit of sulphur before bottling.
The Nero de Sort is a delicious and very pretty Pinot Noir from a high vineyard, a low intervention wine that captures the subtle fragrances of the variety – cherry blossom, raspberry and a touch of fennel, salty-fresh palate. Quite shy initially, this is structured with firm, skin-crunchy and minerals and a pure line of acid streaking through the wine.
Sophisticated Pinot Noir – from the mountains!
Why we love this: The wine encapsulates everything that is lovely about Pinot Noir with the added bonus of wild meadow alpine freshness.
If you like this: Partida Creus is a small artisanal winery, which produces limited quantities of high-quality wine made from organic grapes. The viticultural philosophy of Partida Creus is founded in a strong respect for nature. The goal is to revive lost techniques of cultivation, establish an ethical relationship between farmer and land, to consistently maintain high quality and do so in a sustainable manner. The SM (Sumoll) offers bright red fruit and zippy acidity for a first impression, with aeration the wine fills out and becomes deeper, full of grip and acidity with juicy dark fruit and a long finish.
*
Interested in finding more about the wines mentioned? Contact us directly:
shop@lescaves.co.uk |  sales@lescaves.co.uk | 01483 538820
*Note: We are still open for business, doing deliveries, and keen to help everyone with their booze needs in this difficult time. Natural wine lovers can visit our online shop and order online!