It's May. If you've had the day from hell then, assuming that your fishmonger – if you have one –is still oyster-roystering, then deck those natives with the wine from shell par excellence, namely, the friskiest of frisky Muscadet.
This is a shout-out to native grapes, and the lesser-lauded Melon, in particular, a variety that I associate with languid spring days and seafood.
Over the years, Les Caves has championed the autochthone, the indigenous and often unfashionable varieties, that have all but disappeared as more fashionable international grapes have been installed in their place. More recently, historical/traditional varieties have come back into vogue; they are, after all, a convincing assertion of regional identity. Our list features no fewer than 280 grapes, either singly or in blends, which sounds quite a lot, but is barely 3% of the extant varieties.
My contention, however, has always been that it is not the grape variety per se that is the main determinant of quality, but the unique combination of terroir, farming and attention to detail in winemaking that elevates any grape variety – or blend – into a wine worthy of being called noble.
So, what's in an unfashionable grape? Deirdre and Caleb (La Garagista Farm + Winery in Vermont) work with hybrids developed by the University of Minnesota to resist the extreme alpine conditions in the north east region of the US. Lineage may not be noble, but Deirdre and Caleb's approach shows the value of biodynamics when it is practised with intuitive understanding. They have a sense of the vineyard as a whole, and a sense of the vines in particular. With their busy schedules and given the distances they need to travel the vineyards need to have healthy eco-systems and build up resistance to disease and their canny adaptation of the biodynamic remedies helps them to achieve this objective. At present, the vines produce give pitifully small yields, but the quality is sublime, and when you taste the wines from say, La Crescent and Frontenac Gris, you may start to question the traditional hierarchy of noble grapes. The parents of these varieties are Muscat d'Ambourg and Aramon, amongst others. So what? Isn't quality really the result of responsive farming and interesting terroir? That's a rhetorical question, by the way.
Melon de Bourgogne is better known as Muscadet and is the dominant grape of the area around Nantes on the coast of Brittany, where the Loire meets the Atlantic Ocean.
Muscadet has such a bracing sea tang, and such an affinity for the shellfish of the Breton coast – especially the superlative Belon oysters of the region – that it may come as a surprise that the Melon de Bourgogne is a relatively recent arrival, and its dominance in the region was the result of one terrible winter.
The Melon has a long history but not all in one place. As the name would imply, the variety originated in Burgundy but was removed from the vineyards there in the 16th century, as other varieties proved more successful in that climate. However, the ability of the vines to withstand frost made it attractive to winemakers in Anjou, where it was also eventually edged out by other varieties.
At the same time, it caught the attention of Dutch distillers further downstream, who needed large quantities of wine with which to make brandy. The Dutch started planting Melon in vineyards near Nantes, the most convenient port from which to ship the wine to Holland, in the 17th century. At the time the area was planted primarily with red grapes but when the worst winter in recorded history devastated the vineyards in 1709, causing barrels to burst in the cellars and even freezing the coastal waters, the Melon was one of two varieties to survive and it has dominated the region ever since.
Although it was originally a rather neutral wine, Muscadet producers have refined their techniques in order to make wines with their own distinctive attributes. In particular, the wine can be designated as Muscadet Sur Lie, indicating that it has been left on the lees for the winter between fermentation in autumn and bottling in spring. This allows the wine to develop a fuller flavour and a slight prickliness that gives the wine additional freshness.
Well-bred Luneaucy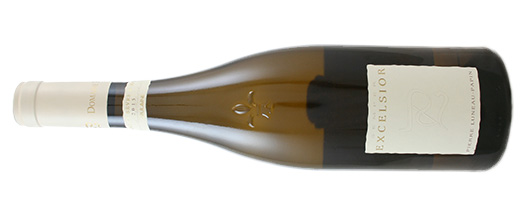 We certainly have a melange of Melons for your Belons (other oysters may apply). Pierre Luneau specialises in quality Melon that is a far cry from la lavasse served up in many bars.
The domaine ages some of its cuvees like reservas to show the potential of the variety, but focuses on translating terroir into wine.
The magnificent Terre de Pierre-Marie, formerly known as Butte de la Roche, comes from a special terroir of serpentinite rock rising from the plain, an extraordinary example of Muscadet with thrilling crystalline citrus fruit flavours and amazing length. Excelsior "Le Clos des Noelles" is aged 36 months on the lees, and is from a parcel of 80-year-old vines on mica-schist in a cru communale. Showing subtle, complex aromas of bitter lemon, lime-flower, melon, pear, mint, almond and stone, the palate is silky, crystalline and dense with white fruits, lemon zest, almond, smoke and wet stone with fabulous length of pear, minerals and taut acidity. L d'Or du Luneau is from old vines. This cuvee is always kept back for later release, to show the benefit of lengthy ageing in the bottle.
The Handlebar Man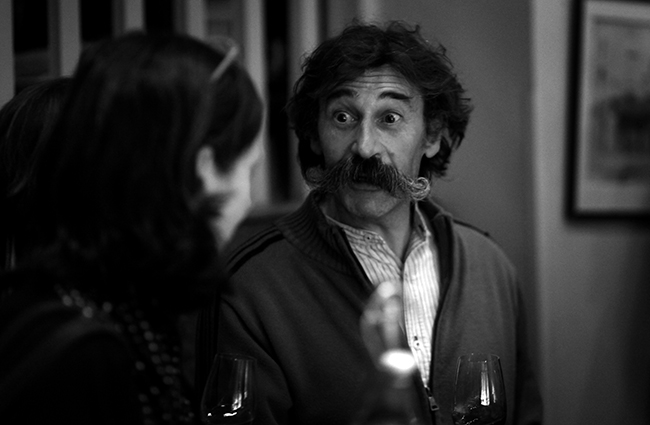 Domaine de la Louvetrie was established by Pierre Landron in 1945, and it was not until the 1980s that his son, who goes by the name of Jo, joined him, having first finished his studies. In 1990 Pierre handed everything over to Jo; he now farms about 36 hectares at Domaine de la Louvetrie, although he also tends two other domaines, Chateau de la Carizière and Les Grand Houx, bringing the total up to about 48 hectares.
It was under Jo's direction that the vineyards were converted to 100% organic viticulture in 1999, gaining full certification from Ecocert in 2002. In 2008 he took the leap to full biodynamic viticulture, gaining Biodyvin certification. The use of chemical fungicides and other such methods were totally abolished, fertilisation is with biodynamic compost, and the vineyards are ploughed to reduce competition from weeds. The vines see leaf-thinning to aid drying and discourage rot, and Atlantic breezes also help with this task. The vines, which range in age from 15 years up to about 70 years, are planted at a density of 7000 vines/ha and pruned to eight buds to bring yields below 50 hl/ha, although in the vineyards with a more favourable exposure a green harvest may also be employed, bring yields here below 40 hl/ha.
Melonix is where Asterix naturally meets Musca-tache. Jo calls it Le rebelle du Domaine! The vines are around forty years old and grow on sandy-clay soils. Indigenous yeasts, no sulphur and bottled without fining or filtration having been aged on the fine lees for twelve months. The 'hands-off' approach also facilitates malolactic fermentation. It has a very expressive nose, very floral and minerally too, elegant but also open and accessible. The palate shows a very deep and sappy character, with a floral expression like that on the nose, alongside a white fruit character. A richly styled Melon, no doubt the malolactic contributing something here, with citrus fruit elements such as tangerine, and white grape. Yes, it has le crunch in abundance.
It has le crunch in abundance.
Amphibolite derives its name from the greenish, metamorphic bedrock from gabbro (amphibolite) that dominates the soils in which it is grown. Nature, in the name, is used in the sense of 'naked', i.e. nothing at all is added (save a little SO2) so you get only the pure, unadulterated expression of the soil. Produced from vines aged 25-40-years-old, this unique wine is vinified, whole bunch, with only a short time on its lees as Jo wants to retain as much freshness and minerality as possible. Bottling occurs early, in March, again to retain the earth-to-glass essence of the wine, without filtration. The result is an ultra-pure, low alcohol expression of Muscadet loaded with bright apple skin, lime leaf, citrus pith, iodine and minerals salt notes and a lovely crunchy finish.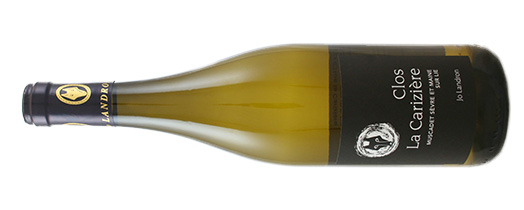 The other two Muscadets that we have from Landron are also worth the detour. Le Clos La Carizière is old vines Melon on orthogneiss. A vivacious number which shows the concentration of tiny yields. Le Fief du Breil is from a powerful terroir of orthogneiss and quartz and is aged for 30 months on the lees. This Muscadet is smoky in its youth, developing beautifully over time, broadening into ripe citrus, almond, stone and truffle aromas and stony anise-tinged flavours on the palate.
The Pepi Challenge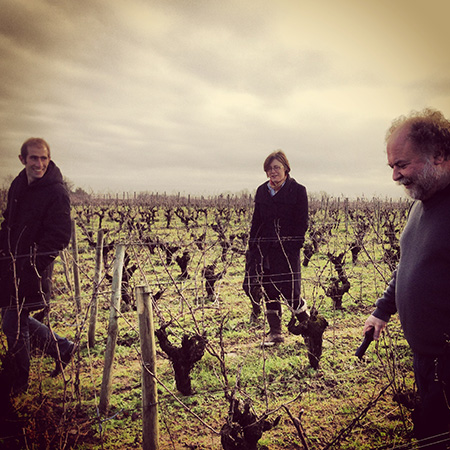 As Marc Ollivier (Domaine de la Pepière) matured as a winemaker, he began to experiment with ambient yeasts and began bottling with minimal amounts of SO2. The results were extraordinary; the wines showed greater depth, richness and complexity. Encouraged by his success, Marc began transitioning all his vineyards to organic and continued his minimalist approach in the winery. His racy, lemon-tinged, mineral-driven Muscadets have since become the benchmark for the region and have opened up a world of previously unknown potential in the area. Marc's success is combination of good fortune (his vineyards were never touched by wine consultants encouraging new, higher yield clones) and an open minded, experimental approach to making the best possible wines. Some points:
Many of Marc's vines are 40+ years old and some of his vineyards are planted on granite soils, a rarity in the region.
All the vineyards are from original stock: Ollivier is the only grower in the Muscadet who does not have a single clonal selection in his vineyards.
Marc Ollivier hand harvests (a rarity in the region) and uses only natural yeasts for fermentation. Extended lees contact, often till April or May of the following year, adds depth to the wines.
The Muscadet from Pepière is an excellent example. The wine is lemony, stony and bracing on the palate.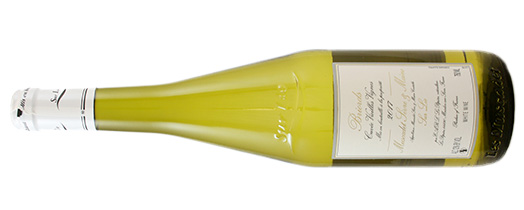 Magical Miss-Terre Tour
Then there is Marc Pesnot who works outside the appellation at Domaine de la Senechalière and elevates the grape to another level with precise farming and natural winemaking.
Marc's domaine comprises approximately 13 hectares of vines, mostly Melon de Bourgogne in Saint-Julien-de-Concelles (where beurre blanc was supposedly invented). Soils are schistous, and many of the vines well over 50 years of age; for Miss Terre the vines are up to 80 years old.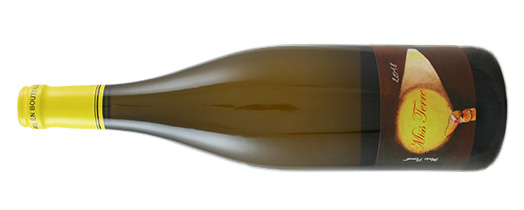 Marc works organically, labouring the soil and opting for natural solutions, essential oils, herbal teas and copper treatments over synthetic products. Manual harvest with very low yields to ensure best quality grapes. These methods are already unusual for the region where conventional farming and mechanical harvesting (with high yields) are the norm.
Such hands-on organic farming is the precursor for natural work in the winery. The ferment is with indigenous yeasts (again very unusual for Muscadet) in fibreglass lined tanks and takes a very long time. The wine is left in contact with its lees until the spring. Almost uniquely the malolactic is not blocked by sulphur addition and completes (this is not allowed in appellation so the wine must be vin de France). No finings, no chaptalisation, no acidification and only a very small amount sulphur added before bottling. As a consequence, the has lower acidity than one might expect from Melon, as indicated on the label where Marc has written "Ce vin est sec, mais pas acide".
Scents of pear and citrus pith, alongside elements of white pepper and also a very faint seam of bright, perfumed almond. The palate is quite exhilarating, with a deep texture, sherbetty minerality and a rich, flavoursome substance. If you are looking for aromatic and cold ferment ripe citrus, you came to the wrong Melon.
Marc sells the large majority of his production to Japan, where they know a thing or two about natural wine.
The palate is quite exhilarating, with a deep texture, sherbetty minerality and a rich, flavoursome substance. If you are looking for aromatic and cold ferment ripe citrus, you came to the wrong Melon.
Of course, oysters doth not a Muscadet make. Other shellfish will do and some of the wines mentioned above, are truly gastronomic. We're in the Chablis 1er cru ballpark style-wise, so river and smoked fish would also work well in partnership, even dishes featuring rabbit and chicken. And, as was proved to me, roast Mediterranean vegetables. Who knew?
*
If this post has left you scratching your melon, why not contact us directly?
shop@lescaves.co.uk |  sales@lescaves.co.uk | 01483 538820*
*Note: We are still open for business, doing deliveries, and keen to help everyone with their booze needs in this difficult time. Natural wine lovers can visit our online shop and order online!