It is with enormous sadness that we have learned that Dominique Belluard of Domaine Belluard has passed away. We would like to remember him as the brilliant vigneron he was, a cheerful soul, always smiling with more than a touch of irreverence. His wines were so compelling, original and thrilling, inspiring many of the growers that we work with, as well as bringing lots of joy to those who drank them.  
Dominique lived in the village of Ayze, a little commune in the Haute-Savoie situated in the heart of the valley of the Arve between Geneva and Chamonix Mont-Blanc. Vineyards have been established here since the 13th century. His vineyards were between 350-450m high on exposed south-facing slopes where the soil is composed of glacial sediments, moraines (continuous linear deposits of rock and gravel). The alpine climate means that there is a big temperature difference between day and night, ensuring both physiological maturity in the grapes as well as good acidity.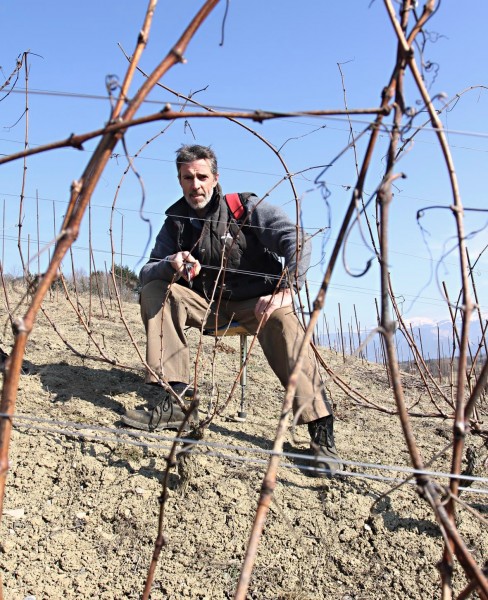 Dominique's parents were farmers. They grew fruit trees, and vines, and worked their orchards and vines up until the 1980s. Dominique took a wine-making and viticulture course at Beaune, before taking the reins at the family's farm in 1988. The procedure for conversion to biodynamic farming began in 2001 and Dominique transitioned toward natural winemaking. He specialised in the virtually unique ancient grape Gringet and is the only person we know who makes a still version. Formerly thought to be synonymous with Savagnin, it is now recognised to be an autochthonous Savoyard variety and mostly of the extant 20-hectares left of it are devoted to sparkling winemaking. Dominique himself made two versions of fizz, but it was his still wines that were to acquire global renown, and could invariably be discovered on the best natural wine bar list throughout the world.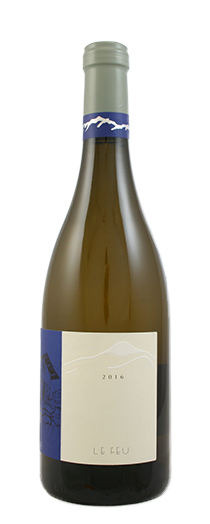 We were utterly captivated in every vintage by a wine called Le Feu which hailed from a special parcel of late-maturing old vine Gringet grapes grown on steep slopes and in iron-rich red soils– the "hot spot" of the vineyard as it were… The wine's opulence is balanced by relative lightness of alcohol and incredibly relaxed leesy spiciness. An amalgam of white peaches and little golden pears, wild mint, minerals, Le Feu is metaphorically on fire, a blazing sword of mountain minerality elegantly sheathed in its velveteen scabbard of lees-kissed golden fruit. Yes, it is the sort of wine that makes you reach for the most elaborate purple-prosy metaphor. When we visited Dominique several years ago, he showed us this special vineyard. He advised us to stay on the path (there was a sign saying "Beware of Snakes!") We stood on the steep slopes admiring the view over the valley and Dominique told us that he loved hang-gliding over this valley in the shadow of Mont-Blanc.
We would like to remember him as the brilliant vigneron he was, a cheerful soul, always smiling with more than a touch of irreverence.
When we returned to the truly rough-and-ready winery, Dominique ran through the gamut of fermentation vessels that he had previously used. In the last few vintages all wines were fermented and aged in cement ovoid betons, the liquid inside in biodynamic suspension. He explained to us that (in his opinion) stainless steel imprisoned the wine, oak superimposed flavour on the wine and the egg was ideal shape and material for his wines. Although he trialled amphorae for a while.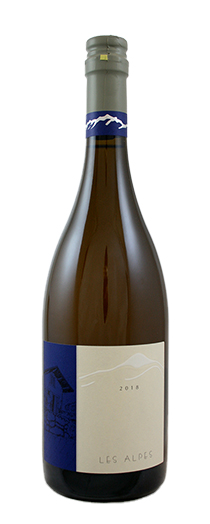 The main still Gringet cuvée is called Les Alpes. Wilful obscurantism apart, this is a wine that expresses a lungful of mountain air, heck, glacial as a Hitchcock heroine, with exuberant acidity that skates across the tongue and performs a triple salchow on your gums. The fruit is always beacon-bright, crystalline and the acidity sings. Aromas of white flowers and jasmine, citrus-edged with a hint of peach-stone, violet and a twist of aniseed to finish. Every mouthful like giving one's tongue a full career down the Cresta Run.
There was also a Mondeuse that I loved dearly, a wine salty with minerals.
We will miss Dominique hugely. We send our deep condolences to Dominique Lucas from Les Vignes de Paradis. They were wine-brothers-in-arms, sharing a love for biodynamics and winemaking. Also to Jean-Claude Lapalu who introduced us to Dominique. And to all who were close to Dominique and appreciated who he was and what he did.