Read Chapter One Parts One, Two and Three
Chapter Two Parts One, Two and Three
Chapter Three Part One and Two and Three
Chapter Four Part One and Two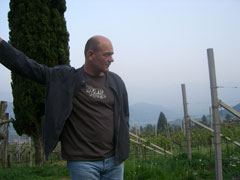 Unsuit yourself
We try to operate in a bullshit-free manner. Because we don't wear suits, because we don't waste our energy having strategy meetings, because we don't shroud our message in pr flummery, because we have a healthy disregard for what is perceived to be "on-trend", because we believe in the quality of what we are selling, and that it is better to speak human (how I hate that phrase!), because we acknowledge our failings, because we can joke with each other, we have carved a special identity for ourselves.
The Spirit of Jazz: Ow! My hat's on fire! What's wrong with you? You blind? Why didn't you tell me?
Howard: Sorry, I thought that was your look.
–The Mighty Boosh
On dress sense alone, I believe that the Les Caves legacy to the wine world will be "dress-down Monday-to-Friday". Not so many years ago Eric was invited to do a tasting at Le Gavroche in Mayfair by its legendary general manager of the time. When he arrived in trademark t-shirt and jeans, he was not allowed over the threshold unless he donned a jacket and tie. He refused. He was given a dressing down for dressing down. This was not an isolated incident; we were operating in a time, after all, when much of the wine trade was suited-booted-and-often-cravated. Tastings would be conducted in the great city halls, or in clubs on, or adjacent to, Pall-Mall. Nowadays, although some companies will host tastings in a skyscraper, on a boat ("don't drink Burgundy on a boat" – Bernard Black, Black Books), in a famous sporting venue, for many (as it has always been for us) it's about the wine and not the trappings of the occasion. If you're of the hipster wine company persuasion then a church crypt or a dungeon is the appropriate gothic venue for your brooding, inspissated wines.
I am definitely the Archbishop of Scruffminster. Ralph Waldo Emerson observed that being perfectly well-dressed gives one a tranquillity that no religion can bestow. Even wearing a smart jacket made me feel like a scarecrow wearing a smart jacket, and whether or not it fitted, people knew me well enough to think (and comment) that my semi-formal attire was an ironic gesture.
On dress sense alone, I believe that the Les Caves legacy to the wine world will be "dress-down Monday-to-Friday".
It's more grease to our elbow that we are selling wines from small producers that we love (and that taste great). We have never conformed to the expectations and practices of the commercial wine trade. For several years, however, we did put ourselves forwards for awards ceremonies, the ritual sharing out of baubles, bangles and beads.
In the end many are called…and all are chosen.
Then all the party were placed along the course, here and there. There was no `One, two, three, and away,' but they began running when they liked, and left off when they liked, so that it was not easy to know when the race was over. However, when they had been running half an hour or so, and were quite dry again, the Dodo suddenly called out `The race is over!' and they all crowded round it, panting, and asking, `But who has won?' 
This question the Dodo could not answer without a great deal of thought, and it sat for a long time with one finger pressed upon its forehead (the position in which you usually see Shakespeare, in the pictures of him), while the rest waited in silence. At last the Dodo said, `EVERYBODY has won, and all must have prizes.' 
`But who is to give the prizes?' quite a chorus of voices asked.
`Why, SHE, of course,' said the Dodo, pointing to Alice with one finger; and the whole party at once crowded round her, calling out in a confused way, `Prizes! Prizes!'
Alice had no idea what to do, and in despair she put her hand in her pocket, and pulled out a box of comfits, (luckily the salt water had not got into it), and handed them round as prizes. There was exactly one a-piece all round. `But she must have a prize herself, you know,' said the Mouse.
`Of course,' the Dodo replied very gravely. `What else have you got in your pocket?' he went on, turning to Alice.
`Only a thimble,' said Alice sadly.
`Hand it over here,' said the Dodo.
Then they all crowded round her once more, while the Dodo solemnly presented the thimble, saying `We beg your acceptance of this elegant thimble'; and, when it had finished this short speech, they all cheered.
Alice thought the whole thing very absurd, but they all looked so grave that she did not dare to laugh; and, as she could not think of anything to say, she simply bowed, and took the thimble, looking as solemn as she could.
The next thing was to eat the comfits: this caused some noise and confusion, as the large birds complained that they could not taste theirs, and the small ones choked and had to be patted on the back. 
–Alice in Wonderland, Lewis Carroll
We won some (IWC French Regional Specialist seven years in a row), we lost some, we poked at the rubber chickens – or was it lamb? – and bopped around the dance floor in our penguin-suits with people from other companies. One year, the relentless corporate glad-handing and self-congratulation became too cloying, and we realised that to be recognised by the wine trade for our accomplishments was to be accepted by a system that endorsed, and was endorsed by, brands and multinational corporations. We never wanted to be part of that kind of establishment. In the words of Groucho Marx, we didn't want to belong to any club that would have us a member.
This does not stem from reverse snobbery. It is important to acknowledge, however, that there is a lot wrong with business practice within the wine industry. Although it is flattering to win awards, this is not what motivates us, which is nothing more profound then selling wines that we believe in, to people who will appreciate them.
Which is why we have never sold brands with any conviction.
Digression: Why doesn't Les Caves de Pyrène carry major brands?
Once upon a time I wrote a short piece for a magazine deploring the banality of corporate jargon in the wine trade. Terms like upsegmentation, channel management, wine margin optimisers, gatekeepers, flagship wines and icons were (and still are) being solemnly bandied about ad nauseam as if they meant something. Maybe you can't blame the brands for helping to debase the English language by communicating in arrant gobbledegook. Or maybe you can – after all the wine industry would have us view wine as a pseudo social science, and to understand its vagaries you need to be able to decode its jargon. Well, as the great wine analyst, Professor Yaffle, said: "Flapdoodle and fiddlesticks!"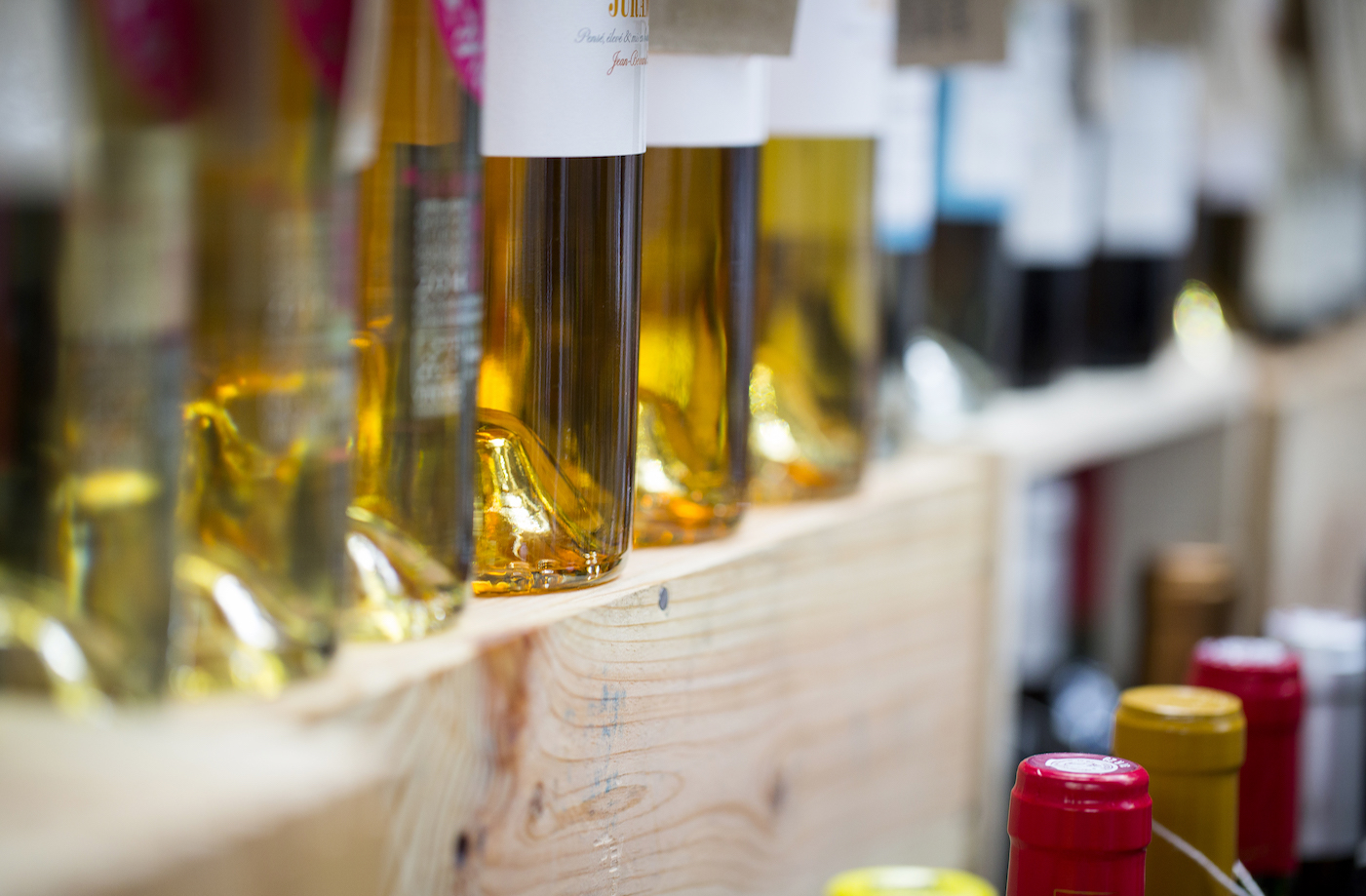 Successful branding involves creating an instantly recognisable product. A product must have a specific identity (until it is re-branded), one that appeals to its target consumer. Many products are invented to appeal to flick certain triggers in our psyche – be the instinct to make a safe choice, to reflect the need for approval, or the quasi-aspirational desire to be seen drinking a trendy brand. Much time and money go into research for marketing purposes, and understanding how to package a product in order to maximally appeal to the audience in question, that so-called "segment of the target market".
Could the language of wine commerce be any more banal?
No, it really couldn't. From "gatekeepers" through "channel management" to "segmentation" and all those other banal buzzwords bombinating in the Pandora's box of verbal flimflam, obfuscating marketing clichés have infected and debased our language. Eric Bentley opined: "Ours is the age of substitutes: instead of language, we have jargon: instead of principles, slogans: and, instead of genuine ideas, bright ideas." Their prevalence in the general discourse reflects a rather depressing view of the world where the market mentality rules supreme, and highlights a view of the world of wine as a kind of unceasing great commercial game played by opinion-formers and consumers, rather than a planet populated by farmers and craftsmen and individuals who have the will and the nous to make their own decisions, to do what they do, and like what they like, and buy what they like.
At Les Caves, we see people as individuals rather than cyphers or consumers, and we want them to make up their own minds about what they drink on the basis of how good or delicious the wine is, rather than be taken in by marketing flimflam. For us the wine is only ever as good as what is in the bottle – and that can be only as good as the quality of farming and the winemaking. Brands create faux-mythologies about vineyards and places, inventing colourful and factitious back stories. The real stories are somewhat more prosaic.
If you work with a brand, you necessarily have to regurgitate the brand-myth. The money will follow the product; that money is spent on a variety of promotional activities such as generic tastings, hosting events, corporate sponsorship and knick-knacks. In a competitive market, it is essential that the brand is always seen and heard. This smacks of desperation. Whilst people in the trade may accept hospitality and the perks, they will eventually lose respect for a wine company that is constantly courting their affections by means of… bribery. (Let's call a spade a spade). It is a different matter to reward sommeliers and buyers who have really invested in the brand and believe that the wine stands up of its own accord.
At Les Caves, we see people as individuals rather than cyphers or consumers, and we want them to make up their own minds about what they drink on the basis of how good or delicious the wine is, rather than marketing flimflam.
Branded wines, by definition, are immutable. The more so when they reinvent their image. Their consistency is their not-so-unique selling point. We like our wines to be mutable; the fact that they are different from year to year, day to day, hour to hour, shows that we are dealing with charismatic living products that cannot be circumscribed by pat descriptions nor commercially-pleasing imagery. To be successful you don't have to play the game or talk the jargon-ridden talk; the wines, do, however, have to proudly walk their own walk.
We have flirted with a few Champagne brands in our time. Or rather they have flirted with us. Flirting is perhaps too strong a word to describe the relationships. This is the area of one's business where you are expected to sell listings (or money for listings) rather than wine. Eric, Philippe and I were once invited to Epernay to visit the headquarters of a company called Nicolas Feuillatte (total production – a bazillion bottles). We were shown into a big conference room with massive picture windows overlooking some (pretty arid) vineyards. An elderly gentleman was sitting behind a vast desk. He glanced at us without any interest and launched into a long monologue, whilst we sat and alternated between gazing at the walls and admiring the desert view. The gentleman in question turned out to be the actual Nicolas Feuillatte (whom I thought was just the name of the brand; I didn't realise there was an actual Colonel Sanders-type figure person associated with it). His almost utter disdain for us was beautiful to behold; we were, after all, sublimely irrelevant, space dust in a branded universe.
– You have insulted the Countess' honour!
– Why? I let her finish first.
– Her seconds will call on you.
– Seconds? I never gave her seconds.
– My seconds will call on your seconds
– My seconds will be out.
– Have 'em call on my thirds
– If my thirds are out, go to my fourths.
–Love & Death, Woody Allen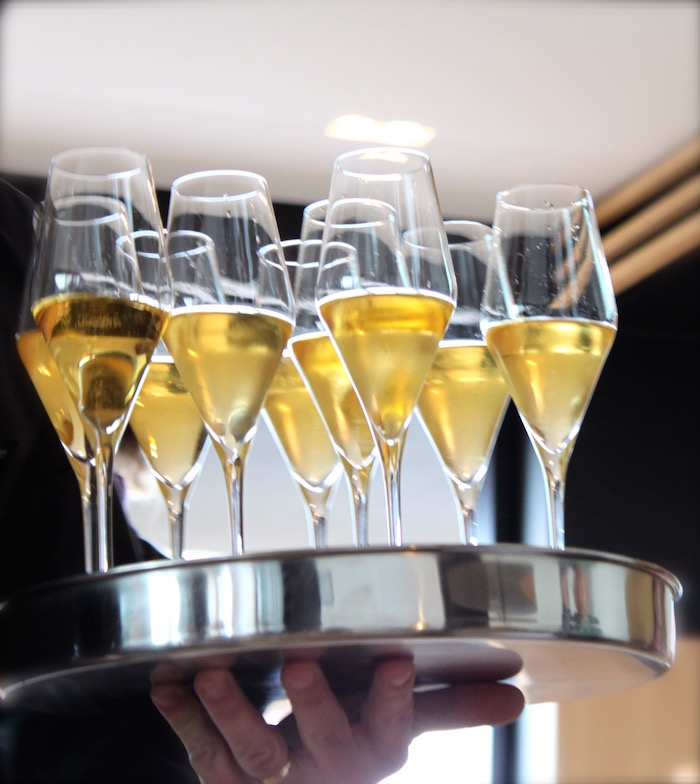 This is what I feel about champagne offers and brands in general. They reflect a world of financial options rather than wine. Whichever option you sell or buy, you are just dealing with the numbers. We could replace one brand with another and then another, and the net result would be the same.
Feuillatte produced a wine called Palmes d'Or in a beautifully-designed grenade-shaped dimpled bottle containing a grand cru wine and housed in its own individual presentation case. We nicknamed this opulent whimsy "the purple pineapple". A dear friend, who, alas, died a few years ago, bought the purple pineapple to celebrate at the moment when the clock struck midnight on the eve of the millennium. As the grand countdown began, he popped it open, poured a glass each for himself and his boyfriend, and toasted the next thousand years. And, yes…the purple pineapple was corked.
Which reminds me of Honoré de Balzac's Père Goriot:
"I (Vautrin) propose a little bottlerama of Bordeaux made doubly illustrious by the name Laffitte…"
He poured out a glass for Eugene and Père Goriot and then slowly poured out a few drops which he himself tasted…
"Devil take it! It's corked."
Which is a metaphor for something, as a close friend of mine is wont to say.
Selling brands, selling deals, selling aspiration, selling trends and images is everything we are not about. We can't fake it.
I know that when someone parades their moral integrity in front of you, then you would do well to check whether you still have your wallet. Selling wine without provenance, without a heart, without a care, at any price, is a million miles from our principles of inclusiveness, transparency, collaboration, reciprocity, respect, gratitude and sustainable growth.
Better check your wallet is still there.
Selling brands, selling deals, selling aspiration, selling trends and images is everything we are not about. We can't fake it.
One of my favourite poems is by John Clare:
All nature has a feeling: woods, fields, brooks
Are life eternal: and in silence they
Speak happiness beyond the reach of books;
There's nothing mortal in them; their decay
Is the green life of change; to pass away
And come again in blooms revivified.
Its birth was heaven, eternal it its stay,
And with the sun and moon shall still abide
Beneath their day and night and heaven wide
What has a paean to the feelings engendered by nature to do with brilliant business practice? Nothing – yet everything. Business is governed by financial cycles as well as countless uncontrollable factors, by sheer (good or bad) fortune, by the way you govern yourself and how hard you are prepared to work, how imaginative you can be, and by the relationships you forge and maintain over the years. Good business practice is not about putting yourself on-trend or being ahead of the game; or trying to climb over others to get to the top of the tree. Like Clare's listening poet it is about being sensitive, sensible and, above all, humble.
To be continued in Chapter Five…