Of chacha at the gallop, Crazy Pomegranate=crazy-good food, old Rkat and new pet nat.
They say in Sighnaghi that if you drink wine and chacha all night long you start to see the snow-capped Caucasus mountains. This is because dawn has broken and even through blur-vision-eyes everything is still visible and twice as audible.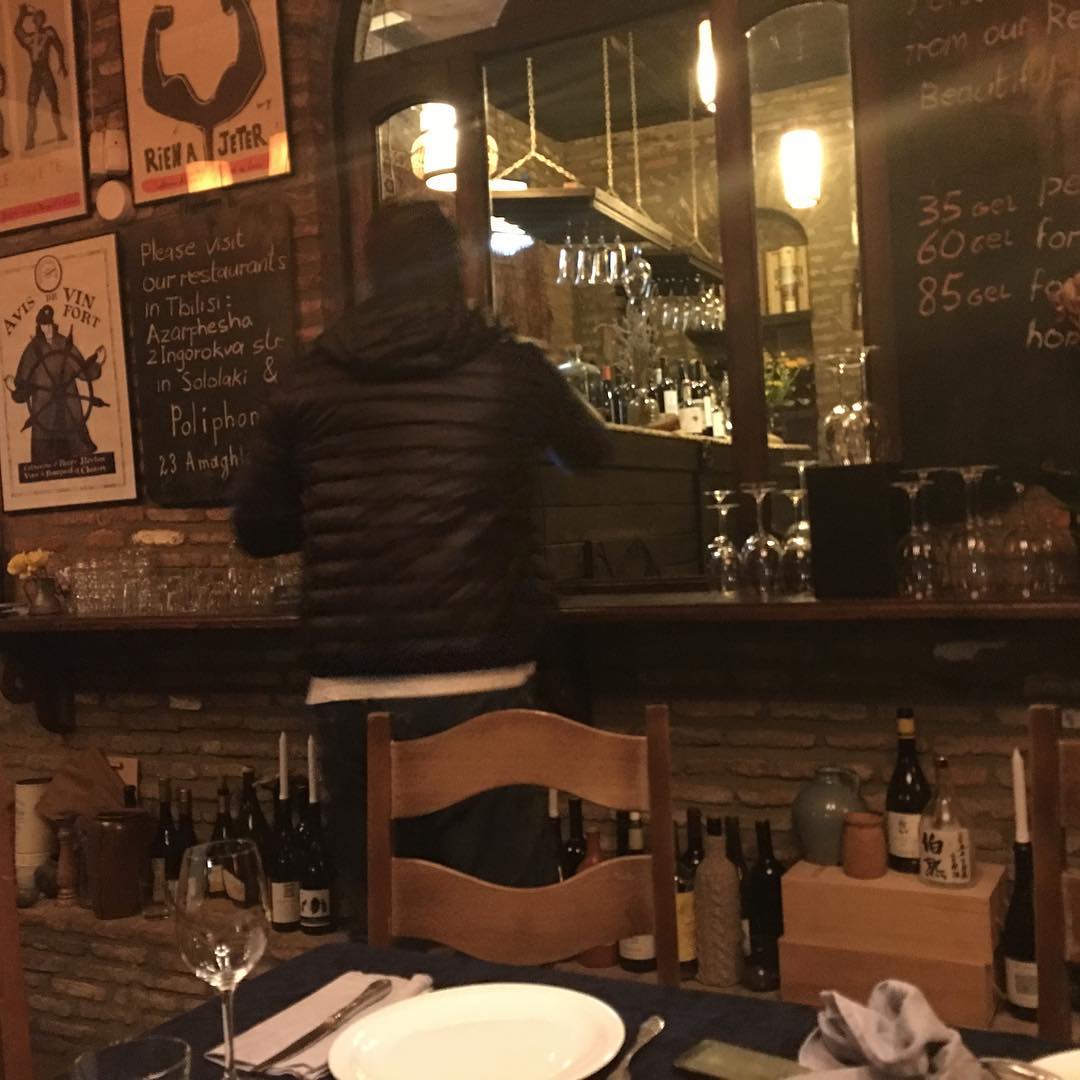 Despite the mighty over-indulgence of certain members of our small gang, there was more than enough enthusiasm to go horse-riding at the Pheasant's Tears ranch. Yes, Pheasant's Tears has a ranch. And a rather nice hotel. Whilst I parked myself feebly at a bench to commune with some cheesy bread and the obligatory glass of spirit, others bravely mounted their steeds and either thundered off, or trotted gently down the road. The sound of the hooves in Georgia is not clip-clop but cha-cha-cha by the way. Our equestrians returned invigorated – check out the new hangover cure!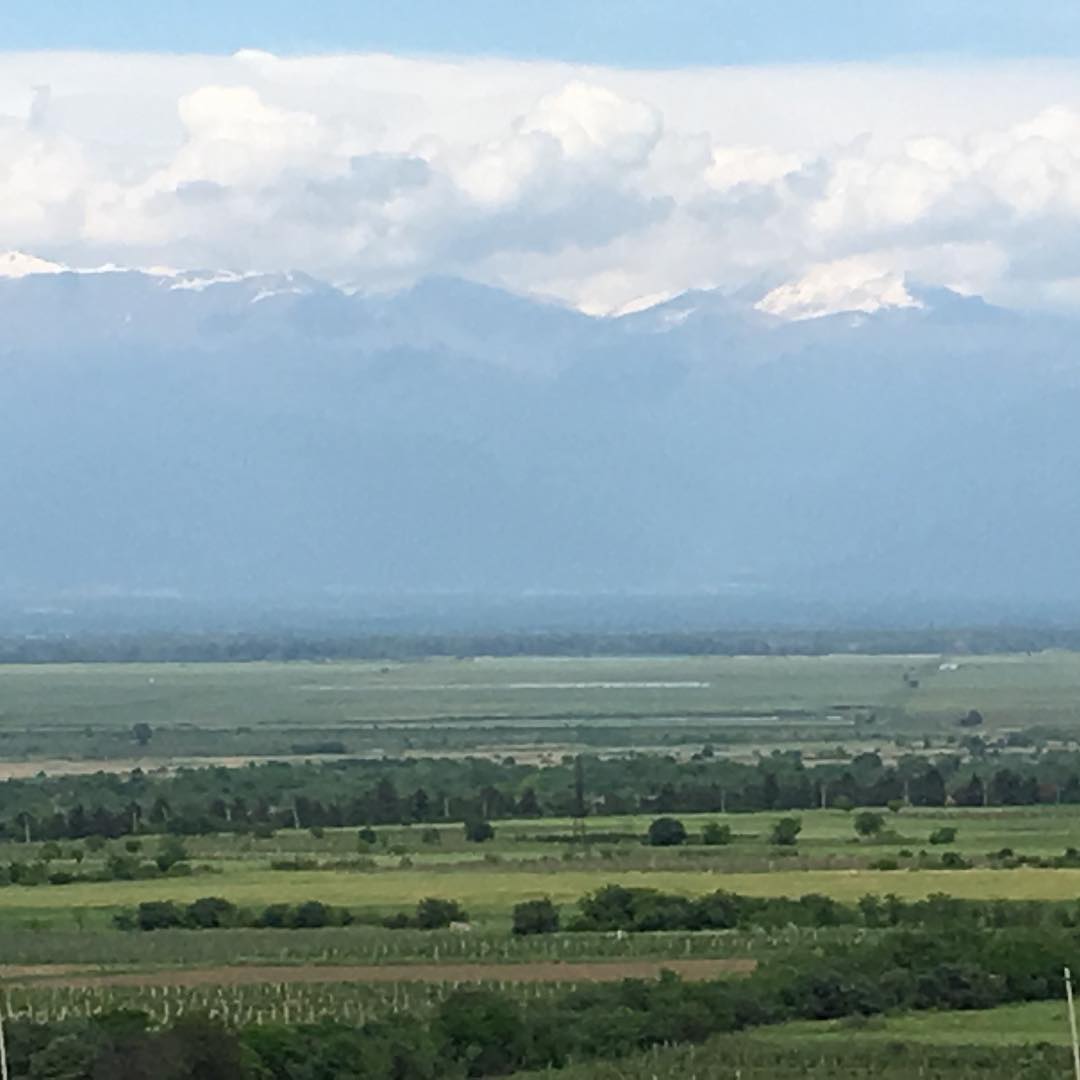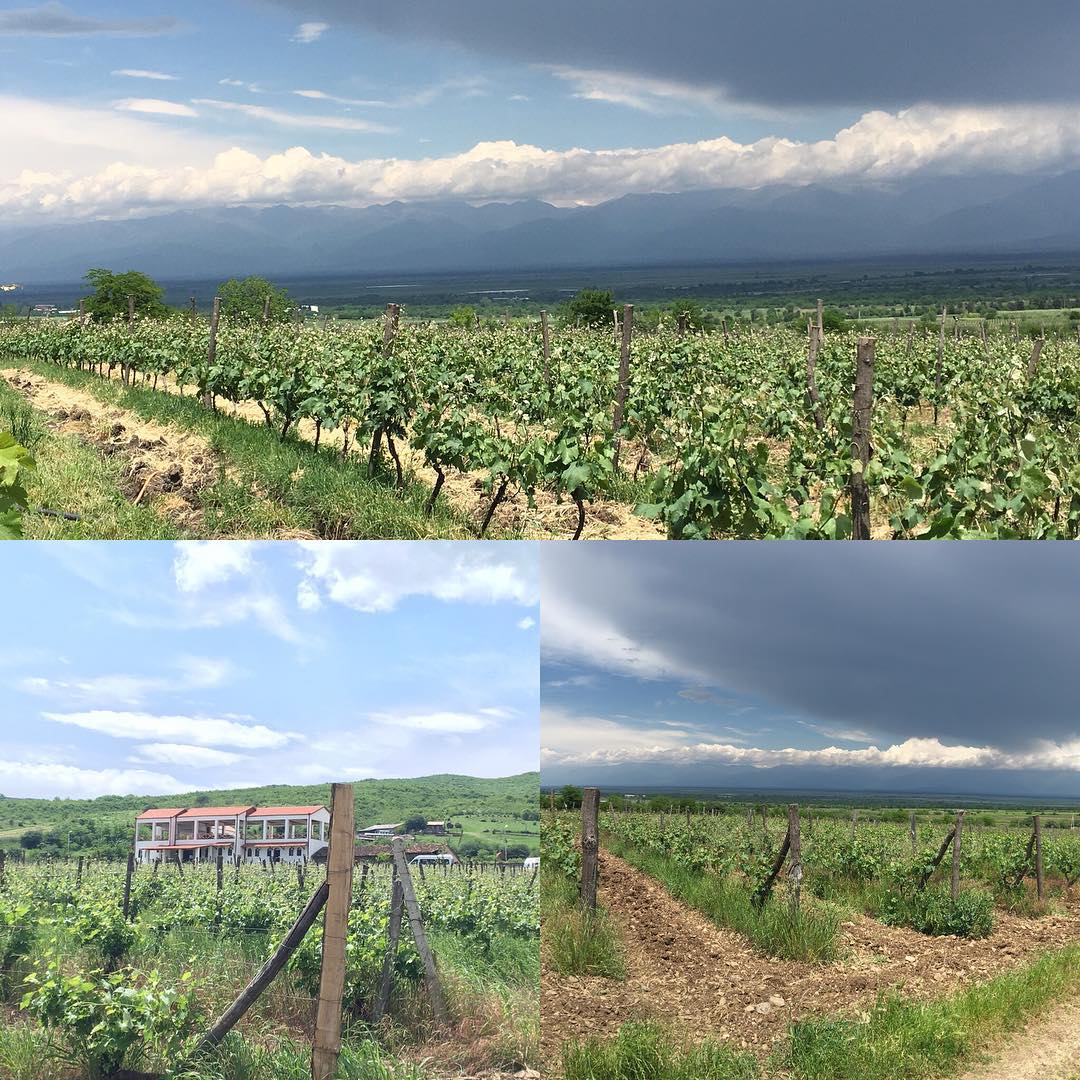 Back into the #lovebus and back to the Pheasant's Tears winery and then a saunter through the vines as a preamble to the most wonderful lunch prepared by Ketevan at The Crazy Pomegranate, the restaurant that overlooks the PT's vineyards in Tibaani.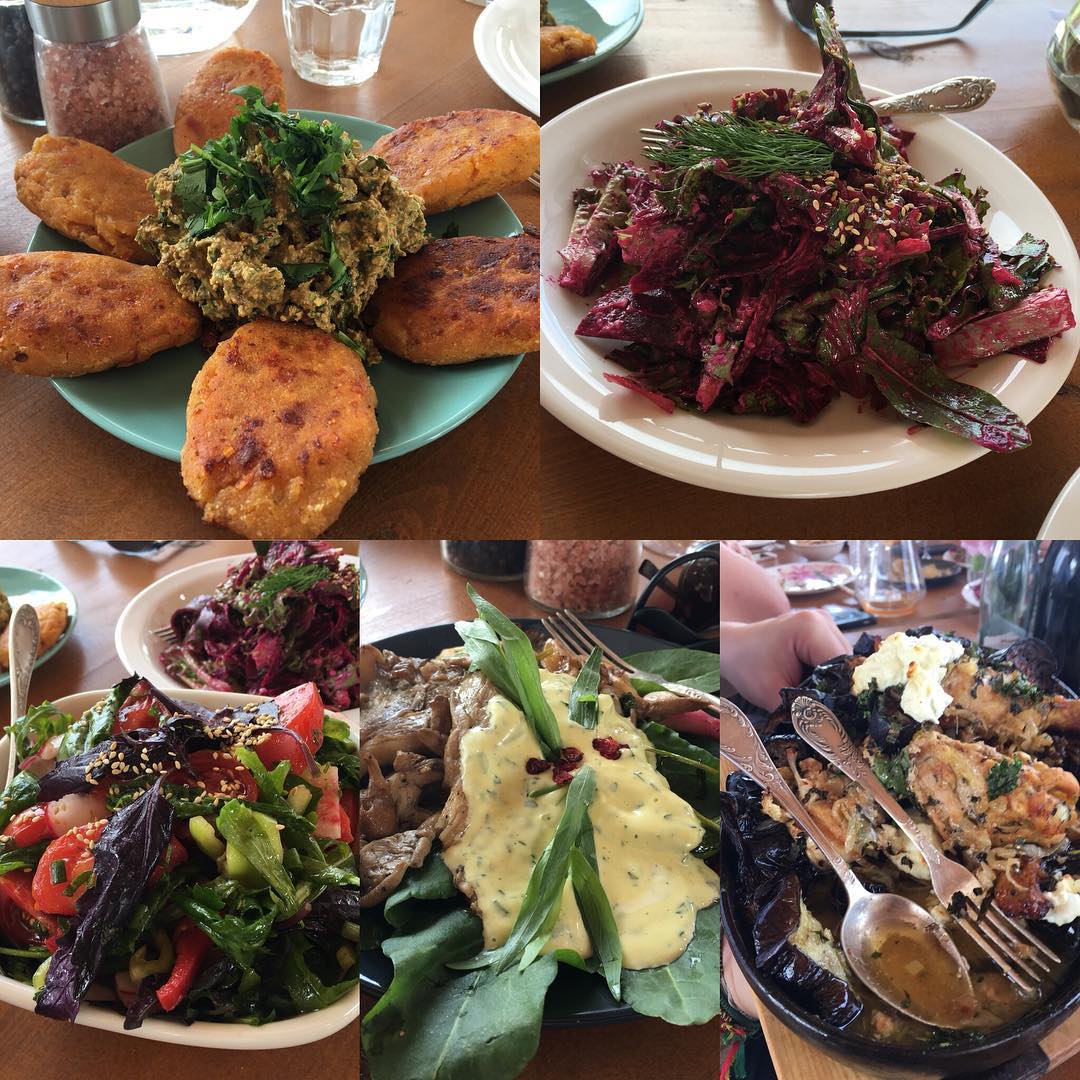 Traditional local dishes were given an imaginative twist – the food looked great and tasted amazing with bold yet harmonious flavours. Drink was naturally taken.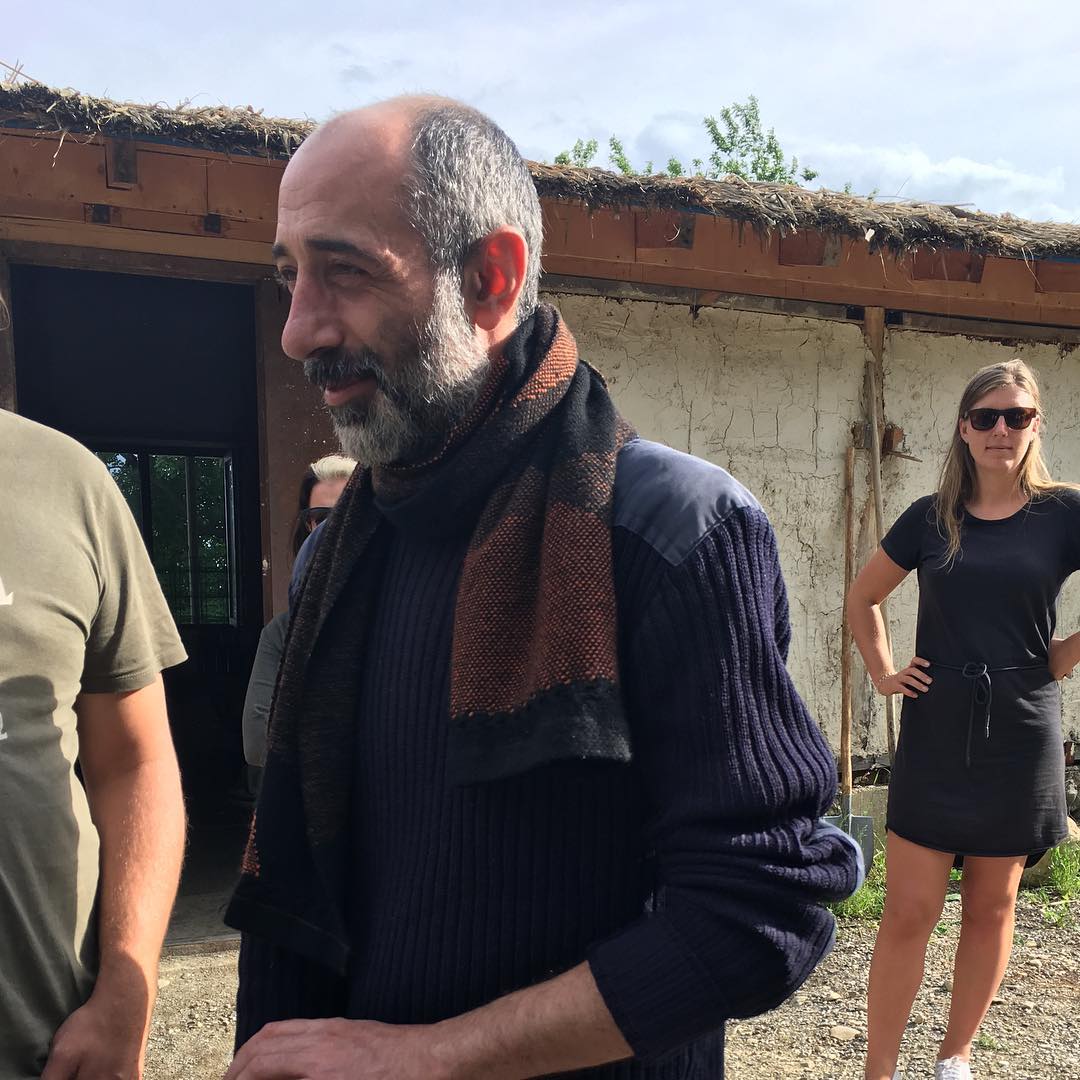 Niki Antadze works in the highly regarded PDO (Protected Designation of Origin) Manavi region of Kakheti. He farms his vineyards, which are situated at 750m above sea level on alluvial soils rich in limestone, as naturally as possible, uses no chemicals in his marani and only traditional techniques to produce a variety of qvevri styles from the Rkatsiteli, Mtsvane and Saperavi grapes. He owns around 3 hectares and has one particularly old plot of vines (around a hundred years old). The marani is ramshackle – and then some!! The wines are the thing, however, and have real soul, just like the man himself. They exhibit terrific concentration and deep layers of complexity with a very complete texture, almost cashmere-like. I particularly enjoyed the Rkatsitelis.
We had one more visit in Kakheti. Lapati winery was established by Vincent Jullien from Jura and Guillaume Gouerou from Brittany, in order to produce wine from local grapes using the traditional qvevri wine-making method. With a Gallic twist or two. They completed their marani (traditional Georgian cellar) in Sagarejo, Kakheti in 2015 and currently produce about 3,500 bottles. Naturally sparkling wines counts for more than half the production.
About half of the grapes issue from their own vines in Kakheti and Shida Kartli. The remainder comes from growers who are also farming organically. They only buy what is necessary to allow them to fully fill the four one-ton qvevris they have buried in the marani.
The name of the wine Kidev Erti means " one more " in Georgian and sounds like " qui divertit " in French which means literally "what entertains".
The Saperavi Super Ravi (in French, the word "ravi" means "happy") cuvée is made by placing whole clusters of Saperavi (grown in the village of Mukuzani) into two qvevris. After sealing the qvevris with clay, the wine ferments for 2 weeks with carbonic gas. There is not much compression in a qvevri so this carbonic maceration is particularly gentle. After two weeks, the qvevris are opened, everything is destemmed, crushed, then the final juice goes to age into one qvevri. The pet nats include one called Tetris, made from Mtsvane; Kidev Erti a pet nat rose from Tavkveri and a Chinuri under the same label. Foules for their boules – these guys have left their carbonic footprint on Georgian natural wine. There was a chartreuse – that we did taste – and an absinthe – that we didn't. Apparently, Georgians drink the latter as a pre-prandial.
Gallic clowning, impish irreverence, blood sausage, ironic cheese and plenty of pet nat being disgorged – what's not to like?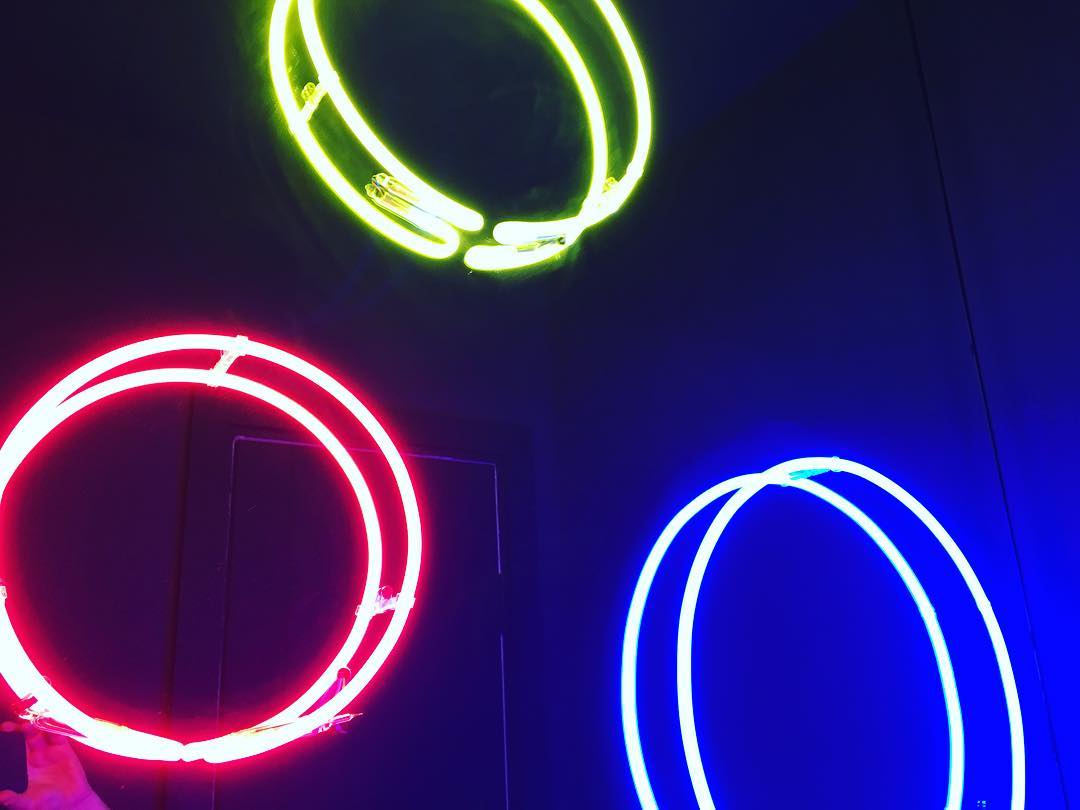 Back in Tbilisi we were decanted at Poliphonia, a restaurant specialising in seasonal local food and with a lengthy natural wine list, and where we joined with the other group who had been touring western Georgia and some of the later arrivals for the Zero Compromise tasting on the morrow. Tables were more than mildly groaning with an array of colourful dishes and wine bottles, but stamina was fading and wine glasses were splintering merrily as a result of over-enthusiastic "gaumarjossing."
*
Interested in finding more about the wines mentioned? Contact us directly:
shop@lescaves.co.uk |  sales@lescaves.co.uk | 01483 538820