Of healing cheese, #skintouch, bonny Saperavi, a qvevri academy and super Supra.
"Truth is not found in other people's grapes. You can't call that your wine. Truth is in growing your own grapes." –Soliko Tsaishvili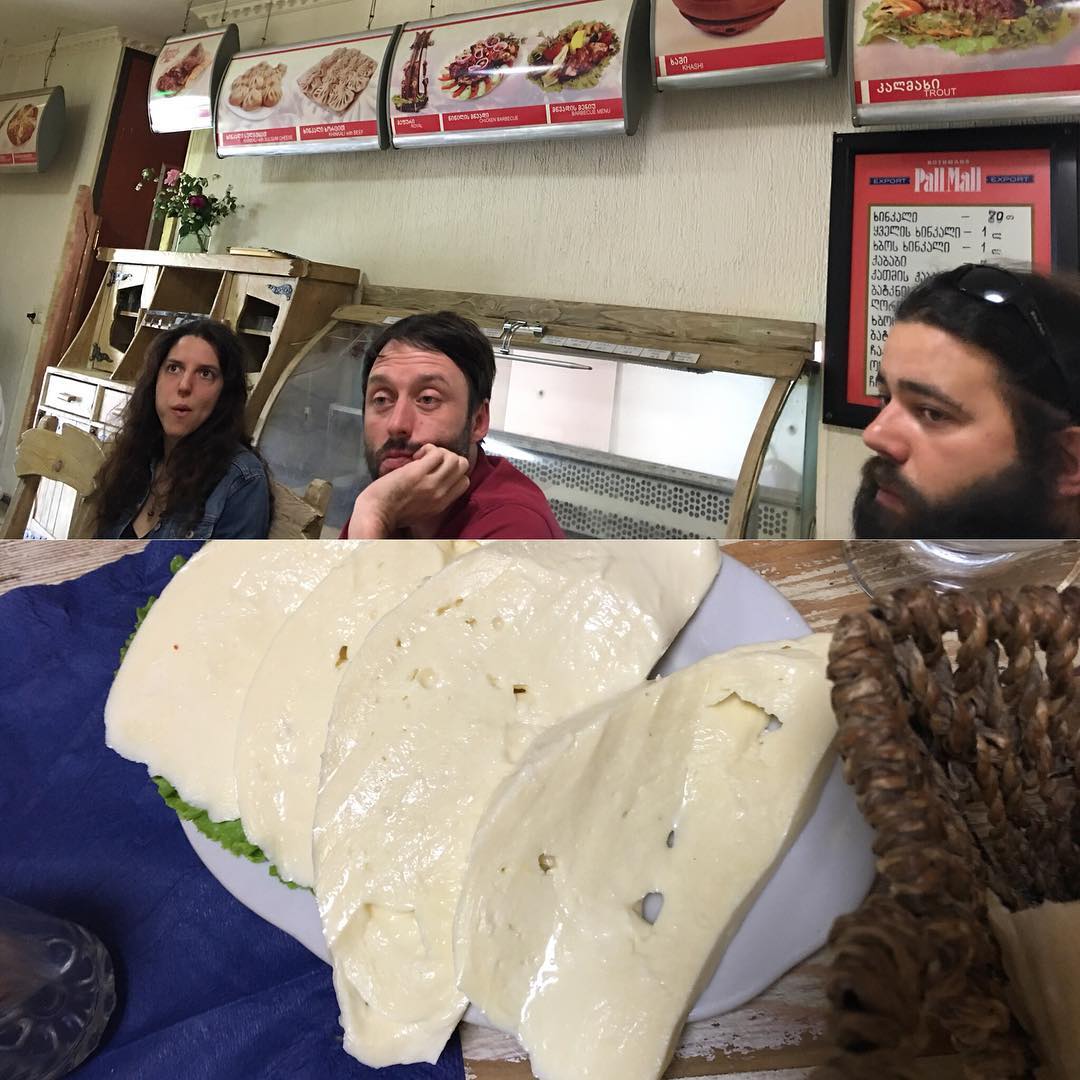 The morning after the night before is not necessarily a pretty one. A few of the hardier sponges had soaked up plentiful gvino, consequently there were some overtly heavy-lidded specimens of humanity on show, clearly ready for 80 winks on the #lovebus. But not before a late, restorative breakfast of cheesy dumplings, cheesy bread, and cheesy cheese at the equivalent of a Tbilisi diner. Table for 15? Why certainly. Food after all just appears in Georgia. And food seems to know that you need it, even if you don't think you need it. And the chilled lager was a genius touch. Balance restored. Yin and Yang. Cheese and non-cheese emptiness. And was there chacha still for tea?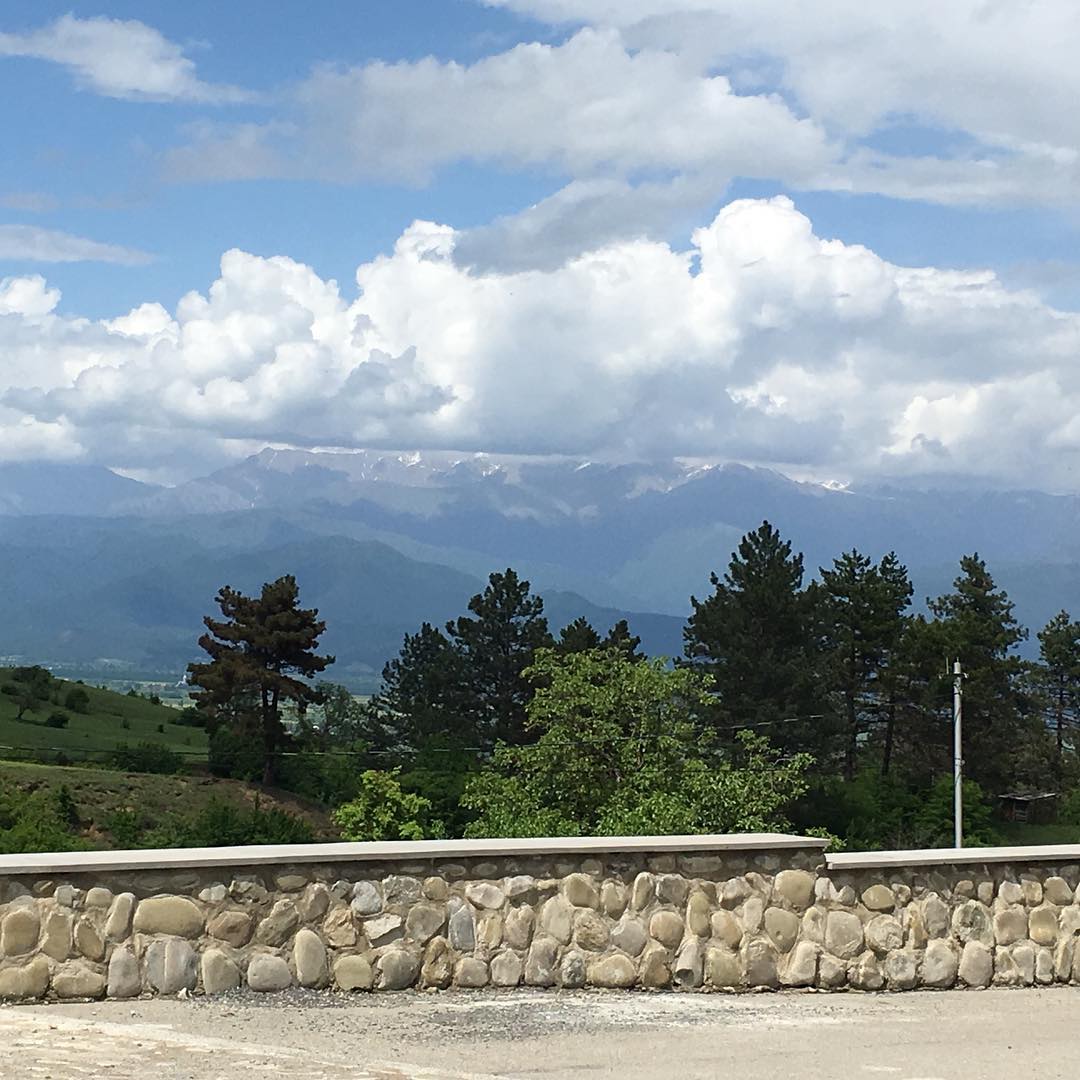 So fortified, we drove eastwards out of Tbilisi towards Kakheti region, our little bus climbing steadily on the zig-zaggy roads. The rampart of the high Caucasus appeared to the north and kept us company for the remainder of our drive. With a now-energising spring sun belting down on us we arrived at Zurab Topuridze's Kakheti Cellar. Zurab also has a qvevri cellar in Guria in western Georgia where he focuses on the local Chkhaveri grape, one which makes light red wines verging on the rosé. In Kakheti, however, they work with local grapes and, for example, make the most delicious fruit-bouncy Saperavi, a wine that reminds one of Dolcetto Novello or an inky Gamay. I call this ironic Saperavi, a Kakhetian grape, reinterpreted by a western Georgian. There were also two experimental skin contact wines, both brilliant amber-gold in hue– "Golden Blend of Two – Let Me Be Happy" and a Golden Blend of Four. These were some of the most transparent and well-realised wines I tasted on our visit. After a swift inspection of the qvevri cellar, an even swifter scoff of some nonpareil walnuts, we were on the road again.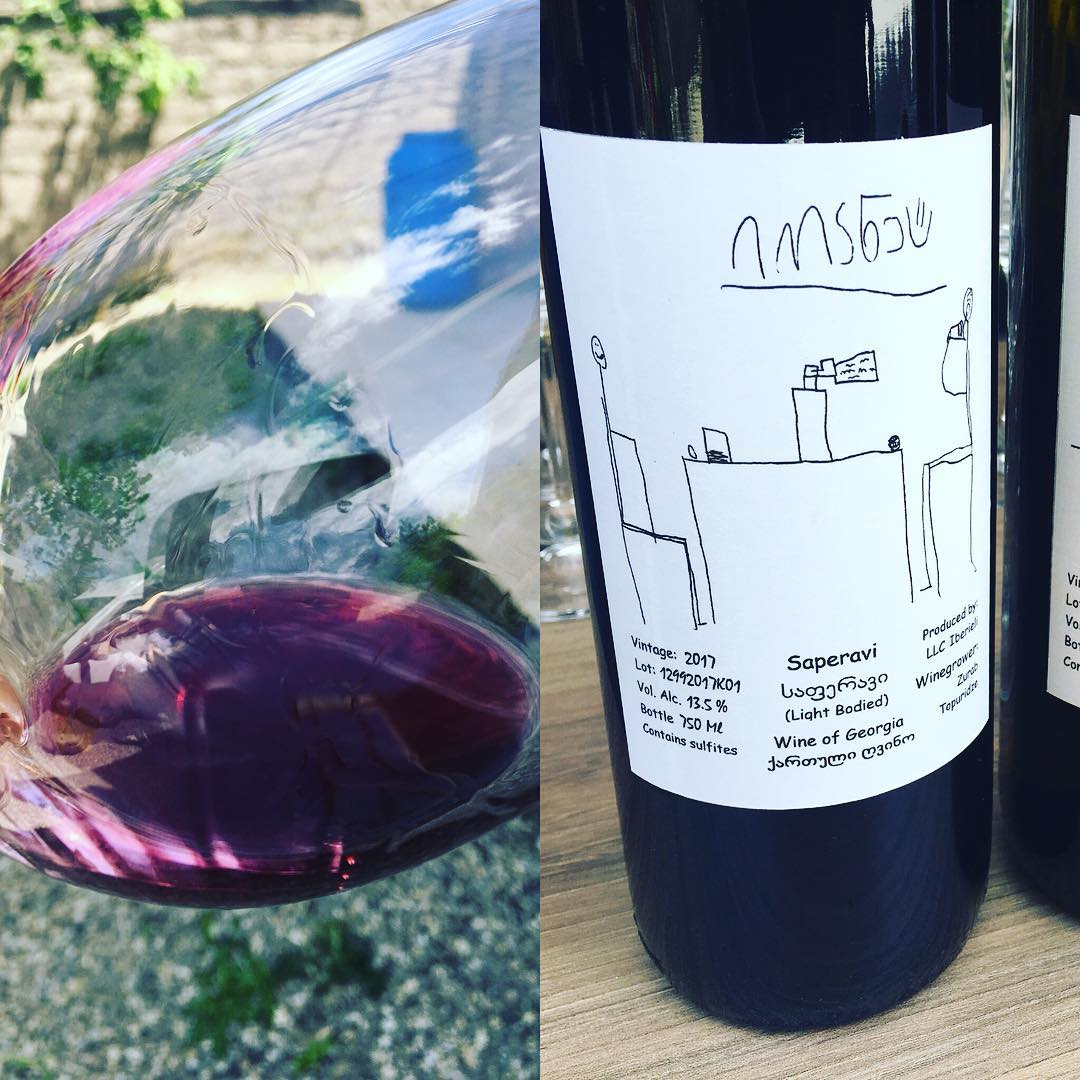 At some point in the proceedings we started cultivating hashtags; our go-to one was #skintouch, accompanied by a gentle knuckle-bump. As hilarity increased – there was now a constant supply of wine and chacha to fuel the bus journey – so did the flurries of social media banter.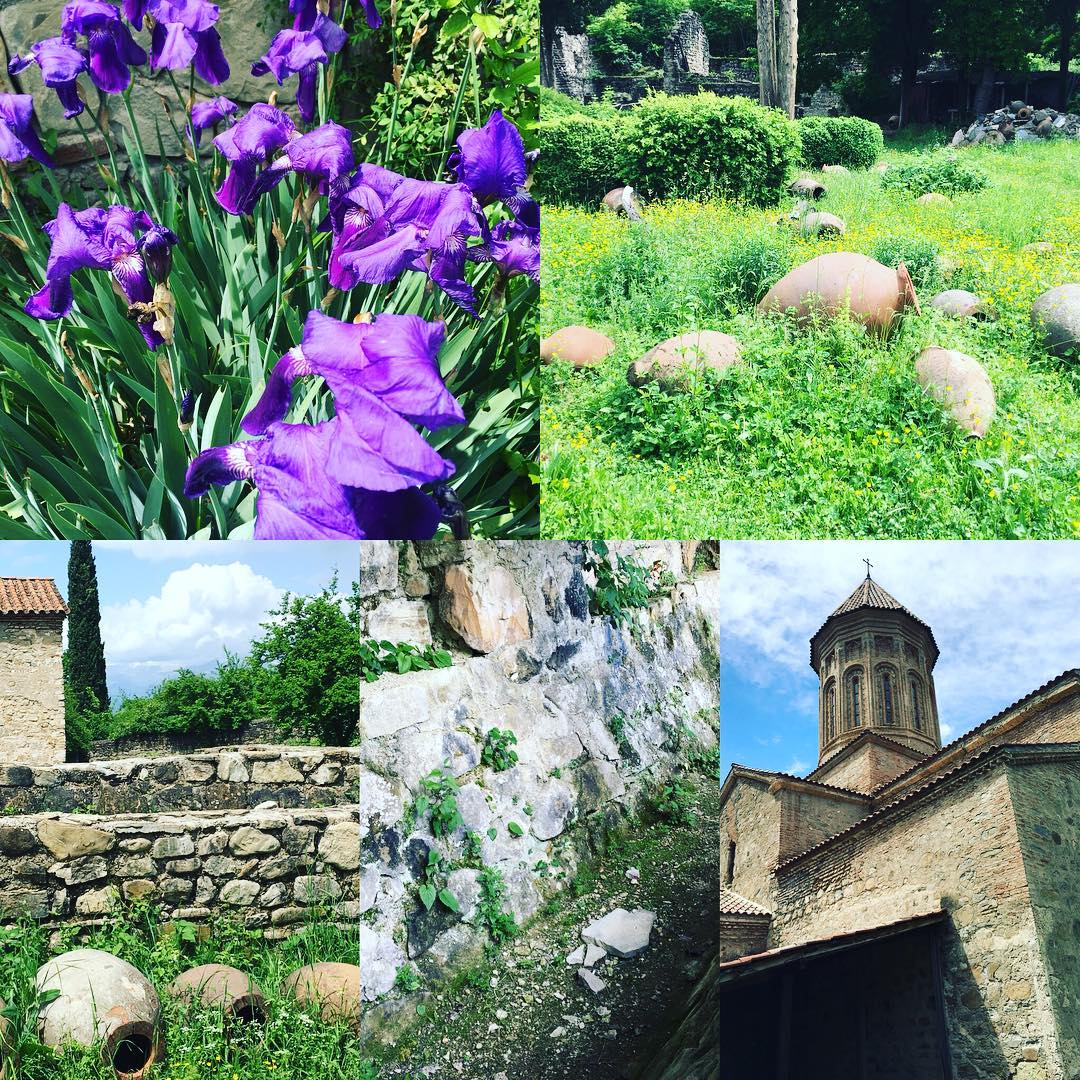 Next stop was the monastery of Ikalto, which lies just outside a village roughly 10 km west of Telavi. The monastery was founded by Saint Zenon, one of the 13 Syrian fathers, in the late 6th century and became known as one of the most significant cultural-scholastic centres of Georgia. An academy was founded at the monastery during the reign of King David the Builder (David IV) by Arsen Italtoeli (Ikaltoeli meaning from Ikalto) in the early 12th century. The Academy of Ikalto trained its students in theology, rhetoric, astronomy, philosophy, geography, geometry chanting but also more practical skills such as pottery making, metal work, viticulture and wine making and pharmacology. According to a legend the famous 12th century Georgian poet Shota Rustaveli studied there.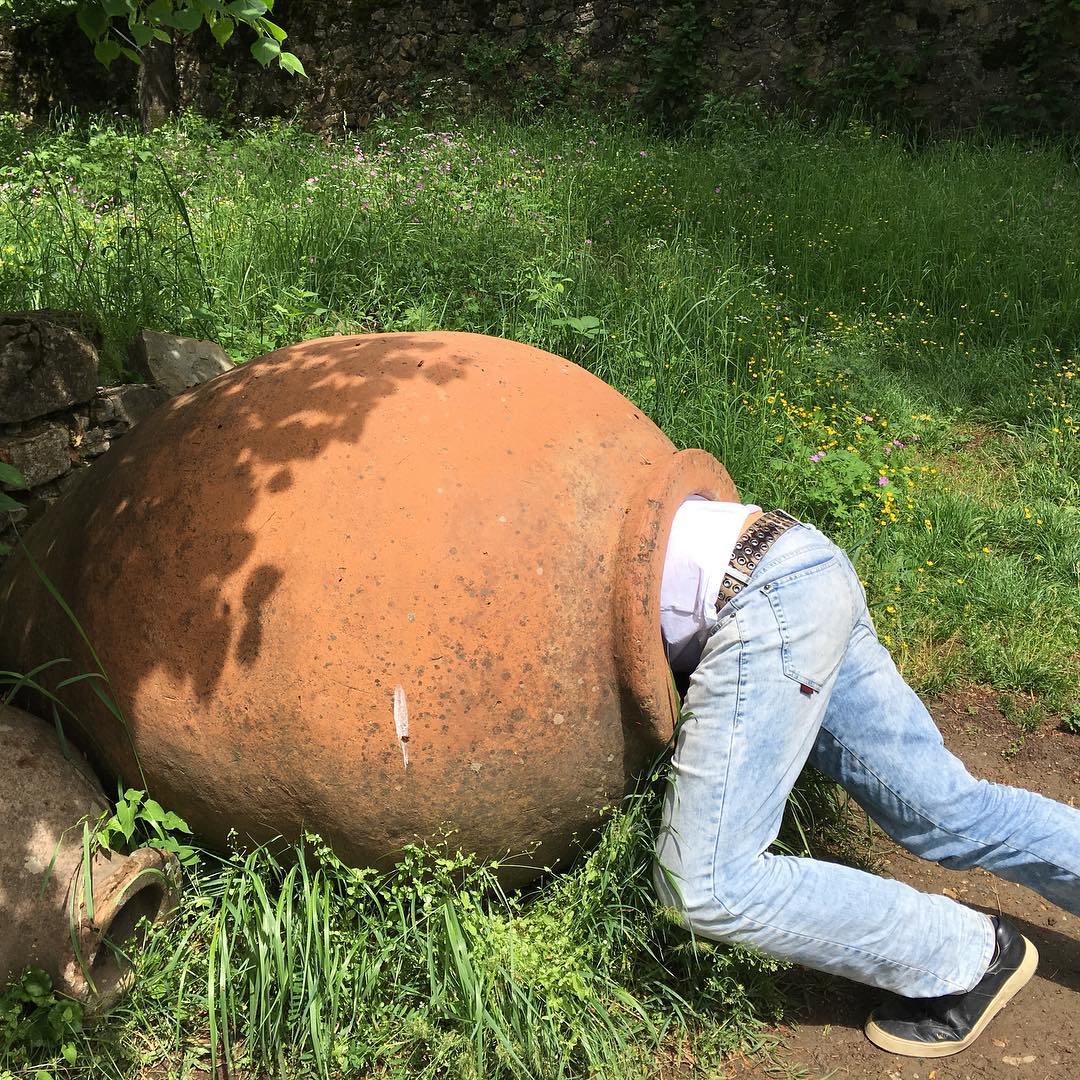 There were all sizes of qvevri everywhere. And other winemaking equipment. Visit any of the great Georgian monasteries and you will see a profusion of winemaking paraphernalia.
It is a truth universally acknowledged that very few foreigners can pass by a qvevri without poking their head inside for a shufti, or will even go the whole hog, and climb bodily into one. And so, one of our party entered one, as if determined to commune with the great and highly elusive qvevri spirit, known as Didi Madloba.
Alvani was the next port of call, wherein we decamped to find chacha on the brew at Shota Lagazi. Now, a word from our sponsors about chacha:
"Once the khinkali had cooled, we raised our glasses, and toasted to one another. The subtle taste of grape tingled through my mouth as the high alcohol content registered, lighting my sinuses ablaze. A quick gulp of the salty juices from the khinkali neutralised the residual bitterness, but the satisfying burn remained. We repeated the process several times as the smile on my face grew larger. I soon realised Lasha was right: I was set.
The trip back to Tbilisi was swift. I began pulsating with excitement to explore the tree-lined streets and decaying, Tsarist-era buildings – sights we'd seen before, but not after several rounds of chacha. We bade Lasha farewell and escaped into the night, popping into one cafe after another. Somehow, the chacha changed everything. I was not drunk, but electric. My head wasn't spinning – it was sprinting ahead, along Tbilisi's winding streets."
–Letter from Georgia by Dan Peleschuk for The Guardian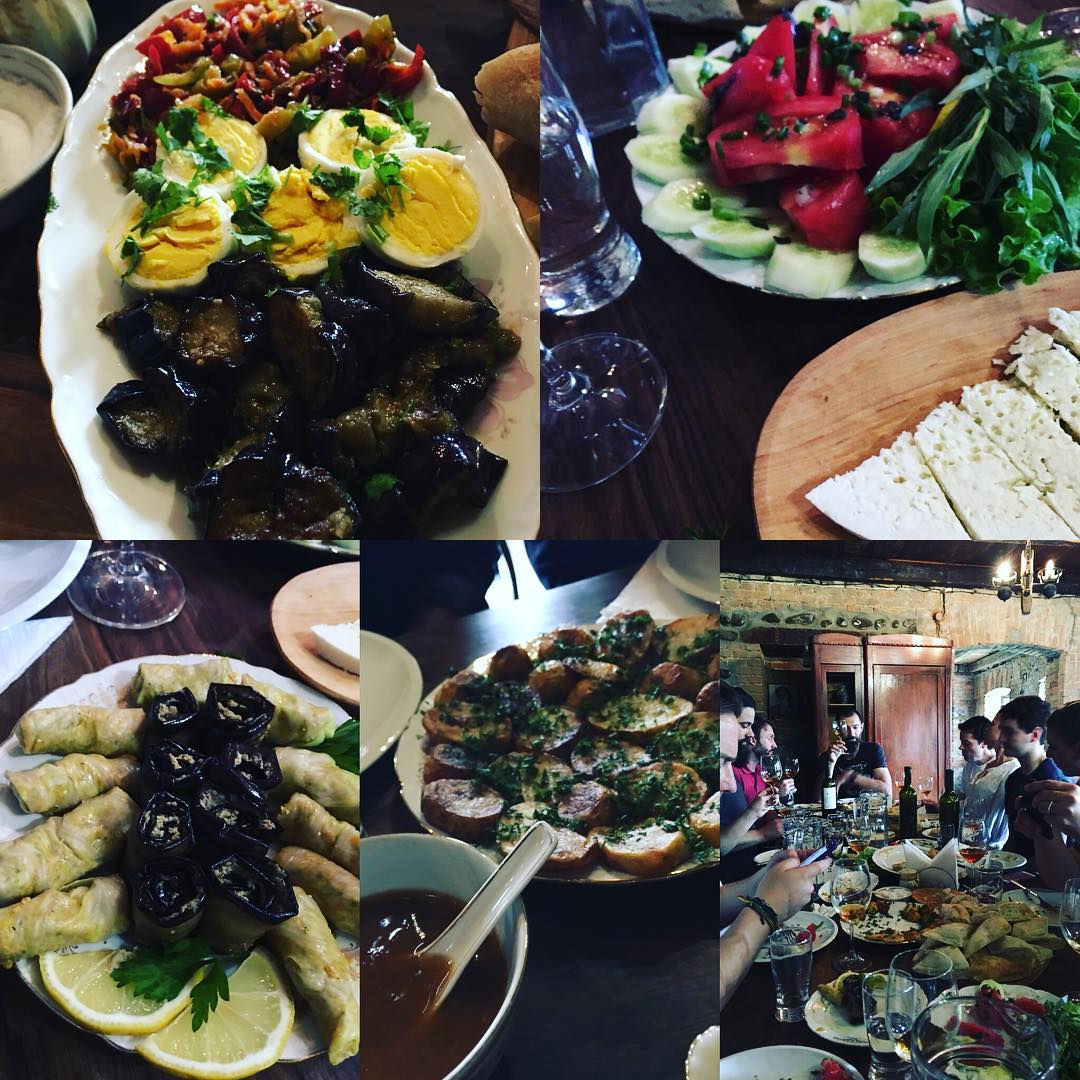 Shota Lagazidze is a 28-year-old winemaker from Tusheti, a mountainous region of Georgia. Having begun working for a tourism management company, he then moved to winemaking together with one of his friends, eventually setting up his own label called 'Lagazi'. He now owns 1.2 acres of land in the village of Zemo Alvani, in Akhmeta municipality and also has a cellar, where he keeps around 1,200 litres of wine.
Shota, a gangly chap with a basketball player's physique, is an affable soul. The qvevri cellar was rather gorgeous and then it was time for lunch, if a mid-afternoon supra may be termed lunch. The food was spectacular and kept coming, khinkali three ways, cheese pies and myriad vegetable dishes, accompanied by Rkatsiteli, Mtsvane and Saperavi.
We staggered out giddy and ready to rock on to the next stage. The #lovebus was now pulsing to fist-pumping, hair-thrashing music as well as snoring and carousing in equal measure. We still had to fit in Kakha Berishvili/Artanuli wines, and time's winged chariot had long since lost both of its wings.
Kakha Berishvili has a couple of hectares of vineyards planted to Rkatsiteli and Saperavi located on the other side of the Lopota River. He uses biodynamic principals in the vineyards. At the time of our visit the river was drumming, tumbling and rip-roaring with glacier melt from the mountains. The backyard was, in effect, an outdoor art studio with graphically painted qvevri, tall shady trees and a tasting table, and Keti was our host, pouring and explaining the various wines. Songs were sung, Kakha appeared eventually, and a prayer for Soliko Tsaishvili, one of the movers and shakers in the artisan Georgian wine scene, was recited.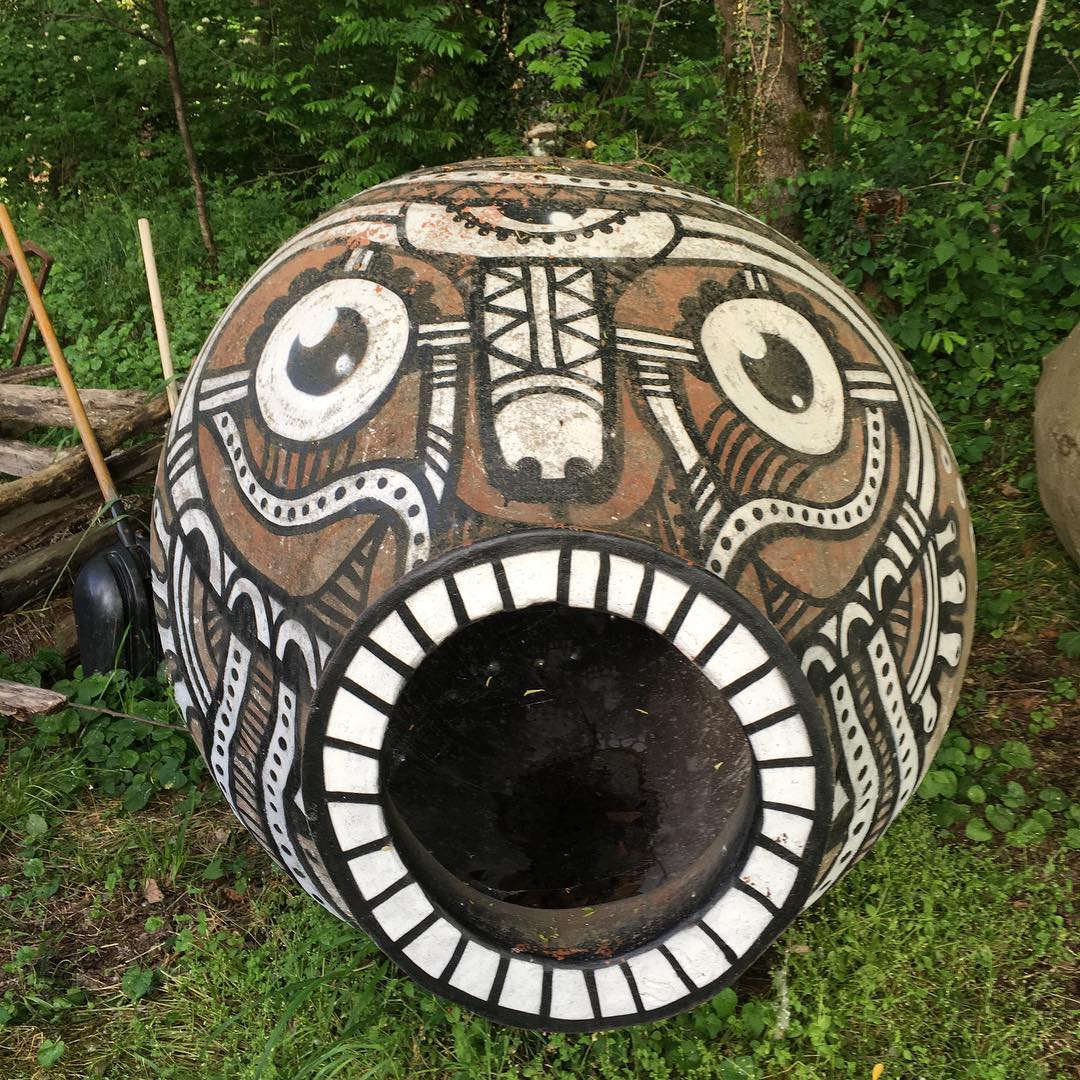 A little word about Soliko:
Soliko founded "Our Wine", choosing the name to evoke a larger sense of community and to emphasize that wine should be shared, that it's for friends as well as for everyone. When he started it was still hard to sell the wines locally in Georgia where large producers still dominate. This is why he, along with others, including John Wurdeman of Pheasant's Tears, realised that they needed to create a bridge to reach the Georgian public and thus, GVino Underground was born in 2010. In the years that followed, the work of this cellar paid off as others joined them in creating a united front of Georgian wine made in qvevri.
Back to the tasting. Kakha's Berishvili's Saperavi is benchmark, dark purple bordering on black with aromas dark fruits and spice and flavours of cassis, chewy hedgerow berries and wild herbs. Pukka and pucker. My hazy memory also recalls a "banyuls-y" version with passito-like notes of prune, damson and bitter chocolate.
By this time the schedule was right out of the window and Sighnaghi was still a fair distance away. As the crow flies and the chacha is drained. Eventually we arrived at the winery under the spangliest of star skies, staggered out, cracked a few experimental bottles of Pet Nat, then back to the restaurant, where another nocturnal feast awaited us, a tasting of latest vintages of Pheasant's Tears wines, chacha, of course, and polyphonic singing.
For some, the night was only just beginning.
Continued in Part Three…
*
Interested in finding more about the wines mentioned? Contact us directly:
shop@lescaves.co.uk |  sales@lescaves.co.uk | 01483 538820