Illustrious Hermitage is spoken with a regal drawl, all languorous and timeless, Cote-Rotie, with its pleasing assonance and alliteration, trips authoritatively off the tongue, then there is Cornas. Not Corn-ah, mind you but the stubby peasant finalising of "ass." This tiny rustic island of world-class Syrah floats at the southern end of the northern Rhone. Even the wines seem more rustic without ameliorating Viognier or Marsanne giving that softening floral lift to the liquid. Great terroir meets uncompromising winemaking and the relative success of such vignerons as Clape, Verset, Michel and Juge encouraged others to return to this appellation. One of those was Franck Balthazar, who left his engineering career in 2002 to take up the classic farming and winemaking methods of his father René. A dozen years later, Balthazar is now making some of the most expressive, and rigorously traditional, wines in Cornas.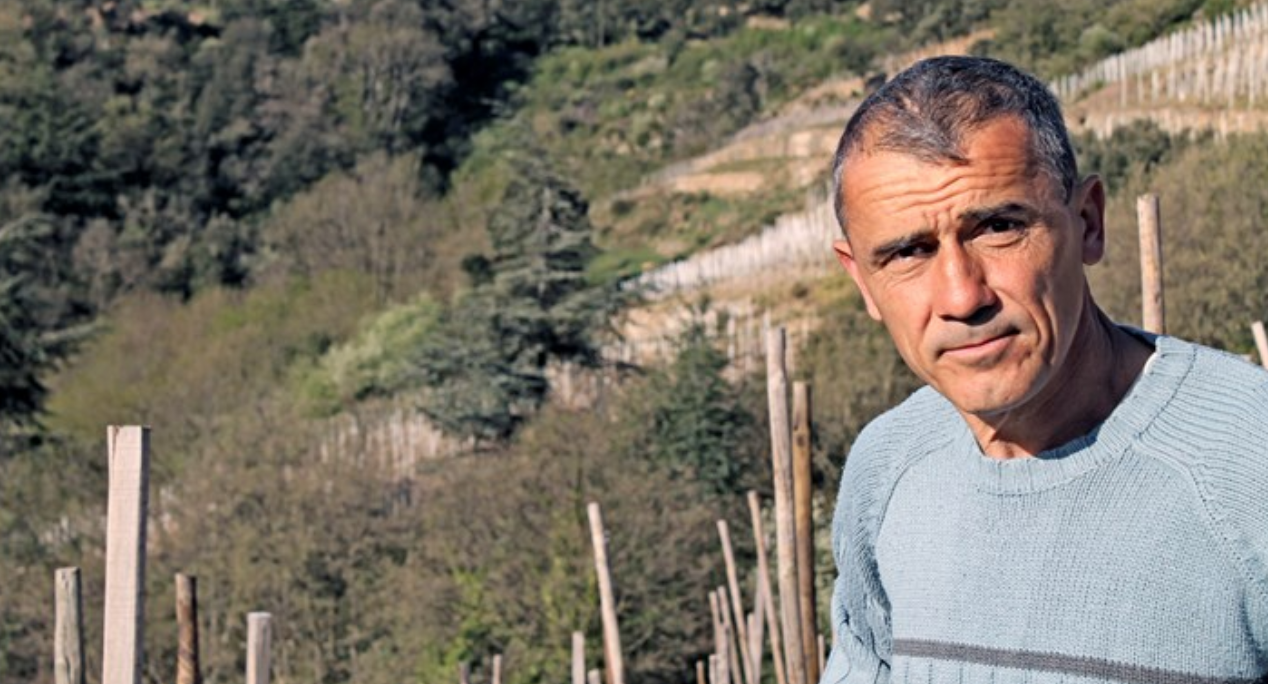 The Balthazar domaine dates back to 1931, when it was founded by Franck's grandfather Casimir. Franck names ones of his cuvees after him. René took charge in 1950 and followed his contemporaries Auguste Clape and Noël Verset into domaine bottling on a small scale in the 1970s. All the while he continued to sell most of his wine in cask—as Casimir and so many others of his generation had done—to the local cafés and bistros.
Franck now bottles all of his traditionally-made tiny production. The domaine's vineyards are planted on the steep slopes of the hillside amphitheatre exclusively to Petite Syrah, the ancient local clone whose small, olive-shaped berries produce a wine of greater aromatic complexity than modern clones.
Farming is organic, of course, and he ploughs between the vines with his horse. In the winery the recipe is simple – whole cluster, native yeast fermentation in concrete vats; manual cap punching; and ageing in old, neutral demi-muids before bottling without fining or filtration. The aging in demi-muid rather than the smaller pièce is fundamental to the domaine's philosophy. As René Balthazar told Rhône wine expert John Livingstone-Learmonth, "We raise the wine in 600-litre demi-muids because they keep the wine's perfumes better than the 225-litre casks."
A key to the superb quality and character of Balthazar's Cornas are the domaine's great holdings. These include not only half-century-old vines in Mazards but a 1914 planting of Petite Syrah in the revered Chaillot vineyard, acquired from Noël Verset. Balthazar is also slowly expanding the amount of land under vine; a true son of Cornas, Franck has created terraces and planted vines on previously overgrown land on the steep Légre slope above Sabarotte—demonstrating the Cornasien willingness to develop a backbreaking site for the reward of the aromas and flavours that only Syrah grown here can express.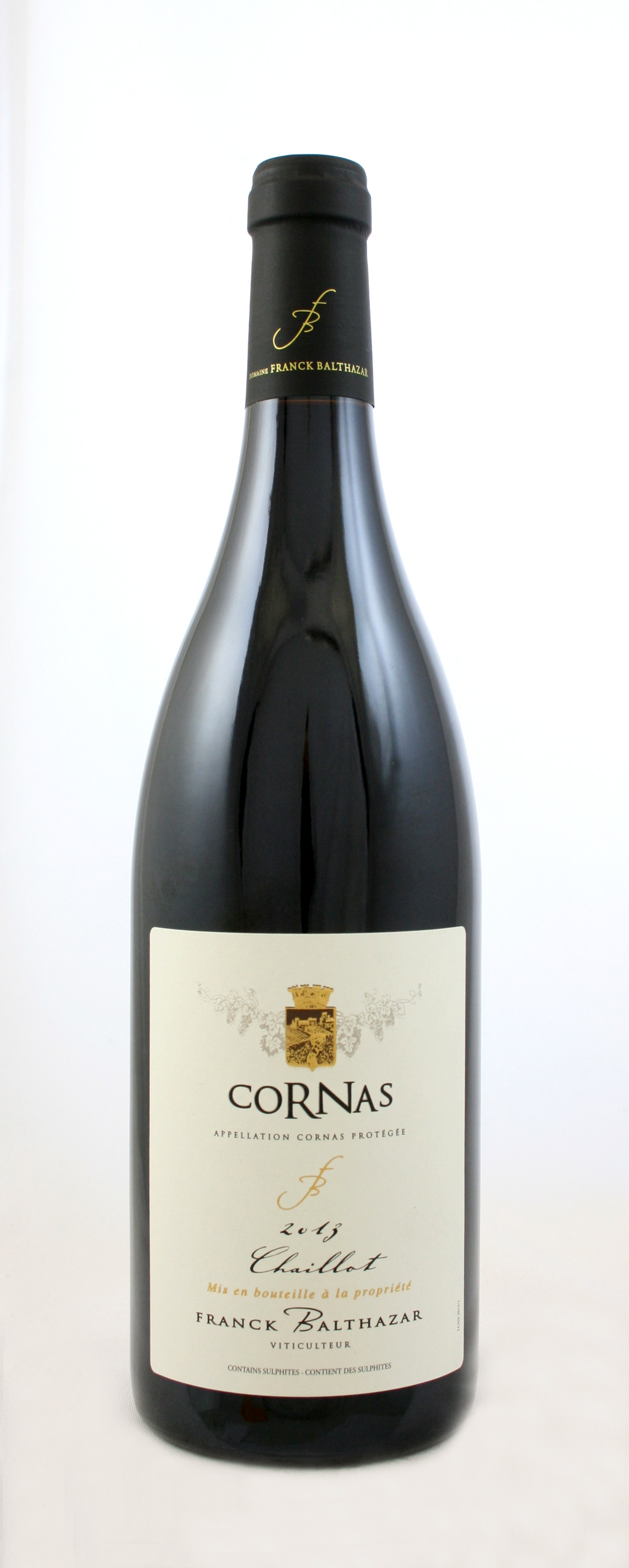 Franck's flagship wine is the Chaillot bottling, from the fruit of century-old Petite Syrah vines that create a wine of stunning depth, concentration and complexity. Grapes are harvested by hand from granite-rich soils, about half coming from the ex-Verset parcel and then are fermented whole bunch with stems, with manual punch downs. From here, the wine is moved to 600-litre demi-muids, where they are aged for about 18 months before bottling.
The Chaillot is dark purple and its highly perfumed nose reveals mineral-accented blackberry and blueberry with a background of exotic Asian spice and floral notes. The palate is densely packed but energetic with initial explosive dark berry preserve flavours, before secondary notes of cured ham, Kalamata olive and candied violet and cracked peppercorns kick in. Superb concentration, finishing with bright mineral cut, slow-building tannins and superb persistence. This wine manages to be dense yet aerial, combining heat and coolness in equal measure.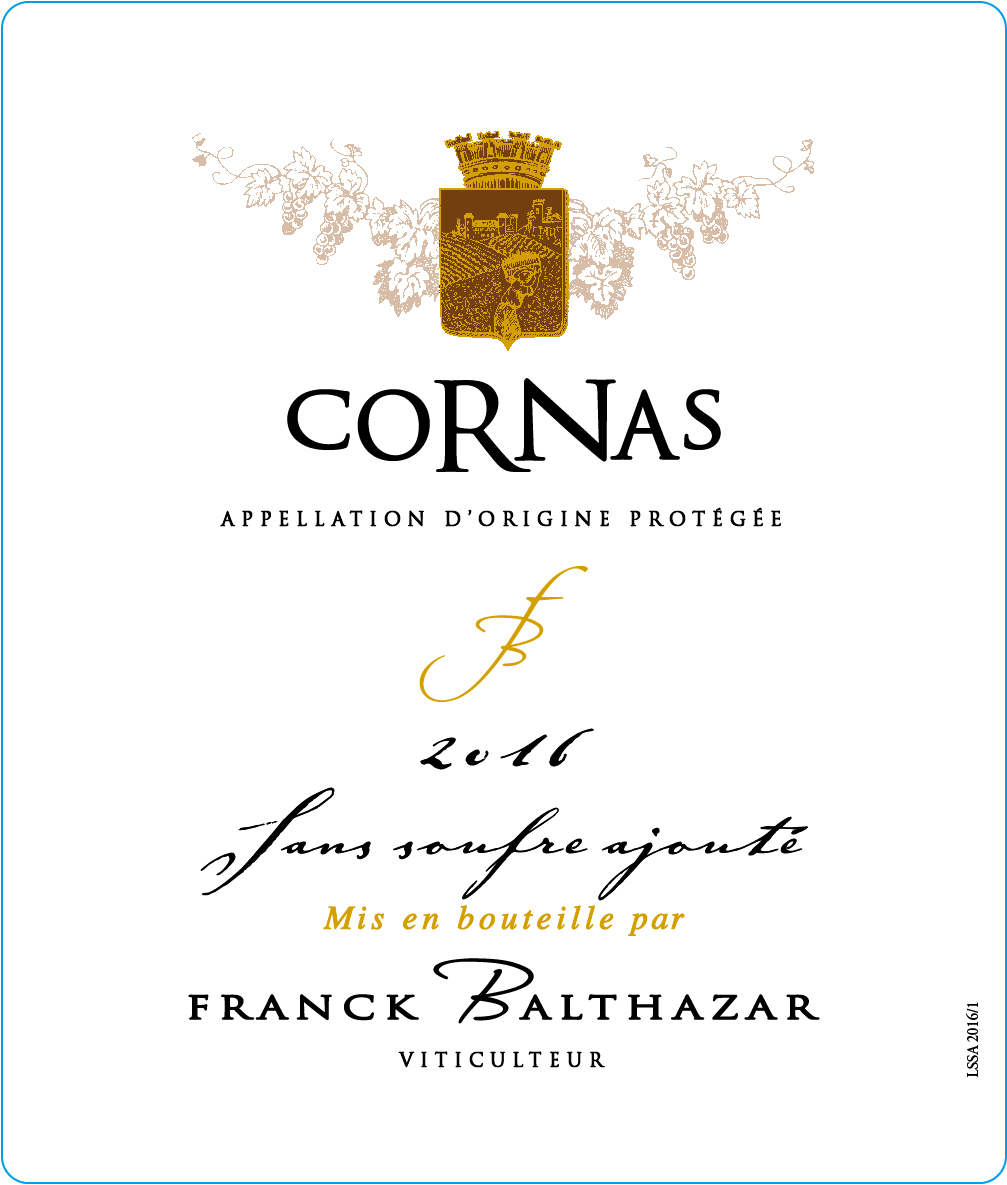 This year we managed to secure a tiny bit of the sans soufre Cornas. From younger vines this wine reveals a touch more agility to temper the ink-dark fruit, but it is still so satisfying and complete. The tannins have that medicinal astringency which nourishes rather than dries out the palate. Amongst the bristling blackberry and black currant fruit there is a seasoning of roasted wild thyme that is simply delightful and makes this so moreish.
*
Interested in finding more about the wines mentioned? Contact us directly:
shop@lescaves.co.uk |  sales@lescaves.co.uk | 01483 538820