We've probably endured enough whimsical articles about "la vie en rosé" and how we should be "tickled pink" by surprisingly drinkable rosé wines, but that's not going to stop this miniature pink peroration. Perhaps it's global warming, perhaps the adoption of an al fresco lifestyle, wherein at the first watery glimmer of the sun, tables are hurled willy-nilly onto pavements and all the coffee chains start serving frappacinos, or the fact that Mediterranean cuisine has become so popular both in restaurants and in our homes, or perhaps praise Ryanair and Easyjet for transporting us at the drop of a penny (plus taxes) to sunnier climes where any blushing wine (usually consumed in an impossibly picturesque location) forever trills the romance of abroad, a romance that only rosé can reignite in our veins, but…we are undoubtedly consuming more and more of the frolic wine. Rosé is oddly the only one of the three colours (quick digression, I'm trying – and failing – to imagine a cheerful Kieslowski film: Three Colours – Pink.) that has been the subject of intensive marketing campaigns primarily due to brands such as Mateus and Blossom Hill – shudder – which are predicated on the notion that we choose to drink rosé – almost as a statement of who we are. I prefer to attribute the growth of rosé-drinking to all the reasons listed above plus one other: the inability to choose between red and white! Underlying this facetious point is a more serious one: rosé is becoming the classic modern "compromise wine," a kind of superior house/Pinot Grigio default wine.
Rosé is often a by-product of red winemaking and will be either be guzzled by the grower's family and friends or sold to local hostelries, but there are wines that are good enough to be considered on their own merits. Provence is the spiritual home of pink wine producing pale or pearly-pink wines scented with wild flowers, fennel and herbs and often as dry as the rocks from which the vines spring. Nor are the wines, except for powerful, menthol-intense wines of Bandol, particularly alcoholic; their delicacy makes them a pleasure to quaff uncritically, but also provides excellent accompaniment to oily fish such as mullet, sardines and is a dream with saffron-drenched, garlic-heavy fish soups and works equally well with stuffed aubergines, courgettes and tomatoes.
No matter the improvements in winemaking these are still wines to drink in the first flush and blush of youth. Elizabeth Barrett Browning might have been describing the effects of age on a bottle of pink wine when she wrote: "O rose, who dares to name thee? No longer roseate now, nor soft, nor sweet, But pale, and hard, and dry, as stubblewheat – Kept seven years in a drawer, thy titles shame thee."  While the wine is still alive with beaded bubbles winking at the rim it lifts the spirits and makes one think of sunshine, summer or holidays.
Here follows a run through the pinker reaches of our portfolio.
Rosés with Provenance
85% of the wine produced in Provence is rosé, and the methodology reflects this–the grapes are grown for rosé and the harvest is done for rosé.  When rosé is the primary product, it tends to be the result of skin contact.  Thus black-skinned grapes are crushed and the skins are allowed to remain in contact with the juice for a short period, typically one to three days.  The must is then pressed, and the skins are discarded rather than left in contact throughout fermentation (as with red wine making). The longer that the skins are left in contact with the juice, the more intense the colour of the final wine.
Rosé may also be made when a winemaker desires to impart more tannin and colour to a red wine. Some of the pink juice from the must can be removed at an early stage in what is known as the saignée (literally bleeding) method. The red wine remaining in the vats is intensified as a result of the bleeding, because the volume of juice in the must is reduced, and the must involved in the maceration becomes more concentrated. The pink juice that is removed can be fermented separately to produce rosé.
Whether skin contact or saignée these wines are at the light-hued end of the spectrum resembling a pink vapour trail giving way to a milky sky. Call them vin gris, onion-skin, oeuil-de-perdix (grey or red-legged I'm not certain) you can rhapsodise endlessly about your 50 shades of pinkish-grey.
It's the eye of the partridge, it's the juice of the grapes,
Rising up to the challenge of our palates,
And the last known imbiber drinks his fills, gawps and gapes,
And he's watchin' us all – in the eye of the partridge.
After Survivor
Pretty pale pink from Provence may recall Mrs General's improving dictum on pronunciation in Little Dorrit – namely that papa, potatoes, poultry, prunes and prism are all words that are properly good for the lips. In this case it refers to the delicacy in colour and style of the wines from the region. These wines are not just blancmange and perfume, confected and anaemic; the best versions have bones a-plenty in them.
The preferred Provençale grapes are pale-skinned Cinsault and more muscular Mourvèdre, with Grenache, Carignan and Syrah also featuring in diverse blends. The preferred soils, meanwhile, are limestone-based which helps confer acidity and freshness to sharpen the fruit.
Our most classic everyday Provence rosé is the Capdevielle Cuvée Elegance, a wine so translucent you might confound it for water. The colour is the spirit of Provence, pale, crystalline and limpid. The nose is pretty, unveiling floral aromas of bergamot and sweet jasmine as well as bouquet of exotic and red berry fruits, whilst the palate picks up notes of mango and lychee with a more savoury edge of peach-stone and citrus. More substantial than its colour might suggest.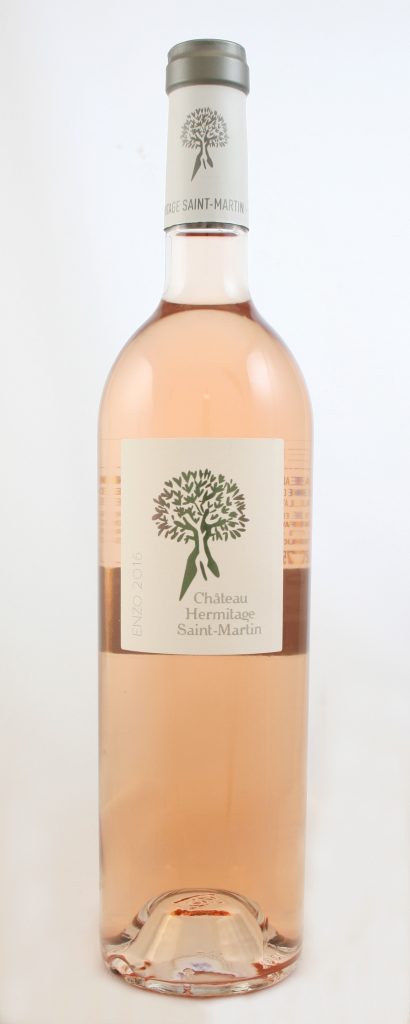 Up a notch in volume if not in colour is the Château Hermitage Saint-Martin Cuvée Enzo from a vineyard with a one-thousand-year history. The vines grow on sunlit south-east-facing slopes on a stunning hillside containing clay/limestone soil, packed with stones of different types: quartz, sandstones and calcites. This is a place where the force of the powerful Mistral wind is mitigated by the surrounding rocky mountains (Les Maures), but still helps to protect the vines from humidity-related diseases. From a blend of 30% Grenache 30% Cinsault, 15% Rolle, 25% Syrah the wine has orange glints and unveils restrained aromas of flowers and minerals. Very dry and vinous with fine minerality and delicate flavours of tangerine and pink grapefruit.
Now for some Var Var Voom. Before starting his winery in 2004 Jean-Christophe Comor worked in political circles in Paris, organising groups to create a new dynamic between the citizens and political elite. He wrote Zéro Politique, a book about the exclusion of real people for political decisions. Eventually, becoming disheartened, he left the big city and set up Les Terres Promises, converting it to organics. The Apostrophe rosé is a serious delight. Over to Chrissie Rasmussen for her impressions.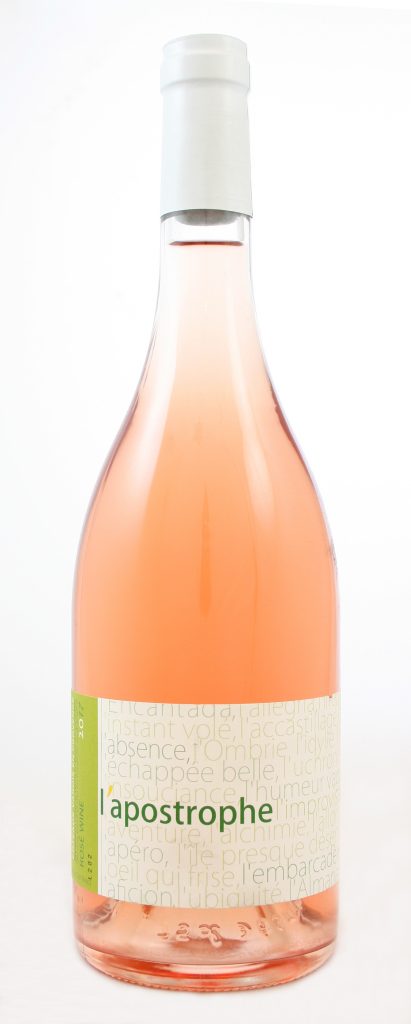 "Wow! This is something else, one of the most truly serious rosés you might ever wish to taste. I have penchant for rosés that undergo malolactic fermentation, as this one does, making the wine mouth-filling and long. The vines grow on dolomitic limestone and the resultant liquid has a distinctive lifted saline edge. Natural winemaking supports JC's objective to extract a clear impression of the "caillou" – the stones/terroir. He states: "with this, I really want to produce something that shows what a rosé can be: a real wine, a wine of its own category. I'm very proud of this."
A blend of Cinsault, Grenache and Carignan this is floral with a very fresh nose of blossom and wild flowers with rich raspberry and honeyed peach notes. On the palate, the fruits continue to shine through and the zingy minerality appears: the characteristic of the limestone soils in which these vines grow."
Bandolero!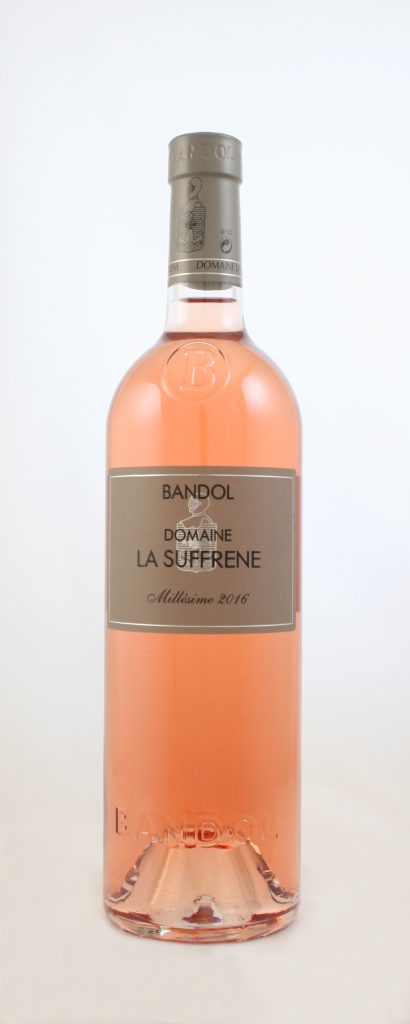 Domaine La Suffrene is situated between two mountain ranges (calcareous fossils) of the Castellet: the Cadiere and the hillside of Sainte Anne de Castellet on predominantly limestone clay soils. Here the intense reflection of sunbeams off the hillsides, the sea's calming influence which protects from winter freezes and the topography of the landscape combine to make ideal conditions for bottling sunshine.
Here the star variety of Bandol, the Mourvèdre, manifests its richness. It brings structure and finesse to rosé, and an aromatic palette of spices and liquorice to reds. To balance this richness, it is accompanied by traditional varieties from Provence: Cinsault, Grenache and Carignan.
This particular Bandol rosé comprises Mourvèdre 40 %, Cinsault 30 %, Grenache 20 % and Carignan 10 % harvested during the month of September according to the maturity of each variety. The grapes under a undergo maceration pelliculaire at a low temperature before being pressed.  The juice, after settling, is placed in a stainless-steel vat for a period of 15 days between 18°C and 20°C before racking. The final assemblage remains in concrete vats until bottling. Beautifully aromatic orange-grey pink (make up your mind! Ed) wine, suggestive of orange flowers, pine-resin and dried fruits. Quite ripe on the palate with pleasurable tannins and that slightly peppery edge that asks for food such as red mullet, dishes with saffron, curried food and even blue cheese such as Roquefort and Stilton.
After Matisse
picnics beneath olive trees;
the Sunday cuts shadows
like painted paper
Beignets, Socca, Bagne Cauda:
tastes bright as bougainvillea
Adrian Henri – A Propos de Nice
Much Mourvèdre
Château de Pibarnon is located to the north of Bandol on the Télégraphe hill, which was once part of the Toulon-Paris optical telegraph system. The estate covers 50ha of exceptional terroir about 3km from the Mediterranean in Provence. Since purchasing the estate in 1975, Comte Henri de Saint-Victor and family have been producing some of the most seductively aromatic and nobly-structured wines in all of Southern France. The current owner is Eric de Saint-Victor. The terraced hill whereon the vineyard parcels are located is a geographical oddity, containing Triassic limestone – very different to the granite and other soils in the region. Additionally, there is a subsoil of blue marne (the same subsoil as Yquem and Petrus) and ancient fossil material. This, and the altitude of the vineyards at 300 metres, explain Pibarnon's great elegance and aromatic finesse. Everything done manually in the vineyard and no herbicides are used.
The terraced vineyard faces the sea on the top of a hill and forms a great natural south-east-facing bowl. The soil is composed of clay, limestone and white chalk. The unique location, completed by an audacious blend of varieties, gives this particular rosé, character, complexity and elegance.
The blend for the Bandol rosé is 60% Mourvèdre & 40% Cinsault. The latter is press juice giving the fruit and the flesh, whilst Mourvèdre is "saignée". Its juice is not pressed, only pouring out of the tank by gravity, giving body, complexity and freshness. The blend of both juices is then slowly fermented at low temperature (22° C) for 20 days, and the wine seems no wood, being aged in tank for six months.
Pibarnon's rosé has reddish-pink colour, nose of red berries, hints of marmalade, delicate floral aromas in the mouth, rich mouthfeel and touch of menthol on the finish. Rich and complex on the palate with a dry mineral acidity leading to an elegant finish. I have tasted this wine with 10 years bottle age and it hold up amazingly well.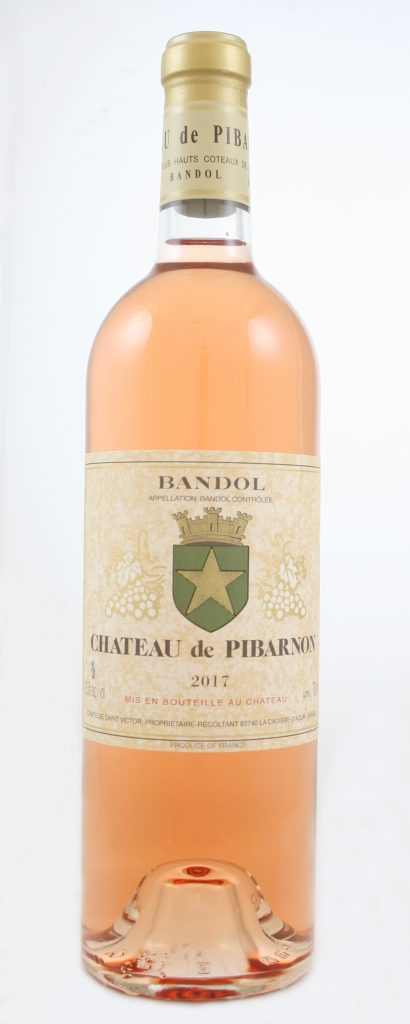 Négrette Rien
Marc Penavayre makes wines in Fronton that are quaffed in the bars of Toulouse (and Charing Cross). Due north of Toulouse here and just west of Gaillac between the Tarn and the Garonne, Château Plaisance is located in the commune of Villaudric. The vines are situated on the high terraces of the Tarn at around 200m altitude. The soils are composed essentially of stones, gravels and silts.  The unique Négrette grape grows here. The story is almost nine-hundred years ago that the Knights Templar brought vines yielding a grape called Mavro (which means black in Greek), out of which the Cypriots used to make a wine to "increase their valour". The Knights introduced this grape to their commanderies in the Occident, including that of Fronton. Over the years, the Mavro became the Négrette and is the origin of the typicity of Fronton wines, the only area in France where this variety has become perfectly and durably acclimatised. Although mainly used for light red wines here it makes a quaffable perky pink: for the Classique Rosé 60% Négrette; 25% Gamay; 15% Syrah chime harmoniously in this native-yeast-fermented coral-hued number with aromas of white flower, sweet currant, morello cherry and a delightful white pepper twist on the finish.
Gris to the mill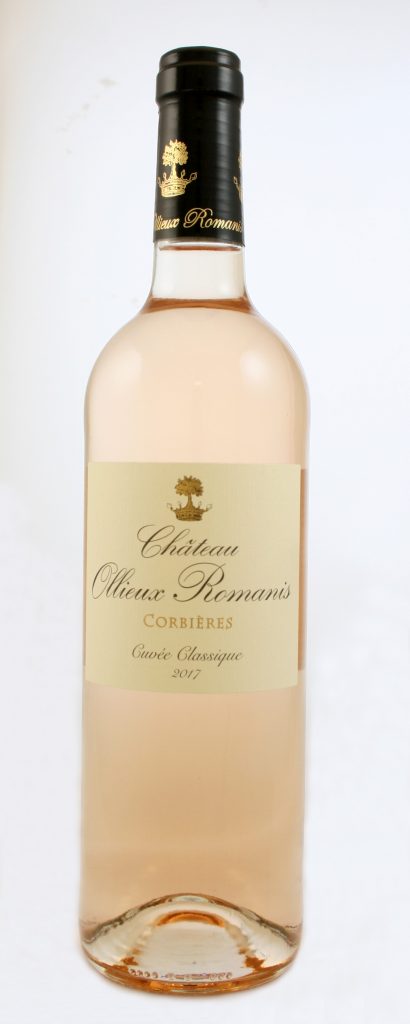 Vin gris squared might describe the Corbières Classique Rosé from Château Ollieux-Romanis, a blend of Grenache Gris and Cinsault made with a maceration pelliculaire and a gentle pressing in stainless steel. Skin maceration involves allowing contact between the skins and the free-run juice (juice that is obtained without pressing). It is used for certain white varieties where otherwise some of the aromatic compounds in the cells associated with the skin would be lost. Maceration is relatively short, typically about 12 hours. Because it occurs before fermentation, there is no alcohol present (alcohol being an important agent in the extraction of tannins and pigments in red wine production). The technique brings out fruitiness and richness in the wine. It has to achieve a compromise in extracting desirable compounds without extracting too much phenolic content. Pale pink wine with nose of orange and red flowers, wild strawberry fruit on the palate and subtle notes of pepper and garrigue flowers and herbs.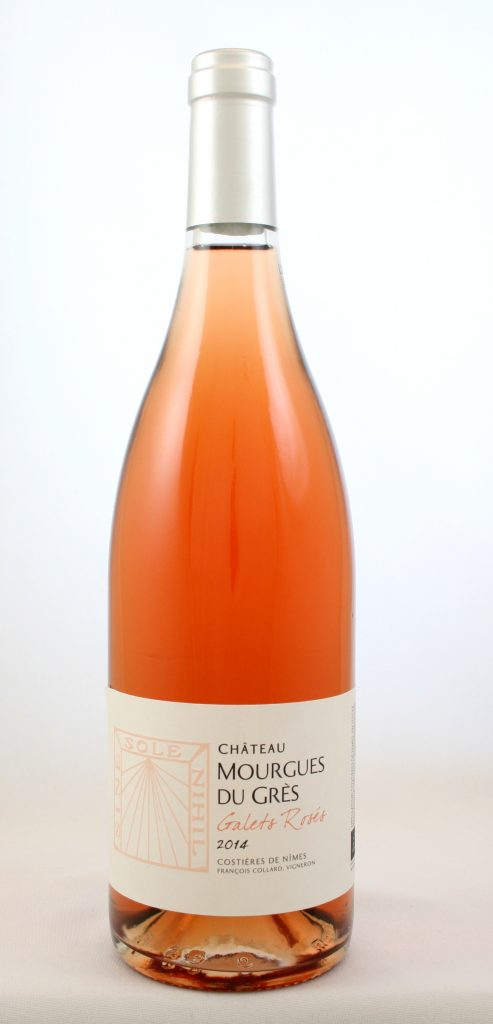 Château Mourgues du Gres is named after "Les Grès" a specific terroir covered by "galet roulés", or sandstones, coming from glacial moraines that were deposited along the Rhône river. Consequently, Costières de Nîmes has a substantial layer of "grès" superimposed on a subsoil of calcareous clay and limestone. The Galets Rosés is a mostly Syrah based rosé with Grenache and a touch of Mourvèdre to complete the blend. After the bleeding method used to create this rosé, in which juice is bled and blended from other tanks prior to fermentation, the wine is then aged in stainless steel tanks for 6 months.  Rigorous temperature control throughout fermentation preserves all of the wine's natural juicy flavours and freshness. Healthy reddish-pink colour, fabulous nose of sweet menthol, strawberry pulp and liquorice, full and ripe palate displaying summer fruits and characteristic peppery notes.
A Salmon in the Loire
Provence-sur-Brem
It was in 1960 that Patrice Michon settled in Brem-Sur-Mer, inheriting several acres of vines belonging to his father. Slowly but surely he bought more vines to increase the value of his wine heritage which is now over 32 hectares. In 1970 he moved to Ile d'Olonne and built a winery. He was joined in 1984 by his two sons Thierry and Eric who have broken with wine-making tradition in Vendée and are now making their mark with these very special wines of Domaine Saint –Nicolas. Due to its proximity to the ocean, Domaine Saint-Nicolas benefits from a micro-climate: sea, woodland and the marshes of the Ile d'Olonne. The vines are planted facing south-west for the Pinot Noir, Gamay and Cabernet and south-east for the Chardonnay and Chenin on clay and schist soils. The domaine extends to some thirty-seven hectares and each one of them farmed biodynamically! It is a major undertaking to keep the soil, and hence the vines, healthy. Thierry's job is also made more difficult due to the range of different grapes he tends here. Whilst the vignoble is planted with the standards such as Chardonnay, Chenin Blanc, Pinot Noir and Gamay, there is also Cabernet Franc, the obscure Négrette and the equally obscure Grolleau Gris.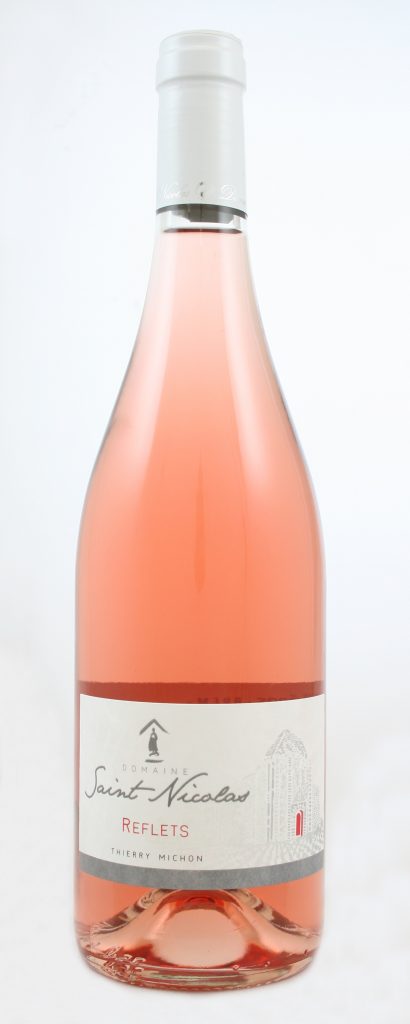 For Thierry Michon, the gregarious force behind one of the Loire's best-kept secrets, it's all about the soil. Working on schist and silex a flint stone's throw away from the Atlantic, Thierry is the prophet of biodynamics in this tiny viticultural area. His vineyards never see a non-organic product. He raises his own cows simply for the manure they produce which he religiously spreads between the vines. He has slowly purchased buffer zones all around his property to prevent chemical products from other winemakers from seeping into his parcels. For him, biodynamics isn't just a pragmatic consideration, it's a religion.
Grapes are harvested by hand and are sorted on a mat and de-stemmed. Whites and rosés undergo pneumatic pressing and partial pelliculaire maceration followed by cold settling and temperature-controlled fermentation at 18/20°C on the indigenous yeasts in stainless steel tanks.
The Reflets Rosé is a delicate, pale pink perfumed beauty that is quite savoury with a dry finish making it perfect as an aperitif. The wine is predominantly Pinot Noir although there is a touch of Negrette and Groslot Gris as well to provide additional nuances. A wine of sea and sky.
La Moulin… Rosé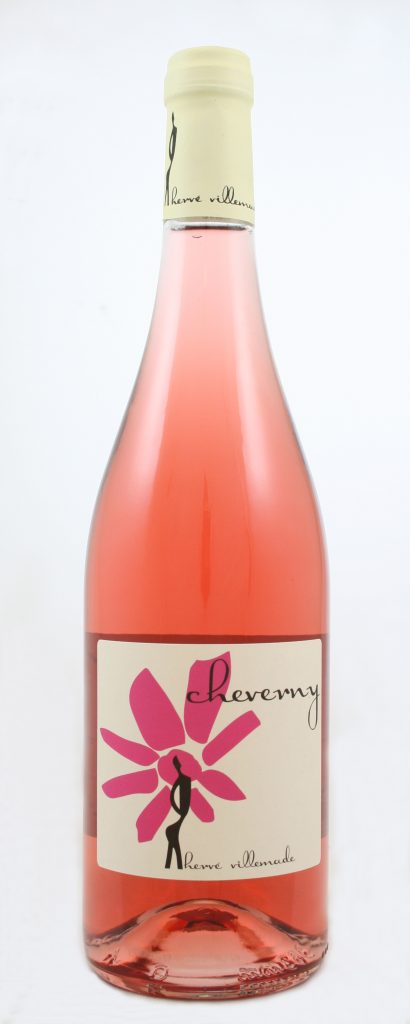 Hervé Villemade has an estate of 25 hectares (17 of which are planted) located in Cour-Cheverny. It has passed from father to son from the installation of Hervé's grandfather in 1939 and Hervé himself took over the estate in 1995 after studying viticulture and winemaking.  In the late 90's, Hervé met Thierry Puzelat (who was then in his second year of organic viticulture) and tasted his wines, as well as Marcel Lapierre's Morgons – and was struck by their purity. He decided to turn a couple of hectares organic just to check: no synthetic products, but ploughing and hand harvest instead, and also no-or very-little added sulphur. The results proved to him that he should travel the non-interventionist path. His delightful Cheverny rosé is made from a blend of equal parts of Pinot Noir and Gamay which are crushed and fermented and matured in tanks prior to bottling. A delightful pale pink wine balancing juicy red fruits with a dry crunchy herbal finish.
To be continued…
Interested in finding more about the wines mentioned? Contact us directly:
shop@lescaves.co.uk |  sales@lescaves.co.uk | 01483 538820