This year we've seen some proper celebration of women in wine. There have been pop-up events, a BYO podcast, due acknowledgement on wine lists, and articles in the wine press, recognising that women have always played a significant role in this industry at every level.
There are famous women who have reached the top of their profession and received plenty of acclamation including such luminaries Lalou Bize-Leroy, Maria Vargas, Andrea Mullineux and Maria Luz Marin – to name but a few. This piece, however, is about women who are involved in every stage of the vine-growing and winemaking process, and their particular stories. Each story has its angle as each individual vigneronne brings her own experiences and perspectives to bear upon the wines.
This is not to say that we can dismiss the cultural struggle for women to make an impression in the wine world. In deeply patriarchal societies, for example, women have only very recently been accepted into wine.
We are interested in those women who farm their vineyards and make the wine, whose vision starts from grape and is realised in the bottle. The vigneronne – farmer and midwife, rather someone who talks about "making wine". A person with a nurturing instinct, who is humble enough to let the vineyard speak for itself, who seeks transparency (or audibility) rather than desires to impress.
Our six vigneronnes have different personalities but…
They are farmers
They practise biodynamics
They love the land and the countryside where they work
They are fervent believers in the primacy of terroir
They all work with ambient ferments and native yeasts
They all work without new wood
They work without extraction
They add nothing to their wines other than a little sulphur
1)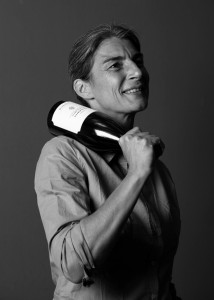 Elisabetta Foradori, Trentino, Dolomites
Farms biodynamically
Works with Teroldego; Nosiola; Manzoni; Pinot Grigio
The juxtaposition of the name Elisabetta Foradori with the expression doyenne is often made, as if she were to the manor born, but it is worth reflecting on her considerable wine journey, which in itself serves as a metaphor for learning about yourself through the way you work.
Elisabetta's wine baptism came when the premature death of her father meant that she had to suddenly manage the family estate. Though "born among the vines" as she says, she assumed control more out of a sense of duty than because wine was a particular passion or vocation. Eventually, however, that passion and vocation came through the work itself, both in the vines and in the cellar. A path of questioning, experiment and intuition (that included everything from biodynamics, to massale selection and the use of amphorae) ultimately led her to cast aside any sense of chasing market trends of the "wine industry" to develop the estate towards the goal of making wines respectful of the soil and the local grapes she wants to honour, and using the techniques she found more interesting, less invasive, and more "wine-holistic":
But even as a very young child, I always felt a very strong connection with nature. As a young girl I loved working the garden, playing in the forest… I had a passion for plants and flowers then, and I still have it now. And regardless of the ups and downs over the years, I am very grateful for what I have today.
Like so many young oenologists Elisabetta was taught that working industrially was the norm. Although the land was linked to Trentino, clones and mechanical "farming" were the norm in the area and her father had followed that recipe. The resultant grapes made perfectly acceptable table wine but not much else. Her investigation into the indigenous Teroldego grape, however, led her to replant her vineyards to massale selection vines, after which the path became clearer for her. Although the wines themselves were initially critically acclaimed, she didn't feel that they spoke to her in any meaningful way. Inspired by a friend in Alsace who had been farming biodynamically for some time, she subsequently turned to Rudolph Steiner's philosophies:
I am an advocate of science, but science without a philosophy is all technique, and technique has no soul. It's a dry process; you're making wine but it has no connection to nature.
Biodynamics not only transformed not only the wines, but also reshaped the mindset of this particular vigneronne. You also see the progress in her winemaking – the move away from new oak and extractive winemaking and the transition towards a more sensitive (even sensual) approach. The wines themselves became liberated and that much more balanced; this derived from a sensibility that focused on the life and the cycle of the vineyard, as opposed to perfecting and polishing the wine. When you smell and taste the Sgarzon and Morei, for example, you experience two distinctive vineyard voices – this is what Elisabetta wanted to achieve. And has achieved.
2)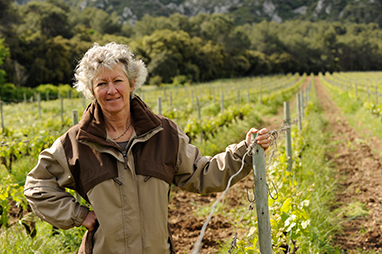 Dominique Hauvette, Baux-en-Provence, Les Alpilles
Farms biodynamically
Works with Grenache; Syrah; Cabernet Sauvignon; Cinsault; Roussanne; Clairette
In the early 1980s Dominique Hauvette left her job as a lawyer in the Savoie, re-discovered her passion for raising horses, and began studying oenology. Thirty years on she owns 17 hectares of vines in and around St-Remy-en-Provence and sells critically-acclaimed wines into many countries throughout the world.
The AOC Baux-de-Provence (only 300ha) where she farms, is located in a sheltered yet arid environment where the aromas of cistus, lavender, thyme, rosemary and savory perfume the air at the foot of the Alpilles. The vineyards are surrounded by spectacular eroded massifs with limestone scree.
When striving to make wine as naturally as possible, a focus on growing the healthiest grapes is an absolute prerequisite. Dominique's conversion to biodynamics, starting in 2000, added structure to her intuitive organic practices, and coupled with her magical terroir, she has found an exciting recipe for success. She was even ridiculed, at first, for working organically, going against the grain of local farming practice.
In the cellar, she takes a decisively non-interventionist stance, not because she is following any natural wine movement, but to preserve the sense of the terroir in the wines. When she took over the estate in 1988, she threw out seven truckloads of chemicals that the prior owner had stockpiled, and is resolutely low-tech, yet she is not afraid to experiment as is evidenced by her being one of the first winemakers to use concrete fermentation eggs.
For her natural wines reflects a terroir, a variety, a vintage and the individual who made the wine. And that a natural wine would be a wine where no mechanical or chemical intervention was made to alter, modify or nullify these four elements:
Today I feel there are two distinct types of wines, the first being industrial wines. These wines are standardized as to not shock or disappoint the consumer. Every bottle tastes the same, you know exactly what you're getting, you're not taking any risks, and in turn you get a wine with zero personality.
Then there are "natural" wines: maybe a better name could have been conjured, but it's always hard to find an adequate designation for something with such subtlety and nuance. These are wines backed by the personality and the emotion of the person who made them, and when you work with this philosophy, you hope that you will give your consumer a distinct emotion or feeling they couldn't have gotten anywhere else but in that glass of your wine.
Her opinions about bureaucracy are forthright: "In my eyes, the AOC system is the death of progress and evolution in French winemaking."
In the cellar, the wine is made in utmost respect of its terroir and virtually all the juice is fermented in the aforementioned cement betons. There is a white made from Roussanne called Jaspe, the Cornaline (which we do) which is Grenache, Syrah and Cabernet Sauvignon aged in foudre for two years, Amethyste, made from Cinsault, Carignan and Grenache, and a Cinsault-driven rosé called Petra.
Dominique is fiercely independent and as craggily uncompromising as the scarped landscape of Les Alpilles. Her wines do not give themselves up easily – they have a sculpted-out-of-hard-rock minerality. We love the fact that she releases the wines only when they are ready, and that to understand them you need to carafe and cajole them ever-so-gently and be prepared to wait for their austerity to melt. And then you get it. The personality. The emotion.
3)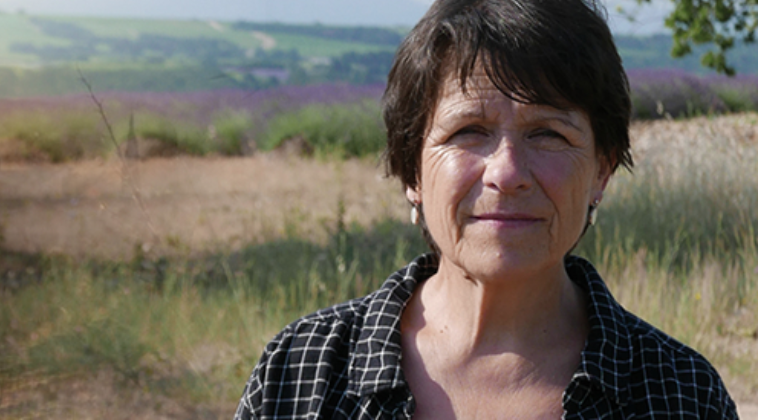 Michèle Aubery-Laurent, Montbrison-Sur-Lez, Southern Rhone
Farms biodynamically
Grenache; Syrah; Mourvèdre; Viognier
Michèle Aubèry-Laurent, a former nurse, treats her vines with the same care, conviction, and passion as she had for her former patients. She and her husband, Philippe, bottled their first vintage of Domaine Gramenon in 1990, in the far northern-eastern stretches of the southern Rhône, in the Drome Provençale town of Montbrison-sur-Lez. Philippe was a talented vigneron—both creative and edgy—and he loved to push the envelope of the regulations imposed by the I.N.A.O. In 1999 he was killed in a tragic hunting accident leaving Michèle on her own with their three children, vineyards, and a winery to deal with. Over the years, Michèle has discovered her own creative voice in her new vocation; in so doing she has catapulted Domaine Gramenon into cult wine status. Although we abhor that word!  Today, she works twenty-six hectares with her son, Maxime François, farming both young and very old vines (100 + year old) alike. They employ organic and biodynamic practices in the vineyards, with a strong non-interventionist stance in the cellar.
Michèle (and Maxime) do not merely champion organic farming but incorporates the concept of sustainability into their daily lives by growing their own food and raising their own animals. The domaine bottles an AOC Vinsobres and a myriad of parcels of Côtes-du-Rhône located around the farm. Though Michèle and Maxime continue to test the confines of the appellation, the cellars are unsurprisingly old-fashioned. They use gravity-fed cuves, work with cement, and age their wines in oak demi-muids and foudres. In order to highlight the freshness, purity, and intoxicating aromas of their small production they ferment with native yeasts, do not fine and filter their wines, and bottle with minimum and even without sulphur addition.
Michèle is a striking painter. Her vivid canvasses demonstrate a desire to channel and translate her observations of nature into an emotional, energetic art form. She writes:
Il faut dire que je suis peintre amatrice et un peu sauvage. Ce qui me passionne, c'est à la fois d'observer au maximum, puis me laisser porter par ce qui se dégage du sujet, de l'énergie qu'il déploie. Impression de pénétrer la matière. Ce qui me motive, c'est d'aller au fond d'un sentiment, d'une émotion, d'un ressenti. Effacer l'égo et la toute puissance et laisser venir les formes et les couleurs pour dire et souvent redire. Alors tout comme le proposerait la dégustation, l'émotion et le partage sont possibles…Parfois.
Michèle's wines are as colourfully evocative as her paintings. They taste of sunshine and a landscape of vines, garrigue, olive trees, hot stones and dust. Yet they also possess freshness and the energy of nature to balance the power bequeathed by the climate. Some of the cuvees exude youthful smiling fruit such as Poignée des Raisins (a fistful of grapes indeed) and On est Zazou; others such as La Sagesse, La Memée and Sierra du Sud are rooted in rock and garrigue.
Like so many women vigneronnes Michèle is behind the wine, not occluding flavours through layering winemaking technique, but painting the fruits of her amazing terroir.
4)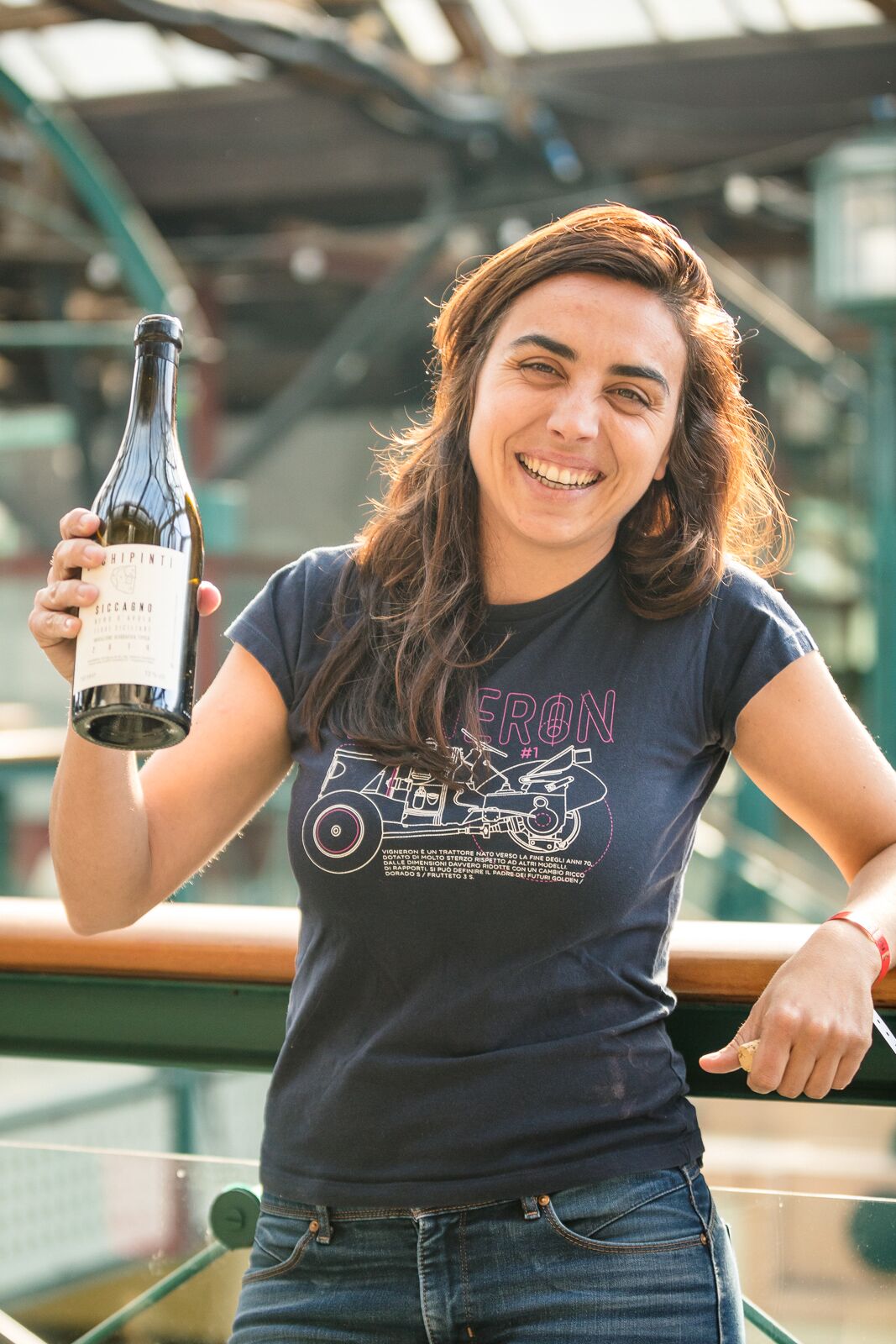 Arianna Occhipinti, Vittoria, Sicily
Farms organically with some biodynamic practices
Frappato; Nero d'Avola; Zibibbo; Albanella
When she was sixteen Arianna started working in her uncle Giusto Occhipinti's cellar–he being the proprietor of Vittoria's most famous winery, COS–and loved it. This propelled her to oenology school and thereafter straight into producing her own wines. She began with a mere one-hectare of abandoned vines attached to a family holiday home. Though university imparted technical knowledge of a sort, the main influence on her approach in vineyard and cellar was in fact her uncle, who raised his wines as well as his niece on organic viticulture, harvest-by- and and native-yeast fermentations, none of which is typical of Sicily's bulk-driven wine production.
In Arianna's own words:
Not irrigating, harvesting late and not using fertilizers are the secret to making more elegant wines in the area. The freshness and minerality in my wines come from the subsoils. Any wine made from young vines or chemically grown vines feeding only off of the top soil will have the cooked, hot characteristics people associate with wine from warm regions.
There was never any doubt in Arianna's mind about whether to pursue this natural approach in order to express the freshness of the Vittorian microclimate, the minerality of the chalky soils and the purity of the local grape varieties. She made a number of other significant choices in pursuit of this balance. The farming is biodynamic. There is zero irrigation in her vineyards in this hot, windy climate. Cover crops including fava beans and other useful plants grow between every other row.  New plantings are massale selections only. Juice and wine are moved only by gravity. There is no new oak. Her flagship SP68 wines (white and red blends named after the nearby main road) are vinified and aged in small concrete tanks, with no oak of any kind and no punchdowns. The red is in all but name her version of a Cerasuolo di Vittoria, the DOCG blend of Frappato and Nero d'Avola; she eschews the designation in favour of shorter ageing for a fresher take on this regional signature. And for her next level of longer-aged wines from older vines, a pure Frappato and her 100%-Nero d'Avola Siccagno, there is no new oak–the use of which has been an attempt by some Sicilian producers to add a sense of gravitas to their wines for the international wine market–and gentle handling.
Arianna's star has risen very quickly over the last decade in the wine world, and she is rightly regarded as a symbol of success in the world of biodynamic farming and natural winemaking. She has remained committed to those principles, while evolving from her originally more dogmatic outlook. Below is her response to importer Jules Dressner's question about her feelings on the term "natural wine":
I make natural wine, but this is a term I'm beginning to be less and less comfortable with, because its implications are very complicated. I really want to stress that my main goal is to make a good wine that reflects where it comes from, and for me the only way to successfully do this is to make the wine naturally. When I first started, people were just starting to talk about natural wine. It was very important to me to think about all these issues, and in those early years I definitely had a more militant attitude about it. Making natural wine was a mission, something worth fighting for. Now that I've grown up a little bit, the mission is making wine of terroir. You have to respect the vineyards, and nature in general. When I wake up in the morning, I want to feel free. Making this wine is my opportunity to feel free. So again, my goal is not to make natural wine, working this way is a process to make good wine.
Arianna's wines are exuberant and exotic. They feel charged. She bottles sunshine and wildness and discovers the heart of the unique Sicilian grape varieties. Siccagno, for example, is Arianna's top Nero d'Avola from organically farmed alberello-trained vines grown on sandy chalk soil at 270m. The wine undergoes a 30-day maceration with 22 months in 25hl Slavonian oak barrels. These are the raw facts. Arianna describes the wine:
Siccagno is my Nero d'Avola, born from those concentrated grapes which we precisely call Siccagna. Nero relates mostly Sicily – that it is wild, but it is also fresh and elegant and it is red-fruit-flavoured. That it has something noble and aristocratic, but it is also melancholic as a poet or a philosopher. That it is passionate, full of warmth and contrasts. The Nero which is the grape of our fathers and unites Sicily from corner to corner and it better gathers the spirit for centuries. A wine which I deeply love and since the first year it has always been with me.
This says a lot about Arianna. Her particular journey started as a rebel, questioning farming and winemaking orthodoxies in her native Vittoria. Being part of the natural wine generation galvanised her quest. Now, natural winemaking is the means by which authentic, terroir-driven wines are realised. And that is what inspires Arianna.
5)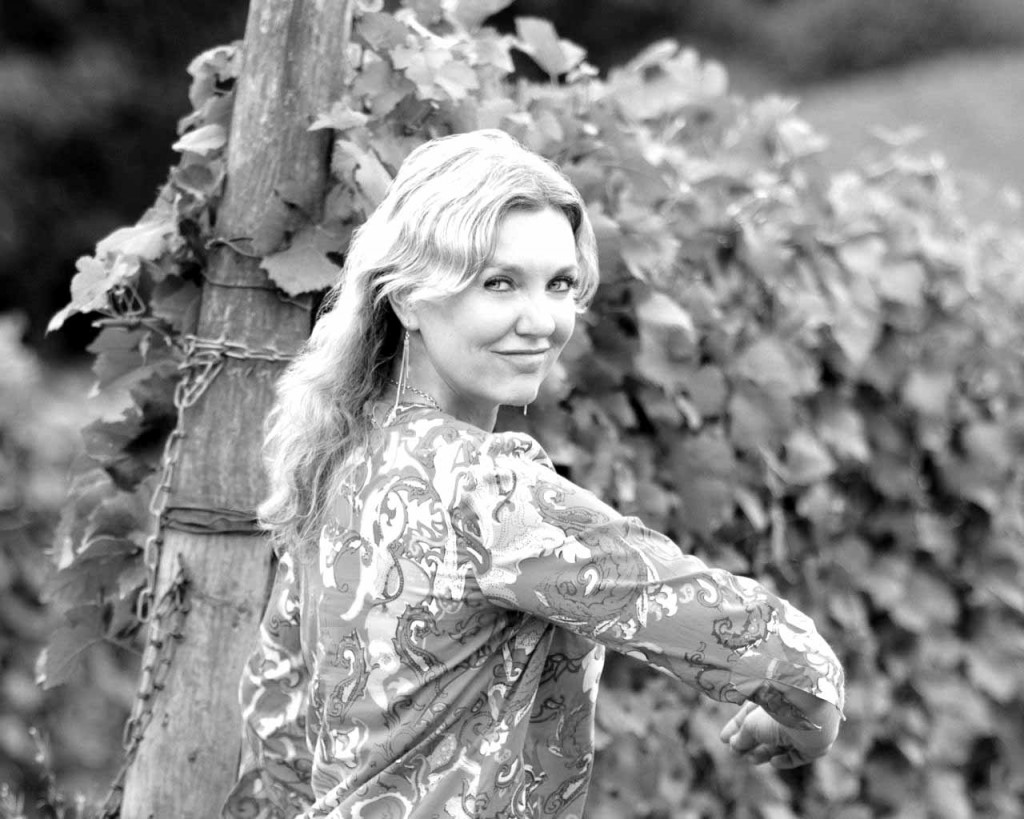 Kelley Fox, Dundee Hills & McMinnville, Oregon
Farms biodynamically
Pinot Noir; Pinot Gris; Pinot Blanc
Kelley Fox has been a full-time, on-the-floor winemaker for over seventeen years. Most of the canopy work in her blocks at Maresh she does personally and in solitude, including the biodynamic sprays. The wines are touched only by Kelley, but they are not a personal expression. As she always says: No stylistic intentions are imposed. They are silent, living songs of these beautiful farms.
She writes:
Ovid wrote in his "Metamorphoses" that we have entered the Age of Iron, "that hard age of baser vein" (I. line 128), but farms like Maresh and Momtazi are tended with such deep respect for nature that they feel more like the previous Ages of Silver or Bronze.
Kelley is highly attuned to the song of each vineyard. She would make "spirited" wine, of course, wherever she was farming. Her approach is subtle and responsive; for her grapes are matter waiting to release the energy of the vineyard, and the wines are the liquid containers of that energetic potential.  She is a humble exponent of the personal give-and-take of biodynamics, the notion that the entire process of winemaking involves tapping into a primal cosmic energy; a process that is sharp and painful in that it often takes over your whole life, the love in your body, your integrity, and your perception of the nature within you and without you.
Nature never hurries. Atom by atom, little by little she achieves her work
–Ralph Waldo Emerson
For growers such as Kelley (and there are not many like her) nature itself is the real sublime artist, whilst the vigneron, the natural artisan vigneron, labours to capture its indifferent beauty. Like the artist in Joyce's Portrait of an Artist… she never puts herself at the forefront of the enterprise, remaining within or behind or beyond or above her handiwork, invisible, refined out of existence. Of course, she is a sensitive and sensible editor, makes myriad choices and has the technical savvy to respond to the needs of the wine. She speaks eloquently, however, about liberating the story of the wine, part of the process of channelling of the energy of the vineyard, and, that the once the wine is born, it no longer belongs to her (and becomes its own free spirit). This returns us to the notion of humility and respect, that farmers are stewards or guardians of the land. What they take they also need to give back, which is why this form of vine growing is not just physically demanding as the process of endless nurturing inevitably is, it is equally spiritually demanding. The process is two-way; the vineyard can be a healing place also.
The first sensation (what I smell, when I taste) is the strength of the terroir in these wines. There is a Gaelic expression Is Blath an Fhuil – "the blood is strong" – and I feel the sanguine vitality of the respective vineyards pulsing in the wines. Kelley Fox disappears into her wines (for want of a better expression); hers is a reclusive, generative presence – she understands her wines whilst detaching from them. Meanwhile, the taster needs to approach with an open mind and an open spirit; in other words, not burdened by preconceptions of what Oregon Pinot Noir might or should be. When you drink a bottle of Momtazi or Maresh you should embark on a journey – these wines embody everything that is wonderful and intriguing (and occasionally frustrating) about Pinot Noir. They carry the darkness and light equally in their souls, sometimes they are temperamental and sometimes they beam with pure energy. What I love most of all is their opaque transparency. The oxymoron is justified; the wines are limpid, sans veneer, whilst the fruit is dark, volcanic, throbbing. There is deep-rootedness, but not heaviness, textural completeness but not obviousness, flowers, herbs, earth and sky, all rolled into a whole.
There are four wines, Mirabai, Ahurani, Momtazi and Maresh, all authentic and true to themselves; all articulate. The truth is in the tasting. In lieu of knowing the wines, you can certainly "feel" them.
Once the wines are made, Kelley detaches from them. As the Georgians might say, "she put them on their feet". She might deprecate the notion of being a winemaker. She is a combination of artisan, a translator, a midwife, a sensuous individual. She feels and understands natural beauty; she is brilliant, charismatic (yet reserved), loyal and respectful. The wines reflect that – they make no concessions and are not polished to an easy sheen. They are what they are and isn't that the essential message of terroir?
6)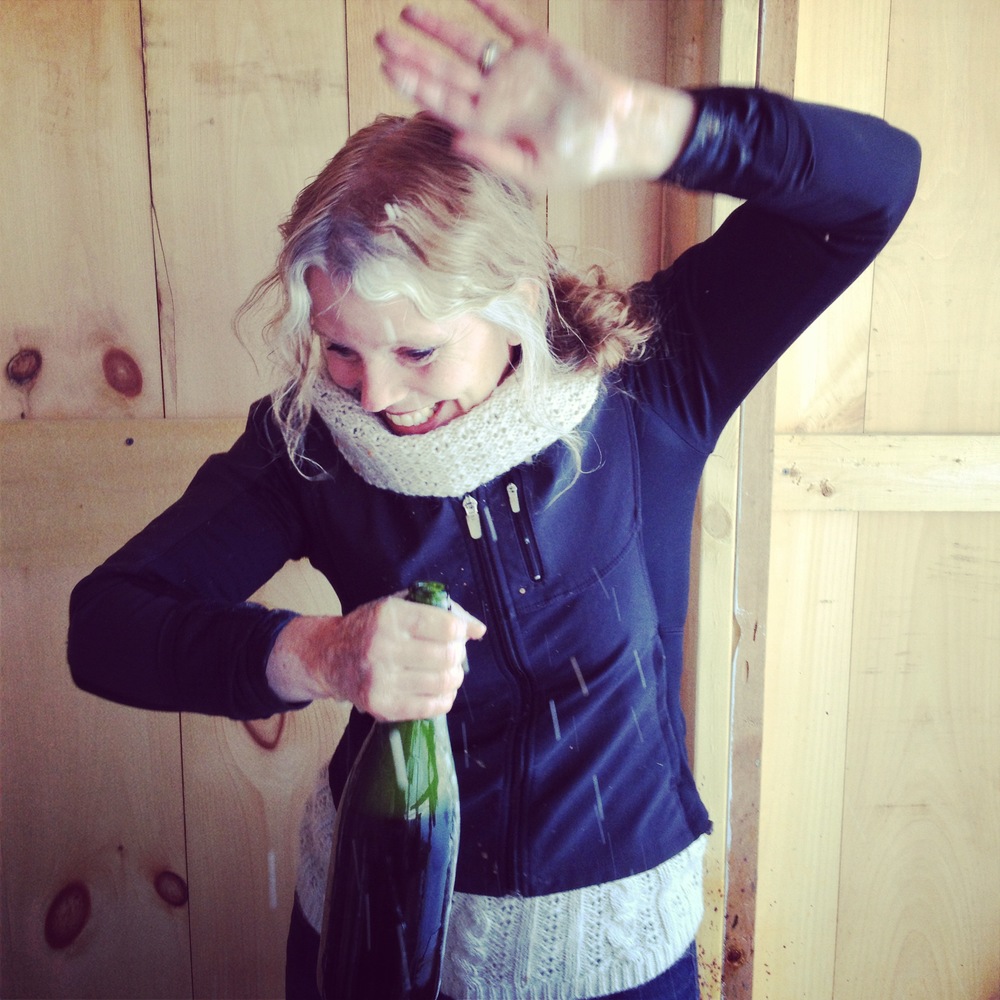 Deirdre Heekin, Chateauguay, Vermont
Farms biodynamically
La Crescent; Frontenac Noir; Frontenac Gris; Frontenac Blanc; Brianna; Marquette
The project known as La Garagista Farm & Winery began in 2010. It began initially as an education for Deirdre. Her background was as a sommelier in a restaurant that she ran with her husband, Caleb, for twenty years. She reached the point where she wanted to understand wine, inside and out, or "viscerally and kinaesthetically" as she puts it, as opposed to the scientific theory.
She made a bathtub (natural) wine to prove to herself that she could it and then heard about a winery in Vermont called Lincoln Peak. She and Caleb went and tasted and very impressed with the potential and bought 100 plants from the winemaker's nursery which they proceeded to plant.
Nothing ventured – the wine was either going to be for the restaurant, or for Deirdre and Caleb's private consumption, or would make great vinegar.
Deirdre and Caleb now farm three parcels of co-planted, alpine varietals that are horticultural crosses of vinifera and native riparia and labrusca vines. As Deirdre says, the family trees of these varietals are quite baroque and uniquely American. She challenges the notion also that Vermont is not a natural milieu for grapes by recalling that the Vikings called this continent Vineland, because of the proliferation of wild vines, the same vines that provide some of the primary plant material for the hybrids.
She loves where she lives.
I'm interested in looking at my locale and investing in my community, investing in my landscape and understanding my landscape…I love all the potential in something like grape growing and wine growing, and cider growing. I mean, we make ciders as well, so I firmly believe in the apple tree in Vermont. But I also firmly believe that the grape belongs there as well. We keep coming back to this idea of evolution and how wine and varietals are evolving, I think that is just part of our own natural selection.
They practice biodynamics and also pull from diverse organic and permaculture concepts. Primarily there in the home farm and vineyard in the Chateauguay, a protected forest in Barnard, Vermont where they also grow vegetables and fruit and raise some livestock for their restaurant. The farm is a polycultural project with vegetables, orchards, flower gardens, vines, and chickens all interplanted. The chickens are particularly interplanted. They also raise pigs on farm, utilizing them to naturally till new ground and to be the source of their farm-cured charcuterie. In the vineyard, they plant vegetables between the vines focusing on root vegetables, escaroles and chicories, and flowers, all of which enrich the vitality of the soils in this parcel.
The two other parcels are in the Champlain Valley and are close to Lake Champlain. No-till and natural field cover crops are part of the farming at these two vineyards, encouraging the flora and fauna particular to each microclimate.
In a few short years Deirdre and Caleb have nurtured their vines in their unlikely vineyards in such a way that they truly connect with the soil and with the sky. The grapes may be humble hybrids, but the wines they make are gloriously evocative of these special places.
In the winery Deirdre follows the advice of her mentor Bruno de Conciliis who told her originally:
You're going to crush your fruit by feet. You're going to use a demijohn and you're going to add nothing. You're going to do native fermentation. Maybe you add some S02 at the finish, if you need to, but you're going to try not to. You're just going to do it like an old farmer.
This advice chimed with what she wanted, her aesthetic being to do as little as possible, to stay out of the way of the wine. She also feels that the hybrids prefer as little intervention as possible. They are completely transparent and will resist the tricks and tropes of the winemaker. Part of growing up as a vigneronne is learning to leave well alone.
Deirdre has written lucidly about biodynamics, farming, permaculture, food and wine. She has a clear-eyed focus, and precise palate in the winery. She is a natural in the vineyard. And an explorer. And a cultural historian. And she admits that every vintage is an education. She's making truly remarkable wines (and ciders) not just for Vermont, but by any standards.