Unicornucopia!
There are wines which are so rare because to make them requires nature to smile on the vineyard, or for the vigneron to feel that the quality of the wine justifies a specific micro-vinification of the grapes. These are the unicorns, the hens' teeth, the unicorns' teeth, even. Their beauty arises from their singularity; when you drink them, you don't feel that you are drinking one of a series, but one of one.
Here is a selection of odds and ends. Some are the expression of unique and almost forgotten grapes – Gringet, Ribeyrenc and Pinot Gouges; some derive from old or remote vineyards – De Moor Aligoté, Metras Ultime and Comando G Rumbo al Norte, some are brilliant and brave experiments – Thierry Germain's Solera, Pheasant's Tears Poliphonia, Ganevat's Vignes de Mon Père and others seem to be made by Japanese vignerons for some reason – Kenjiro Kagami and Hirotake Ooka!
Continued from Part Two….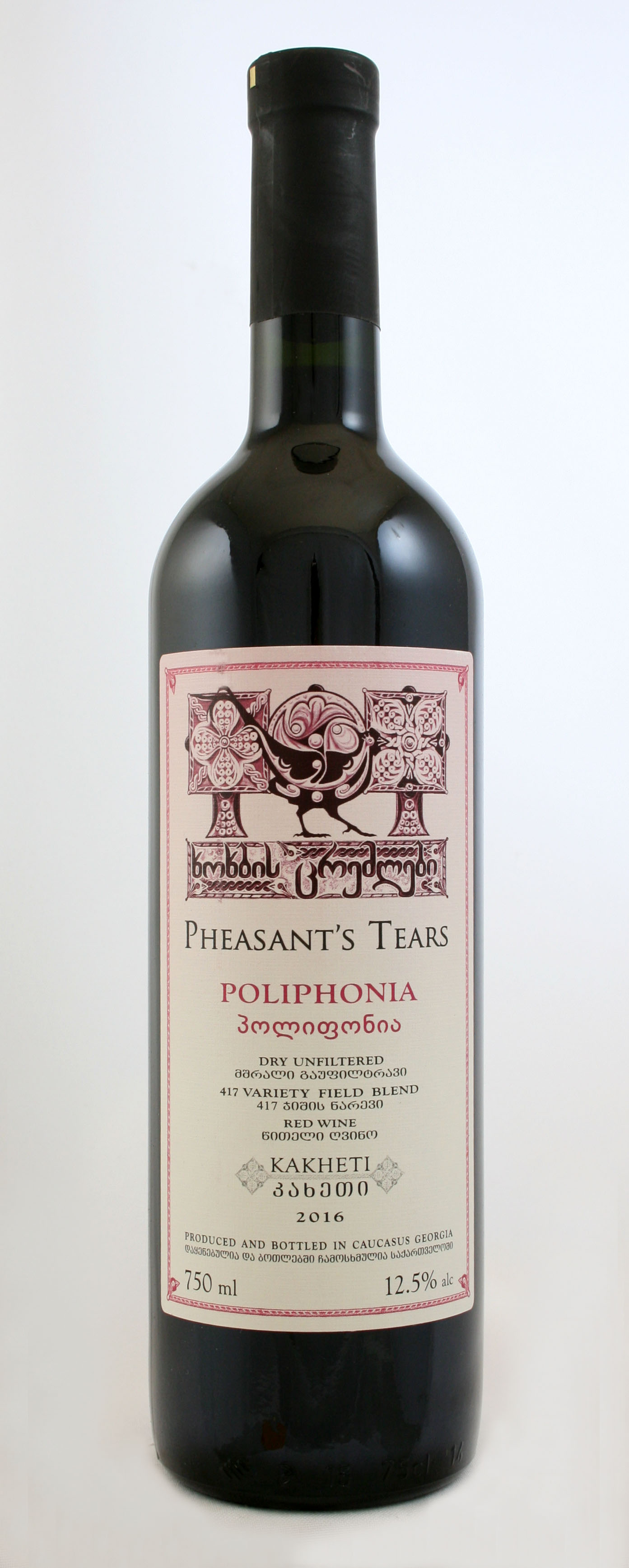 Pheasant's Tears Poliphonia, Tibaani, Georgia
Heinz 57 x 7.315
"Harmonic chaos" is how John Wurdeman describes this blend of 417 indigenous Georgian grapes.
Polyphony or Poliphonia is a mixed planted field with 1-10 vines of each of the 417 varieties. This micro-vineyard is harvested in 3-4 sweeps, as the grapes all ripen at different times, so one ends up with white, golden greenish, blue, purple, grey-pink grapes at various level of ripeness that eventually finish co-fermenting together!
90% destemmed 10% whole bunch, everything is naturally fermented in buried qvevri, after a five day maceration the must is pressed.
The wine itself is delicious, more like a dark rose than a red, with sappy fruit and a nice herbal twist. The idea behind it is lovely – this is, of course, about conserving and promoting autochthonous grapes, providing a raison (raisin?) d'etre for them to be replanted. The wine also riffs energetically on the idea of Georgian folk song; different voices at different pitches and interval coming together in tonal fusion. With wine as with music you have to surrender to it to cultivate the message. Georgian wine seems atonal if we can extend that metaphor; oddly coloured and oddly shaped texturally, and then with the food and the occasion it makes perfect sense, as if you were shaping around the wine.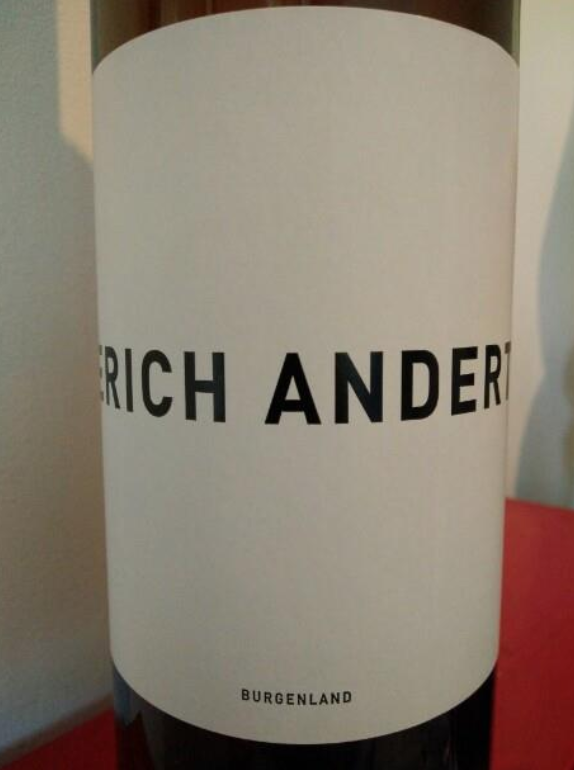 Andert PM, Burgenland, Austria
Mystery solved
Scroll back a couple of years to my first trip to Burgenland. We were taken to the small plot of vines that comprise the Gemischter Sotz, a field blend of various white grapes. The location of the vineyard is in itself unremarkable, being a flat piece of land that was once under water (the marshes around here were drained some time ago) although some of the boggy, low-lying areas still host an extraordinary variety of birds. This small vineyard is humming with life. They have installed a box in a lone tree at one end of the row of vines for falcons to nest in. Herbs and grasses grow bountifully– spring onions, leeks, fennel, wild garlic, oregano and countless other herbs, edible (as it turns out) flowers and weeds. Michael stops and stoops occasionally plucking a plant and enjoins me to nibble this flower or that leaf. Whether it is the effect of the sun beating down and the earth warming up but even the bitter leaves taste nourishing. Pesky deer are kept away by the old-fashioned expedient of a wild boar's hide draped over the wires. A flock of mixed sheep (including a rare local breed) are grazing in neighbouring pasture, whilst cockerels, guinea fowls, ducks and geese gabble loquaciously in the adjacent pen.
Michael repairs into a hut and brings out a loaf of sourdough bread – baked by his neighbour – a water buffalo wurst and some homemade wild boar prosciutto and we have an impromptu picnic of meat, herbs and edible flowers washed down with a wine that feels like it had sucked up the very lifeforce from the soil.
The wine in question was rich, golden-orange with a sweet-salty smell and then a nose of wild herbs, honey, sun-burnished fruit. It was – as they sometimes say – the wine of the moment. This is, Erich said with a smile, our PM – our Puligny-Montrachet. Penetranter Mistkerl.
We yearn to recreate such vivid moments, and certain wines have the capacity to dial a hotline to our memory banks. The other day I revisited PM (the 2015 vintage) at Brawn, where I was having lunch with Chad Stock and Bree Boskov MW. The wine had been sitting in a carafe for around twenty minutes and the colour seemed to be changing subtly by the moment as if animated by a response to the very light of the day. A burnished sunset of a wine, its deep hues were captivating, glowing, almost throbbing with primal energy.
The nose, or whatever we choose to call it, was (sweet)meaty and a little bit smoky, the palate is smooth and almost velvety with suggestions of pink grapefruit, yet also salty with a bitter almond note on the finish. A wine that sits on the mother of lees and skins, starts off tightly wound in its own skin, its aromatics initially reserved, then gently exudes a kind of warmth as of orchard fruit baked with sweet spices in the oven. And all Andert's wines have a faintly medicinal bitter, fennel-inflected after-taste. This may to be do with the fact that the vines share their space with wild fennel and many other plants and herbs that have the same anise profile. They also possess what we like to describe as "natural energy". Easy in themselves or with a relaxed intensity, not inviting judgement, but utterly and vitally redolent of the vineyards from which they are born.
And the grape variety of the PM? Petit Manseng.
200 bottles of this were produced.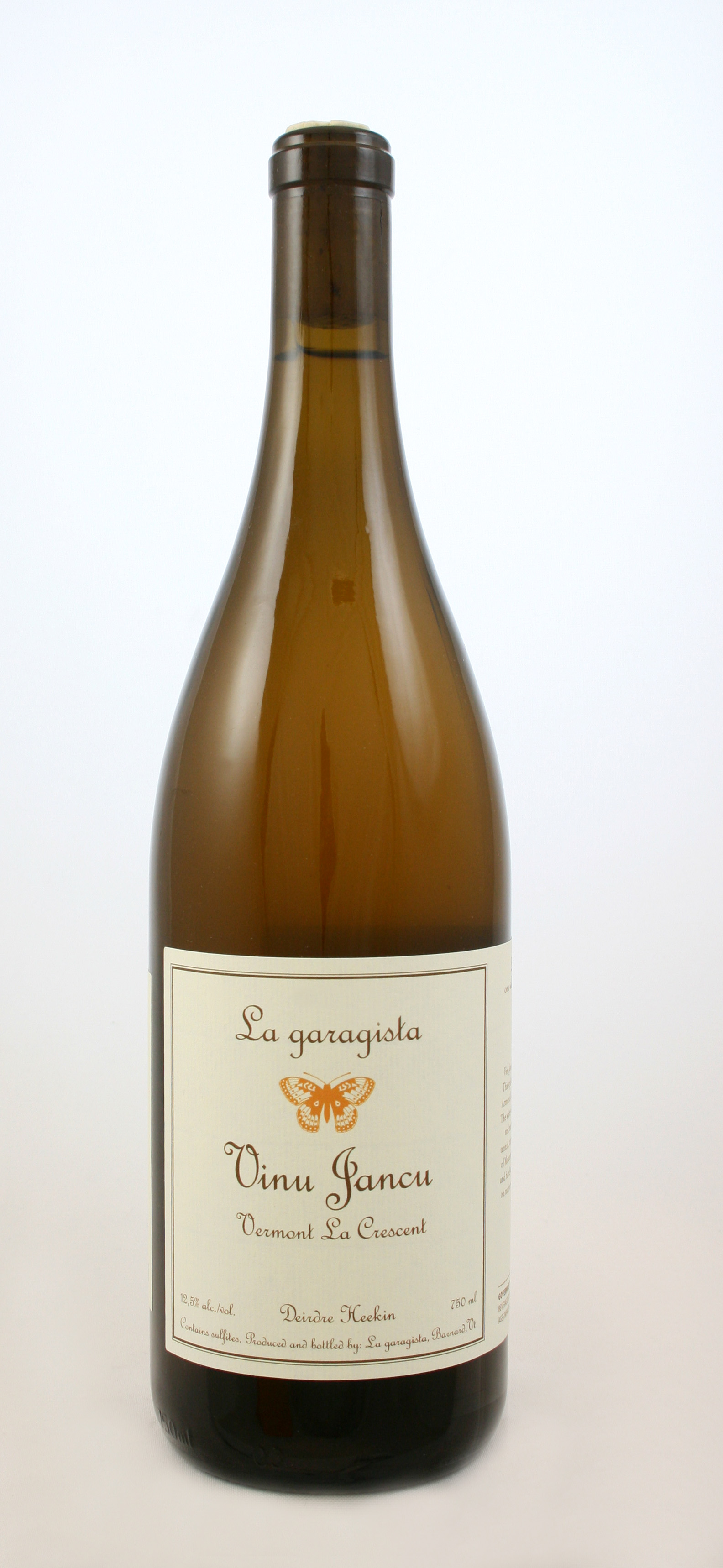 Vinu Jancu, La Garagista, Vermont, USA
The full Vermonty
La Garagista Farm + Winery began in 2010. Deirdre and Caleb farm three parcels of co-planted, alpine varietals that are horticultural crosses of vinifera and native riparia and labrusca vines. The family trees of these varietals are quite baroque and uniquely American. They practice biodynamic and also pull from organic and permaculture concepts. Firstly, in the home farm and vineyard in the Chateauguay, a protected forest in Barnard, Vermont (1600 feet) where they also grow vegetables and fruit and raise some livestock. The farm is a polyculture project with vegetables, orchards, flower gardens, vines, and chickens all interplanted. The chickens are particularly interplanted! They also raise pigs on farm, utilizing them to naturally till new ground and to be the source of their farm-cured charcuterie. In the vineyard, they co-plant vegetables between the vines focusing on root vegetables, escaroles and chicories, and flowers, all things that aid the soils in this parcel.   The two other parcels are in the Champlain Valley (184/194 feet) and are close to Lake Champlain. No-till and natural field cover crops are part of the farming at these two vineyards, encouraging the flora and fauna particular to each microclimate.
Vinu Jancu, like all Deirdre and Caleb's wine has its story (inscribed on the beautiful labels that adorn their bottles). It is a homage to Salvo Foti's Vinu Jancu in Sicily. Vinu Jancu means white wine in Sicilian dialect, but also an old~style white wine that was always fermented on skins. The Vinu Jancu vineyard is right on Lake Champlain with only a tree-lined hedgerow between vineyards and water, an intimate vineyard with essentially a natural clos. This vineyard works in a way, defying probability, one that allows Deirdre and Caleb to keep it fairly wild. Three primary flora grow up into the canopy of the vines: purple aster, daisy fleabane, and wild mint. It is composted naturally with coyote and deer scat which roam through the vineyard in the winter months. This wine has five weeks on skins in the glass demi-johns.
The wine itself is wonderful and a great advert for the La Crescent grape -and the benefits of responsive farming. Hazy golden-orange, musky, wild mint, tarragon, white strawberry, little golden plums and pears, skinsy and grippy, and oh-so-alive. Wildly wonderful.
All La Garagista are rare and wonderful creatures. I particularly love the Loups d'Or, a skin contact wine made from another hybrid grape called Brianna. I drank it whilst standing in the Atlantic Ocean with the setting sun shafting a beam of light through the golden-hued liquid in my glass. Unicorn + epiphany = game, set and match.
Approx 30 cases made.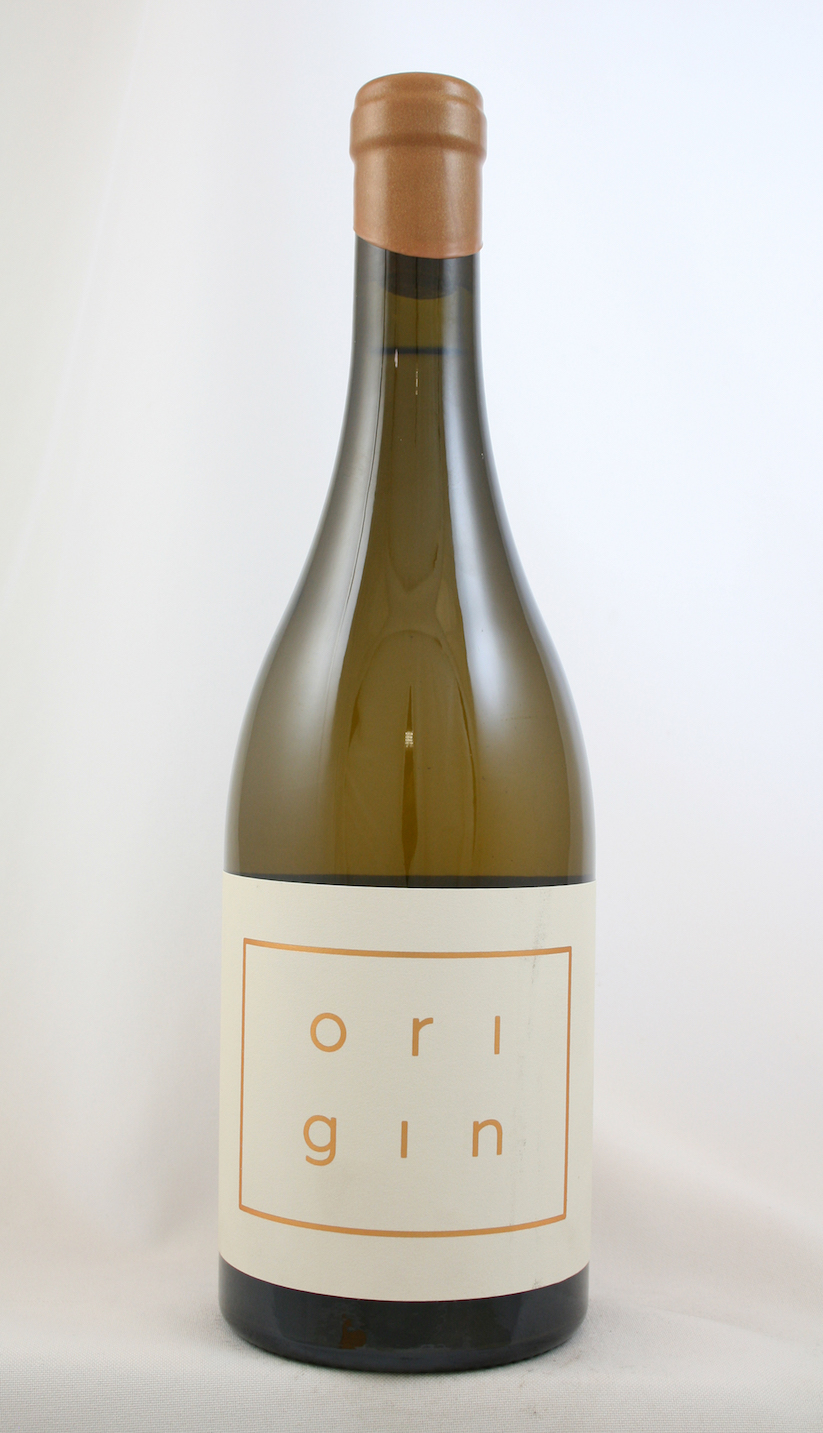 Origin Gouges, Minimus Wines, Oregon, USA
Pinot but not as we know it
This is Chad Stock's second foray into Pinot Noir Blanc territory. Yes, a red grape mutated into a white with partial skin contact. Go figure!
Zivo is the name of the vineyard located in the maritime-influenced Eola Hills AVA, the grape is 100% Pinot Gouges, the mutation of Pinot Noir that occurred at Domaine Henri Gouges in Nuits-St-Georges in the late 1930's. The grape was isolated and propagated by Henri Gouges for many years and to this day the domaine still produces a pure white wine from it. In the 1970's one of Oregon's wine pioneers visited Gouges and asked for cuttings to bring back to Oregon. This is the only planting that we know of in the United State weighing in at 0.5 hectare. Chad shares the fruit with two other winemakers and they farm it together.
The Zivo soils are sedimentary over basalt parent material, the vines are east facing, whilst farming is organic with some biodynamic practices. The grapes are hand harvested and Chad ferments 80% of the juice with 20% whole berries in a large oak cask with an extended maceration of 180 days. Fermentation is ambient with indigenous yeasts and nothing added. Full malolactic is completed. The wine is then aged for seven months in five-year-old 600-litre French oak cask and a little sulphur is added just before bottling.
The Origin Gouges has superb ripe citrus complexity, salty, chalky briny mineral freshness and an ethereal intensity. Each year Chad's wines taste less experimental and more rooted in their place. The Gouges is all about mouthfeel rather than aromatics; slow native yeast ferment, an element of skin contact, gentle pressing, natural malo and no filtration leave the wine satisfyingly intact and deliciously complex whilst being very drinkable at the same time.
55 dozen made
*
Interested in finding out more about any of the wines featured? Buy online here or contact us directly…
Retail: shop@lescaves.co.uk / 01483 554750