"The list is the origin of culture. It's part of the history of art and literature. What does culture want? To make infinity comprehensible. It also wants to create order."
Umberto Eco
As some day it may happen that a vigneron must be found,
I've got a little list — I've got a little list
Of Georgian growers who bury clay pots underground,
And who would certainly be missed — who would utterly be missed!
There's the Chateauneuf growers who have…well, you do the maths —
You won't find their wines in tiny corner caffs —
And the skin contact merchant whose wine is more orange than yellow—
He'll be on my list that exceedingly unfortunate fellow
And all sans-soufre dudes who on spoiling squeaky clean wines insist —
They'd none of 'em be missed — they'd none of 'em be missed!
With apologies to Gilbert & Sullivan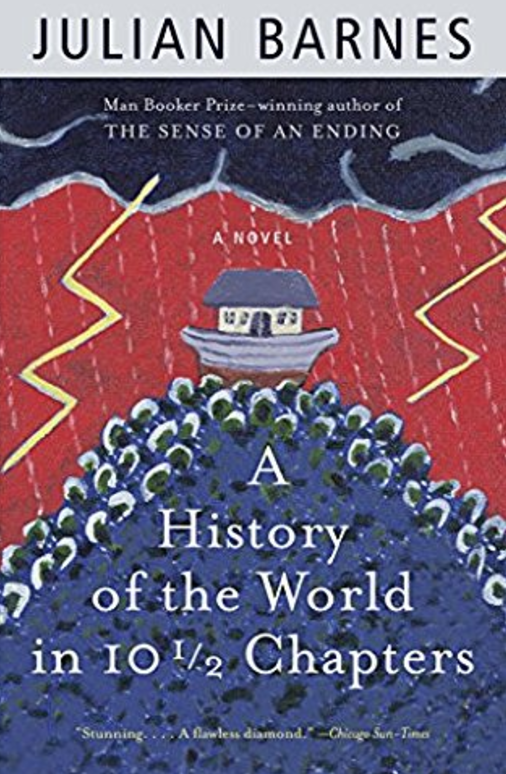 Julian Barnes wrote a brilliant book of short stories called A History of the World in 10 ½ Chapters. Here's our partial view of…
The World of Wine (our wine) in 16 ¼ Snippets
We are fixated with Gamay –from 4 continents (c'mon Chile and China). Our gamme of Gamay includes epic examples of Fleurie and Morgon amongt the 10 crus, supplemented by frolicsome peppery quaffers from mountain heartland of Auvergne & Forez, easy-on-gum carbonic juice sliders from Touraine and slammable examples from Oregon, Oz and South Africa. The last of which is called Thirst.
We get high on mountain wines – Alps on Alps arise with our sky-scraping Blanc de Morgexes (they hail – or snow – from Mont Blanc, named after the fancy biro); we lava a nice bit of altitudinous Etna (Vino di Anna) and we climb to the Garnacha heavens on the Spanish Main with Comando G & Alfredo Maestro. Everything's looking peaky!
Equally, we enjoy a spot of shore leave via foaming clifftop Txacoli, Vendee beach blends from Maison Michon and chill-it-and-swig-it sea-salt Fino from Cesar Florido in Chipiona. Distance to Atlantic – 50 metres.
Crazy vineyards float our extremist boat – Madness and impertinency reigns in Spain in Ribeira Sacra where the sacred slate terraces sheer and crumble into the River Sil. Super-heroic viticulture required to obtain grapes from here. Back up, up and up into Valle d'Aosta again with vines on bassa pergola at 1,300 metres. Harvesting in October is snow joke. Planting vines on volcanoes is hubristic in the extremis but that doesn't deter our Etnan brigade.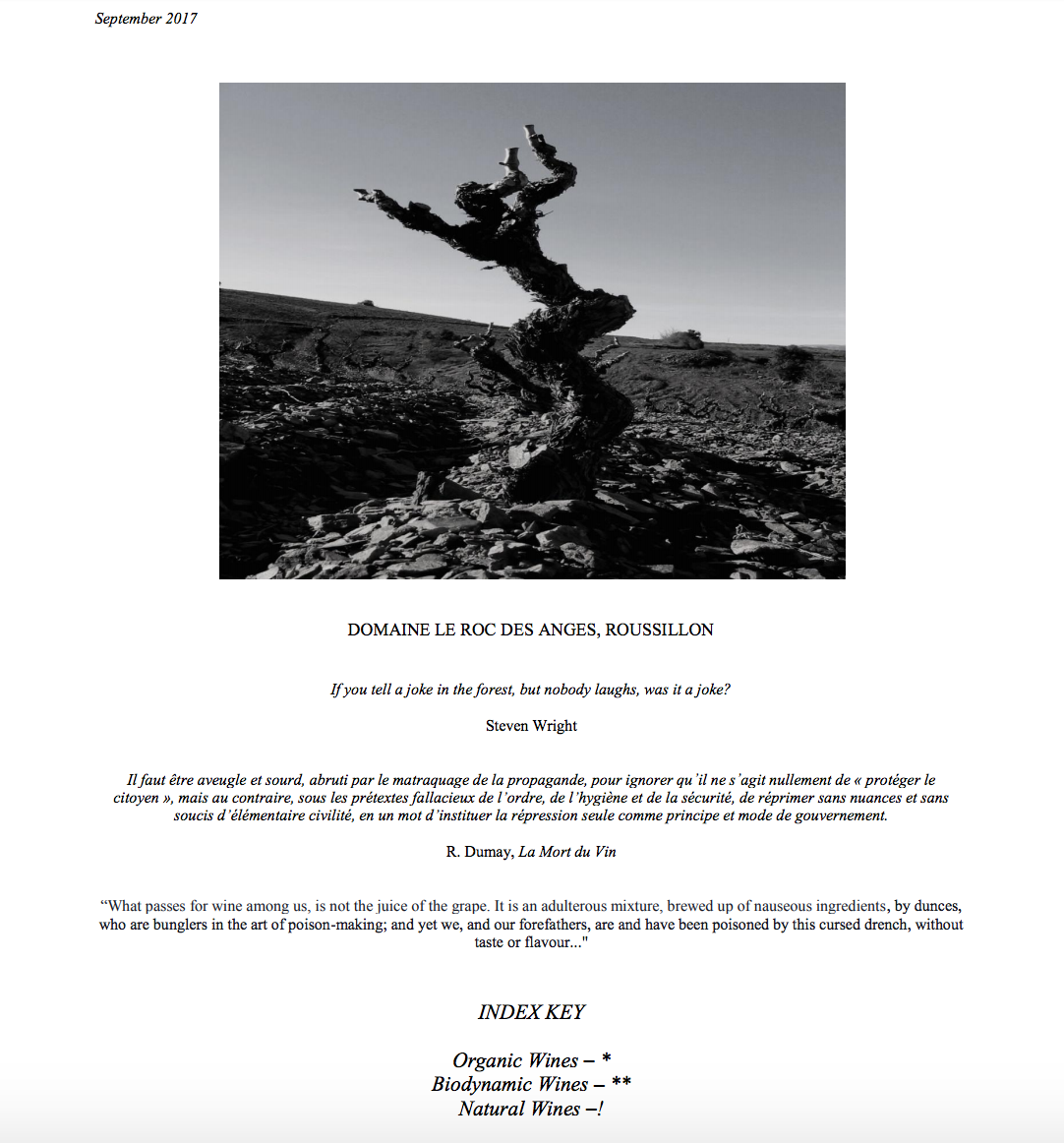 Defender of wilfully obscure autochthonous grapes – Try saying after a few beakers. If Nirvana headed the west coast grunge scene, we are leaders in the Savoyarde Gringet scene. You like the lesser-spotted Menu Pineau, Enfariné, Albarin, Rojal, Minella, Chkhaveri, Mayolet, Prie Blanc, Robola, Zelen? So do we! Hens' teeth r us.
Our world is going to pot –or, to be more precise, to giare, qvevris, tinajas, dolio. We even held a tasting dedicated to "feats of clay". No oak, all jar-jar. From Georgia to Friuli. From Sicily to Alicante. From Oregon to Chile. Pots of all shapes and sizes, some buried in the ground by the vineyard, others standing proudly in the winery. All potty.
Causing the occasional Amber Alert – sometimes we called them skinny wines despite their plumptiousness. Nominally bronzed specimens although the spectrum ranges from delicate gold leaf-hued through coppery-pink to full throttle burnt-orange.
A respectful pause to venerate old vines – how old is old though? Check out those wizened bird's nest Santorini grizzlers clocking in at 500 years. Merely mildly ancient are the gnarled Carignan bushvines from the Roussillon and the Languedoc, 130 + y.o. Cinsault from California, ur-Gamay from Fleurie, pre-phyllox Malbec from Cahors (yes, they grow Malbec in Cahors) and innumerable other wines that should have received a congratulatory tele-message from the Queen several years ago.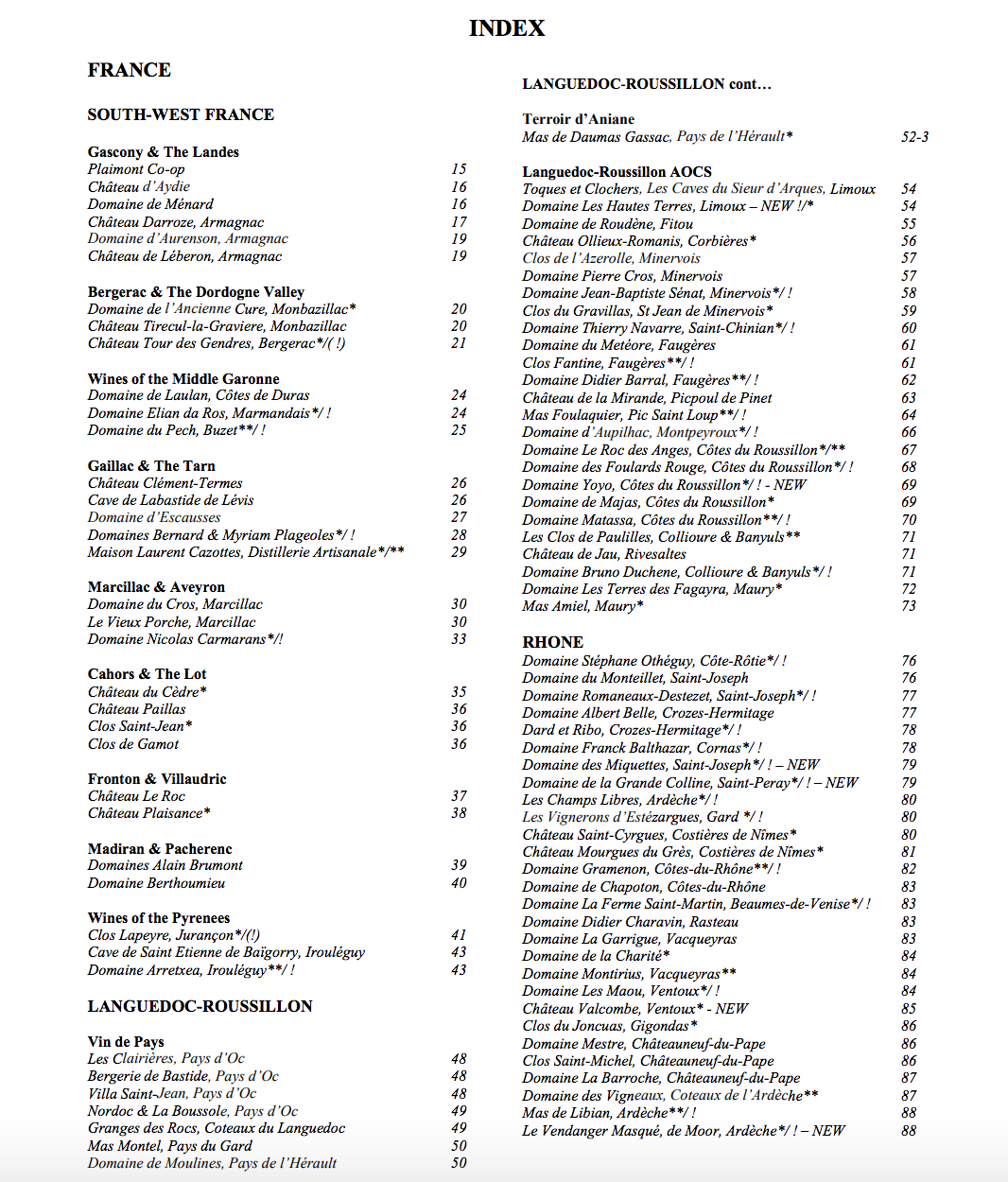 Check out that Jura selection. Arbois is our boire. Savvy about Savagnin describing an arc of jaune from sous-voilers to ouille-ers (tip-top topped-up versions). Poulsard/Ploussard, so good they named it twice, is wan pale red. It's lithe and charming. For more meat on your Jurassic bones check out Trousseau, although many growers prefer to make a lighter style of this variety. Then there's a bunch of fields blenders – Ganevat dumps his red-and-white melange into a Bo-Jura hybrid exercise, whilst young Etienne Thiebaud chucks his obscurities into a one delightful declassified juice jamboree.
We embrace the infinitely bearable lightness of red wines – the aforementioned Ploussard has honorary pink credentials. Soifability is the unusual operative word for growers all over the world connecting a pale 11% abv Grenache from Craig Hawkins to a Grolleau from Jean-Francois Chene (at 8% it's not technically allowed to call itself wine), a 10.5% Dolcetto from Principiano. Partida Creus' VN Tinto weighs in at deliciously insubstantial 10.5%. The empty bottle being the best bottle.
We keep a Pet Nat zoo, to which new specimens are always being admitted. The United Colours of Cloudiness, from gently prickly to pretty zippy, from bone dry to sweetly tender. Refresh with light and fresh. Le crunch.
From Biodynamics to Wild Vineyards – We value the sense of place. It is indefinable; you know it when you taste it. You taste it when the wine is alive. And the wine is alive if the vineyards are alive. Places that generate this sense of natural awe with nature red in tooth and claw include Didier Barral's pockets of vines planted in a sea of garrigue; the ebullient Maresh Vineyard tended by Kelley Fox and bubbly Andreas Tscheppe's riotous plants which host a carnival of bugs. And then there is Villalobos, where the vines follow the law of the jungle, climbing up trees, ensnaring themselves in bushes and sprawling every which way – and loose.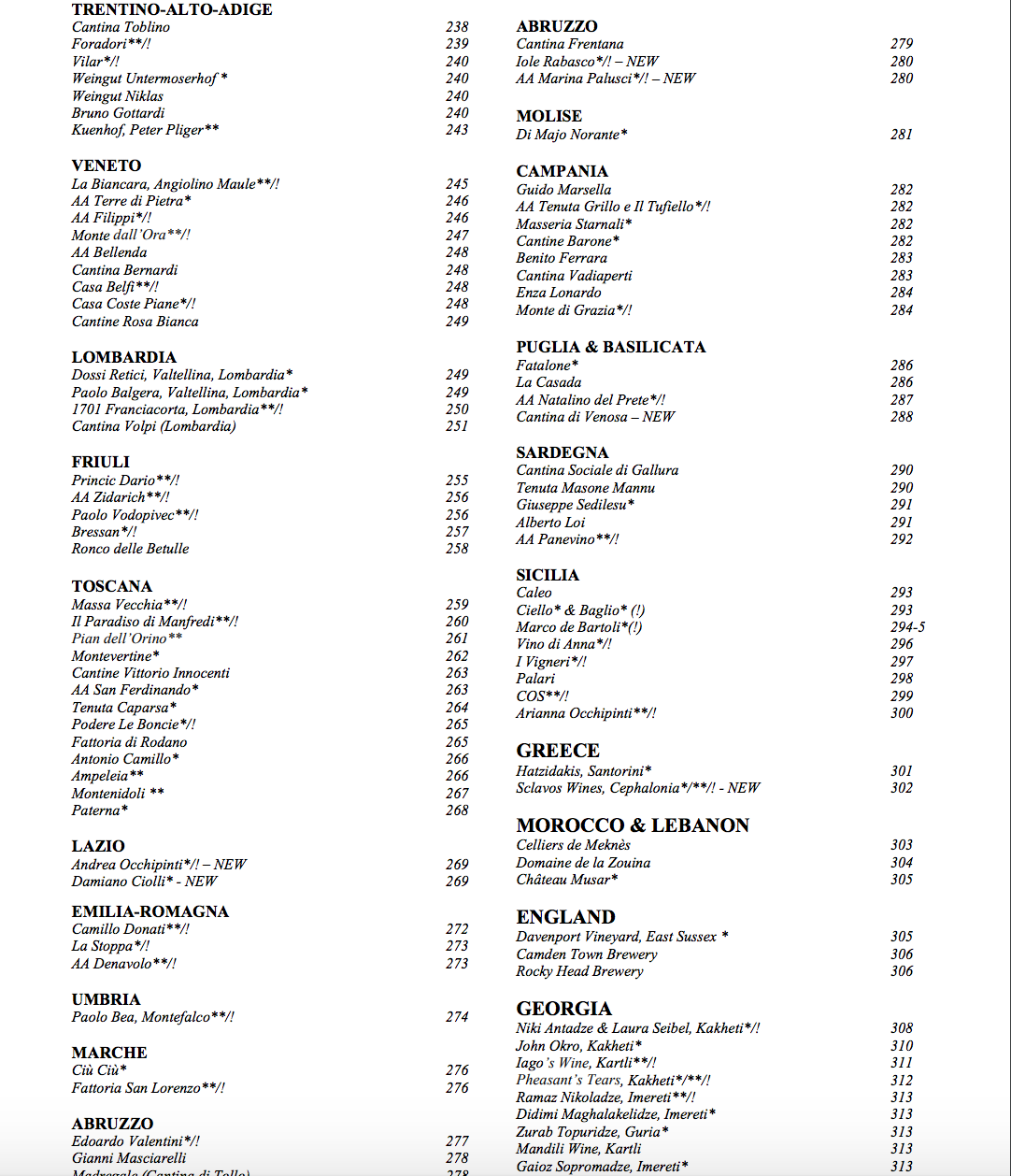 Discover the birth place of wine – Uncork the Caucasus with nine Georgian growers. This is qvevri central, those beautiful terracotta clay pots buried in the soil in which the wine gestates over the winter. For a small country there's an almost unfathomable variety of grapes and styles.
Sherry, mon amour? Check out nutty options – salted almonds (manzanilla) to toasted walnuts (oloroso). For a further oxidative twist throw a lasso around the vins jaunes from Jura. And for a different nutty style the solera Marsalas from Marco de Bartoli are more than worth the detour.
Name that blend with Patrick Sullivan. Strange brews of the eye of newt, leg of toad ilk. Take Jumpin Juice, Bonkers and Haggis Wine respectively and ask what's in your glass. It's for Patrick to know and you not to find out. Are they tinctured whites, middling roses or pale juicy reds? And does it matter??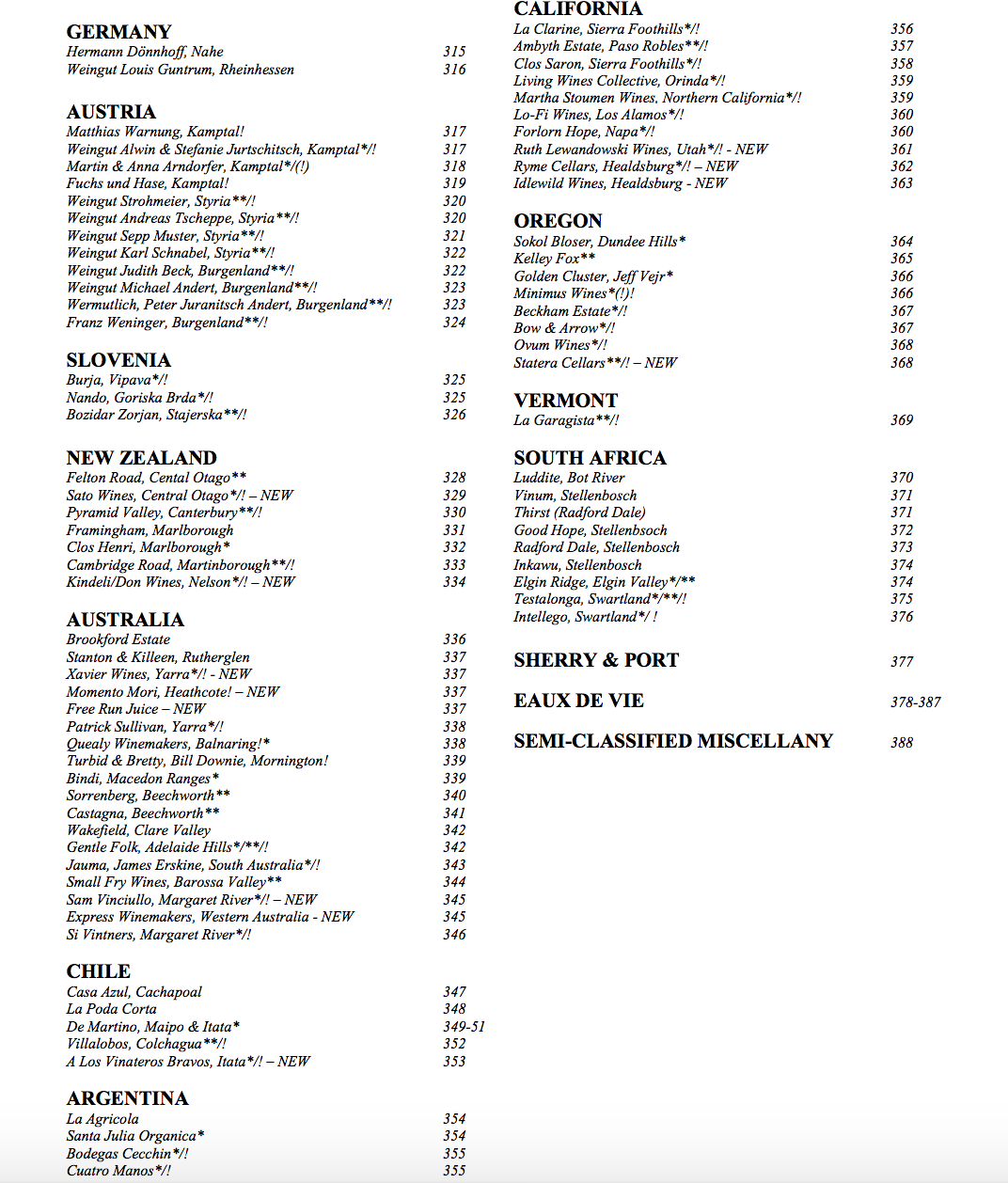 Finish with Cuckoo Wine Bingo
Harslevelu from South Africa
Goldenmuskateller from Austria
Riesling from Costers del Segre
Blaufrankisch from Oregon