2015 Gemischter Satz by Forlorn Hope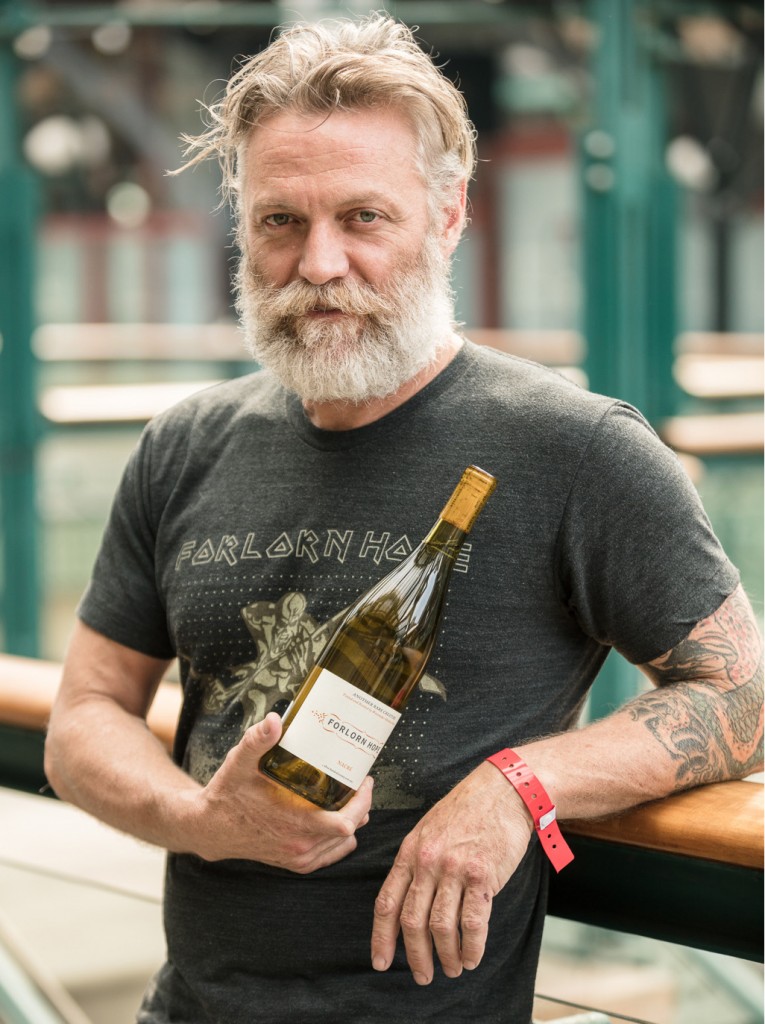 We love a crazily fearless blend and this wine is the mashiest of Austro-Germanic mash-ups.
Matthew Rorick writes of his Forlorn Hope project:
'The Forlorn Hope wines were born to connect the thread between California's boundless viticultural potential and its diverse viticultural history. In addition to the vines my family and I farm, I work with a handful of growers across the north of the state whose plantings might otherwise be misfits: the uncommon sites and varieties that pay tribute to California's eclectic and often unexpected viticultural heritage. Taking cues from the stones and soil, I endeavour to interrupt the natural development of each of his wines as little as possible in order that the character and uniqueness of each vineyard site may take centre stage.'
Named after the Dutch soldiers 'who volunteered to lead the charge directly into enemy defences,' Forlorn Hope is an against-the-grain experiment of rarely seen varieties in California and a mix of Old Country winemaking with American entrepreneurial foresight.
Germanic Street Preachers
The Koth family has been farming grapes along the banks of the Mokelumne River in Victor, CA (just outside of Lodi) for over forty years. In the 1990s, they began a most unique undertaking: the establishment of a nursery block of every German and Austrian grape variety they could find. This "German Collection" now comprises 40 varieties, all grown together in a single field blend (gemischter satz). The sustainably-farmed vineyard (sand over a subsoil of chalk) is located in an oxbow where the Delta Effect which cools Lodi is augmented by snowmelt runoff in the river.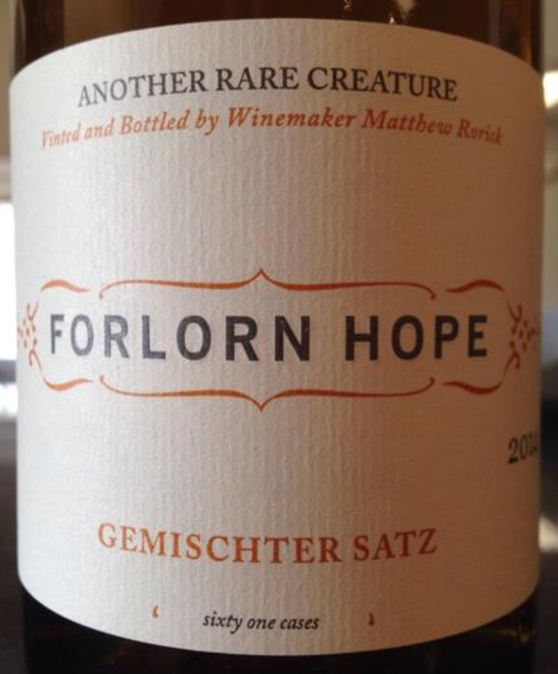 And the grape varieties are (deep breath):
Albalonga, Arnsburger, Bacchus, Ehrenfelser, Faberrebe, Forta, Freuburgunder, Gewürztraminer, Grauburgunder, Grüner Veltliner, Gutedel, Huxelrebe, Kanzler, Kerner, Morio Muscat, Muller-Thurgau, Noblessa, Optima, Oraniensteinen, Perle, Rieslaner, Riesling (clones 49, ,90, 110, 148, and 239), Rotberger, Roter Traminer, Roter Veltliner, Scheurebe, Schonburger, Schwarzriesling, Siegerrebe, Sirius, Silvaner, Traminer, Trellinger, Weissburgunder, Wurzer and Zweigelt.
The manually harvested grapes are whole bunch pressed, fermented in 500L wood puncheon + 227 litre barriques with native yeasts. Ferment is ambient, maturation is on the lees in 8-year-old 500-litre puncheon with a full malolactic, and the wine is bottled without filtration or fining.
The G.S. is pale yellow with amazing spicy aromas. The palate is mouth-filling with orchard fruit flavours (golden pears), back notes of marzipan, nice balancing acidity, mineral flavours and an almost cedar spiciness with an extremely long finish. Unusual– and delicious.
Interested in finding out more about any of the wines that feature in this piece? Buy online here or contact us directly…
Retail: shop@lescaves.co.uk / 01483 554750