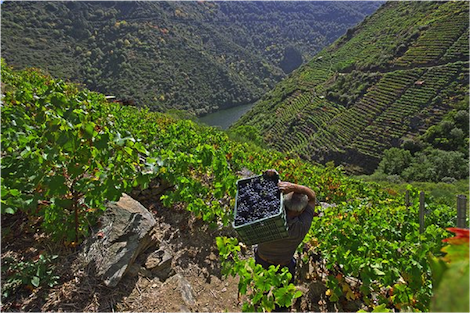 You don't have to be crazy to work here – but it helps
In Ribeira Sacra, the Guimaro family own 9 hectares, and control another 14 hectares leased from various subsistence growers, across a range of slate soils speckled with sand and granite.
Over the last few years there has been a reduction in yield, the banishment of chemicals and an increased focus on discerning handling (and in particular, picking times) of the various key plots, thus enhancing the acidity and structure of the wines. Handling is deliberately and meaningfully 'old-fashioned': Organic viticulture, wild yeast fermentations, foot treading, inclusion of stems, low sulphur regime, ageing in old wood.
While the varieties listed on bottle say Mencia and Godello, there are fractions of blend involved, with some Albariño and Treixadura included in the whites, and other locals such as Caiño tinto, Merenzao, Souson and Mouratón in the red mix.
The vines themselves are on south-facing 50-70 degree slopes above the Rio Sil, between the towns of Amandi and Doade. Between these towns, the bodega itself is in the hamlet of Brosmose. The plots are tiny, planted between 300 metres to 550 metres altitude. New plots planted into the dense stone (there's no soil until they create it). All viticulture is organic. All vines are 'espaldera' – goblet-pruned bush vines on terraces. The slate soils are interpreted via an estate blend jolly joven style and 4 site-specific wines that are raised in different oak formats. The four single vineyards comprise Cappelinos (95 years old vineyard faces south-west towards Pombeiras across a small valley). Pombeiras (70 year old granite and quartz over pizzara, south-east facing) Finca Meixeman (has a both a slate part facing naciamento and a granite-iron poniente face).
Guimaro Joven Godello is golden wine with lovely depth of colour and flavour. Equal parts earthy and floral with earthy-savoury nose and the fruit decked on a citric-anise line composed from the interplay of natural fruit acid and the schist terroir it conveys.
The Tinto Joven is made half in foudre and half in tank; de-stemmed, with a small proportion as whole-cluster, fermented after 6 day cold maceration. 20-30 day spontaneous indigenous yeast fermentation, 6 months in tank on lees, unfiltered. No oak ageing and little filtering giving freshness and purity. Berry-bright and fresh with suggestion of cherry blossom, it has gentle fruit jelly glycerol up front, yielding to finely-grained crunchy tannin length and gentle closing acidity. If you chill it, it won't complain.
The single vineyard wines have a rocky remoteness to them. Not to mention old vines grip. Very much about the forest, it's all fine wild cherry fruit, bramble tea and old forest roses with cold crushed rock, a squeak of spice and a nice tannin fuzz touch. It's delicate, all about balance and harmony with fruit, earth, tannin and acid interwoven. Time and a good decanter are their friends.