Spanish wine expert Amaya Cervera runs the website Spanish Wine Lover. She is a passionate spokesperson for wines from her home country, as well as being successful wine journalist. Amaya will host a seminar at the upcoming Viñateros on 21 February at the Tate Switch House in Bankside, London, where 300 terroir-focused wines from 26 different Spanish regions will be on the pour.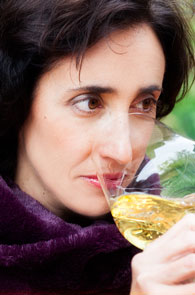 Q: Tell us a bit about your background? How did you get into the wine trade? What do you do for a living?
After I took a BA in Journalism I moved to Madrid and for a couple of years I worked for a marketing magazine. That was not exactly my idea of being a journalist, so I tried to move forward and was lucky enough to meet Spanish wine doyen José Peñín in the mid-1990s. What a fabulous discovery! I found a never-ending subject and was lucky enough to combine wine with my passion to tell stories. Over the last 15 years I have worked as a wine journalist for various wine magazines and guides (Guía Peñín and Todovino) and leading companies in the wine trade in Spain.
In 2013, in the aftermath of the financial crisis that hit Spain severely, I lost my job at Todovino. Things didn't look good for wine journalism but, in contrast, the Spanish wine scene had never been so exciting. A new generation of winemakers were exploring terroirs and grape varieties throughout the country and making amazing wines which reflected Spain's rich wine heritage. With consumption dramatically decreasing in Spain, most wineries were looking abroad and opening new markets, so I though it made sense to offer insightful information in English about all the exciting things going on in the Spanish wine scene. Spanish Wine Lover went online as a bilingual English-Spanish site in September 2014. Most of my time is now spent on the SWL website, although I still write for various magazines, conduct tastings and act as jury at wine competitions.
Q: What's your opinion of the producers chosen for the Viñateros event? What is a "Viñateros" by the way?
The "new Spain" is indeed very well represented. Visitors will have the chance to try some of the hottest trends in the Spanish wine scene and feel thirsty for more.
A Viñatero, with a "ñ" (our very own Spanish letter) is a winegrower. It is more commonly used in South America than in Spain, where we say "viticultor", but in a way it sounds cooler and fits in really well with the fabulous bunch of young, brave wine producers brought together under this name.
Q: Is there an artisan movement in Spain? Or comparable artisan tastings? Or it really just a disparate collection of growers who have similar agendas?
Certainly, there's a new generation of producers who view themselves first as winegrowers and are clearly focusing on making terroir-driven wines. They respect the land and work hard to preserve Spain's wine heritage. Some of them have a common background. Olivier Rivière, Juan Antonio Ponce and Fernando García from Comando G worked for Telmo Rodríguez (the Cía de Vinos has been a great school for many producers); and the team behind Envínate met while studying oenology.
These producers are not winemakers looking for a job in a leading winery or just worried about selling bottles; they are passionate wine lovers and tasters, have travelled to many iconic wine producing regions (Burgundy would be number one for most of them), have a global vision and see the huge potential of Spain's unique vinous treasures. They're championing indigenous grapes and Spain's unique, distinctive wine landscapes. In a way, the Matador manifest has helped to bring many of them together and to start moving in the same direction.
Prior to that, we have seen the creation of small groups of indie producers sharing similar values like Rioja & Roll, Roca Madre or Inkordia; and artisan tastings like A Emoción dos Vinhos in Galicia, Vinos Radicales in Madrid or Vella Terra in Barcelona which also includes farming products. Natural wines are also present in this scene with a couple of tastings. Spanish people are not great at pulling together and leaving aside personal interests for the common good, but I think it would be a real shame to miss this opportunity. It's the right moment for a great leap forward for Spanish wine.
Q: Why do you think this is happening now? (And not before). Why are we waking up to the Spanish artisan wine culture?
For a time, Tempranillo was synonymous with success and a model for red wines in Spain, so most wine producers aiming at making quality wines worked with variable levels of extraction and barrel aging in a rather classical way. In regions where local grapes didn't take oak well, international grapes proved to be a safe bet. But with the turn of the century, Burgundy has gained weight as a model of winemaking and style. Additionally, there is a new generation of wine producers set on a new approach to winegrowing and winemaking, and a huge diversity of climates and wine regions in Spain. If you add all these factors, you have a sort of multiplying effect of new, exciting wine projects across the country.
Q: Should we be talking about Spain or about viticultural diversity? (ie: is it meaningful to talk about Spain as a whole than France or Italy).
Spain's main strength is its huge diversity of landscapes, climates and grape varieties. We've just started exploring part of it. Most of the Viñateros wine producers launched their projects in this century. We're already enjoying fine wines from people who have just started exploring their terroirs. There is tremendous potential ahead.
Q: The DO system is increasingly coming under analysis. Does it protect tradition at the expense of innovation? Is it a way of branding a region; is it a guarantor of quality, or it responsible for homogenisation of practice?
Spanish DOs have to evolve and adapt to the times. I'd say that the wines now are well ahead of regulations. Most DOs in Spain now act as guarantors of minimum or basic quality standards. It is time to raise the bar. The best way to carry this forward needs to be thoroughly discussed. Not every wine region in Spain is as mature as Rioja or Priorat to follow a Burgundy-style classification. And people are afraid of changes. Big producers are clearly against village wines in Rioja. In terms of quantity, the number of bottles supporting the artisan movement is tiny, so there's a long, difficult way ahead.
Q: We are seeing more and more autochthonous grape varieties featuring in Spanish wines. Why is this happening now?
There's a completely new approach to winegrowing. Producers are looking for quality instead of quantity and are working hard to understand the distinctive features of each grape variety. Gentler fermentations and new ways of maturing wines (cement, amphora, bigger barrels or foudres) have helped to show the real beauty of many grapes which until very recently have had a rather poor reputation.
Q: Tell us about the resurgence of Spanish white varieties (and blends). What excites you about this?
Led by the strong character of Albariño and Verdejo, and thanks to an ever-increasing demand from international markets, Spanish white wines have flourished over the past decade. Most white growing areas in Spain are closely linked to a single grape variety. Rueda (Verdejo) in Castilla y León; Rías Baixas (Albariño), Valdeorras (Godello) and Ribeiro (Treixadura) in Galicia; Txakoli (Hondarrabi Zuri) in the Basque Country; Terra Alta (Garnacha Blanca) in Catalonia; Albillo in different areas of Castille, and the best whites from Rioja (mainly Viura with small percentages of Malvasía and Garnacha Blanca) which offer an increasing diversity of styles and should not be disregarded. Blends are particularly interesting in Ribeiro and Rioja.
Q: One associates Spanish red wines with oak and alcohol. Is that fair? Describe how this is beginning to change.
Spain has gained a reputation for oaky reds and there are still many of them around (some markets still demand them) but high quality producers have substantially moved away from an excess of oak. Rest assured: oak will not be an issue at Viñateros.
Q: How important is it that Spanish winemakers work in a more "natural" vein, in other words, using indigenous yeasts, ambient ferments, minimal filtration, low levels of sulphur etc to create more singular, terroir-driven wines?
I think one thing leads to another. If you want to obtain distinctive, high-quality grapes you must care for your vineyards and try to keep flavours as clean and pure as possible avoiding interferences.
Q: Would you name some of the natural advantages of being a vigneron in Spain? And the disadvantages?
The big advantage is that there is plenty to explore. It's still possible to make yourself a name working is an isolated area and putting grapes and landscapes on the map. On the negative side, you might be regarded in many areas as a weird producer and you would probably get very little help from the appellation. In many wine-producing areas in Spain the next generation is not taking over winegrowing. Gredos for instance, can boast a good bunch of young producers who have put the region on the map, but in total they are responsible for a tiny fraction of the vines in the area. Many more producers are needed to preserve the wine heritage of this, and other wine regions, in Spain.
Q: Would you please describe the contrasting terroirs in Spain to give an indication of regional diversity?
I think a picture is worth a thousand words. Compare white Albariza soil in Sherry Country with rainy, green Galicia, especially Rías Baixas; the austere landscape of Ribera del Duero with the steep hills in Priorat and Ribeira Sacra or the dark, volcanic soils in the Canary Islands.
Q: Name one grape and one region that are really excite you at the moment?
Impossible to name just one! That's what all is about in Spain right now. There are so many exciting things going on all over the country… Galicia is really exciting and has great potential and diversity of grapes, Catalunya is doing pretty well. Apart from Priorat, Penedès is getting really interesting with Xarel.lo and some producers are recovering Malvasía, which is a fantastic variety with great acidity. I visited Terra Alta last year and I think the area is set become a really hot spot for white and red Garnacha. The Canary Islands are amazing and a real grape reservoir and should look for some kind of protection to preserve this heritage. Rioja has the great ability to rediscover itself over and over again. And Jerez is claiming its throne with its unique wines. And then we have tiny jewels like Rufete, a light, aromatic, delicate beauty in Sierra de Salamanca…
Q: "Garnacha is the Spanish Pinot Noir?" PR sound bite or is there some real truth behind this statement?
I can't help thinking of it as a sexy lady: fun and perhaps a bit showy but never in an exaggerated way. Its greatest virtue when it is well made is its savoury, juicy character; it makes delicious and easy-to-drink wines that can bring endless pleasure. There is a big paradox behind its renaissance in Spain. Since 100,000 hectares have been uprooted in Spain since 1990, Garnacha has dropped from first to fourth position in the Spanish red grape ranking; at the same time, there's never been as many exciting reds deserving a place among Spain's top wines as there are now.
Q: Vines grown at altitude. A blessing?
Yes, indeed. Spain is Europe's second most mountainous country. Just think about Priorat in Catalonia, Gredos in central Spain, Ribeira Sacra and Ribeiro in Galicia, Axarquía in Málaga, Sierra Cantabria and Mount Yerga in Rioja, and then we have the central plateau. In Ribera del Duero grapes are grown up to 900 metres. Spain's highest vineyards though are in the Canary Islands and Sierra Nevada in Granada up to 1,600m.
Q: Despite hotter summers than ever, many artisanal wines seem to be reducing in alcohol. Is this true, and if so, how would you account for it?
Sometimes it's more about balance than alcohol. Take Garnacha for instance. This grape naturally gives high alcohol, yet we can find many fresh, juicy reds, especially if they come from relatively high vineyards. Balance is also important when it comes to vines. Healthy, carefully-tended vines can be harvested earlier and indigenous grapes are better adapted to extreme weather conditions. 2016 was one of the driest vintages on record in Penedès. Guess which variety performed best? Xarel.lo! Producers aren't looking for extremely ripe grapes any more. And they are using winemaking practices that can add freshness to their wines like whole bunch fermentation, blending early-picked and fully-ripe grapes, co-fermentation, and/or including grapes with higher acidity or lower pH in their blends.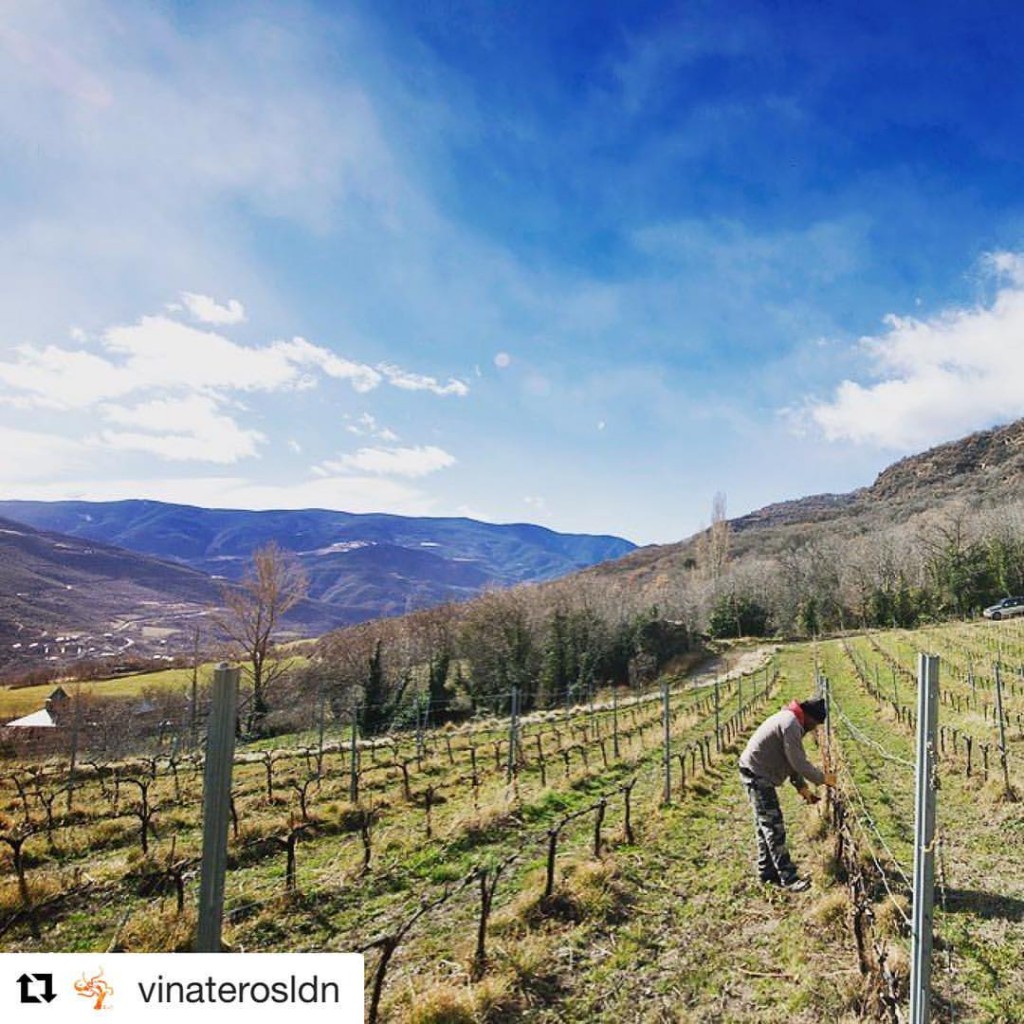 Q: Do you think that these new artisan wines are more gastronomic?
Absolutely! Drinkability is the new mantra in Spanish wine.
Q: Why do you think it is a particularly opportune moment to hold a Viñateros tasting in London?
I think there has never been such a wealth of quality Spanish wines around. The diversity of styles is really exciting. The world should realise this.
Q: Do you think the UK market understands/appreciates the unique quality of these wines?
I think most of them are widely unknown. They don't fit the traditional idea most consumers have in their minds about Spanish wines. But it's time to move ahead and show all the beauties Spain has to offer.
How do you see the evolution of sales of Spanish artisan wines in UK? (In other words, do you think that they will mainly be of interest to sommeliers and restaurants that specialise in Spanish wines, or do you think that the wines possess wider appeal in the on and off trade?)
I think that Spanish artisan wines have the necessary ingredients to appeal to many consumers and, particularly to draw the attention of sommeliers looking for both new and exciting flavours and nice stories to tell. At SWL, we have a specific section focused on discovering the best places to buy and enjoy Spanish wines worldwide. On our journey through different European capitals though, we've seen that Spanish wines are usually limited to restaurants which specialise in Spanish food and wine. The great challenge now is to go beyond and to compete on equal terms with other exciting artisan wines from other countries. I hope that initiatives like Viñateros can help, but clearly more tastings and events will be necessary to spread the word about the wines. Another major factor is that a certain number of bottles and producers are needed to establish new categories for Spanish wines (ie for certain regions and grape varieties) but availability in many cases is still very limited.
Q: "Relatively speaking, Spanish artisan wines offer superb value". Comments?
They do indeed. And the fact that many of these new projects were set up in the midst of the financial crisis has helped to keep prices affordable.