In my buyer's backpack I carry a compass which points to magnetic craziness. The wines don't have to be madly, badly DJ Funkosaurus in the wilderness. They can be beautiful labours of love (where blood, sweat and tears are shed) as in the case of Kelley Fox who channels the raw energy of the Maresh and Momtazi vineyards into her extraordinarily different Pinot Noirs or, in a similar vein, the elegant and eloquent terroir wines of Gideon Beinstock (Clos Saron) whose patient approach means that he refuses to release a wine until he thinks it is ready – and then some. Genius is taking pains and cultivating something that is ultimately true to itself. For many years we tried wines from the US which were big rather than beautiful, as obvious as they were opulent, wines which slavishly tracked the market or made to receive certain critical acclaim. The wines below, however, represent the sense of place, a spirit of exploration, an idea of fun – and sometimes all three.
Part 1: Oregon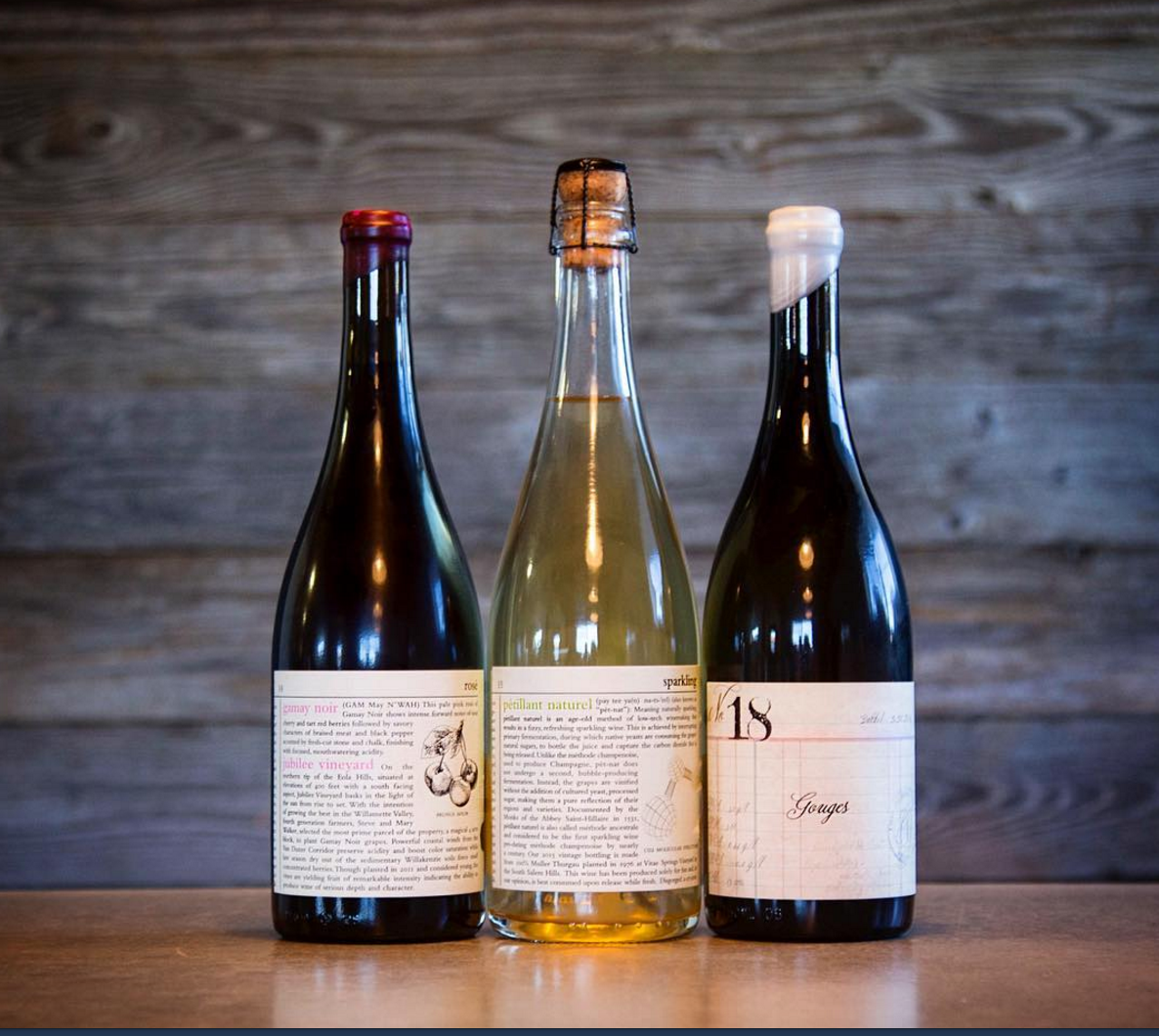 Limited edition wines – The Gouges and the Flower will not be made again in all likelihood. Chad Stock is the potions wizard at this Hogwarts Academy for strange and unusually gifted wines. No envelope is left unpushed, exemplifying a Craig Hawkins-ism: "I wanted to know what happened if….".
2015 Muller-Thurgau Pet Nat is a zero SO2 Pet Nat made from old Muller-Thurgau vines in Willamette. Part stainless, part old barrel ferment before bottling. Ferments naturally to dry, very rough disgorgement that it retains some textural bite. No Muller-lite this although it is light and Muller.
2015 SM1 Sauvignon Amphora comes from high elevation vineyards in the Applegate Valley in the very warm south of the State. The fruit is destemmed and fermented in amphora for 90 days and aged for a further 30 days. Wild ferment, no filtration or fining – just some sulphur at bottling. The aromatics are restrained; we're at the dried fruit end of spectrum, figs and apples with a touch of walnut.
2012 #16 Flower comes from the same vineyard (Applegate). The process is very particular here: 48-hour whole cluster soaking, then pressed to neutral oak barrique for fermentation and ageing. The primary fermentation took a total of 38 months to complete. Flor veil would fall during July-September each year, and would re-appear in the autumn when the first rain would return to the valley. With its total of 41 months in barrel this wine is astonishingly complex characterised by incredibly intense semi-oxidative flavours. If you crack open a bottle it will lasts for several weeks. A rare orchid amongst unicorn wines. Flower power.
2015 Gouges hails from the Eola Amity Hills and a certified biodynamic vineyard. The grape? A Pinot Noir mutation called the Gouges clone. Not Gouges rouge though; this is a white wine from a red grape that is made with skin contact! Manual harvest fruit is destemmed 25%, and 75% whole cluster pressed. Both components are combined for fermentation in 400-litre chestnut casks. Skin maceration takes place for 100 days, then the wine is pressed and returned to chestnut for another 100 days. No fining or filtration here. A wine that messes with your head as it speaks to your heart. Form a disorderly queue for your bottle of liquid hen's teeth (hen's tooth?)
2015 Blaufrankisch is from the famous biodynamically-farmed Johan Vineyard. The manually harvested fruit is fermented 100% whole cluster in non-lined 300-litre amphorae with daily hand punch downs and undergoes a 30-day maceration before pressing. The pressed wine returned to amphorae to age for 6 months. No fining or filtration this BF crackles along with 8 grams of acidity and the stoniest of red cherry flavours. This would bring a smile to the burgermeisters of Burgenland.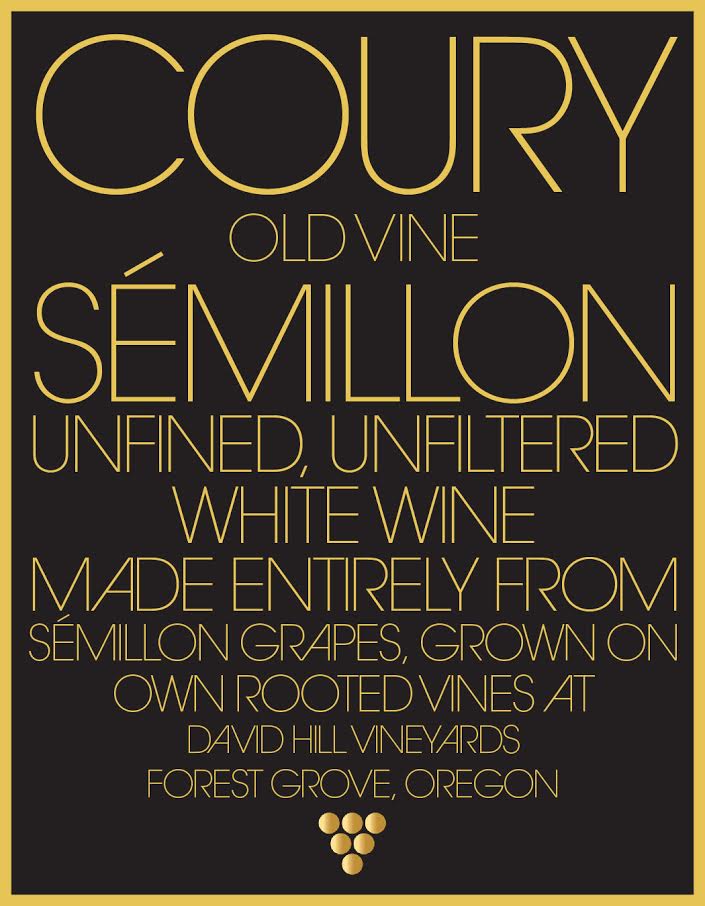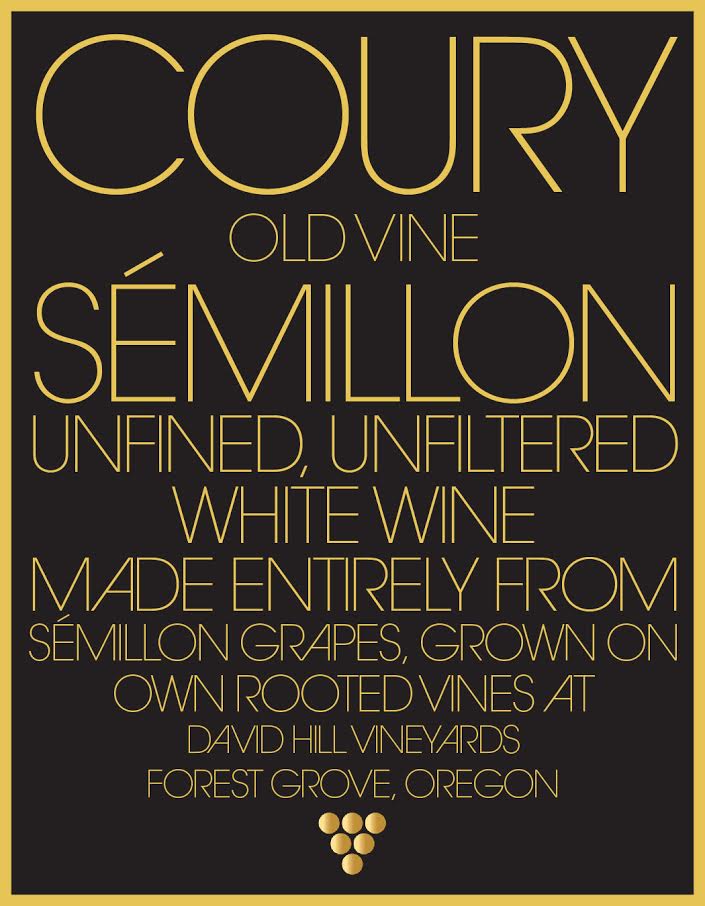 Jeff Vejr has been researching the history of Charles Coury, one of the founders of modern Oregonian viniculture. The Semillon is from a vineyard (now called David Hill Vineyard) planted back in the mid-60s by Coury and a veritable treasure trove of original grapes.
2014 Old Vines Semillon. From Charles Coury's original vineyard planted in 1965 (now in organic conversion). The 14 vintage has 4-day skin contact to give it extra phenolic punch. After a natural ambient ferment in small used barrels the wine is bottled without fining, no filtration and very low SO2. Phenomenal wine, lean and pure and very long.
2015 Dion Syrah is a first release and a remarkable wine for several reasons. These are the northernmost Syrah and Grenache vineyards in Oregon. Manual harvested, 100% whole cluster indigenous yeast ferment in combination of neutral wood and stainless steel. Low SO2. Really N Rhone-ish – think black olives and herbs. As Oregon is experiencing hotter and drier summers there is a strong argument for Mediterranean grape varieties to be planted in certain parts of the Willamette Valley.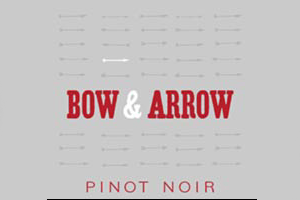 Scott Frank makes effortlessly drinkable Loire-style wines in his Portland winery (in an ex bookbinding factory). All the reds have a sapid quality that makes them most agreeable.
2014 Hughes Hollow Pinot Noir – South Salem Hills in Oregon, organic farming, low yields, 20% whole cluster, mixture of old barrels and stainless – natural ferment just some SO2 before bottling. Very elegant style, Loire meets Burgundy. Beckoning melange of black cherry and wild strawberry, sweet baking spices and essence of orange, carried through on a silky texture.
2015 Bow & Arrow Gamay Noir is back! This thoroughly delicious semi-carbonic Gamay, fermented naturally in cement vats, has soft red fruit flavours and an earthy and granite-based minerality, which are all integrated into a medium bodied and tart berry finish. It still reminds us of the natural Touraine wines of Didier Barrouillet (Clos des Roche Blanche). Which is a very good thing.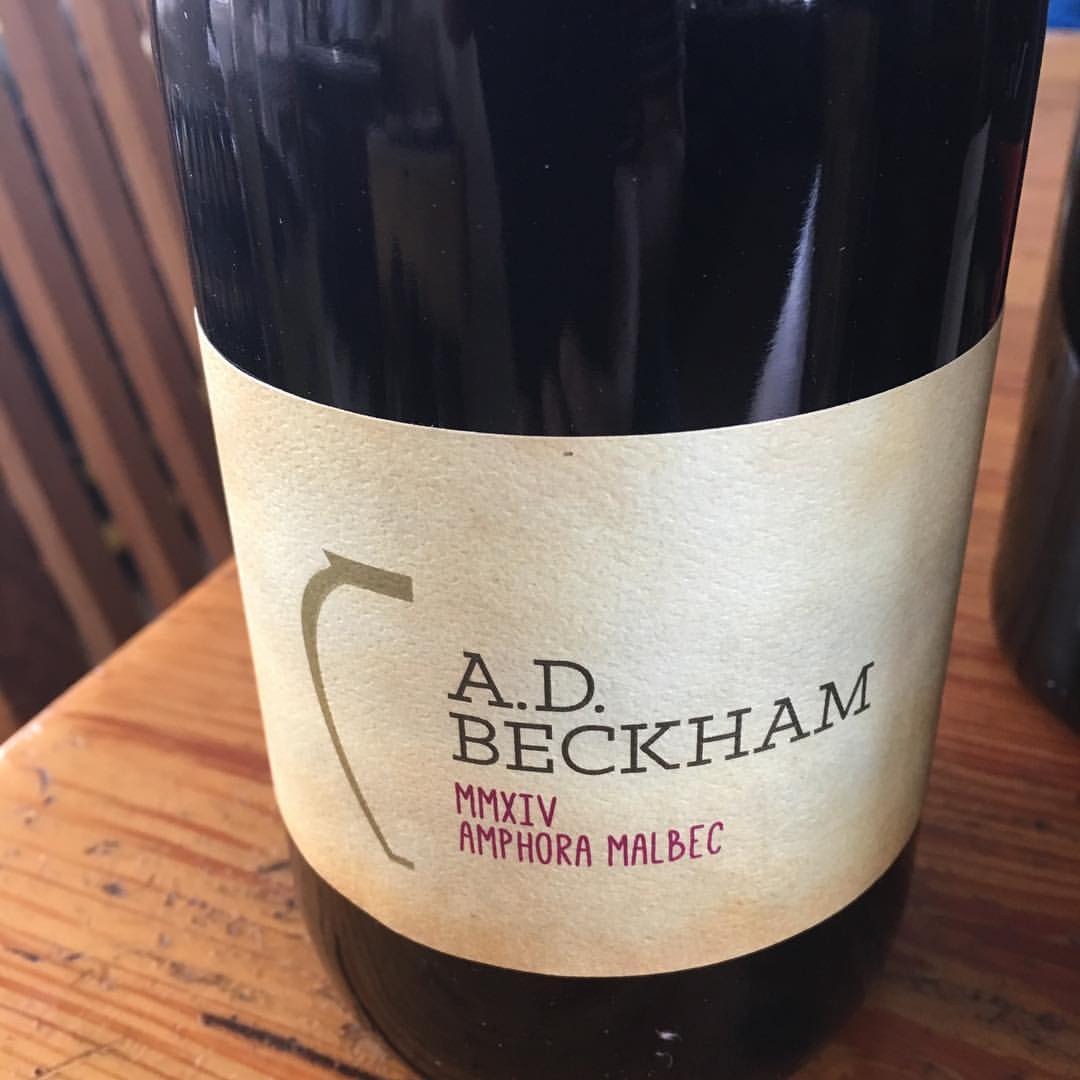 Andrew and Annedria Beckham and their young family live in an idyllic spot in a clearing in a forest in the Chehalem mountains. They planted a range of varieties a couple of years ago and are farming organically. Until these vineyards come on stream they continue to purchase fruit from reputed vineyards in Oregon. Andrew teaches ceramics at the local college.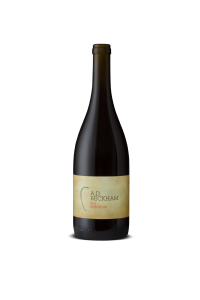 2014 A & D Beckham Amphora Malbec. The terracotta amphorae used to make the A & D wines are handcrafted in Andrew's studio behind the house and next to the home vineyards. The fruit for this particular wine comes from the Columbia Valley in Washington and was fermented and 50% aged in amphora and 50% in 10-year-old French oak barrels. Andrew has been experimenting with various sizes and shapes of clay pot; wines that ferment and age in terracotta seem to have a lovely high-toned quality and develop beautifully over time.