Breakfast in the vines with Michael Andert
Michael Andert was born into a large family and grew up on a farm with mixed agriculture, livestock and viticulture. He learned to respect his family, his animals and the associated work. Today, as winemaker, this respect has deepened even more: "We think we found the right way in the biodynamic economy to press the grapes into sustainable and valuable wines. We respect the earthly and cosmic influences on our wines, our soil and also we respect the influence of the seasons on our wines."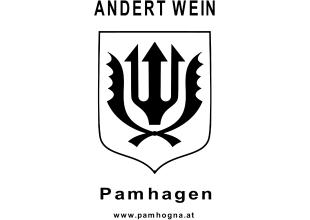 On our visit, the Pyrenees were taken to the small plot of vines that comprise the Gemischter Sotz, a field blend of various white grapes. The location of the vineyard is in itself unremarkable, being a flat piece of land that was once under water (the marshes around here were drained some time ago) although some of the boggy, low-lying areas still host an extraordinary variety of birds. This small vineyard is humming with life. They have installed a box in a lone tree at one end of the row of vines for falcons to nest in. Herbs and grasses grow bountifully– spring onions, leeks, fennel, wild garlic, oregano and countless other herbs, edible (as it turns out) flowers and weeds. Michael stops and stoops occasionally plucking a plant and enjoins me to nibble this flower or that leaf. Whether it is the effect of the sun beating down and the earth warming up but even the bitter leaves taste nourishing. Pesky deer are kept away by the old fashioned expedient of a wild boar's hide draped over the wires. A flock of mixed sheep (including a rare local breed) are grazing in neighbouring pasture, whilst cockerels, guinea fowls, ducks and geese gabble loquaciously in the adjacent pen.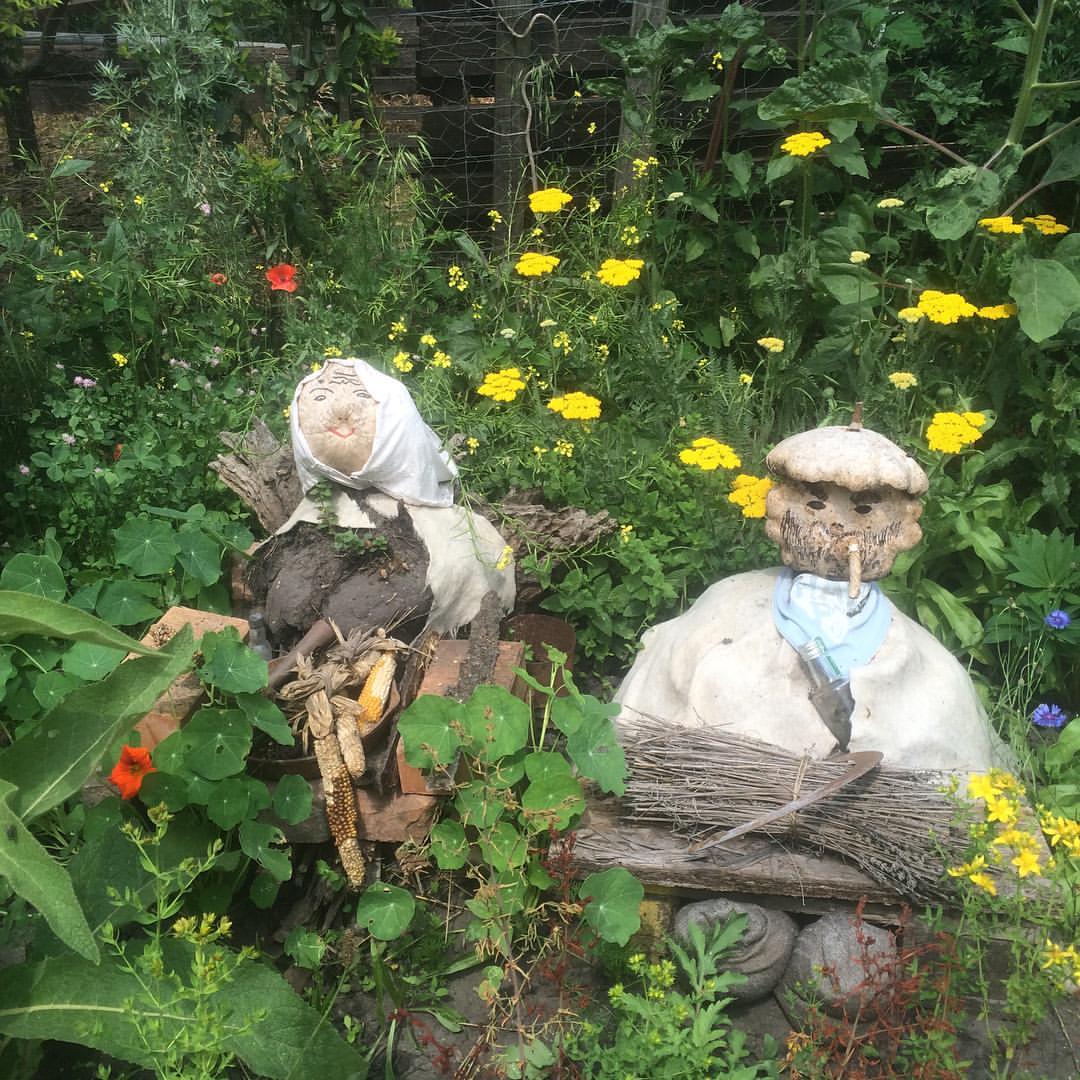 Michael repairs into a hut and brings out a loaf of sourdough bread baked by his neighbour, a water buffalo wurst, and some homemade wild boar prosciutto, and we have an impromptu picnic of meat, herbs and edible flowers washed down with chilled Zweigelt. Of course, it is the most delicious thing imaginable.
This is biodynamics felt in the heart and practised with the head. Michael and Erich have noticed a palpable improvement in the wines since they have moved to this type of farming: "The wines are gaining individuality and have more character. Also they are more digestible and more stable. Due to the aging in oak barrels in our cellar, the complexity of the wines is underlined, which ensures a long shelf life."
Talking to all the growers it's clear that they view treating the vineyard as a living organism as well as working without chemicals or additives in the winery as a prerequisite for making quality wine. There is a certain Occam's razor logic to this approach –that by not over-complicating procedures you arrive naturally at a truth-in-wine. Biodynamics is predicated on observing and responding to the needs of the vineyard rather than following a prescriptive course of action. Working responsively in the vines tends to be mirrored in the actions in the winery. Knowing what you have (in the quality of grapes) means that you tend to do what you feel is right. It is not pure science – there is intuition, gut instinct, feel and taste.
Michael is a farmer. He is as proud of his livestock as his vineyard. He strides, even bounds between the vines, taking deep breaths as if he wanted to inhale the entirety of his surroundings. He has also created a garden, one exploding with flowers and plants. A narrow path wends serendipitously through clumps and clusters of undergrowth, across little wooden bridges over small ponds populated with frogs. We wander by some beehives and discover little clearings populated by strange mud and stone creatures and poppets. Cow horns are ubiquitous – the symbols of fertility are rife. Occasionally, one will find an improving text from Goethe or Confucius nailed to a fence post, jolly exhortations, hailing and hugging nature. A harbour for wild life rather than a monoculture of grape growing, the vineyard is part of this celebration. And it is so much more. Andert makes his garden an everywhere and reminds one that nature is therapeutic. Medicines are made from extracts of herbs and plants, and victual nourishment too and, of course, there is the wine – one cannot but laugh with pleasure at the sheer loving immersion in a place that is humming on every level.
The analytic doctor can wait – this was breakfast in the vines. As we gorged on home smoked meats and a variety of local cheeses accompanied with homemade chutneys, mustards and relishes we drank some Zweigelt rosé, a zero sulphur red Zweigelt that everyone loved (the wine talked) and took the Rulander for the amble through the enchanted garden. "Wie herrlich leuchtet mir Die Natur" (Goethe).
By the way, the Andert barrel cellar is a no-tech affair. There is no electricity, so tasting is done by candle light. You could put the "bottling line" in your back pocket. These are the obverse of technical wines.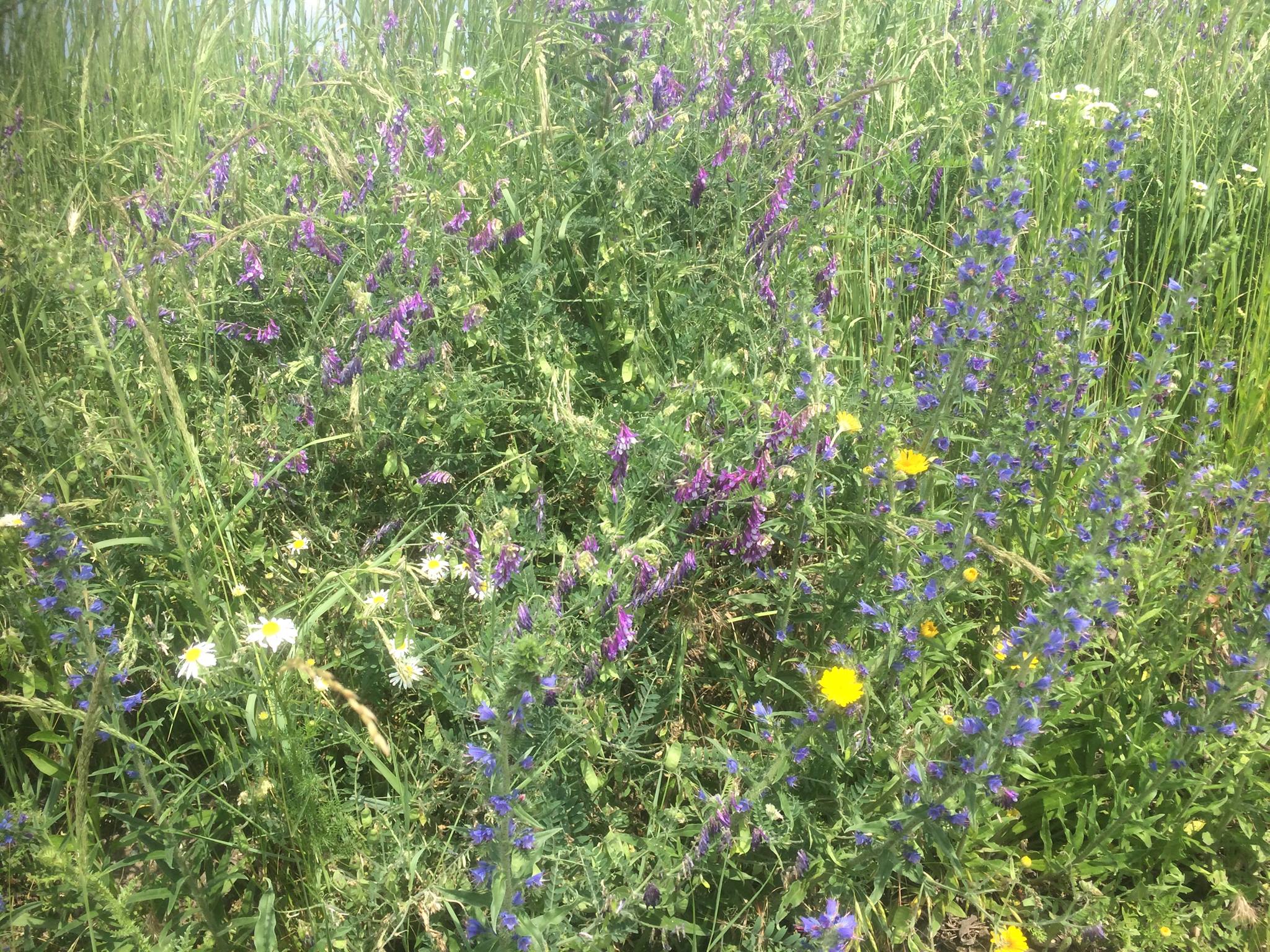 The vines where we were standing would normally give us the Gemischter Sotz, a melange of co-fermented Neuburger, Grüner Veltliner, Malvazia, Muskat Ottonel, Sylvaner. It's fresh and aromatic with a friendly streak of acidity. A late frost in April had hit this vineyard badly with 100% damage, but there was already some secondary growth and hopefully a few bottles will be made in the end.
The Pamhogna white (not tasted here) is 70% Rulander (Pinot Gris), 25% Neuberger and 5% Weissburgunder. This wine has an intense golden-yellow colour and a lovely herbal fragrance. It requires carafeing before all the elements harmonise – from the exotic white pear and pineapple fruit aromas to the refreshing acid and fine structure conferred by a gentle clasp of tannin.
The Rulander takes us to Princic country, possessing an exquisite salmon colour with amber highlights. The nose, or whatever we choose to call it, is (sweet)meaty and a little bit smoky, the palate is smooth and almost velvety with suggestions of pink grapefruit, yet also salty with a bitter almond note on the finish.
All Andert's wines have a faintly medicinal bitter, fennel-inflected after-taste. This may to be do with the fact that the vines share their space with wild fennel and many other plants and herbs that have the same anise profile. They also possess what we like to describe as "natural energy". Easy in themselves or with a relaxed intensity, not inviting judgement, but utterly and vitally redolent of the vineyards from which they are born.
An Afternoon with Judith Beck
Judith Beck's winery is run as a family business. Since 1976 the area under vine increased from 5 to 15 ha. Most of the vineyards are situated at the Wagram of the Parndorfer Plate, the most important site of the region. And from 2007 Judith has produced wines in accordance with biodynamic principles.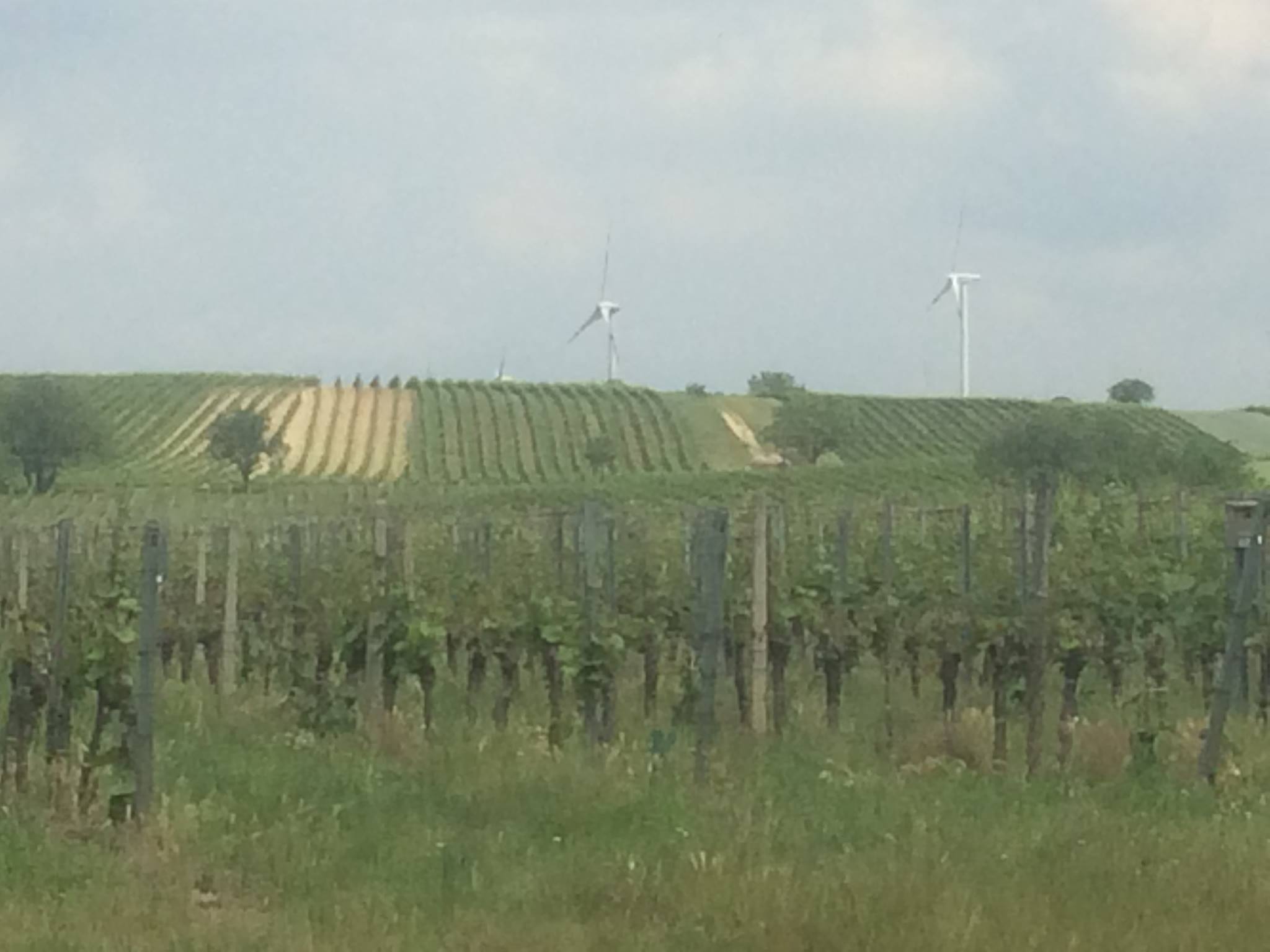 The winery is housed in an impressive airy new building in the middle of the vineyards from Gols. Now the emphasis is on refining the style whilst capturing the potential of the grapes. Judith is passionate about the traditional red wine varieties: Blaufränkisch and St. Laurent. She makes the most articulate versions of the latter variety that we tasted on our visit, one called Bambule! which explores the wild side of the grape. Judith is an impressively calm, thoughtful person and that sense of relaxation seems to transmit itself into her wines, which possess a lightness of touch not always apparent in this region.
As mentioned several times the focus is on the vine growing. Biodynamics is an art of healing which takes advantage of the holistic curativeness of nature. It aims at strengthening the natural resistance of the plant. Pest and disease control are mainly affected in a prophylactic manner.
"We encourage the formation of humus, as a basis of healthy soils, by regularly applying cattle manure which we prepare ourselves and by cultivating grass between the rows. Herbal teas (such as stinging nettle, chamomile, field horsetail …) and biodynamic field sprays such as horn manure and horn silica are used under the consideration of moon rhythms; their purpose being to strengthen resistance and further the physiological ripeness of grapes."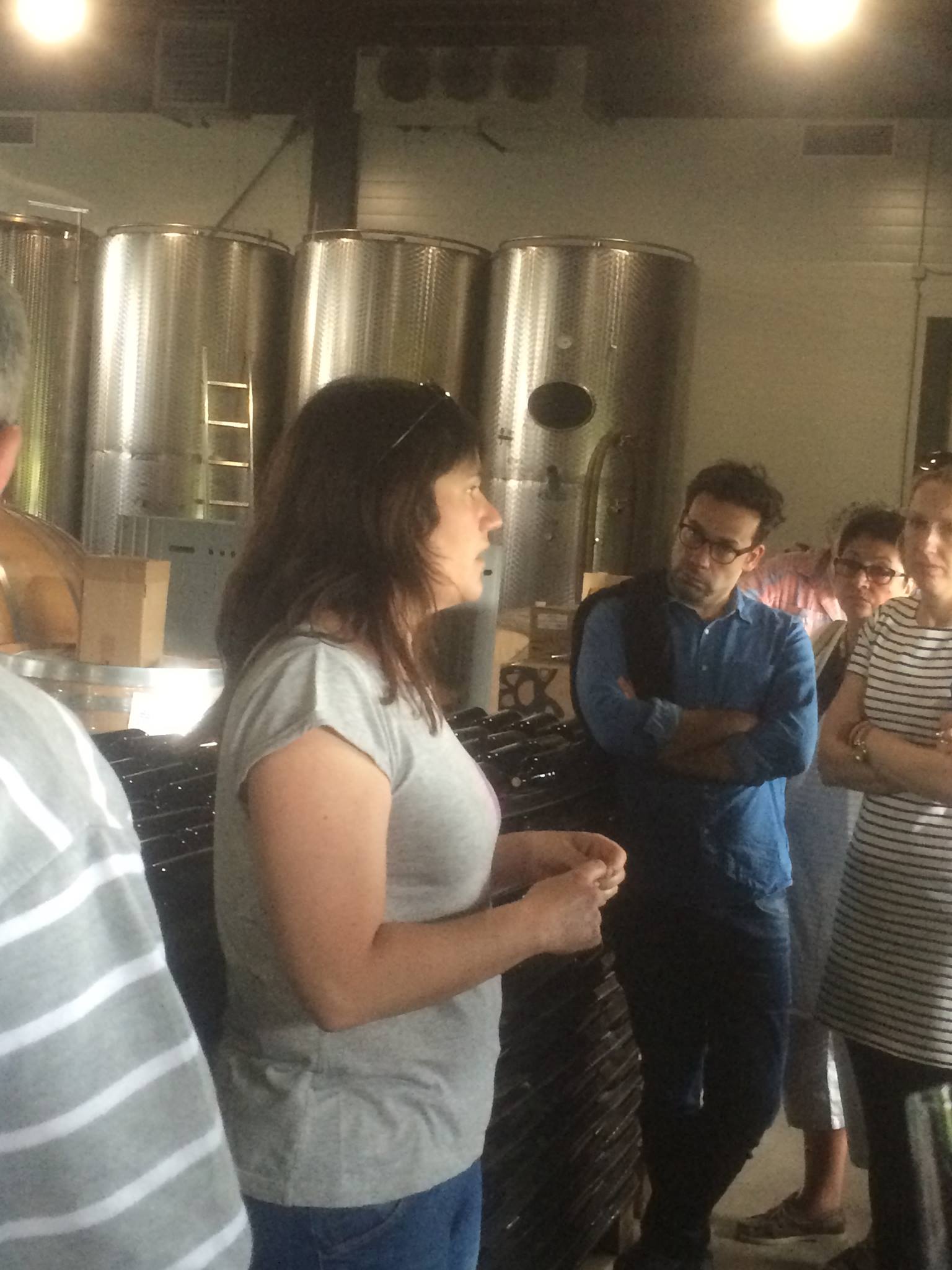 The aim is to produce authentic wines with an individual aroma profile while at the same time maintaining healthy soil and vines. Part of this is also the absence of yeasts. Fermentation of the red wines starts spontaneously (without the help of selected yeasts) in stainless steel tanks or in open wooden casks. Part of the red wine matures in large wooden barrels (1000 to 2000 litres). Judith uses barrels made of third generation acacia wood. This larger format accentuates the clear fruit of Zweigelt and Blaufränkisch; and thus is the ideal vessel. "We believe that wine needs to breath in order to develop thoroughly; that's the reason why we do not use stainless steel tanks for maturation at all."
St. Laurent, Pinot Noir, Blaufränkisch Altenberg, Cuvées Pannobile and Judith are matured in classic barriques and 500-litre-barrels as the denser, more structured wines seem to benefit from ageing in small oak barrels. The barrels are meant to support and enhance the characteristics of the wine; the wood influence should however hardly be perceptible and the fruit of the wine should always remain in the foreground. These latter reds mature for between fifteen and twenty-four months in the cellar until the flavours harmonise.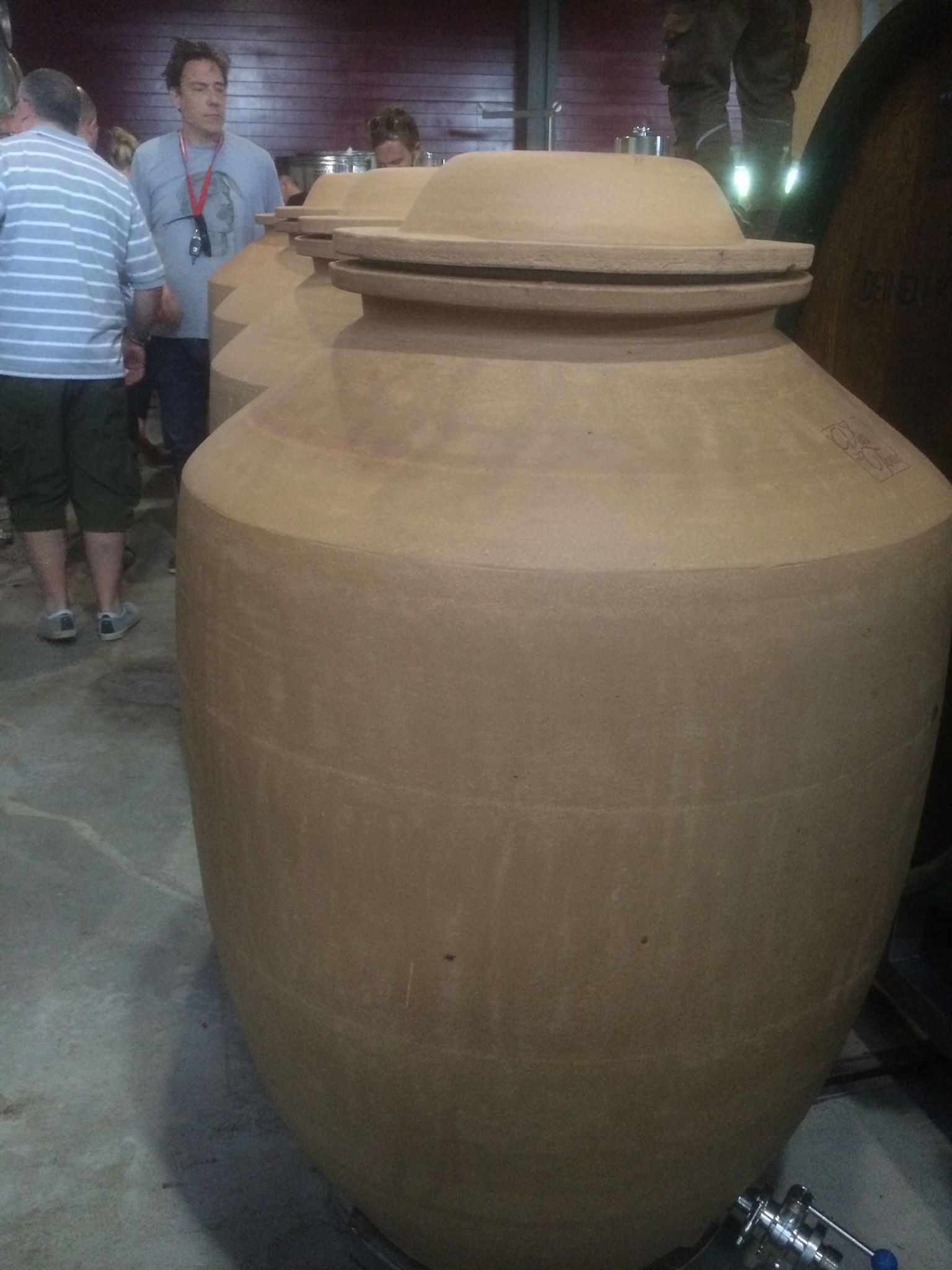 As we were running late we only had time for a whistle-stop tour of the cellar where we noticed the presence of several "new" amphorae. We then repaired outside where we had a wholesome repast of goulash and rice and/or spag bol washed down with Uli's excellent barrel-fermented beer and an assortment of new Bambules. The Muscat Ottonel had bouncy fruit, the Chardonnay was very-well balanced, the Pinot Noir surprisingly bright and fresh and the St Laurent was like Beaujolais on the verge of going to the dark side.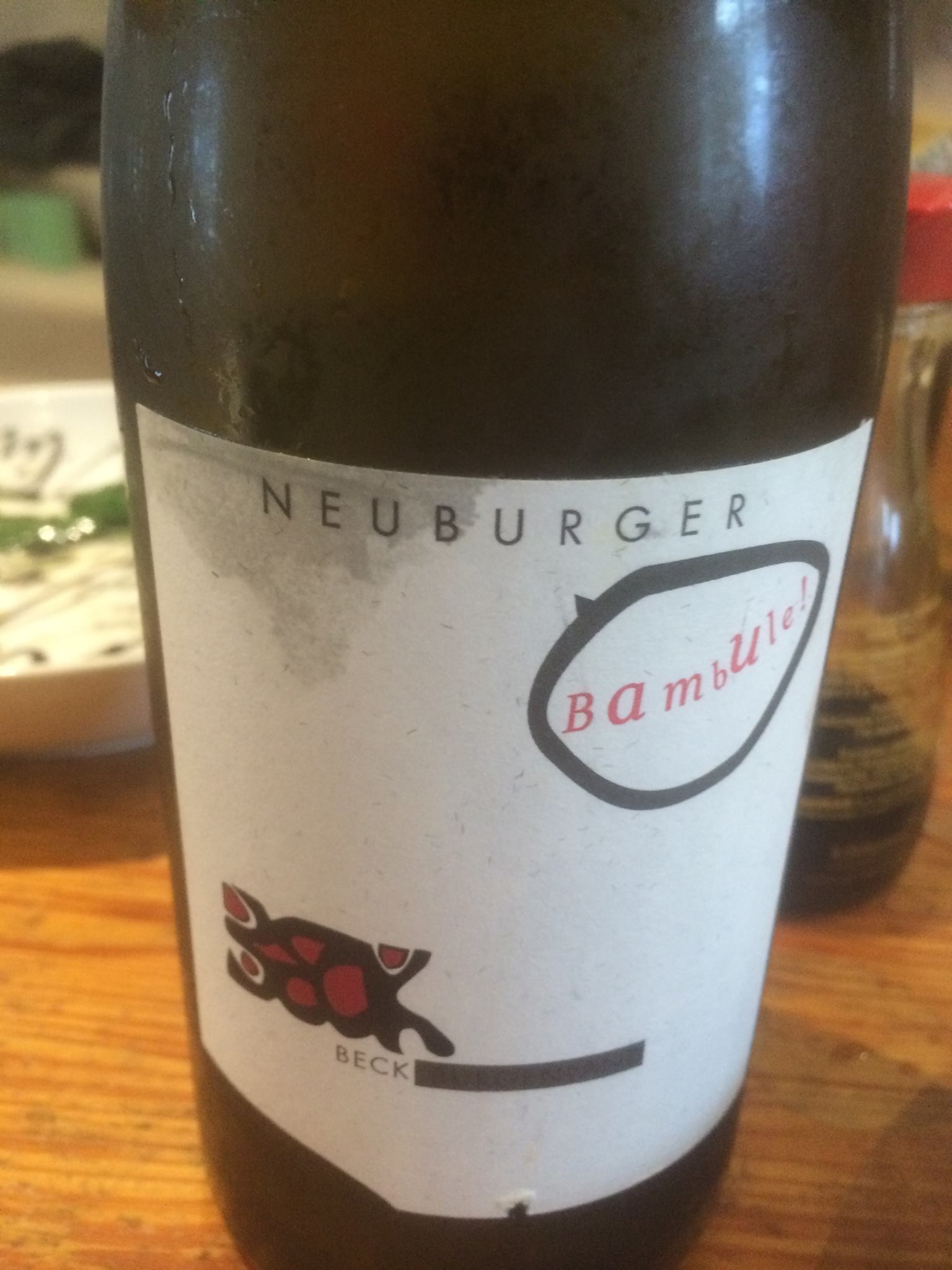 Judith's wines are becoming more exciting and more relaxed in each vintage. The philosophy of Bambule (revolution) is now setting the agenda for all the wines rather than being an offshoot from the main style of winemaking. The wines are soft in texture; if the Anderts are al dente, these are cooked through – but perfectly. Less pithy, more pulpy.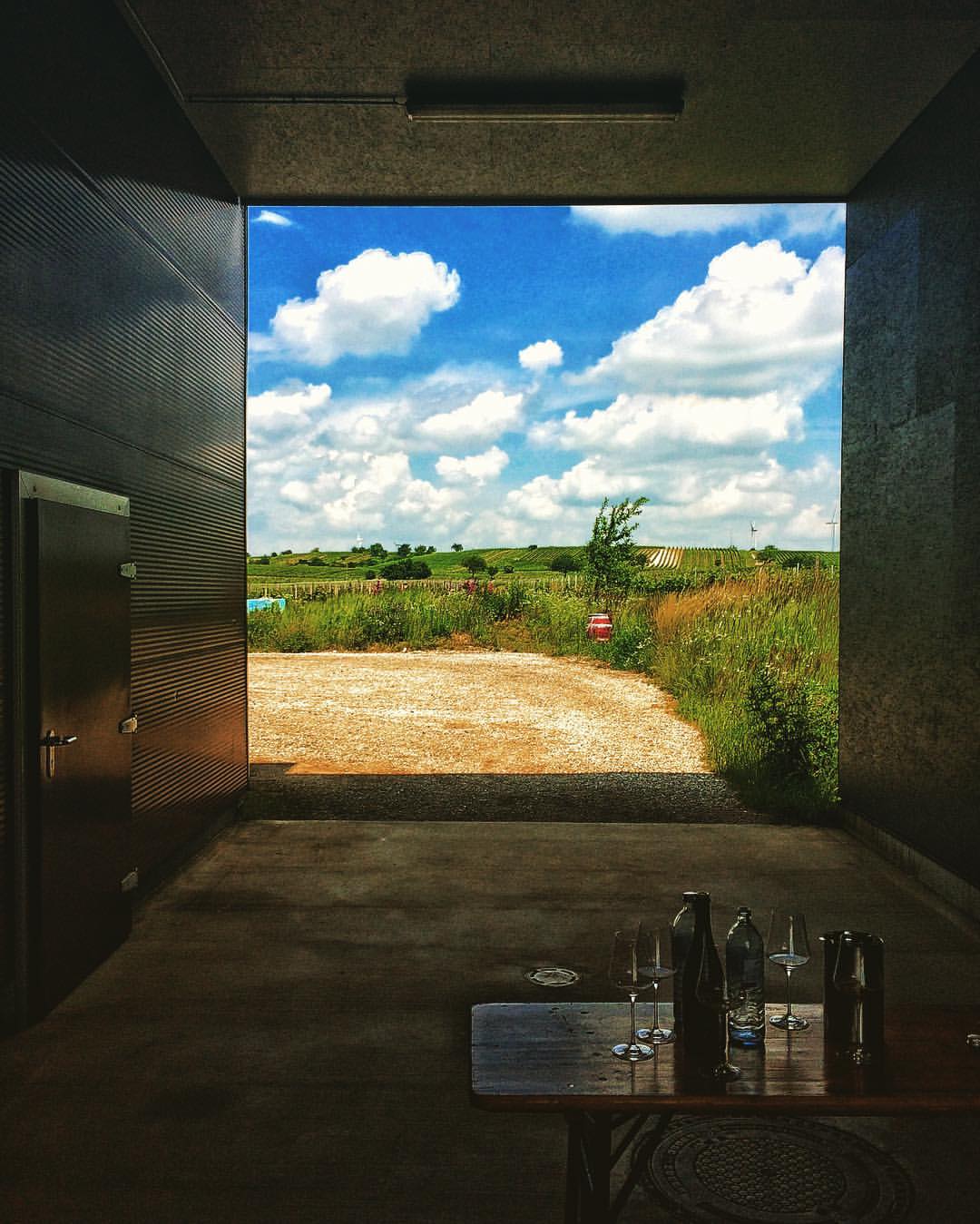 In conclusion…
Four days in three regions, eight growers. The people were impressive, humorous, warm, friendly and relaxed; the vineyards, many commanding spectacular views over the countryside, throbbed with plant, insect and bird life, testament to a farming approach that enthusiastically embraces organics and biodynamics. Each grower is progressing at their own pace – with Judith it is through an increasingly natural approach; with Alwin and Stephanie Jurtschitsch the conversion of their vineyards to organics and the conversion of the cellar where harmonious wines can be made uninflected by wood flavours; with Tscheppe it is the planting of the new vines on the Krepskogel; with Arndorfer it is always about tasting and understanding the terroir and representing it in different ways; with Muster it is listening to the vineyard and the wine…
Read more about the Pyrenees' Austrian adventures here: