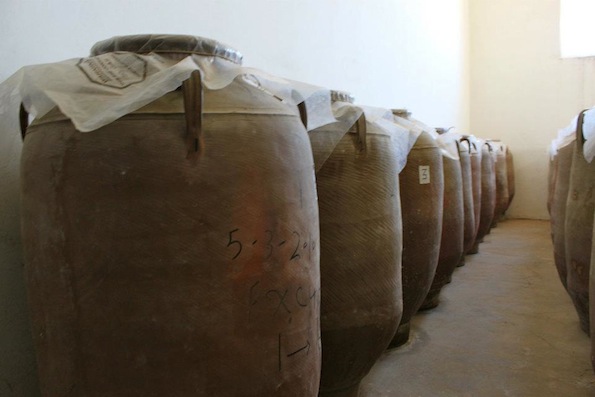 Nicolas Reau makes several wines including a silky sans soufre Anjou red in cement and a racy white raised in used barrels. Descente aux Amphores Blanc & Rouge is his departure into the world of clay, an elevated yet earthy descent, so to speak. Thierry Germain's (Domaine des Roche-Neuves) Amphore comes in two colours. His Saumur Blanc is skin-contact white (Chenin), while the red is a very fine Cabernet Franc. Thierry has elevated his wines by gradually stripping back the intervention; his wines have a nervous tension and salty minerality that is most unusual in the Loire and his clay wines have exactly that vitality and edge.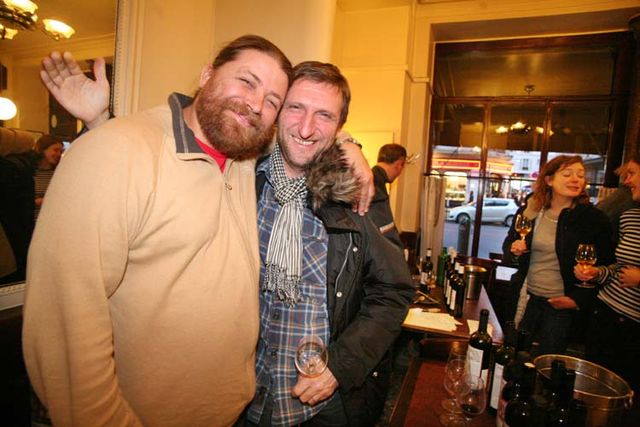 Le Brin de Chevre Qvevri Blanc is 100% Menu Pineau in Georgian clay pots made by Thierry Puzelat who has been truly inspired by his visits to Georgia. I would be happy to venture that this is the only Menu Pineau done this way.  Caillere Cheverny Qvevri Rouge – brings to mind a chunk of American pie. "Drove my Cheverny to the qvevri but the qvevri was dry". Not any longer – this qvevri holds a rather shapely fluid comprising a blend of Pinot Noir and Gamay!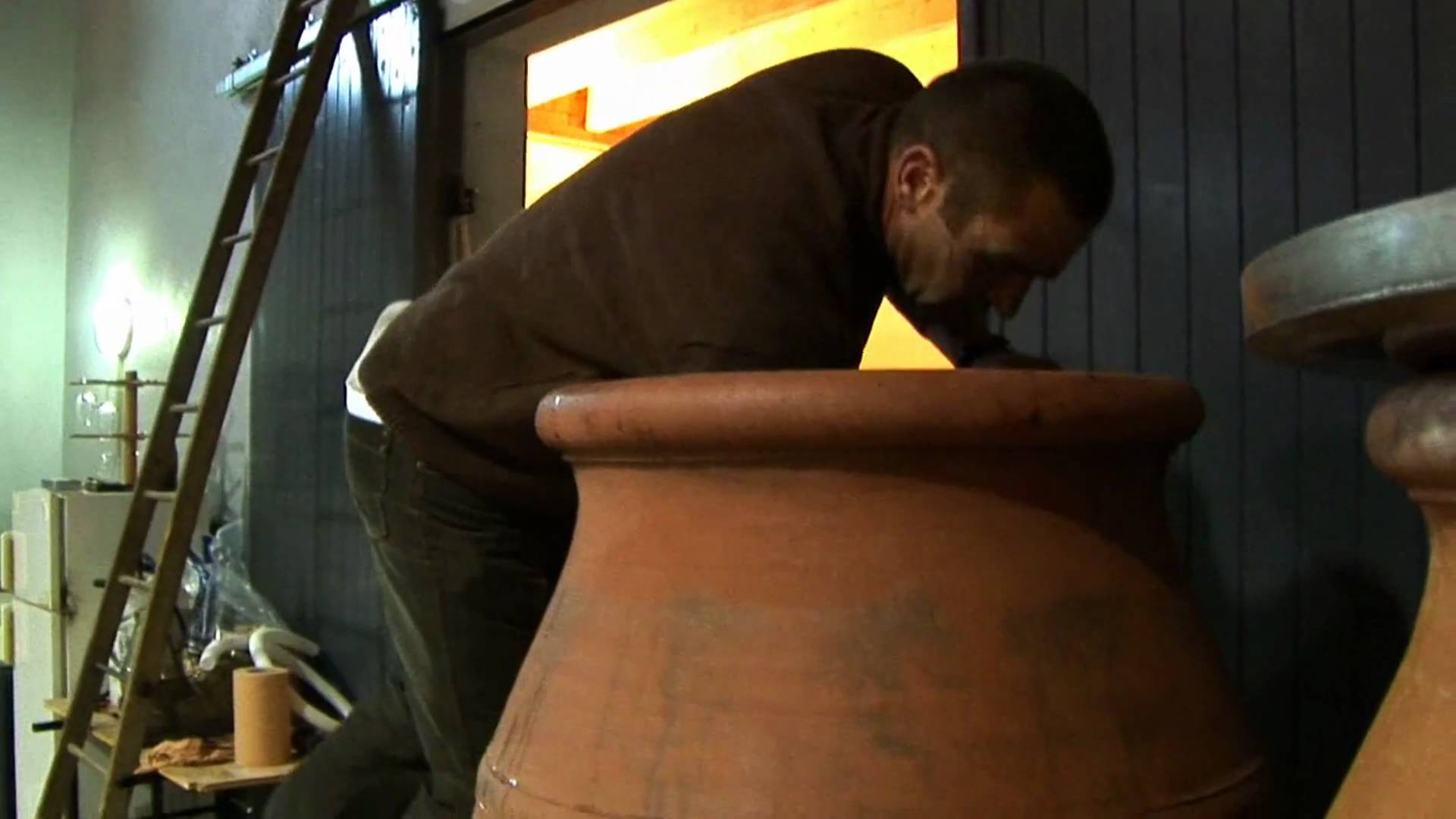 Located in the commune of Ayse not that far from Chamonix in the terroir of Mont Blanc the Belluards specialise in the autochthonous Gringet and also grow a wee bit of Mondeuse. The clay version of this latter red grape possesses striking stony minerality and remarkable sapidity. Over on the granitic slopes of Brouilly Jean-Claude Lapalu produces a broad-beamed old vines Alma Mater Brouilly in amphora. To this he has added a Pinot Noir of considerable depth.
Nacho Gonzalez has some pretty wild looking vineyards situated on the terraces of Valdeorras adjacent to Ribeira Sacra in Galicia. In his tiny garage-sized winery he makes a red blend in tinajas featuring Garnacha and Mencia. Think rustic. This is a red that you can really chew.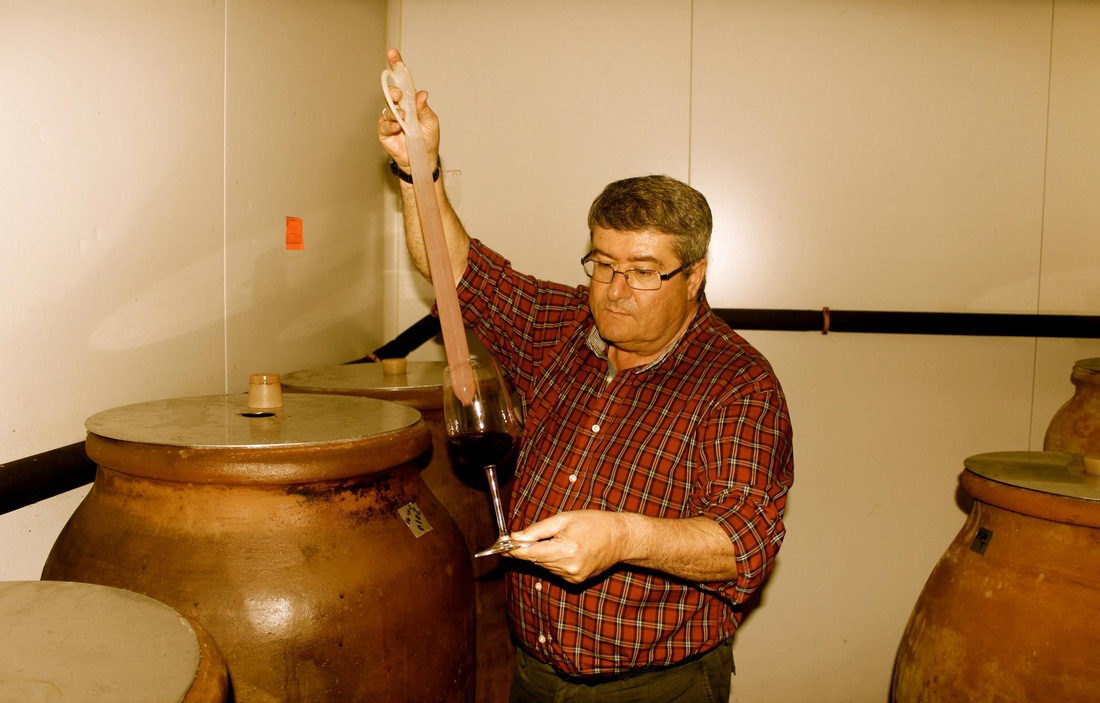 Rafa Bernabe will be presenting a considerable range of tinajas wines including the Tinajas de la Mata white blend (Merseguera/Moscatel); a new vintage of tjhe Benimaquia (orange-hued skin-ferment Moscatel); Acequion, a Pet Nat version of the Benimaquia; an oh-so-pretty-pinkish-tinged La Amistad (Rojal grape); Musikanto (actually a turbid pink wine from Garnacha Peluda) and Morron. Rafa's whites come from the sand dunes by the Med on ungrafted roostock, whilst the reds are from mountain vineyards. We love these wines; they have energy and personality in spades.
The Mitjans family (Loxarel) have also been working extensively with amphora wines and we will showing (amongst others) their very popular Amphore white made from pure Xarel.lo.
Vasco Croft (Aphros) has been working on an exciting project to rediscover authentic artisan methods of winemaking. Part of the project is to revive the practice of fermenting in clay vessels and he will be exhibiting his Vinho Verde Loureiro and a traditional Palhete.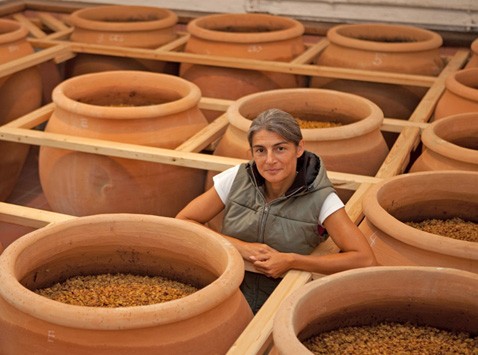 Elisabetta Foradori, who makes wines from biodynamically-farmed vines that grow in the porphyry sand soils of the Dolomites, will be pouring her deliciously delicate Nosiolo, two toothsome Teroldegos – Sgarzon and Morei – and a new amphora wine made with Pinot Grigio (yay!!). PG – parental guidance – not required to drink these beauties.
Paolo Vodopivec will showing his skin contact Vitovska plus his Vitovska T., These wines ferment oh-so-slowly in his beautiful cathedral-like – mini cathedral-like – winery. If you have never tasted Vitovska before here is an opportunity to assay this understated yet thrilling Istrian grape variety that seems to be carved out of the very tears of karst limestone.
Vino di Anna Qvevri Rosso (Anna Martens) is fermented in underground Georgian qvevri and made from centenarian high-altitude Nerello Mascalese vines grown in alberello on the volcanic soils on the footslopes of Mount Etna. A lovely expressive wine with lifted fruit aromas and wild herbal notes in the background.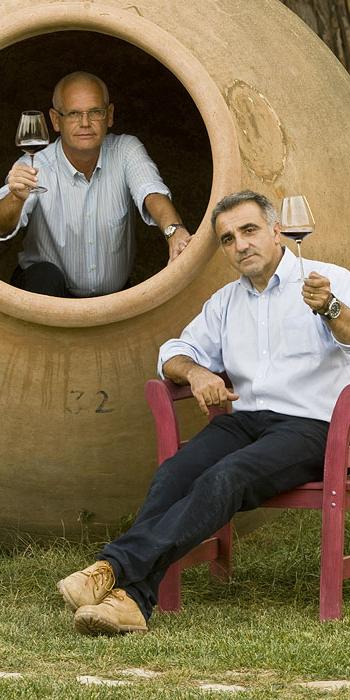 Giusto Occhipinti (COS) can't be present, alas, but his celebrated Pithos wines will be. From his biodynamic vineyards near Ragusa in Vittoria he produces a white with a short period of skin contact made from the Grecanico grape and a classic floral Cerasuolo-style blend of Nero d'Avola and Frappato.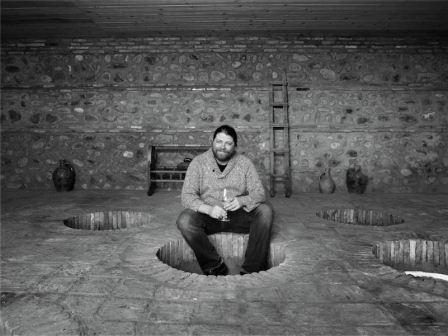 It wouldn't be a clay tasting without a healthy representation of qvevri wines from Georgia. John Wurdeman will be showing and talking about his range of Pheasant's Tears wines. Rkatsiteli, Chinuri, Tsolikouri, Kisi and Mtsvane will reveal various shades of amber-yellow, whilst Shavkapito, Saperavi and Tavkveri are the dark red wines getting the full qvevri love- treatment.
There's more in our Georgian tour! Iago Bitarishvili's subtle, almost floral Chinuri Skin Contact, Ramaz Nikoladze's Tsolikouri, Kakha Berishvili's Artana Saperavi and Gaioz Sopromadze's Chkhaveri red are further examples of the subtle variations in Georgian winemaking, yet are all linked by the tradition of working with qvevri buried in the earth.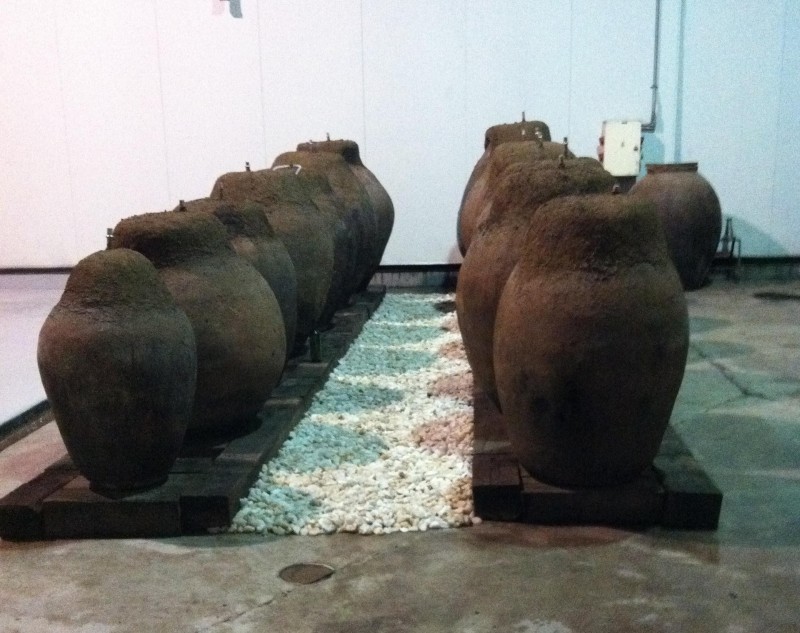 New Zealand, Australia and Chile have also thrown their pots into the ring for this tasting. Pyramid Valley part ferment their deliciously pure Fields of Fire & Lion's Tooth Chardonnays respectively in amphorae before assembling in tank. Meanwhile, our wizard clay representative from the Land of Oz is Paulo & Gustav's Wildstyle Riesling – made in Dora the Amphora no less. 300 bottles made of this rare bird. Riesling but not as we know it, Jim. In Chile, the De Martino family have been pioneering a return to traditional tinajas winemaking with their Viejas Tinajas range with grapes sourced from vineyards in the Itata region. Consider a beautifully perfumed Cinsault, a brilliant aromatic yet lithe Muscat and a very earthy Carignan/Cinsault fermented naturally in terracotta pots (some well over 100 years old). This is part of their back-to-the-future, discovering inspiration for new wines by the slow methods of traditional farming and winemaking. The proof of this is in the tasting as with so many of the wines made in clay. The clay does make a difference; it seems to shape and relax the wine within, and the process of making wine in terracotta puts the wine on a unique journey.