TOM SHOBBROOK & DIDI, BAROSSA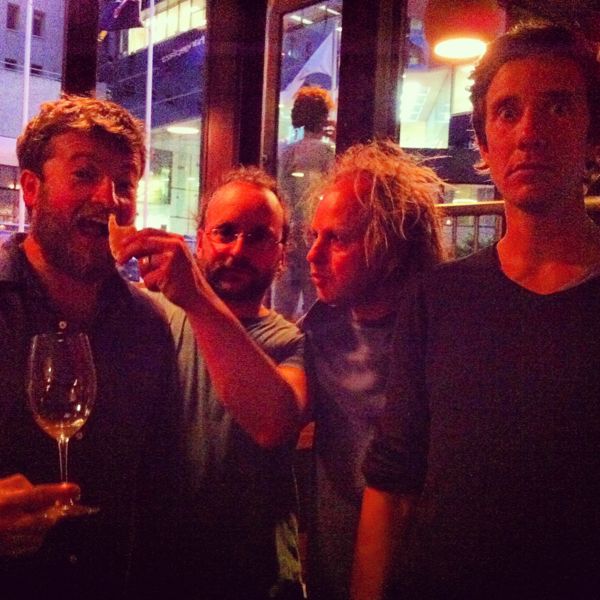 Smashability….
Tom picked up the Gourmet Traveller/Wine Australia medal in 2010 for Best Young Winemaker. He's self taught, learning much of his trade in Italy. He built the shed in which he works, by hand. He's into biodynamics in the vineyard and minimal intervention in the winery. He doesn't do cultivated yeasts, uses only minimal sulphur, doesn't add acid and doesn't do fining. He believes that less is more and that the quicker the bottle empties (down the gullet) the more the wine has served its original purpose
Didi Wines are directly inspired by Tom's time in Italy rather than an unscheduled stop in Knotty Ash. The fruit is sourced from the cooler part of the Adelaide Hills and allows Tom to create wines of great structure and finesse. There are several styles under this label including a Pinot and a Nebbiolo. These are the ultimate hand-made wines.
We bring a tale of eggs and Sauvignon sliced in many ways. Savvy one is the Giallo Skin Contact, a big wink to the Friulian producers who make more profound, phenolic wines. The 2013 has discernible grip and delicate hints of elderflower cordial and pink grapefruit with a gentle abrasiveness on the gums. Golden Circle is made from the pressings of the Giallo and named after a well-known brand of tinned pineapple in Australia. If the title fits…this indeed has overtones of fresh pineapple with some gingery mango thrown in and is fermented in ceramic egg for good measure. A Les Caves de Pyrene exclusive. Bianco is a straight Sauvignon – no eggs, no skin, just white citrus crackly crunch.
The skin and eggs combo returns with the Unskin Rhino aka Riesling on skin in eggs. If you like Riesling taken in a different direction then this is for you. The Rhino refers to Rhine Riesling, the unskin is skin on. Great minerality here – Rhinestone cowboy?
Once upon a time last vintage Novello was a Nebbiolo, the colour of autumn, all burnt amber and rusty red. On the palate, the wine was delicate, dainty tea and roses to the fore. Yet, true to its Italian roots, it provided a lip-smacking savoury experience. What delights is Tom's ability to create such an appealing acid structure with oh-so-soft (integrated) tannins that feel so pleasing to the gums. In 2013 Tom had no Nebbiolo grapes, yet finessed his Novello with a happy amalgam of Cinsault, Pinot Noir, Riesling and Sauvignon. If this sounds like eye of newt and leg of toad, a stitching together of unlikely bedfellows, then the result is consummate juice with plenty of floral lift, a kind of rough newbie-olo.
Tommy Ruff Shiraz-Mourvedre has a core of generous fresh fruit and some hints of savoury meatiness that opens up beautifully in the glass. Vivid, pure and vibrant with dark fruits, earth, spice, mocha and old Jamaican chocolate and the signature fine-grain tannins making it a smooth mouthful that will start with the best intentions of being just one glass and end up finishing the bottle.
2013 Giallo Bianco Skin Contact – £20.15
2012 Shobbrook Bianco – £13.15
2013 Golden Circle (Pineapple Egg) – £11.30
2013 Unskun Rhino (Riesling on skins in Egg) – £16.40
2012 Tommy Ruff Shiraz Mourvedre – £15.95
2013 Didi Novello – £15.50
DOMAINE LUCCI/LUCY MARGAUX,
ANTON VON KLOPPER, ADELAIDE HILLS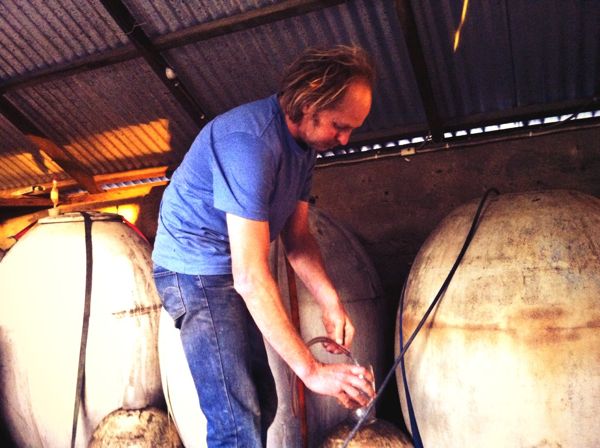 The magus…
"A path is only a path, and there is no affront, to oneself or to others, in dropping it if that is what your heart tells you. Look at every path closely and deliberately. Try it as many times as you think necessary. Then ask yourself alone, one question. Does this path have a heart? If it does, the path is good; if it doesn't it is of no use." (Carlos Castaneda)
In 2002, with wife Sally and daughter Lucy, Anton purchased a 16 acre cherry orchard and began creating their own "Domaine" in the Adelaide Hills.
"We aim to produce wines that express themselves," says Anton. "To achieve this at the highest level I would never consider adding yeast, bacteria, acid, sugar or any of the other artificial or natural additives. A winemaker can choose to be an artist or a chemist. I believe that winemaking is a craft; all our decisions are made with the aid of a wine glass and traditional skills, with the aim of developing the wines true identity."
Anton and family are now part of the Basket Range community and vinify small parcels of fruit from friends' small vineyards that surround this unique part of the Adelaide Hills.
"My skills have also increased in the last few years by using the perceptive palate technique and clairsentient thought," Anton continues. "More recently this impulse has formed a group of beautiful people that understand natural wine. In regards to this my close family is Sam Hughes (RIP), James Erskine, and Tom Shobbrook. The four of us form Natural Selection Theory, a wine movement that is like free flow jazz, outrageous winemaking with no beat of security, only an endeavour to push the boundary of wine beyond its stale present."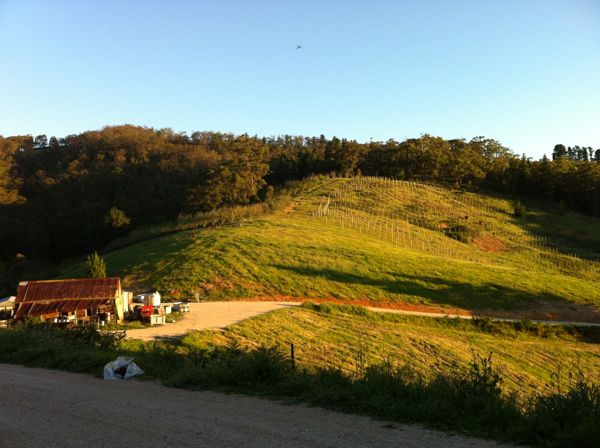 Set in Basket Range, South Australia, a series of hills located west of the city of Adelaide, Lucy Margaux Vineyards is one of a small group of farms surrounded by untouched wilderness. LMV enjoys the mild humid influences of the ocean however; at five hundred metres above sea level the region is cool and grows quality Pinot Noir. Yes, you heard it – in Adelaide Hills. LMV currently has 10 acres of Pinot Noir planted on 4 different aspects. The row spacing is 2.4m and the inter-vine spacing is 1.5m. The vines are cane pruned and the cordon height is 50 cm, which allows the fruit to ripen evenly from the warmth of the earth.
The vineyard is dry grown and 100% biodynamic, which means the land has never seen fertilizer, herbicides, pesticides, fungicides or any other chemical spray. The vines themselves sprawl and straggle, clinging to the side of the steep hills.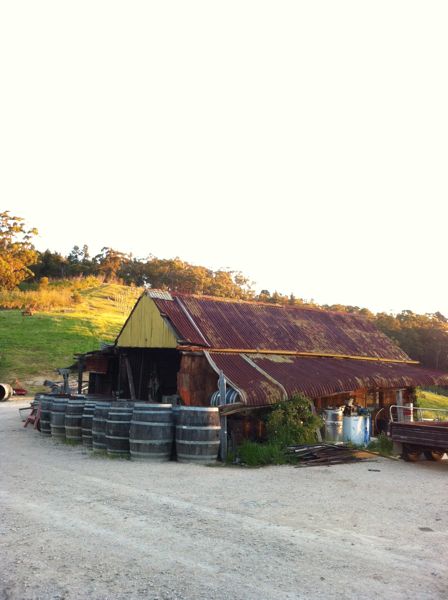 Little Creek vineyard, and the resulting wine, may show a pretty face but she is a bigger, more sumptuous style of Pinot fed by the Hills' long afternoon sun, and this has given her a beautiful strong cigar, liquorish, anise structure to hold to for many years. The single vineyard version is truly hedonistic.  Jim's Vineyard (Uraidla Valley) has pure strawberry highlights, whilst Monomeith, from the Ashton Hills, is warmed by the nurturing morning sun and gives lovely up-front rhubarb-and-sour-cherry fruits.
These are free-spirited, individual wines that take you on a journey through the hills to capture the essence of the vineyard; they are not just part of the landscape they are the landscape; drinking them is like listening to music… you have to surrender yourself to appreciate its beauty and wonder.
Anton also makes some negoce wine from grapes purchased from his friends in the hills who farm in the same sustainable way. All the wines have a lightness of touch that is the sign of a confident winemaker – Anton knows when to leave well alone. Egg wine is wild-fermented Sauvignon, Lucci Sauvignon is a more transparent style of Savvy (think grapefruit), whilst Lucci Red and Rosso are two more Les Caves exclusives. These soif wines are identical twins – the Rosso has a tad more rasp and vim and delish strawberry fruit; the Red is richer with hints of mocha. Grape varieties – don't be silly! That's for us not to know and for you to have a wild punt in the dark about. A blend of "smash" and "gulp".
Of the others Gris Noir is Pinot Gris on skins (natch) and Village of Tiers is the polar opposite of a lachrymose Pinot Noir putting the jest in digestible with its super-savoury bouncy raspberry fruit flavours.
2013 Egg Wine (White) – £15.00
2013 Lucci Sauvignon Blanc – £13.60
2013 Wildman Chardonnay – very limited – £15.50
2013 Lucci Red – £11.30
2013 Vino Rosso – £11.30
2013 Gris Noir – £18.35
2013 Village of Tiers Pinot Noir – £18.75
2013 Lucy Margaux Pinot Noir – £24.35
2011 Monomeith Pinot Noir – £26.85
2013 Little Creek Pinot Noir – £28.55
ANGUS WINES, CLARE VALLEY
Liberating the Riesbeast 
The fruit for this quirky Riesling is sourced from the Clare Valley, near Hanlin Hill – the vines are at 450m above sea level, creating a cool climate propitious for long slow ripening. The fruit was hand-picked on the cusp of a fruit day. One third of the fruit was hand-destemmed into "Dora the Amphora", and the remainder was then topped up with whole-bunches. The other two thirds of the fruit was all whole-bunch and foot-stomped. All the fruit spent about three weeks on skins, then about three weeks in old oak and is then racked once. The result? Wildstyle Riesling.  The colour is cloudy, cidery, golden ice-cream with an aged champagne hue. The nose is provocative with hints of mustard leaf and preserved lemons. There's even a waft of lime trees – bark and all.  Tannins in the mouth – which you either love or you hate in a white wine, very dry and savoury yet still showing some limey Riesling traits and then secondary aromatics of spicy cooked apples. As the winemaker says: "This is all about playing with such a noble grape and seeing what can come about in the winery – whilst doing nothing. We want texture, intrigue and a thought-provoking Riesling."
2013 Paolo & Gustav Wildstyle Riesling – very limited – £16.65
PATRICK SULLIVAN, YARRA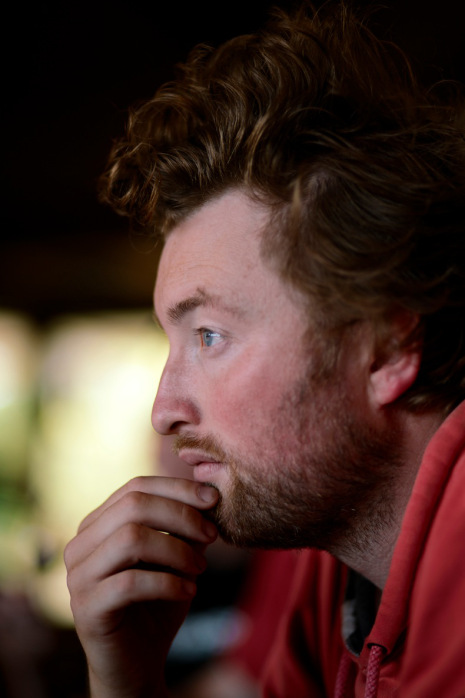 Sullivan's Travels
Here be skin contact Sauvignon Blanc from the famous Thousand Candles vineyard. "The vineyard is an exposed site that receives a lot of sun and I wanted that to come across in the wine," says winemaker Patrick Sullivan". The wine is left to ferment on skins and stems for about a week using carbonic maceration, and then put into old French oak barrels for 12 months. This is a bright, juicy orange wine with silky texture and a crisp finish. The flavours are a mix of tropical fruit, ginger spice, butternut and apple, all coming together in a very appealing way.
According to Daniel Honan:
"The resulting wine is mouth filling, soul-gripping goodness. Its colour reminds me of the piece of amber in the opening scene of Jurassic Park – 'Hay quelindoeres vas hacer a much gentefeliz' – it smells of geranium and sweet Dr. Ellie Sattler sweat, and tastes as confusing and complex as watching a gene sequencing presentation while eating a box of butterscotch and caramel popcorn, with a texture that I imagine to be quite similar to licking the faint specks of mine dust off that golden amber rock.
And it hangs around too. If you can pace yourself, and allow a bit of time in between sips, you'll be rewarded with a soft pinch of everlasting tannin, and swirling apricot and honey savors."
So, does it turn into a beast, one of those clever Jurassic adaptor-raptors? Or might you mistake it for your breakfast smoothie? Amber beauts are clever beasts, they tease the tongue with disconcerting tickly tannins, giving you the sensation of trying to suck the salt residue off an oyster shell. In the end, the bottle is empty.
NV Breakfast Wine – very limited – £23.70
BOBAR WINES
TOM BELFORD, YARRA GLEN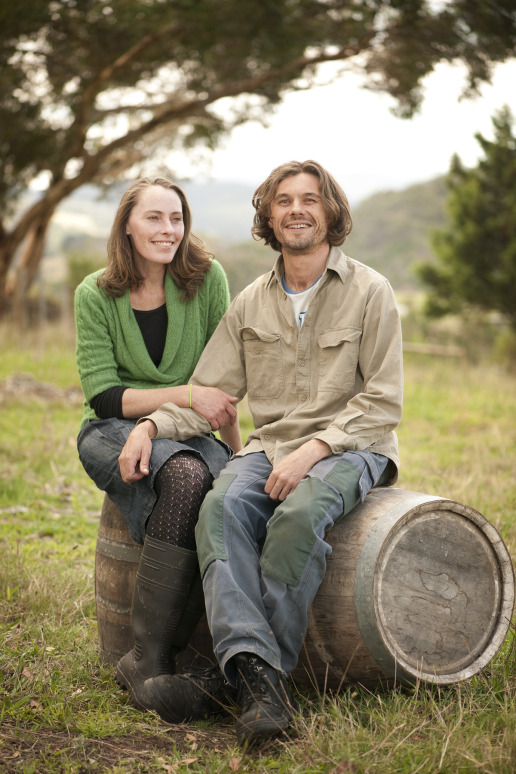 Tom's first job at the sharp end of wine was at De Bortoli when made the move over to the wine side, working as cellar hand then cellar master. In 2006 still on a learning adventure, he went overseas with his young family travelling and working his way through five regions in France in order to satisfy his yearning for more knowledge where he developed a love of cru Beaujolais wines and was inspired by the passion of the French with their love of terroir, the individual craftsmanship, and the dedication and personal expression behind each wine. Tom joined Sticks Winery in the Yarra Valley in October 2008 and this year has released his own wine from bought-in grapes made carbo-style à la Beaujolaise.
Single vineyard Syrah – not Shiraz – 100% carbonic maceration, some whole bunches, no sulphur added until just prior to bottling and just a smidge then. It's got a slightly reductive, empyreumatic nose at first, but that blows off and a perfume of bright fruit and spice takes over. The palate is fresh and nervy with good persistence. Think wood-smoke, think tapenade, think balsam and bay and ladle on the cracked black pepper. The real deal. The Chardonnay has a butterkist texture but without the overlay of oak. A toothsome twosome.
2012 Bobar Chardonnay – £17.35
2011 Bobar Syrah – £17.35
JAUMA,
JAMES ERSKINE, BAROSSA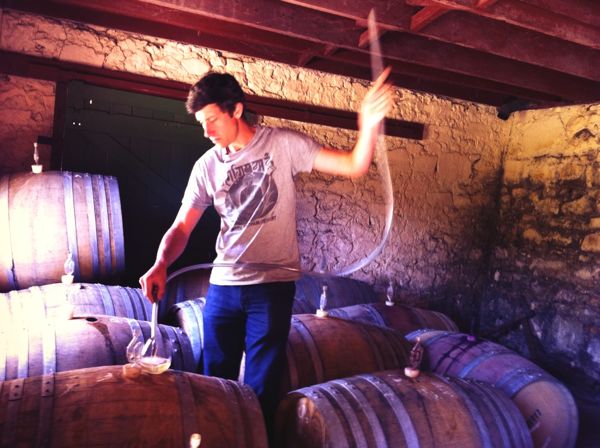 Grenache king
"I love cooking, music, drawing and vinification as each of these sensual activities I can do on my own or share with family and friends to create tangible, visible and audible representations of the spirit behind the world which forms me." So says James Erkine, brains and brawn behind Jauma (the Catalan version of James), and Natural Theory Selection conspirator.
Each of the vineyards he works with is harvested by hand using only the most sophisticated of grape analysis instruments to select the time of harvest – the senses; no pH meters or Baume refractometry, here, my friends. His primary passion is working with Grenache (Pinot of the south!) from the McLaren Vale sub-appellation Blewitt Springs but given that he lives in the Adelaide Hills he also pays homage to, not Catalonia, but a few of the more interesting growers he has encountered there and produced a couple of locally grown wines. He says that he feels very lucky to have been able to set up a cellar in one of the original, Basket Range sandstone buildings built in 1841 just around the corner from his family home which formerly housed the Crammond family's Jam Factory. No quips about jammy Barossa reds here, if you please.
In the cellar all ferments are wild and each vineyard's wine is made without the addition of sulphur, enzymes, fining agents, acid or tannins. None of the wines are filtered or fined and no sulphur was added until bottling when a minimal addition is made to give James the confidence to ship his wines interstate and internationally. The cellar has multiple stories so he is able to work using gravity rather than pumps. By trusting his own palate in the cellar rather than technical instruments he is able to follow and guide the will of each vineyard, the aim being to produce wines that capture both the essence of each vineyard and "my own personal, creative energies".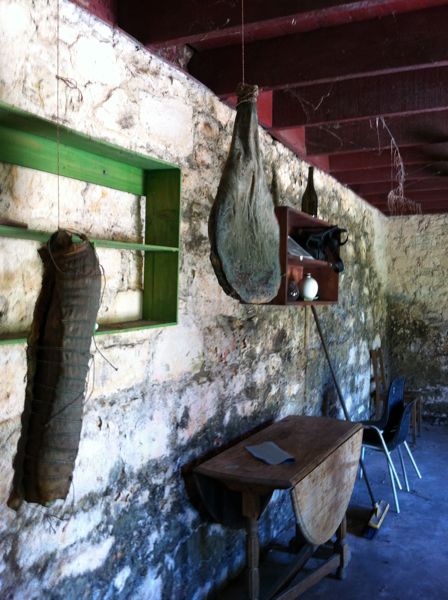 James Erskine specialises in wines made from Grenache made from unirrigated bushvine vineyards. These wines have great energy and freshness and bags of drinkable dark cherry fruit although they always faithfully reflect their origins and the nature of the vintage. Somewhere On Another Hill is a departure, being a skin contact wine, a groovy blend of Chenin and Gewurztraminer. Think white peaches and honeycomb on the nose and then keep it honest with some of that fresh apple Chenin acidity.
2013 Somewhere On Another Hill Orange Wine – £15.70
2013 Like Raindrops Grenache – £15.70
2013 Grant Amp Grenache – £19.75