I believe that there is a subtle magnetism in Nature, which, if we unconsciously yield to it, will direct us aright. –Henry David Thoreau
This Renaissance man, naturalist, and biodynamic maven commands tremendous respect among his peers for his visionary approach to topics like soil management, pest control, and drought mitigation in his vineyards –Kermit Lynch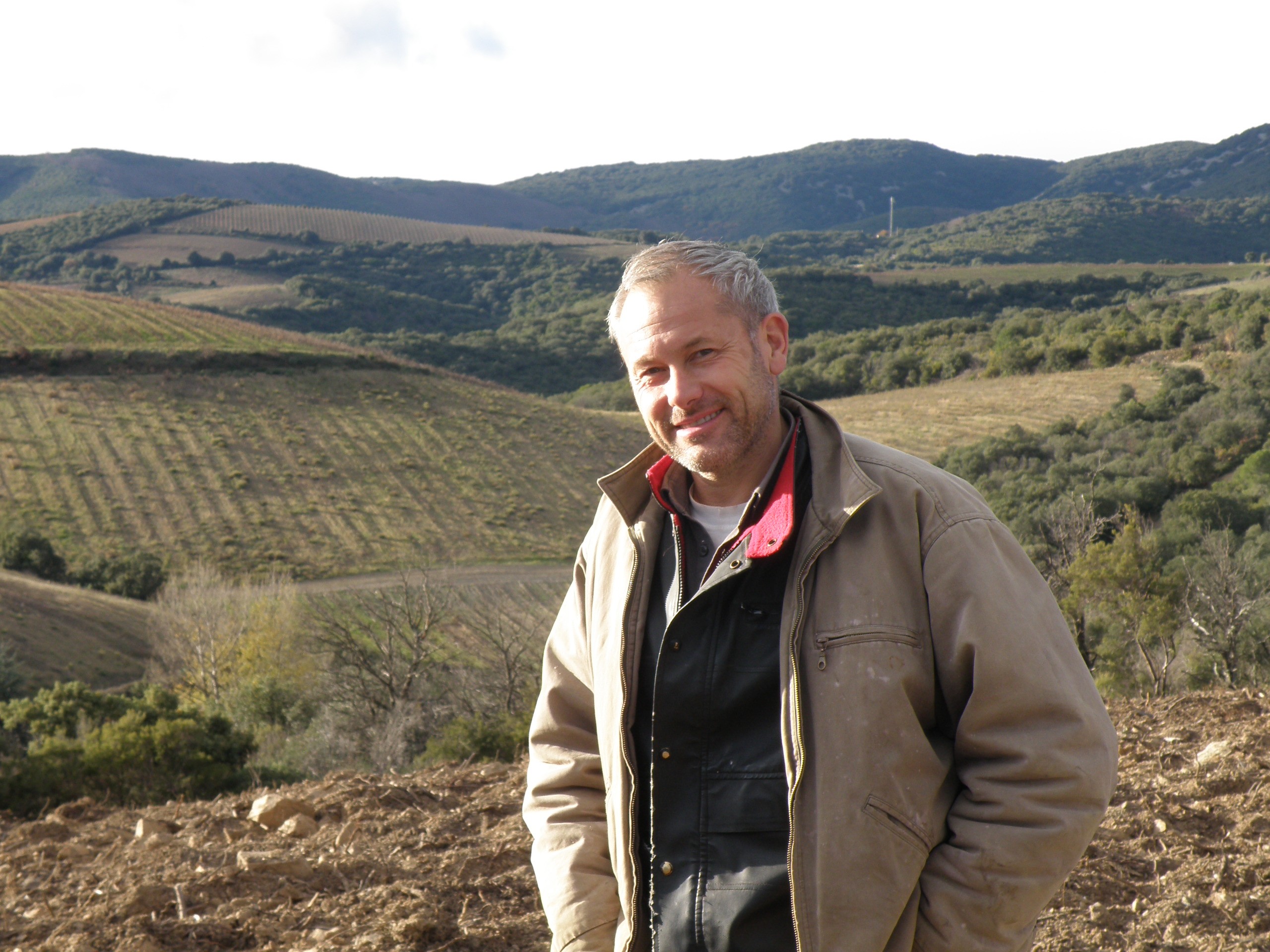 There are mavericks. Then there is Didier Barral from Faugères in the heart of Languedoc, who is a deeply questing vigneron, a farmer's farmer, if you like, whose obsession with minutiae forms the bigger picture. Didier owns 35-hectares of biodynamically-farmed vineyards situated in a forest of garrigue on slightly acid schist soils in which a little of everything grows. Everything starts from the soil which must be made as healthy as possible.
'Nowadays, farmers feed the planet but destroy it at the same time. Sometimes they think they are doing the right thing by ploughing too often for example, which eventually damages the soil structure. We have to observe nature and to understand how micro-organisms operate. Then we see that tools and machinery can never replace the natural, gentle work of earthworms, insects and other creatures that travel through a maze of tunnels, creating porosity and aerating the soil, making it permeable and alive. There's grass in our vineyards and amongst the grass, there are cows and horses: a whole living world that lives together, each dependent on the other and each being vital to the balance of the biotope.' (Didier Barral)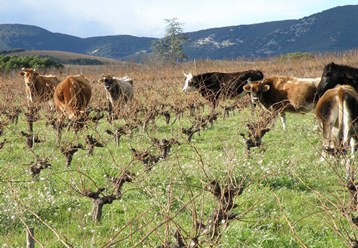 This is an extraordinary micro-climate where the mountains on one side and the proximity of the garrigue which shelters fauna and flora create the preconditions for an excellent terroir. Didier is adamant that cow manure is the best, and not having delved too deeply into these matters, as it were, who are we to say otherwise? A photographic album of the vineyards could be entitled: My Favourite Bugs or A Diet of Worms or even A Riot of Worms, for it reveals astonishing diversity of benevolent creepycrawlydom, indication of a thriving, living soil. Natural solutions prevail: small birds make their nests in the clefts of the vines (these nests lined with the horse hair that has been shedded) and they prey on the mites and bugs that are the enemies of the vine.
But even if it feels religious, and even if Didier is a noted advocate of organic, Fukuoka-influenced-hands-off farming, nothing about Didier's discourse feels preachy. There are no exhortations; no imperatives. As he is wont to say, the earth existed before the philosophy of biodynamics was propounded. His persuasiveness flows from the stunning beauty of his 35 hectares of vines, and from the freshness and purity of his wines. He speaks for himself, and tells his story: one of observation, of trial and error in his vineyards. There is a lot more to the process than can be described here – his views on gobelet vines, the equipment he uses in the vineyards so as not to compact the soils and of course the dissertations on worm-life.
Didier is not only a perfectionist in the vineyard; he also practises natural vinification, although he would doubtless deprecate that term. Triage is vital for the quality of the grapes which makes or breaks the wine. He dislikes carbonic maceration as he believes that it explodes the fruit and leaves nothing behind it. The fermentation is done with wild yeasts in cement cuve, pigeage is by hand, long macerations are followed by ageing in wood, and the assemblage (all grape varieties are vinified separately) follows eighteen to twenty-four months later. No filtering or fining, these are natural products, lest we forget. As Paul Strang writes: 'He scorns the modern bottling plant, deploring the use of filters and pumps which interfere with the natural qualities of the wine. All you need is a north wind and an old moon.'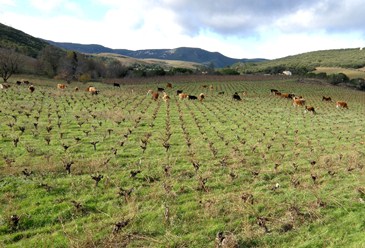 And the wines? Well, they have a magnificent fruity intensity, but his aim is "to make something irresistible: a bottle of wine that no one would willingly leave unfinished" (Virgile's Vineyard – Patrick Moon). We begin with the baby of the bunch, if we may call it that, namely Faugères tradition, a blend of Carignan, Grenache and Cinsault. The Cinsault is amazing, yielding luscious aromas of confit cherry, damson and violet; the Carignan provides colour and concentration and the Grenache gives fragrant garrigue notes of laurel, bay and thyme as well as a supple mouthfeel. The maceration is 3-4 weeks in cement with manual punch-downs and the wine is aged for two years in a mix of cement and stainless tank.
Cuvée Jadis is Carignan (50%), Syrah (30%) and the remainder Grenache. Maceration in cement cuve also, and then around 24 months in barrels. The colour delights, being blackish-purple, almost opaque. Ripe plum and black-cherry scents dominate a fruit-forward aroma, but there's plenty of earth to please the truffle-hounds. Leather and pleasant "barnyard" notes add complexity. Full-bodied, juicy and tart flavours, fresh black fruit and a hint of dark chocolate, nicely structured by crisp acidity; smooth tannins emerge as a cleansing astringency in a long finish, with a distinct whiff of fresh herbs and earthy grace notes that mirror the nose. Jadis is a way is a testament to Didier's organic credentials and his passion. On the one hand he is returning to the physical roots of winemaking before the days of quick fix chemical solutions and the other hand he is challenging the received wisdom and conservatism of the previous generation.
Mourvèdre is the grape that gives Didier real pleasure. It is perceived as difficult to bring to even maturity, but according to Didier it's all about the health of the vine which in turn is about the health of the soil. His Valinière, named after a small stream, and made from 80% Mourvèdre and 20% Syrah (from a north facing parcel), has deep purple colour and a glorious nose that benefits from aeration. Strong dark fruits, warm leather, dark chocolate, fine floral notes, black olives and all the spices of the orient (quite a few, anyway). The wood, evident initially, melts into the fruit leaving behind a fabulous fierce minerality. The mouth follows the nose, conveying a suppleness, where density and power are controlled and shows an acidity that completes the wine, gives it equilibrium, finesse, length in the mouth as well as a capacity to age. A vin de garde, a vin d'amour.
And there's a white (not really white) too, a field blend of Terret Gris and Blanc (80% of the mix) with Viognier and Roussanne making up the rest. The Terret vines are 90 years old, yields are 15hl/ha with a strict triage. Fermentation takes place in cement vats with natural yeasts and a further malolactic in barrels 1/3 new and 2/3s first and second use. The grapes macerate for 3-4 hours in the press with a lot of oxygen. The juice goes brown and then naturally clarifies but retains a rich amber hue. No filtration or fining to leave a mark on this intense dry white with its mix of sherry and honey aromatics followed by vegetal/fennel notes, and incredibly pure ripe citrus-flecked palate. Worth broaching a celebratory lobster or regal turbot for, otherwise carafe it, turn down the lights and let it have its wicked way with you.
If you have never tried Didier's wines before, you will be amazed by their energy and their intensity. They live their connection with their place of origin.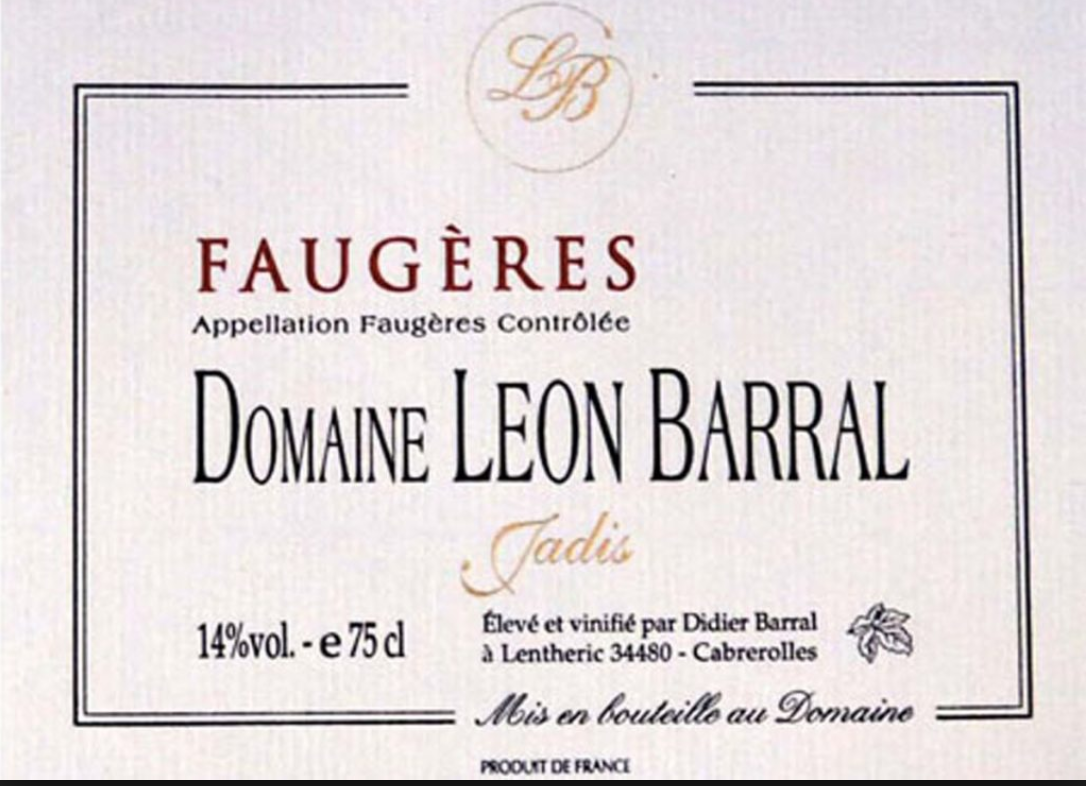 2014 Vin de France Blanc
2014 Faugères tradition
2014 Faugères "Jadis"
2013 Faugères "Valinière"
*
Interested in finding out more about any of the wines featured? Buy online here or contact us directly…
Retail: shop@lescaves.co.uk / 01483 554750