And so we continue on our Rosé journey with these utterly delicious pinks…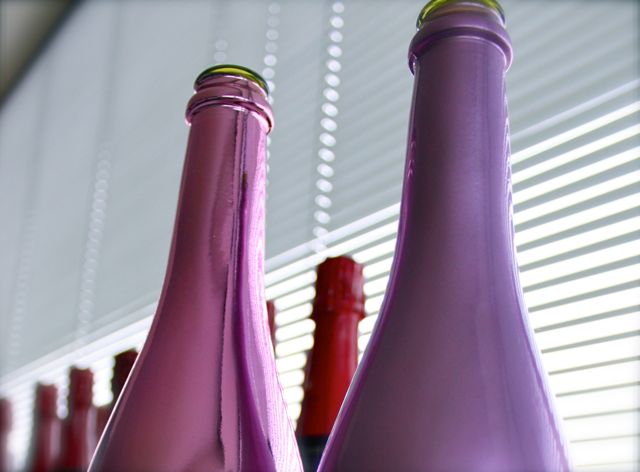 Fade to Grigio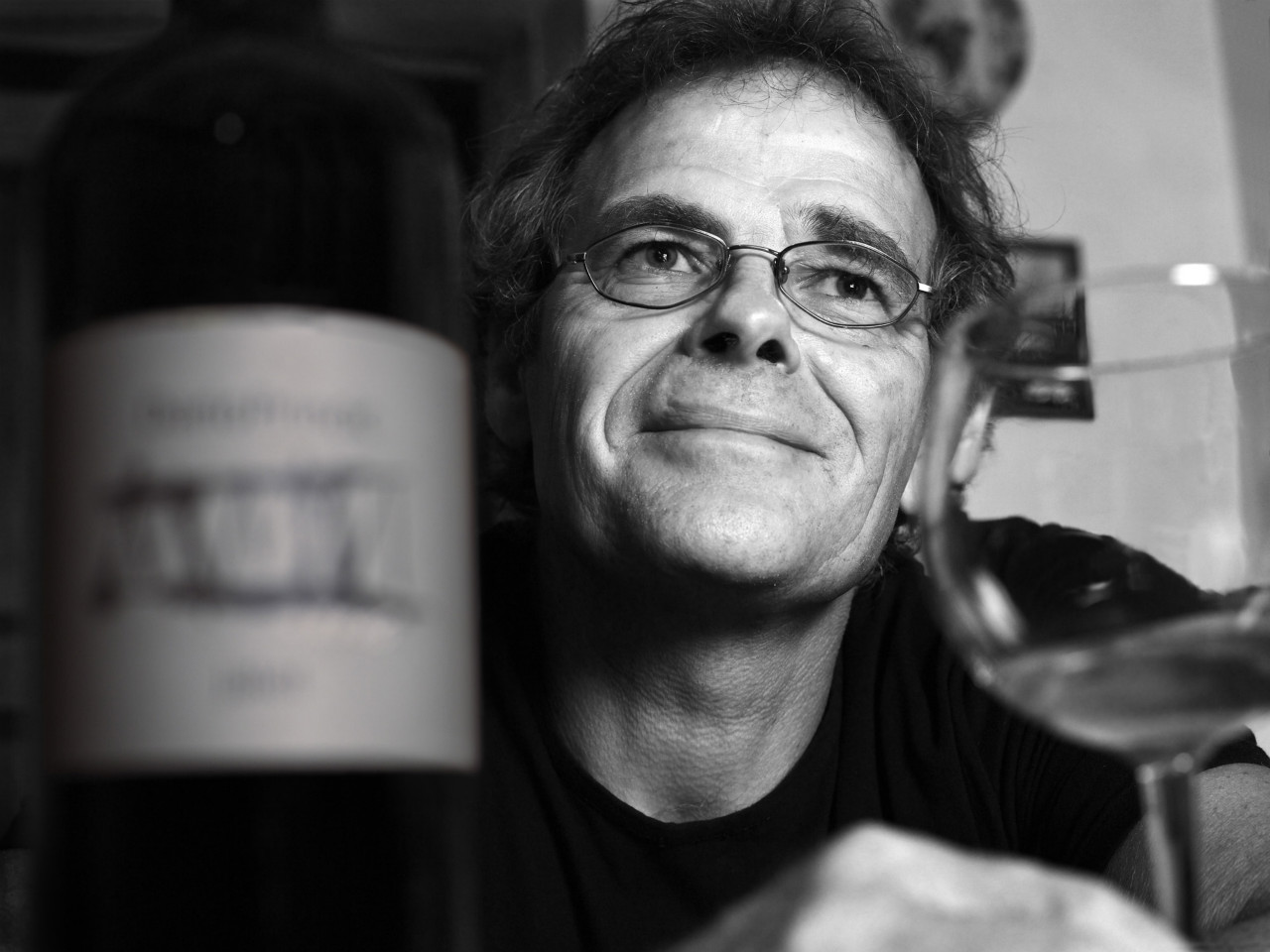 Dario Princic is located in Oslavia in Friuli-Venezia Giulia, very close to the Slovenian border. He has farmed his 7ha of vines organically since 1988, and his yields are extremely low. The 1.5ha plot of Pinot Grigio is 18 year old vines planted on the typical 'ponca' soil (friable calcium/limestone marl) mixed with clay. The grapes see a 7 day maceration on the skins in large open-top oak and chestnut fermenters, and the wine is aged for 2 years in botti, tonneaux, and used barriques. No fining, no filtering.
Another one of Princic's characteristically idiosyncratic ambergris offerings this Pinot Grigio – come back, come back, I say – (banish for an instant from your mind notions of emasculated, milquetoast, mimsy gnatspiss effusions) explores the "real" potential of the grape variety. A combination of beautifully healthy ripe grapes cultivated in biodynamic vineyards from exceptionally low yields, lengthy maceration on the skins, wild yeast ferment and no filtration or fining produce a wine with all its component parts intact. This baby can age.
The harvest tends to be in mid-September with selected grapes from low yields only, eight days maceration on the skins in wooden casks, nothing controlled as always. The fermentation is done in big wooden vats with indigenous yeasts – as per usual – covered only with a plastic film (to keep out pesky fruit flies). No batonnage is made as the lees moves biodynamically. The wine rests, mellows and generally ruminates for two and a half years in tonneaux beforebottling. 100% fermented juice, nothing is added… as the man himself says. It has a dark pink-amber colour, with exotic and ripe fruits, mutating all the time.
The Pinot Grigio is prettier than the rest of Princic's snorting stable of orange-amber whites with its rose-tinctured delicacy, but it is still a remarkable wine and will change from day to day and even from glass to glass. This then is PG PG (Parental Guidance Pinot Grigio).
Pellucid Pelluda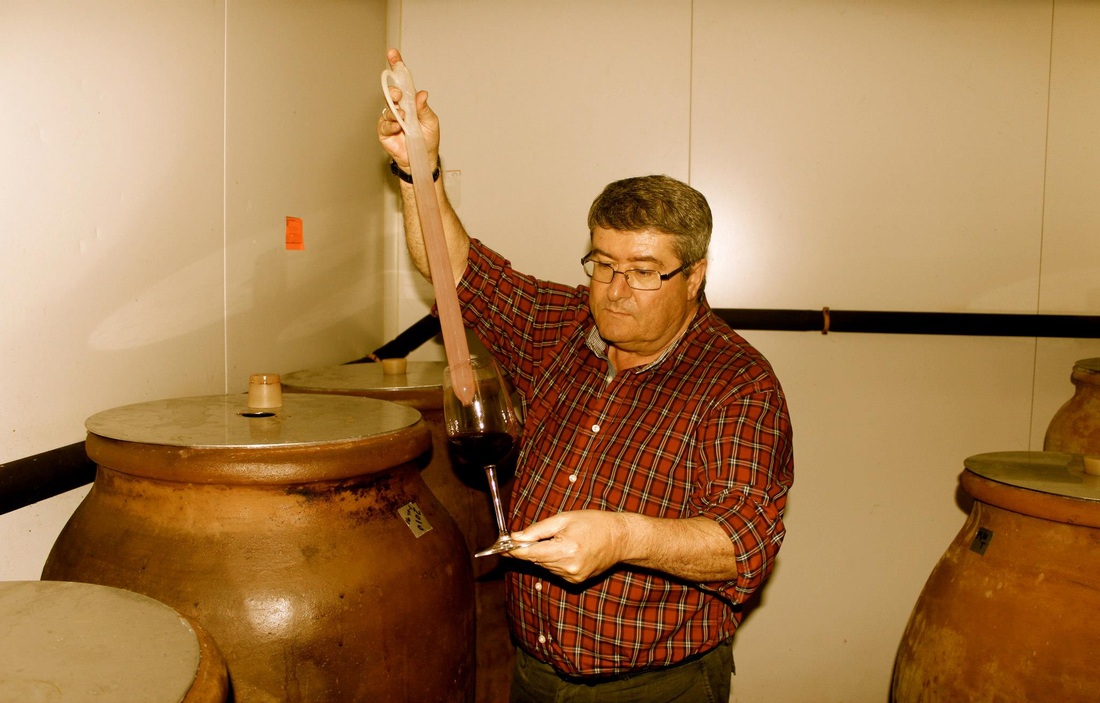 Rafa Bernabé has become enamoured with both traditional farming methods of indigenous grape varieties, as well as ancestral methods of wine production (for example, Rafa experiments with amphora ageing for a few of his wines, and recently visited Georgia for a symposium on the topic). These are wines made from organic grapes, fermented with native yeasts, with zero to minimal levels of SO2 added prior to bottling. All of the wines under his Viñedos Culturales label are not merely original or outside the box for Spain (though they are certainly, at times, just that) but oftentimes delicious, bright and gluggable in a way that makes them well-worth discovering.
If music be the food of love play on- but this wine needs no food. Made from old vines Garnacha Peluda (hairy Grenache to you), and fermented in tinajas (clay amphora) with nowt added and nowt taken out, this cranberry-hued pinkster is watermelon incarnate with abundant "le crunch" down to the last pippy seed.
Tres Obispos (three bishops) is the name of the hill close to the Bodegas Pittacum vineyards. Here the thriving Mencia vines grow in cold clay soils, which help to promote delicacy, freshness and acidity. The bunches are selected by hand, one by one, on the sorting table and then crushed. The harvest is then transferred to a stainless steel vat where it macerates at low temperature for a few hours until the must acquires the desired colour. Then it is drained, drop by drop, or devatted. Fermentation took place at 18ºC for three weeks in order to preserve all the varietal aromas, before allowing it to clarify naturally prior to being filtered and bottled.
The Tres Obispos rosé is neither a minor wine in our winery nor a simple complement to the range and least of all a byproduct.
It goes very well with cool salads, goat cheese and naturally with fish and game "escabeche" marinades, and generally with light, only slightly spiced dishes and with risottos, seafood and fish. It is absolutely indispensable for dishes that are hard to pair with reds like artichokes and asparagus.
The resulting wine is rose-pink and very dry. The nose is charming with dry rose petal, raspberry and a touch of fennel. The palate has red fruits, juicy cherry edged with liquorice. Nice dry finish snappy with acidity.
Sounds so rosé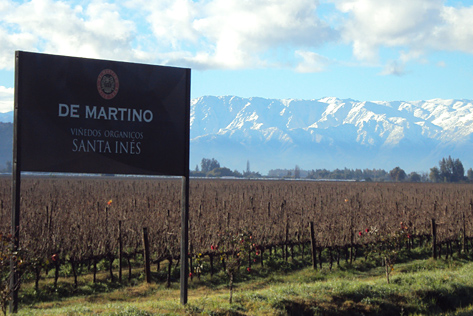 Gallardia Cinsault Rosé from De Martino is from ungrafted dry-farmed gobelet-trained vines grown in Guariligue, just 22 km from the Pacific Ocean.  Residents of this area have preserved traditional viticulture. The landscape is composed of rolling hills and granite deposits from the Coastal Mountain Range that date back to the Jurassic period, and thanks to the influence of the Pacific Ocean, this is a cool climate. This wine undergoes a short maceration period in contact with the skins and then fermentation is carried out with native yeasts at 20°C in stainless steel and then aged for a further six months. Another oh-so-pretty onion-skin wine with beautifully delicate raspberry and cranberry fruit and just a whisper of wild herbs on the finish. 
Adagio Allegro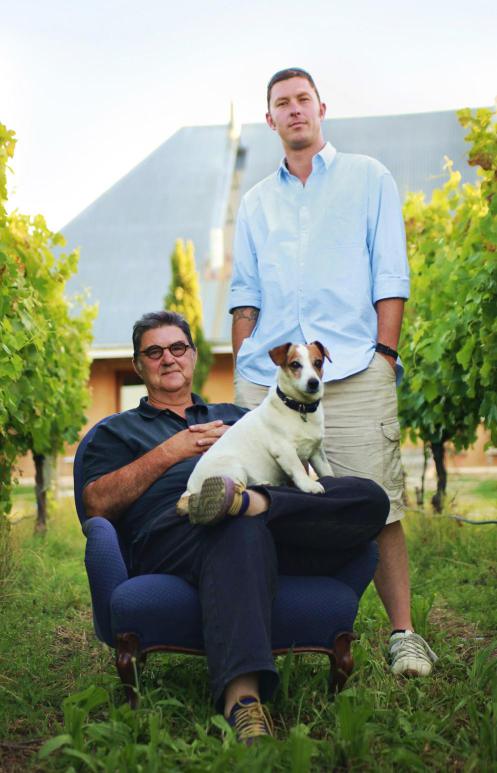 Allegro shows Julian Castagna's dedication to making fine wines. For him rosé is usually all too often made as an afterthought, with no intent for ageing, a confected product for a short term purpose, the vinous equivalent of alcopops. Allegro is about unlocking complexity and intrigue. "I need no residual sugar to create texture and weight, I just leave it alone in barrels to build texture and complexity in a natural environment".  This works brilliantly and the wine is multi-layered with crushed herbs and spice, chalky and dry, cherries, pippiness and then a savoury quality.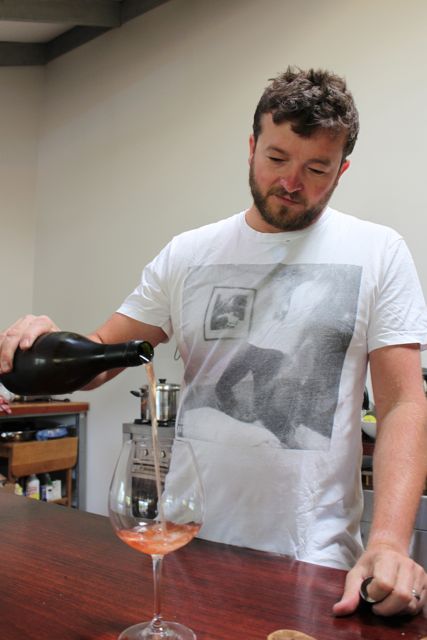 2013 Sophie Rose from Si Vintners is from low-cropping 35 year old Pinot Noir planted in Karri loam over decomposed granite/white clay soils, grown biodynamically and harvested according to ripeness with a focus on natural acidity. A natural wine – hand harvested, whole bunch pressed and spontaneously fermented in concrete eggs followed by eight months ageing in old French oak barriques on the lees with some batonnage. Made with no additives and only a minimal sulphur addition at bottling. No fining or filtration, either. Rusty "wild salmon" colour, a good rip of juicy pomegranate hits you followed by yeasty, toasted brioche with dry ginger and fennel seeds. This is bone dry, salty and savoury with a terrific bolt of acid running through it.
Doubly-bubbly
Domaine Jean Maupertuis is located in the commune of Pérignat-lès-Sarlièves fairly close to Clermont-Ferrand (twinned with Salford and Aberdeen amongst other places).  Jean also makes 'Pink Bulles' – sparkling or pétillant natural Gamay rosé in small quantities.  It is done is a Bugey-Cerdon style, where the partially fermented wine is capped.  The fermentation continues in bottles, trapping carbon dioxide, which creates the bubbles.  The bottles are riddled by hand.  After a few months on lees, the bottles are hand-disgorged, topped-up with the same wine and recapped.  The natural pressure built-up in the bottles stops fermentation. 
Mousse on the loose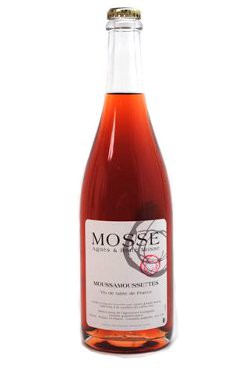 Moussamoussettes Pet Nat, Rene Mosse is pale, light, delicious, limpid, slightly sweet and the perfect aperitif for a spring or summer lunch or evening aperitif. This year it is made mainly from Grolleau Gris with a little Cabernet Franc which have been co-fermented. It was bottled at 35g residual sugar and fermentation continued in the bottle until the sugar levels fell to around 20g making a pleasant sweetness to match the acidity in the wine. This method is known in France as "Méthode Ancestrale" and the wines are often referred to as Pet Nats (Pétillant Naturels).
There is a confident 'pop' of fizz under the cap. In the glass it shows a rich, confident colour, a little difficult to describe, being not just pink but instead a deep, peachy sunset-orange kind of pink. The nose is fascinating, being redolent of baked white peaches, with a herby freshness and white-pepper twist on the side, along with nuances of rose petals and red fruits. And the palate is exactly as I hoped, being fulsome and enticing, definitely showing some residual sugar at present. I would estimate it is carrying at least 20 g/l still, although it does not come across as overtly sweet thanks to the masking effects of the acidity and perhaps also the pétillance. The flavours mirror the nose, all sweetly-baked peaches with a funky-herby edge to them. It finishes clean and crisp, and it is finished quickly, especially on a warm summer's day. A wine of great joy, delicious and honest, and a fine symbol of how diversity – in terroir, in grape variety, in vinification – is what makes wine really interesting.
P-Etnat!!!
I Vigneri Rose Spumante VINUDILICE
ONE OF THE GREAT TERROIR ROSÉS OF THE WORLD
*Volcanic terroir
*One of the highest vineyards in Europe
*Blend of indigenous grapes
*Some vines up to 200 years old
*Cultivated by Cicco the mule
*Totally natural
*Annual production of 100 cases
I don't know why rosé is always viewed as the Molly Ringwald of wines. You do, after all, come across versions that have the gravitas and ebullient punch of an Albert Einstein being fired out of a circus cannon.  This volcanic version from Etna is as good as it gets. Which makes it the Jack Nicholson of wines.
Salvo Foti, for it is he, is the leader of the natural wine movement in this volcanic corner of Sicily. While extreme in some respects (racking and bottling under a lunar cycle), he is a pure spirit of natural viniculture and if you want to understand Sicilian winemaking in the Etna DOC, start with Salvo Foti. Foti is the organizer and leader of the I Vigneri project, named after a Vintner's Guild founded in 1435 to align the small vineyards in Sicily around the cultivation of the alberello bush vine.
Five hundred plus years later, the intent of the project is the same.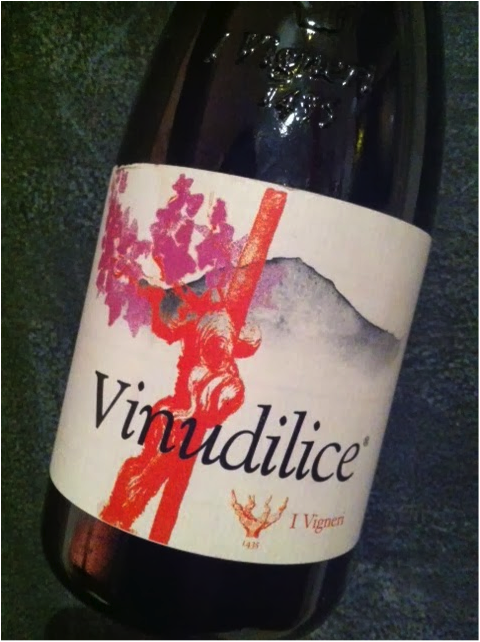 Vinudilice is a rosé wine from the Bosco vineyard, nestled in a vast forest of holly oaks (quercus ilex) in the territory of Bronte (Etna North), 1300m above sea level. The Sicilian name of the holly oak, ilice, gives it its name. Vigna Bosco is one of the highest vineyards in Europe and boy do we know about high vineyards.
The indigenous mismashed grape varietals are Alicante, Grecanico, Minella Bianco, Minella Nera, Nerello Cappuccio. The 0.35 hectare vineyard is ancient with most vines being over 100 years old and a venerable third being more than 200 years old (!!), all trained according to the Etnean alberello (bush-training) system in a 1m x 1m scheme, equivalent to 10,000 vines per hectare. This tiny patch of land is cultivated by hand and with the help of Ciccio the mule. The soil is ash and sand with the volcanic rock outcrops as well. The extreme temperature fluctuations in the vineyard give rise to grapes that are ripe yet delicate and the elevation ensures that a high level of acidity is always present giving the resultant wine a freshness and vibrancy alongside density and depth.
No chemicals in the vineyard, natch, and natch winemaking all the way with no refrigeration, yeasts or filtration used. Or sulphur.  For good biodynamic measure decanting and bottling follow the phases of the moon. What makes it fizz is that is the metodo ancestrale. With the wine put into bottle with residual sweetness. Salmon in colour, the wine is delicate and extremely fine with a core of ripe boysenberry and raspberry fruit, a nice lick of juniper and a hint of cool wet rocks on the finish. Fresh, vibrant and long on the palate this is an incredibly pure wine from an incredible site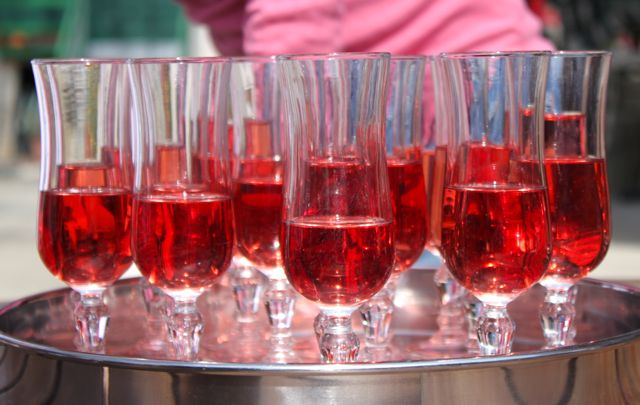 I feel when rosés ramp down on the hubba-bubba fruit that less becomes more; you want a something to cut the sweetness. Cold ferments and high sulphur will lead to hollow, inconsequential milquetoast wines. The pretty colour in the glass makes us both underestimate and overestimate these wines. Lollywater is lollywater, be it pink, white or barely red, but good wine is colour-blind. The best rosés then come from amazing micro-climates, are vinified with the same attention to detail as red wines and possess a salty minerality that defines the fruit. In fact, the fruit is less important than nuance and internal structure. It's time that we stopped branding wines by their colour even if it works as kind of a marketing tool to hype a particular style of wine. As always what matters is the wine itself.