La Nouvelle et La Belle
With the brouhaha surrounding our new Spanish & Italian interlopers confidently twirling their moustachioes you would be forgiven to speculate that we had forgotten about France in our latest buying round. Pas du tout! Here are some of the new arrivals and imminent visitors.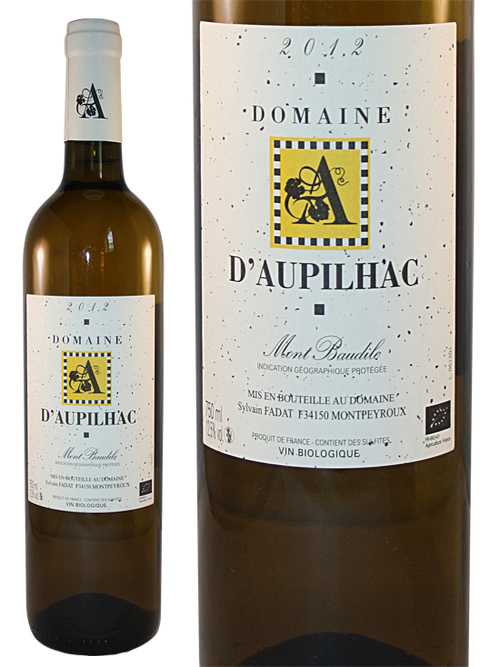 We are partial to white Mediterranean wines with their warm waxy fruit, texture and gentle garrigue seasoning. 2014 Lou Masset Blanc from Sylvain Fadat's Domaine d'Aupilhac in Montpeyroux comprises Clairette and Ugni Blanc from white clays and Grenache Blanc on gravels with some big stones. The wine is fermented in barrels and aged in a mixture of barriques and foudres for six months and lightly fined after the malo. It expresses minerals, is concentrated, fruity, round and very appealing.
Domaine Les Maou, Vincent Garreta is a tiny domaine in Ventoux. These wines are really cool climate labelled as Vins de France because their alcohol level is too low. Hooray! We can drink more of them. The 2014 Presque Rouge is a 100% Cinsault whilst 2014 Vaste Programme is a Carignan with carbonic maceration blended with Aubun (apparently an old type of Carignan) with short maceration and no sulphites until 15mg/l at bottling.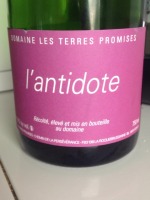 Jean-Christophe Comor makes delightful wines of every hue at Domaine Les Terres Promises the Coteaux Varois.  From 40 year old vines the 2014 Apostrophe rosé is 40% Cinsault, 35% Grenache and 25% Carignan. Comor lightly presses the grapes right after harvest to ensure freshness and vitality. It has a beautiful pale pink hue, with strawberry, blackberry notes, spice and garrigue on the nose. The palate is all kinds of cherry – juicy, sour and even macerated. A little watermelon and citrus round things out and continue through the long, crisp finish. And suddenly the sun is shining. 2014 L'Antidote Rouge is 100% Carignan, hand harvested from a 2-hectare parcel of organically-farmed old goblet-trained at 343 metres altitude vines on limestone clay. The wine is vinified in semi-carbonic maceration. Indigenous yeasts, tiny bit of sulphur, no filtration, no fining – natural wine for summer, drunk lightly chilled.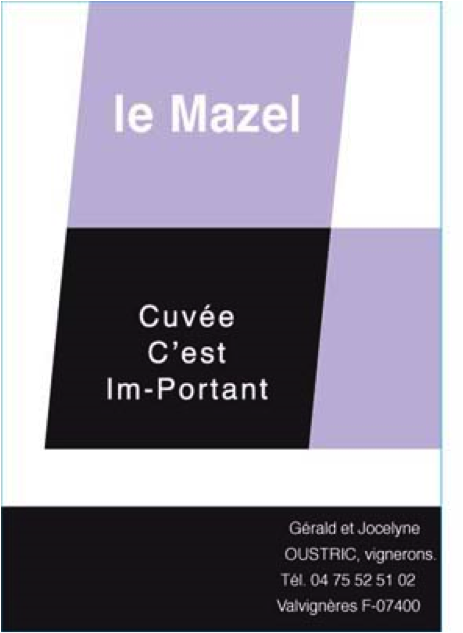 Gérald Oustric's Domaine du Mazel is situated in Valvignères, a remote Ardechois village in the Rhône south-west of Montelimar. Domaine du Mazel plant several different grape varieties on the limestone-clay soils. The grapes are hand-picked and transported to the winery in cases where there is a further triage. The fermentation occurs on the lees without addition of sulphur dioxide and at no point is the wine adjusted with sugar, enzymes, yeasts or acids. No mechanical pumping is used, only gravity-feeding. 2013 C'est Im-Portant is from the Portant grape variety (yes, really), a cross of Grenache and Portugieser. On the juicy side of the wild spectrum.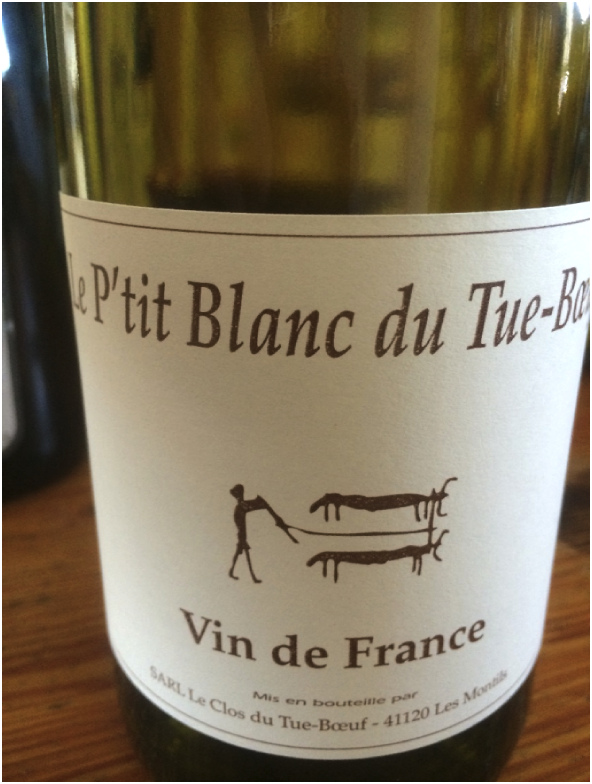 More reign of Tourainey. Bringing you a wee white wine to slaughter your thirst, care of Monsieur Puzelat (aka Clos du Tue-Boeuf), who makes a fairly primeur style called Le P'tit Blanc.  This Sauvignon is bright, fresh and endlessly drinkable (to the next bottle). Made with the usual minimal intervention.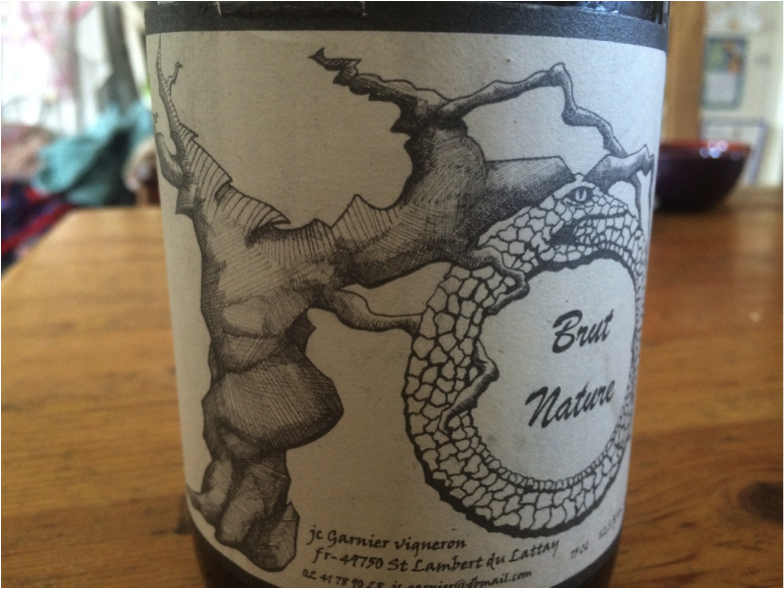 The rule of Loire dictates that you can drink red wines throughout the summer with pleasure. Here comes Grolleau care of Domaine Pierre Breton.  Once upon a time we only had Olivier Cousin's raunchy version but now growers are emerging into the light with their versions. Grolleau makes slightly rustic, rasping raspberry-fruited reds sans tannin. The Breton version, felicitously named 2014 Grolleau L'Epaule Jette is easy on the gums as they say in Australia, full of natural goodness. Yes summer is a-cumen and the first boules are on the lawn and in the bottle. The Petillant Rose Brut sparkler from Jean-Christophe Garnier is 33.33% of Grolleau, Pineau d'Aunis & Gamay fermented, macerated and aged in fibreglass vats and disgorged after six months sur lie. The usual natural malarkey – organic, chemical-free farming, low yields, hand-harvested fruit, nowt added at any point. The result: pearly light copper-hued bubbles, a delicate aroma of spice, red fruits and minerals. And then the wine is gone.
Alain Verdet, one of the very first growers in Burgundy to go organic in 1971, has passed on to his son the valuable lessons of raising vines in balance with nature.  Aurélien Verdet, eager to carry on the philosophy, does everything by feel, by taste, by intuition, by the phases of the moon and as the wines from each parcel and from each vintage demand. Aurélien keeps yields in the vineyard low, dropping fruit during the summer and resulting in a final harvest ranging from 35 – 40 hl/ha. As we know he makes a silky Hautes Cotes de Nuits and his 2012 Nuits-Saint-Georges is on the elegant side for this appellation.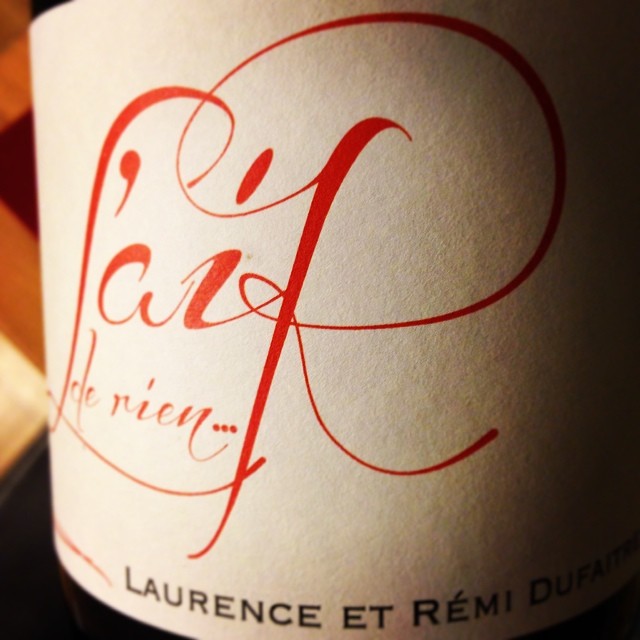 Do you think we will ever get Bojoverload? I doubt it. Gimme that Gamay (a glass after midnight). Rémi Dufaitre is a member of the informal group that has evolved from Kermit Lynch's "gang of four," the producers in Morgon who studied with natural-wine-pioneer Jules Chauvet (winemaker and biologist) and make natural wine (Foillard among them). This group has grown to include younger winemakers like Rémi, who are working in the same spirit. Rémi makes wines at Domaine de Botheland in a classic carbonic style, using whole bunches, which are carefully sorted to avoid broken grapes or rot. He adds some carbon dioxide gas to protect the grapes at the beginning of fermentation, and does not use any temperature control. He avoids foot stomping the grapes. His goal is to have as little juice in the tank as possible. Rémi makes all his wines with the same method, thus we can really see and taste the differences between the sites, with minor differences in the elevage of each cuvée. He tastes each cuvée before bottling, and may decide to add between zero and 2 mg of sulphur, depending on how stabile he judges the wine to be. The 2014 Beaujolais-Villages Blanc is unusual, really dense yet saline, and the reds have glorious tension. Beaujolais-Villages Premices and Brouilly have beautiful bright fruit and a certain mineral tension. There is also a Pet Nat Rose (how could we say no to that?).

Jules Chauvet "La Cuvée du Chat" from the stable of Chanudet/Lapierre (aka Chateau Cambon) drinks more like a mini Morgon or Miaow-gon. This wine is the gnat's spats as well as the cat's pyjamas. It comes from the granitic soils of a tiny 2.5 hectare parcel bought by Jean-Claude Chanudet and Marie Lapierre from a friend in 2010, one that was previously owned by the legendary Jules Chauvet. The parcel was planted by a woman in 1945… Chanudet and Lapierre took over and began the conversion to organic agriculture. The beautiful Gamay grapes from these 70 year old vines are handpicked in October, after which carbonic maceration with natural yeasts occurs in an enamel tank with some pumping over to stimulate activity. The wine is then moved to foudres to rest on lees before finally being bottled with VDF minimal SO2.