Ever heard the following exchange?
Where are you going today?
We're going to the Les Caves de Pyrene en primeur Burgundy tasting. I hear that they have an amazing range of top end premier and grand cru wines from iconic producers.
You haven't? Then you have been paying attention!
With a bunch of rich right-wing sociopaths in the White House, an evil dictator plotting in the Kremlin, and me writing a Burgundy blog; it must be the end of days.
We have flirted in our youth with a few boutique winemakers and estates (Frederic Cossard, Prieure-Roch, Philippe Pacalet to name but three) and then gently boggled how already-stratospheric prices became monstrously (and exponentially) inflated. It is not that these wines improved appreciably in every succeeding vintage, it is almost that they suddenly understand their happy accident of birth, become aware of their own "relative value", and insisted on the silver spoon. With the caviar on it. Many Burgundy producers understand that demand is a fine thing, and that their wines become financially "finer" as a result of that demand.
If this sounds a tad cynical it is because it suits a lot of growers to cash in on the mystique of Burgundy, and the feeling that the truest incarnations of Pinot Noirs and Chardonnays can be only be produced on its unique and magical terroirs. That may be unarguable but there is the human factor to consider. In the 1980s and 90s, in particular, vignerons started to play with more imposing extractive methodologies, building flavours into their wines by means of brute oenology, using cold maceration for reds, batonnage for whites and new oak for both. I've tasted more than enough wines from that period which are completely hollow, superficial and meretricious.
We try to apply our usual philosophy of buying to Burg– seeking the artisan, unpretentious and unpretentiously priced wines, looking for vignerons who work organically (not always such an easy thing in Burg with multiple parcels) and without extraction to produce wines that are balanced, communicate their terroir, possess a firm seam of acidity and a vein of licksome minerality.
Alice & Olivier de Moor – See You Later, Aligoté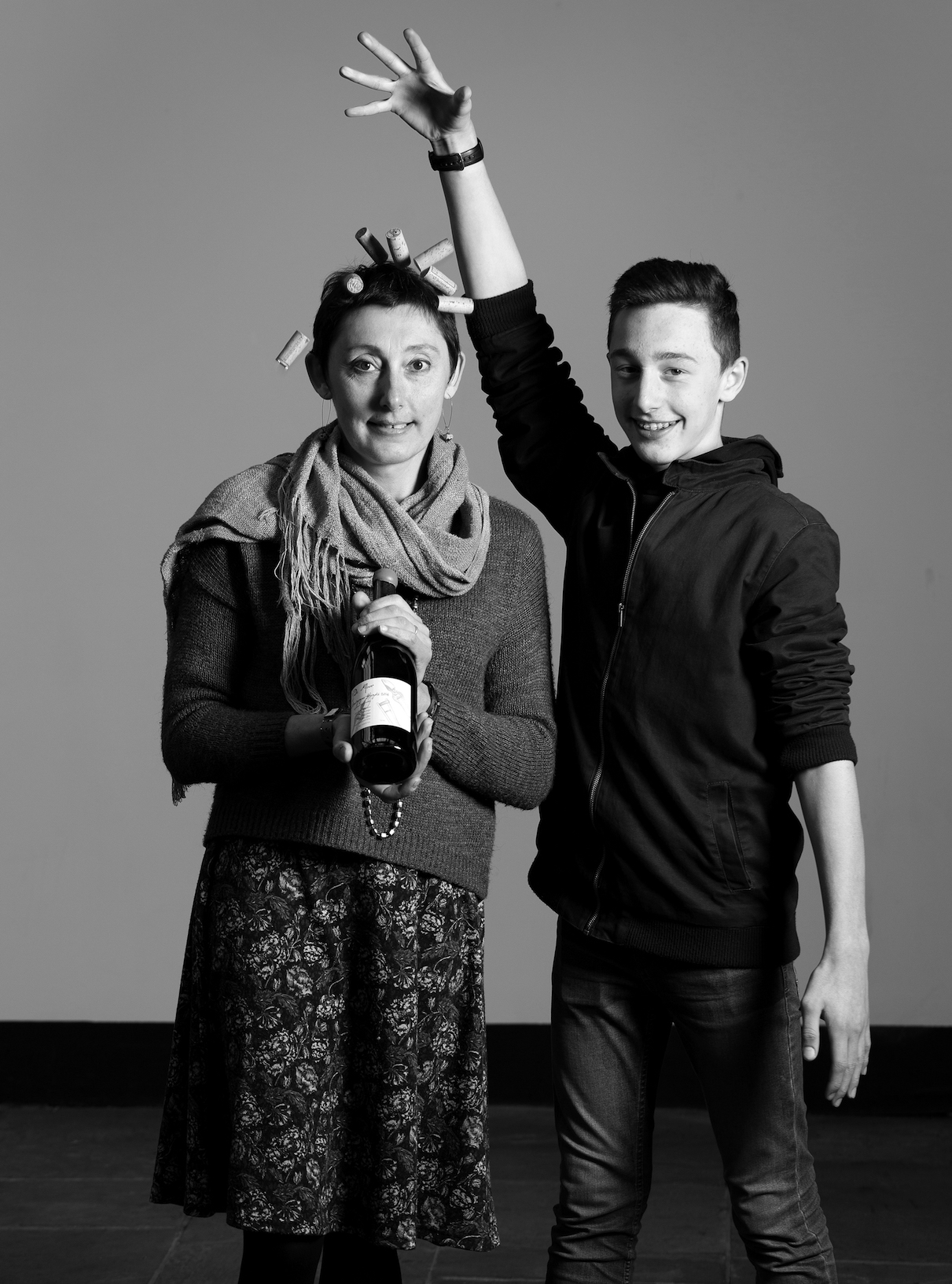 … are based in Courgis, almost at the south-western edge of Chablis, in one of the less monocultural areas. The village itself is a very quiet, non-touristic spot located high on the slope with good views over the vineyards. Courgis is where Olivier's family had its roots, and Alice and Olivier's cask cellar is located right underneath his grandparent's village house.
Alice and Oliver work seven hectares of vineyards organically and make a number of single vineyard Chablis wines and some of the best Aligoté you will ever taste. They use all sorts of formats from tanks to Burgundy barrels to demi-muids and work very naturally, only using sulphur at bottling.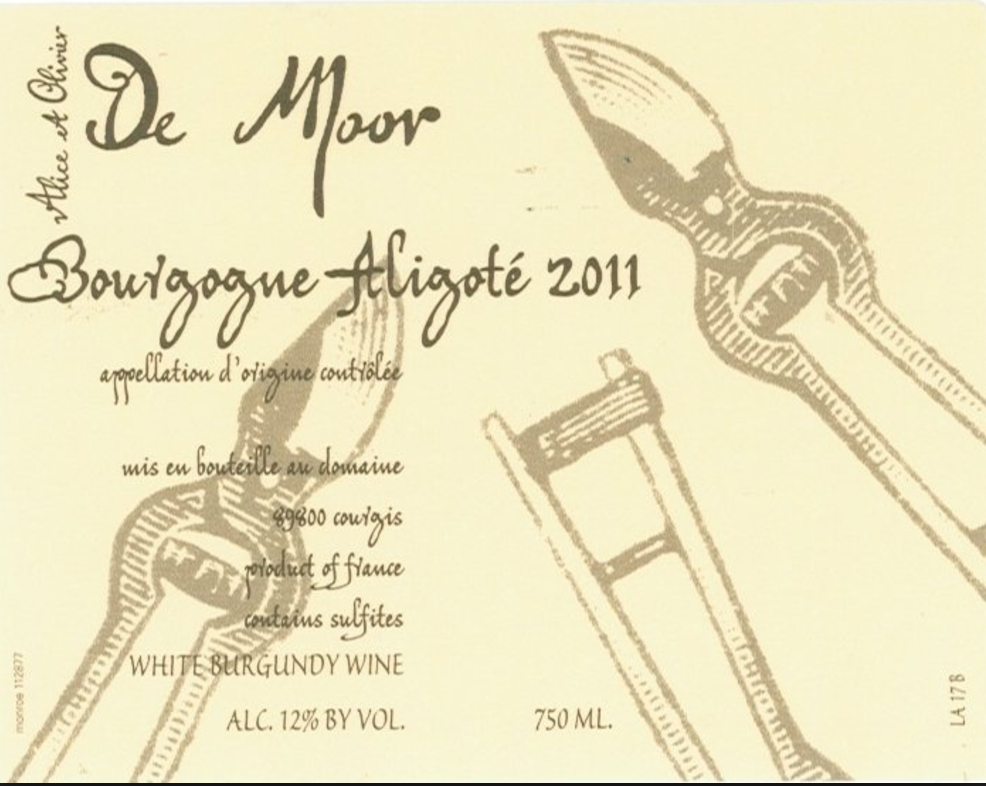 The wines are natural also in the sense that native yeasts are fermenting the wines and malolactic conversion in all the wines. This gives the wines their amplitude. Even when they are young the intensity of the wines is charming, as if they are breathing freely.
And then there is the Aligote:
Fermented and aged in old oak the 1902 is Aligoté to age, extremely tight and high in stony acidity with citrus fruits and herbal aromas, very dense and long. This winespeak does not do justice to a wine which shimmers with authority – it has dense – or intense – transparency in the way that only wines with "perfect pitch" acidity can seem to glisten. Then the nose – glacier water buffing up a river stone, gorse flowers drenched with sea spray, all nostril-arching brilliance and then into the palate – linear, citric (juice plus pith), tears-of-chalk-stony, with tensile strength and just a smattering of lees spice. Liquid steel, this wine is an exhilarating skate across the palate. To coin a phrase, it takes you hither and Yonne.
Domaine de la Cadette, Monthanet-Thoden – Limestone country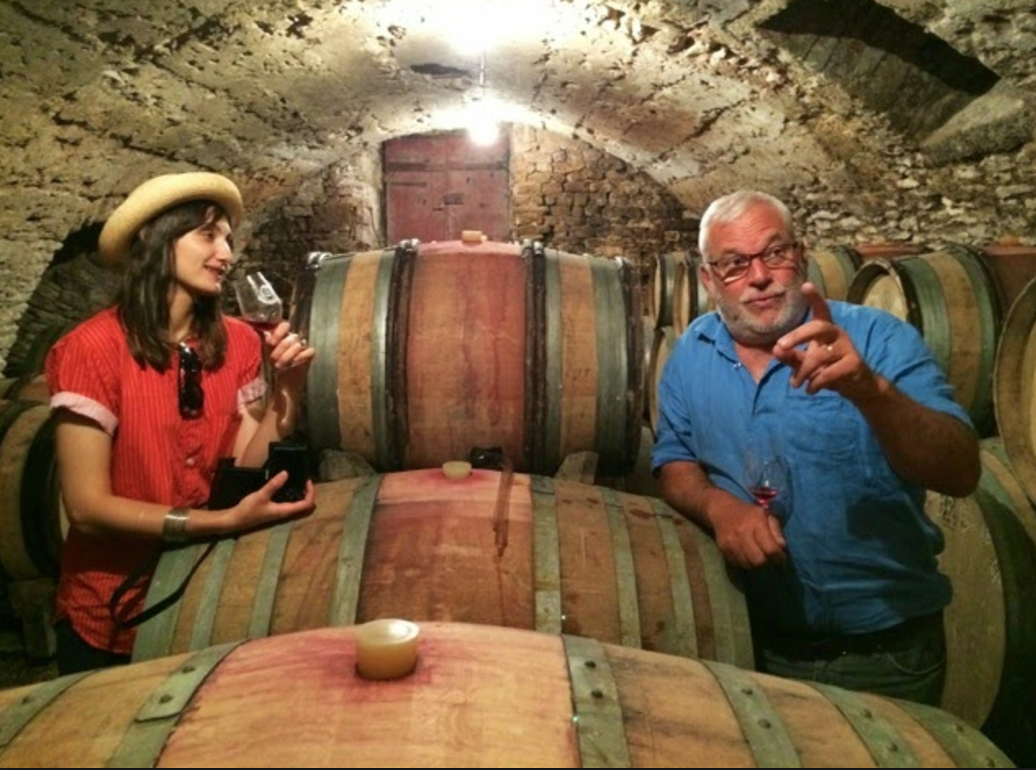 The estate was created by members of the Montanet family and their friends who were willing to embark on this venture. They cleared the land and replanted the slopes with 12.5 hectares of vines between 1987 and 1997. Some of the plots of land used to belong to Catherine Montanet's family. 18 plots of land spread more or less evenly over the four rural districts which carry the Vézelay appellation: Asquins, Saint-Père, Tharoiseau and Vézelay. The vines are 20 years old on average. The geology here is quite unusual as while the granite Morvan massif was coming into being it forced limestone strata up to the surface. Most of the vineyards are located on the most ancient strata, the Bajocian, or upper and lower Bathonian limestone and others on Liassic marlstone. The intention is to make honest and authentic wines which reflect the distinctive character of their region and the climate of a particular year. The Montanets do not resort to so-called "modern" artificial means in their wine making process in order to achieve this goal. Naturally enough, they hand-pick their grapes and the wine is produced using traditional skills. César is an ancient red grape from northern Burgundy. It makes dark, tannic wines that are softened by blending with Pinot Noir. Cuvée L'Ermitage is a blend of Pinot Noir and César.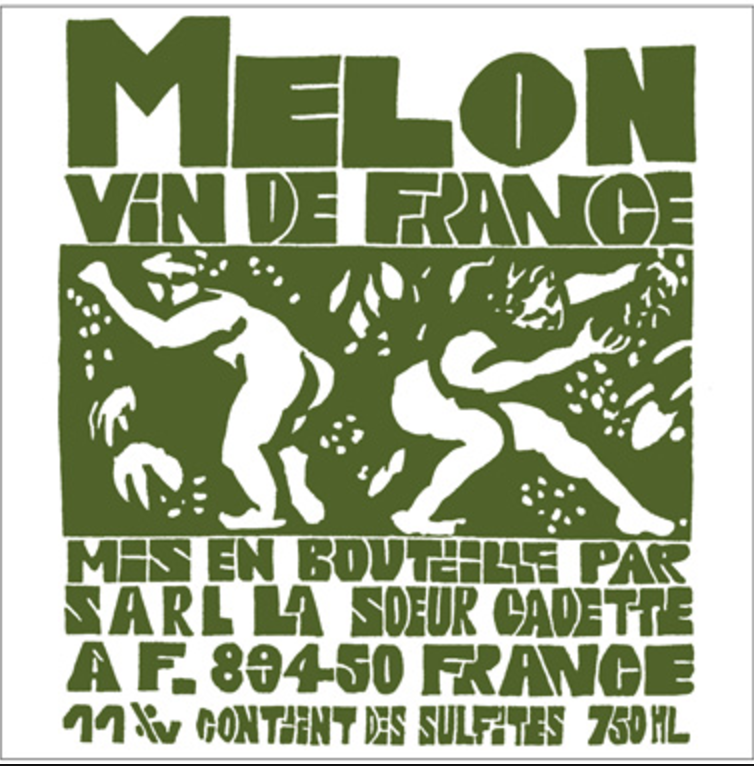 Their Melon (same grape as Muscadet) has a pale lemon-yellow colour, a bright, clean nose, a zingy palate reminiscent of lime-zest and oyster shell and just a hint of ginger and white pepper from the yeast lees. Oysters and smoked fish, beware; this wine has your number and is coming to get you. La Saulnier vineyard is a beautiful parcel of land situated on an old road once used by salt smugglers, who extracted contraband salt from the water at the nearby "Fontaines Salées". This wine was bottled in March after spending approximately six months in vats. It has a liveliness and freshness that is very appealing for such an elegant wine. The wine is bright and fine – silver bells and cockle shells – another wine is our famed collection of oystercatchers.
Viti Vini Vinci – I came, I saw, I drank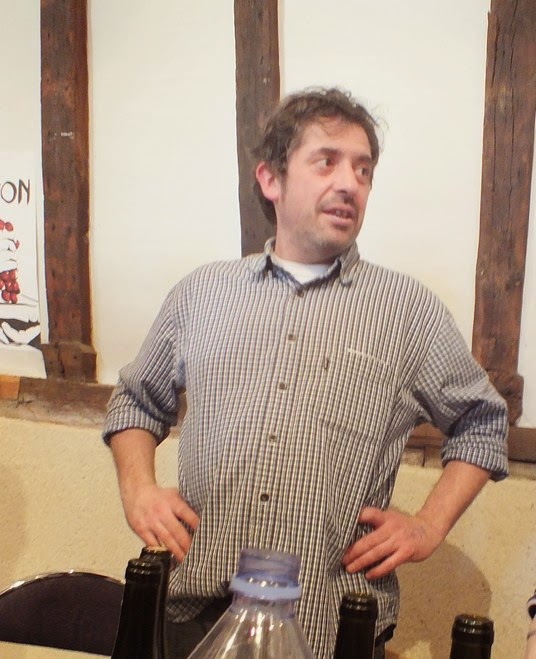 These are the stick-a-brown-bag-over-the-bottle wines of Vini Viti Vinci in northern Burgundy (parental guidance labels) made by Nicolas Vauthier, the Ayatalloh of Iran-cy.
Nicolas Vauthier has been a big fan of non-interventionist wines, at the forefront of promoting the wines he loves, for donkey's years. He opened Aux Crieurs de Vin, a wonderful natural wine bar/store/restaurant in the city of Troyes, and ran it for ten years. Eventually, having been surrounded by so much good wine, good times and conversations, Nicolas decided he wanted to make some wine for himself.
What he has created is a micro "negoce" house in Avallon, in the northern part of Burgundy near Chablis. Nicolas buys organically grown grapes 'a pied', still on the vine, harvests them with his own pickers, and then, in the spirit of minimal intervention, lets the wine make itself, intervening as little as possible.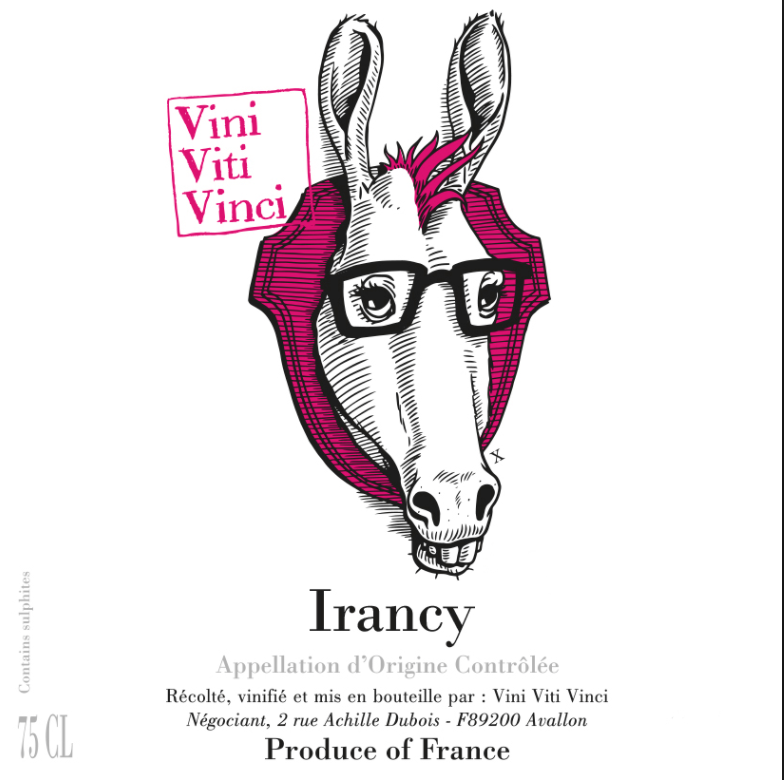 Wonderfully vibrant fruity aromas, satin textures and a vibrant, mineral core characterise the reds. He works with partial carbonic maceration which helps to make his northern Burgundy wines fruitier and more delicious. The fermentations take place in large old wooden foudres with no sulphur – only a drop in the bottle. The reds (Irancy from various vineyards), Epineuil also, have varying degrees of intensity but share the same sense of lift. The only thing ripe about Vauthier's wines are the labels, as the Kenny Everett used to say, and it's all done in the best possible taste.
Clos des Vignes du Maynes – Abbey habits and crackin' Macon
Once upon a time, dear reader, Les Vignes du Maynes (planted originally in the 10th century) belonged to the monks of the Cluny abbey and subsequently became the property of the powerful Comtes de Montrevel (1557).
Fast forward a few centuries and Pierre Guillot takes over the domaine and starts practising organic farming and vinification with conviction and dynamism ever since, respecting both the consumer and nature. Today, the Domaine des Vignes du Maynes comprises about 6.5 hectares. Facing due east, the vines benefit from the rising sun. They grow on a terroir of a clay and limestone mixture. Avoidance of weedkiller and modest yields characterize these authentic wines produced from Pinot Noir, Gamay and Chardonnay. From the time the grapes are picked by hand to the time the wines are bottled neither additives nor SO2 are used.
The pressing operation is slow, carried out on wooden wine presses dating from 1895. Fermentation takes the form of carbonic maceration over a period of ten days (Jules-Chauvet method).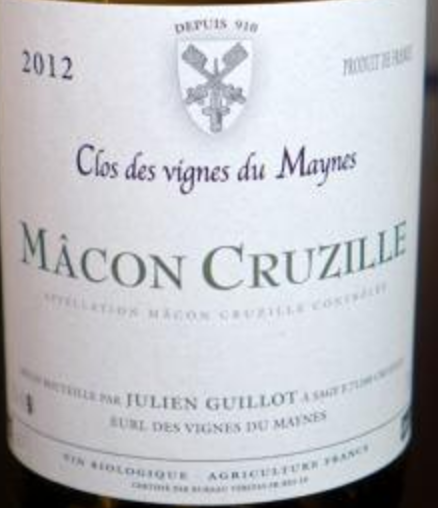 All wines, regardless of creed or colour, are left on the lees in oak barrels for eleven months producing wines full of character. Reds include Macon-Cruzille from old vines, made from Gamay. There is a lot of iron in the souls of these wines – in the best sense. The Bourgogne Rouge and Bourgogne Rouge Auguste from the Pinot Fin clone, are restrained with stony red fruit intensity and lovely natural acidity. The white sometimes have a smoky, reductive edge – when they blossom they are fantastic, particularly the Aragonite.
Domaine Valette

Working the soil, chemical-free viticulture, short pruning, the Valettes do a huge amount of work amongst the vines to maximise the expression of their terroir. One of this steadfastly independent family's finest efforts is from the village of Chaintré, 10km south of Mâcon, from vines aged 60 years and above planted on clay-silica soils. Harvest is manual in late September and the entire harvest is pressed slowly with a pneumatic press. Vinification is natural: without sulphur, without yeasts, chaptalisation or acidification. Elevage is for twenty-six months on the fine lees in tank (20%) and futs de chêne (80%). Ripe apple, honey, lemon and grey mineral all come together in a distinctly mature, winey nose. Clarity of fruit and good acidity show through, with a lusher profile than Chablis but a long, almost crystalline finish.
On the nose, fresh citrus, minerally and leesy notes abound, while the palate's emphatic, zippy, with a generous mealy texture.
Domaine Derain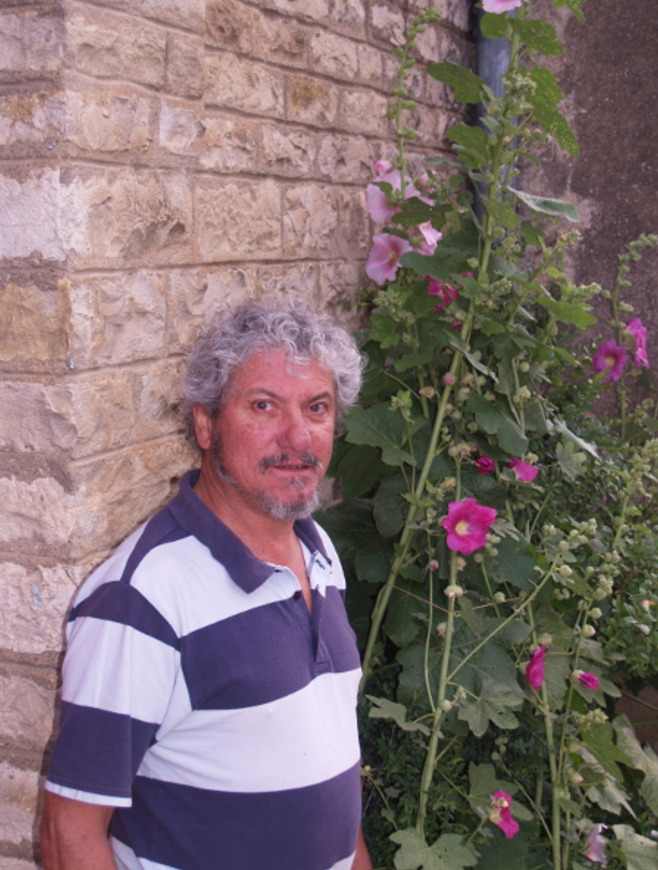 Dominique and Catherine Derain definitely adopt a minimalist approach. They farm biodynamically, hand harvest, do not chaptalize or acidify and use the barest amount of sulphur in their winemaking approach. All the fruit is hand-picked and they destem 90% of their red grapes before fermentation, which occurs in wooden vats. After fermentation the wine is aged in old oak casks for 12-18 months. The couple never use SO2 during the winemaking process, adding only a small amount at bottling for stabilization. The Saint-Aubin Rouge is marked with bright acidity, vibrant cherry fruit, Asian spices and lovely balance. This is a silky number that should provide several years of great drinking. The thrilling Mercurey from old biodynamically-tended vines (100 years old) reaches an altogether different level. It is a blend of 85% Pinot Noir, 15% Pinot Beurrot (related to the Pinot Gris). There is a silky nature to this Mercurey giving it a supple mouthfeel and a detailed range of raspberry and cherry fruit with a touch of pomegranate. It has lovely spice notes and touch of lavender on the nose. Striking elegance, complexity and length. Warning! Cool Mercurey rising…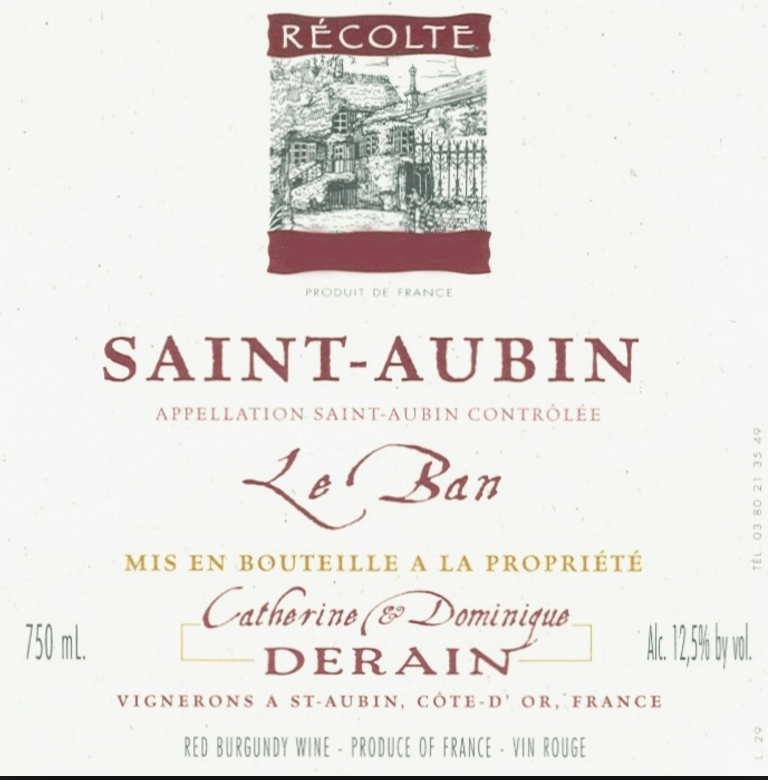 The Saint-Aubin vines are situated on a slope with an eastern exposure and the soil is lime-clay with brown gravel. This is a model Côte de Beaune wine expressing red flowers (roses, cherry-blossom) and then in the mouth cascades of stone fruit supported by lively, lacy acidity. A gem.
With its aromas of white flowers, custard apple, lemon curd, buttermilk and citrus, at once ample, generous and mineral, the "Puligny-manqué" (Saint-Aubin en Vesvau) has a brilliant curve of acidity and embraces so many contradictory notes with its tender quality allied to remarkable driving purity. You look for the oak, you look for the tartness – they are absent– what remains is the wine pure and not so simple, absolutely natural, everything in its place…
From a tiny plot (less than 1/3 hectare of low yielding vines grown in the brown clay soils in Puligny village Bourgogne Blanc "La Combe" is tighter than a coiled spring and more nervous than a long-tailed cat in a room full of rocking chairs.
Sextant, Julien Altaber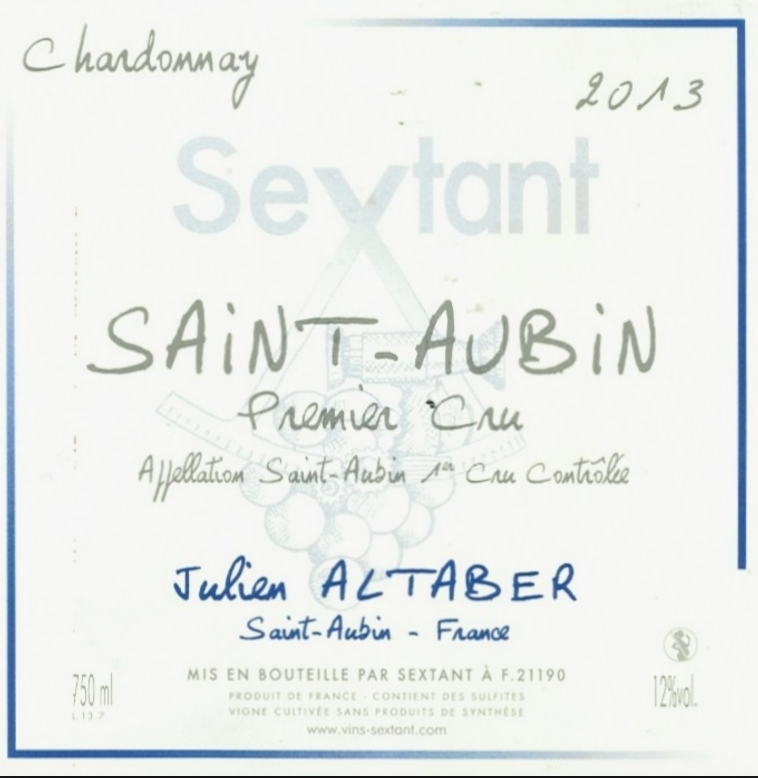 There's a subtlety in these Burgundies that bears an obvious resemblance to Julien's mentor, Dominique Derain. At the same time, though, there's an incredible energy and liveliness that results from Julien's gentle, hands-off cellar work. He believes that Burgundies are at their best without chaptalization, even if nature gives him a mere 11% alcohol, as is often the case. Fermentation is always spontaneous and sulphur is generally avoided entirely. Finally, the wines are left unfiltered to showcase the aromatic complexity of Julien's unique terroirs. There is a brilliance to their Bourgogne Blanc that could easily be missed if you seek oak veneer in your Chardonnay. It has an evanescent quality, the echo of citrus disappearing down the palate.
Jean-Marie Berrux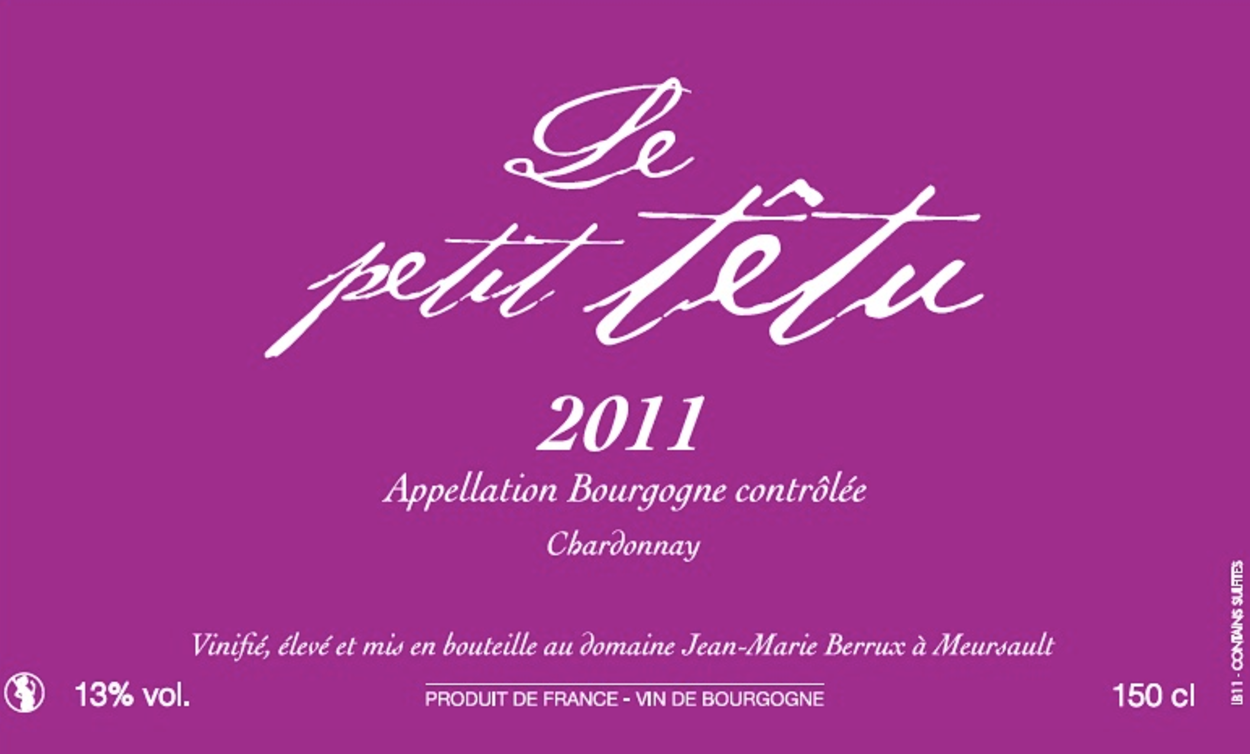 We buy one wine "Le Petit Tetu" from J-M Berrux. This is an original Chardonnay from a biodynamically-farmed domaine in Saint-Romain. Berrux uses only indigenous yeasts and no sulphur at all during vinification, except a touch before bottling. The alcoholic fermentation takes place for about six months with temperature regulation of the vat and regular topping up without oxygen exchange.
Liquid crystallised fruits on the nose. The mouth, reminiscent of honey with cooked-apple notes.
It's crisp, coiled Chardonnay, replete with whipcrack acidity and bedrock mineral. Which is to say it's a fair ringer for actual Puligny-Montrachet, at a fraction of the price. But, belying its name, which means "little stubborn one," it's dance-in-the-streets delicious right this instant. There's a sea-spray, sea-shelly salinity, and a kind of delicate lime-zest filigree acidity.
Les Vignes du Paradis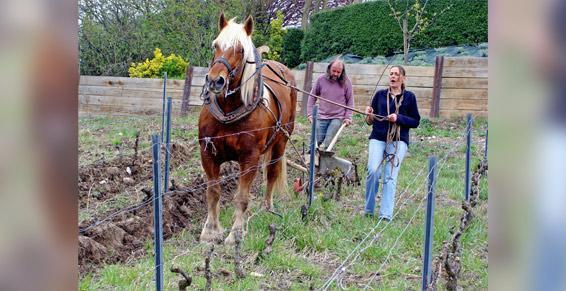 So very impressed with the Burgundies from this domaine, shyly masquerading under Vin de France. To be fair the Heritage Mas Ancetres white and red and En Passant Devant Le Chateau are no-one's idea what Burgundy should taste like. Which is not such a bad thing. For starters, the fruit for the Pinot is throbbingly purple rather than Burgundy-hued and the wines possess a thrilling stony austerity that would bring a smile to the equally stony face of Hubert de Montille (he who loved "chiselled wines.")
The 50 year old Pinot vines for the En Passant are planted on slopes underneath the Château de Pommard on the outer edge of the village of Pommard on clay-limestone. Farming is biodynamic (certified since 2009). Yields are a mere 20 hl/ha and after a selective manual harvest the grapes are 90% de-stemmed after which Dominique adds a further 10%-20% of the stems back into the must. Wild ferment takes place for one month in large fibre-glass vat. After malo the wine is transferred into demi-muid for seven months' ageing, filtered (but not fined) and given a tiny dash of SO2 before bottling. All the reds have an intensely saline, crushed stony quality. Dominique uses a variety of vessels to house his wines – small barrels, foudres, cement eggs and amphorae. He's even got a cement pyramid!
Uliz, Antoine Petitprez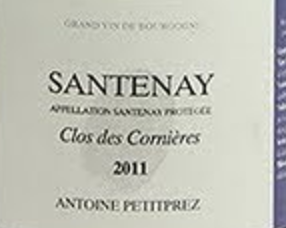 Antoine's philosophy is to "express the terroir and respect the vintage". He develops mutually beneficial partnerships by consulting with organic farmers in exchange for their agreement to sell him grapes. His strategic networking allows him to acquire superior fruit contracts with growers and to consult with them on their vineyard practices throughout every aspect of harvest. All of Antoine's farmers plough for good biological activity in the soil and use organic and biodynamic farming methods. No chemical products are used. The Santenay is sourced entirely from the Les Cornieres' vineyard, which is a large parcel (over 10 ha) that is eastern-facing and due west from the village. The vineyard is named for the trees that grow there, which bear small, reddish pears. The wine is unfined and bottled with zero sulphur.
Domaine Ballorin
Setting up a new wine domain represents a challenge in Burgundy, there are so many well-established names producing great wines. Gilles and Fabienne Ballorin were not perturbed, however, at the thought of competition, they started in Brochon, moving to Morey-St-Denis in 2007 in the Côte de Nuits and already they are carving out a good reputation for themselves with their biodynamic wines. In Burgundy, a map of who owns what in the vineyards is like a mosaic, there are many small scale producers with small sections in different vineyards. In the Côte de Nuits, Domaine Ballorin & F has vines all along the strip from Chenôve to Comblanchien: 23 ares of vines in Fixin (les Chenevières), 10 ares in Nuits St. Georges (les Damodes), 80 ares in Chenôve, 25 ares Marsanny Rose, one hectare in Marsannay (Les Echezots) for example. They have holdings in eleven different vineyards in all, the most recent acquisitions being Très Girard in Morey and Clos du Roy in Marsannay. They work hard all year round to produce mature grapes so that nothing extra is needed during vinification. The answer lies in the soil: 'The grapes are good if the soil is healthy' says Fabienne, 'sometimes you can smell the life in the soil.'
The wines are natural – ambient ferments with indigenous yeasts in resin-coated vats and stainless steel tanks resulting in a natural malo, no filtration, no fining, and less than 30 mg/l of sulphur.  Chenevrières comes from the Old French word for Cotton Fields, to which once, centuries ago, this low-lying vineyard may have been planted. The soil here is a mixture of soil and gravel, and the character of fruit tends towards that harder character Fixin has been known to embody. Highly aware of this fact, Gilles tends to treat this cuvee particularly gently, as well as using canopy management and careful control of temperature at fermentation to ensure a gentler extraction. It is more structured than the Marsannays, with bright minerality following on the heels of the rich entry, with rounder fruit from the heavier clays in this soil. The Marsannay Rouge displays aromatic complexity along with slightly better refinement too with the cool, fresh and bright aromas of red cherries, violets and spice elements. There is excellent delineation to the mineral inflected, intense and delicious medium weight flavours that possess a clean, linear and solidly persistent finale.