VA to Voudomato
VA – Unstable wines with volatile acidity are said to go VA VA VA Boom!
Valpol – A.K.A. Little Red Corvina. The simplest, fruitiest style of Valpolicella.
Valpolicella – A wine cellar in a valley where the police keep stocks of Amarone.
Varietal labelling – Voguish when New World wines came to dominate the market in the 80s and 90s, wherein the grape variety became a brand.
Kramer is on a double date with a vertically challenged friend and is in his usual state of barely suppressed paranoia. All the people around the table are being non-committal, the small talk is excruciating and Kramer is one Quixote short of a fully tilted windmill. A waiter comes up to take their drinks order.
KRAMER: I like Merlot. Is Merlot good for you?
Girl 1: I love Merlot
Girl 2: I adore Merlot
Other guy: Merlot is my absolute favourite
WAITER: Sorry, we have no Merlot.
Kramer involuntarily sweeps a wine glass off the table
-Seinfeld
Varnish – A smell one detects on wine that may have balsamic overtones – eg creosote or linseed oil or, more likely, the sweet vanillin seasoning of American new oak which acts as a layer of crème caramel atop much Rioja.
VAT – A 20% tax on wine fermentation vessels.
Vegetal – at its worst a vegetal wine can be weedy and green with the flavour of one of those capsicums which has been in a pub display cabinet for aeons as a pseudo-garnish for the food they don't sell. Some positive connotations: certain Burgundies develop intriguing secondary and tertiary aromas redolent of cabbage, or, if we are being fragrantly euphemistic, violets dying; gently on a midden-heap.
Ventoux – As Greta Garbo memorably said: "I ventoux to be alone."
Veraison – Very berry
The Vers-
-Dejo – The one from Rueda
-Dehlo – The one from Madeira, m'dear
-Dicchio – The one from Marche
-Duzzo – The one from Friuli
-Jus – The one from grapes
-Mentino – The one from all over the Med
-Naccia – The one from Tuscany and Sardinia
-Natsch – The one from Alto-Aldige
Vespaiola – A Venetian sticky wine whose grapes are much loved, as the name suggests, by White Anglo-Saxon Protestants.
Veuve – A champagne that has lost its verve.
Vicarious – The sensation of being transported to a place merely by sniffing and drinking a wine.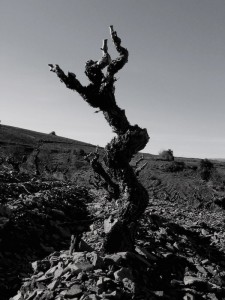 Vieilles Vignes – Ranging from 30 to 500 years old. With age comes wisdom and low yields.
Vignette – literally something that may be written on a vine leaf. The collective wit and wisdom of wine glossaries might be contained thereon.
Vilification – The process where good wine is unmade in the winery.
Vin d'Autan – The Autan wine, the flagship of the Plageoles domaine, is made from Ondenc, a grape variety originally from the Tarn Valley and which had been widespread in the southwest region of France since the Middle Ages. Phylloxera, however, almost wiped it out. Dr. Guyot, who invented cane pruning (taille Guyot as it is called in France), used to say that Ondenc produced wines that could rival the best Sauternes. Robert Plageoles replanted almost five acres (2 ha) of it in 1985.
The Plageoles don't just stop there. They also perpetuate a way of working which was prevalent in Gaillac from the 12th to the 18th century. Robert, an avid reader of old manuscripts, has found writings on this type of work in some forgotten archives. While the way they prune the vines combines tradition and new methods (gobelet and trellising), when the grapes are ripe, the vintners go through the vineyards and pinch the peduncles to stop the sap from flowing to the fruits. The grapes then slowly dry out, thanks to the Autan wind, which blows from the southeast. Later they are carefully picked and left to desiccate even further on straw mats, with a method similar to the one used to make straw wines. After pressing, the grapes ferment and the elevage in concrete tanks lasts 12 months. Robert Plageoles and his son have always refused to use wood barrels for the elevage, as they want to keep the purity of the fruit and the characteristics of the terroir.
Leaving the overripe grapes on the vine and the subsequent drying out of the fruits on straw mats dramatically reduce the yield. In 2001, it was only 0.45 ton/acre (6hl/ha). "This is a climatological wine," says Plageoles, which explains why it is not always consistent in style.
Vinexpo –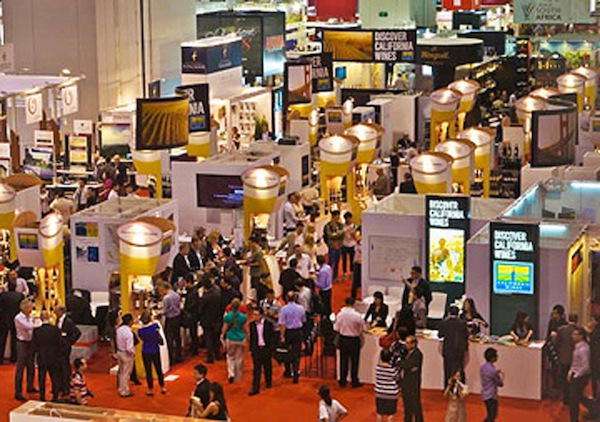 In Vinexpo did Kubla Khan

A stately pleasure-dome decree:

Where Garonne, the sacred river, ran

Through salons measureless to man

Down to a sunless sea.
So twice five miles of endless pavilions
Denoting where brands had spent their millions
And here were deals to be negotiated
Where stands were surrounded by many a seat
And here monumental ordinariness was feted,
Dispensed with many a gratis treat.
But oh! that deep commercial imperative that dwells
In expos and fairs across the land
Creates a momentum that swells and swells
And leads to wine becoming bland
A commodity par excellence on demand.
Vin Grisly – rose which has gone beyond the pale.
Vin de Table – Wine which will drink you under the table (Harry Eyres – The Bluffer's Guide To Wine). Now replaced by Vin de France so we know where that table resides.
Vine Qua Non – A wine that you could not live without.
Vinho Verde – Wine drunk by little green men.
Vinotherapy – Believe it or not a range of beauty therapies that harnesses the anti-oxidant properties in grape-seed extracts. Different treatments include the Premier Grand Cru facial (surely a tautology?), the Crushed Cabernet Scrub and the Pulp Friction Massage. Maybe the Edgar Allan Poe story about the guy walled up inside a cask of Amontillado should be reinterpreted. It's not a horror tale, but a playful advert for the ultimate nutty deep skin treatment.
Vino qua vino – My glass was filled with a light red wine poured from a pitcher, left on the table. I was relaxed, carefree and happy. Oh, how ruby bright that wine was; it gleamed in the sunlight. I remember clearly its enticing aroma – youthful but with a refinement that surprised me. The wine was sweetly exotic: lively on my tongue, perfectly balanced, and with a long glossy finish. It was the sort of wine that Omar Khayyam might have in mind for his desert tryst. The young woman who had poured; it for me was amused when I asked what it was. It was, she said, vino rosso.
-Remembrance of Wines Past, Gerald Asher
Vintage – "The year listed on the bottle is not an expiration date – so that 1997 wine is safe to drink". (Frasier)
Vintage Cobblers – What is it about certain vintages that makes people salivate? Dribble uncontrollably onto their shiny shoes? Something may have occurred in Bordeaux, a mythical land far, far away where the oracular declaration of vintages is keenly anticipated by wizened scribes who put quill to parchment to record their solemn lucubrations. Since every vintage is the vintage of the century (well, obviously) Bordeaux is verily a land of bounty, where self-preening lotos-eating natives swagger around their chateaux like abbots plumped to the gills on hearty viands. Perhaps I exaggerate. When Bordeaux sneezes everyone examines the contents of their handkerchiefs. But I digress. Once people believe the hype of the ineffable brilliance of the year they seem to re-calibrate their taste-buds to make allowances for the wines. Even if it is clumsy, disjointed and  tough as old cowboy boots why not suggest that it might snort awhile in the Seven Sleeper's Den or, if it a massive jam jamboree, do say that that every glass of this wine is a supernaculum. In vintage cloud cuckoo land all is indeed the best in the best of all possible worlds.
Virginia – It seems that Virginia specialises in Viognier simply because all the letters bar o & a are contained within the other.
Viura – aka Macabeu
On the Hotel Viura in Rioja
(to be sung to tune of Hotel California)
On a road in Alavesa, cool wind in my hair
Warm smell of Rioja, rising up through the air
Up aheaed in the distance, I saw a shimmering light
My thirst grew strong, I stopped on a whim
Had to refuel for the night.
There she stood in the doorway;
I heard the dinner bell
And I was thinking to myself,
'this could be Kevin or this could be Mel'.
Prices were a scandal, I turned ash grey
There were voices down the corridor,
I thought I heard them say…
Welcome to the Hotel Viura, leaves you poorer
Makes you a basket case
I still got a parking space
Plenty of room at the Hotel Viura, mein fuhrer
Any time of year
It's extremely dear
You can only afford a beer…
So I called to the sommelier,
'please bring me my wine'
He said, 'we haven't had that spirit here since nineteen sixty nine'
And still those vintages are mouldering away,
Hidden in a cellar just out of sight…
Never ever to taste Cabernet
Welcome to the Hotel Viura, Albrecht Durer
Such an exclusive place
You'll leave the rat race
Shoulda called it Hotel Macabeu, oh hey ho
What a nice surprise, maybe they could advertise…
(With apologies to The Eagles)
Virtual Wine –
The Hitchhiker's Guide to the Virtual 3-D wine fair:
Previously, we had only encountered wine longitudinally and laterally, but this unique fair will allow customers to explore wine physically – from a distance – actually, not physically at all. A fourth and fifth dimension to the conference may soon be introduced if money and a venue in an alternate reality can be found.
Making the use of the latest in interactive communications technology – two coke cans and a ball of string, visitors will enter the site through a portal into a virtual reality of pretend customers, ethereal sommeliers and faux wines, whilst sinking back into the comfort of a hard chair in their own offices.
If I tweeted any more, I would have turned into a canary, twittered one enthusiast.
One section in the fair is given over to virtual natural wines. These zero intervention wines have become infinitely possible because they don't actually exist in the temporal dimension. "This means we can get away with minimum additives", said an aerial natural wine spokesman. Biodynamics growers are also represented – a digital image of a cow's horn filled with manure is sent to a computer in which the virtual vineyard is located. Should a virus take hold the virtual vigneron is recommended to flush his software out with a program made out of the ashes of boiled rats' pelvises.
One wine company, Brew Senility, however, claimed that the wines would be virtually faulty because, without the steadying hand of the flying winemaker, these wines could never truly reflect the terroir of the laboratory and the stainless steel tank though the MD of the company did approve of the system whereby added acidity could be "dialled up" over the broadband connection.
The virtual winemakers were said to be but a shadow of their former selves, although for an extra £20,000 you could purchase a package that would allow you access their wines in high definition. For a further £5,000 you can also take up the aromavision module which recreates the feel of the fair: the smell of volatile alcohol, money and desperation to clinch deals.
Organisers of the event were delighted about the numbers. A spokesperson commented: "We expect 100% non-attendance this year which will be 0% down on last year's event."
The government is said to be watching the progress of the virtual wine fair with hawk-like interest. Virtual wines have less alcohol, in fact they have no alcohol, said a junior minister in the Department of Health perceptively.
Vitis Sylvestris – Vines that climb trees that can only be harvested by a cat called Sylvester
Voudomato –
Well, I'm a Voudo-mato
Lord I taste like green tomato
Well, the night I was harvested
Lord I swear the juice turned blood red
The night I was harvested
I swear the juice turned blood red
Well, the viticulturist cried out "Lord, the Rolland was right!"
And I seen him micro-oxygenate in the shed.