A bev(v)y of wines that are hot to trot…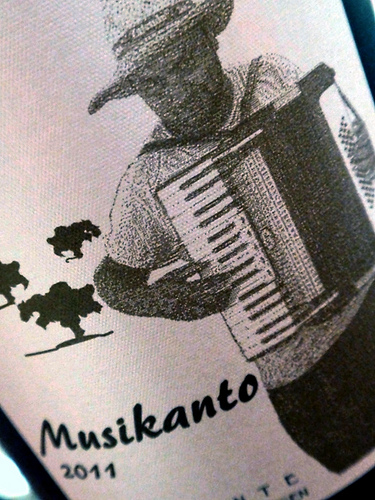 2012 Musikanto, Rafa Bernabe, Alicante
Musikanto! If music be the food of love play on- but this wine needs no food. Made from old vines Garnacha Peluda (hairy Grenache to you), and fermented in Tinajas (clay amphora) with nowt added and nowt taken out, this cranberry-hued perky-pinkster is watermelon incarnate with abundant "le crunch" down to the last pippy seed. Such is the wine's casual brilliance that you really only notice it after having sucked down the bottle and you have to return to the fridge toot sweet to fish out a second, then a third…
2011 Vino di Simon, Rafa Bernabe, Alicante
No apologies for a second Bernabe offering – maestro Rafa is churning out some gems and this amber effort always makes my palate beat faster. Pure Merseguera (who he- Ed?), a bronze, limber athlete that shows your tongue a clean pair of heels. The tongue-arching acidity makes you weep (with joy), minerals scrunched into the skin of the fruit imbue the warp and weft of the wine, and the whole ensemble has the relaxed rasping gargle of a Lou Reed or Bob Dylan in their pomp.
2011 Niki Antadze Mtsvane, Kakheti, Georgia
Amber alert – another super Georgian wine. I loved this Mtsvane (which means "green" in Georgian), the vinous equivalent of cossetting your tongue in a tweed blanket. Made in qvevri with a minimum of thirty days skin contact (plus the rest of the cha-cha-cha) this grooves effortlessly with typical Georgian orchard fruit character: golden apples, pears, white peach and apricot, checked with a certain phenolic kerchunk.
Difficult to single this wine out from a raft of similarly pleasurable examples. Equally notable was a positively peachy Kardenakhi Khikhvi from Alaverdi Monastery, redolent of meadow flowers, box and honeyed apples, as well as a particularly fragrant Chinuri from Pheasant's Tears. Chinuri and Kisi are the more summery options if you have a yen for Georgian wines – which I do.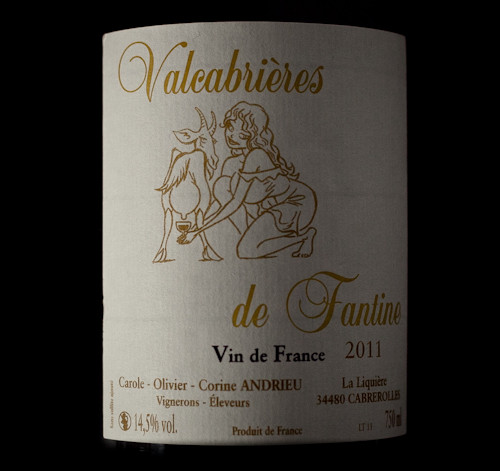 2011 Valcabrières, Clos Fantine
"The healthy being craves an occasional wildness, a jolt from normality, a sharpening of the edge of appetite, his own little festival of Saturnalia, a brief excursion from his way of life." -Robert McIver
We live in the comfort zone of zero defect, zero funk wines, a dull culture arbitrated by scientists, educators, journalists and standards panels. The spectrum of what is physically acceptable is a narrow one for correctness and is exalted above all else in the belief that a wine should be delivered to the consumer, the imaginary consumer, in a "marketable" condition.  Whatever that might mean. You might as well say that punk, free jazz or atonal music should be proscribed because they don't conform to the traditional perception of what are acceptable forms of music.  In time orthodoxy bends, if not yields, and recently we have seen a grudging (almost niggardly) critical acceptance of the fact of natural wines (those wines which are made with minimal interventions in the winery). The major opinion formers still, however, consider the majority of these wines to be faulty, dirty, spoiled, undrinkable, too weird, a fringe attraction enjoyed only by wine extremists. Without anarchy or extremism there is no energy, no life, and no movement and things only change in that they become more so.
With every bottle of Clos Fantine one free homily!
I love wines that are wild. As soon as I poked my nose in the glass I was transported to what Sybille Bedford described in Jigsaw as "the sun-baked, cicada-loud, ageless country of scrub and terraced hills… the archetypal Mediterranean landscape of rock & olive, wild thyme, vineyards, light". This is a living wine, unfiltered, unfined and unsulphured; it captures the spirit of the terroir. The Terret vines are 90 years old, yields are a measly 15hl/ha with a strict selection; the parcel of vines producing this wine means "the mountain of the Goat" in Occitan, which explains the image on the label, that of a goat being milked of its wine into a wine glass. Which is a neat trick.
---
Valcabrières is an intense dry golden-white releasing subtle cider apple, vermouth, fennel and honey aromatics.  Carafe it, turn down the lights and let it have its wicked way with you.
---
2011 L'Altre, Nicolas Carmarans, Aveyron
This wine is simply too delicious not to drink.
Imagine Marcillac ++.  This also originates from the wilds of the Aveyron and captures the sanguine craggy goodness of the region. Talk about minerals! Shave some granite, grate some iron filings, crush those cherry stones…
More purple than a self-indulgent, over-literate blog, this mountain Fer Servadou (or Mansois for those grape synonym-hankerers), fermented in conical vats, given a semi carbo and then aged briefly in old barrels, has a freshness that eviscerates confit duck at ten paces, and sports scything natural acids that lend the fruit flavours their cheery-cherry after-bite.
Give it some fridge love and witness how it thrills as it chills.
2010 Quartz, Les Cailloux du Paradis
The troubadors of fin-vin amour can update the annals of Courtois love with this fabulous wine that redefines the rules of Sauvignon.
Quartz by name, quartz by terroir, quartz and all! Naturally-made wine that effortlessly transmits vintage and place and may cause one to pause and rethink the potential of Sauvignon, especially, if like me, you tend to think of this grape as overwrought, oversulphured and underwhelming. This example is hand-harvested, destemmed & gently pressed, and fermented with natural yeasts whilst the juice undergoes an extended maceration. It's all vinified in barrel and aged for 12-24 months in oak – depending on vintage.
Golden straw in the glass with shimmering pale highlights with a nose that offers that sharp-soft combination of just-cut apple & poached pear with notes of green fruit chutney spiced with brown sugar, nutmeg, cinnamon & allspice. The palate is very nutty, with a firm acidity with yellow apple flavours & quinine notes combining with marzipan, hazelnut & hints of warm caramel. The wine finishes long and vibrant, with great mineral and core fruit presence and a lingering inner mouth perfume of pear eau de vie. This is a truly outstanding, complex wine, because it changes from minute to minute with a restless antic disposition and thrilling energy that the very best naturally-made wines possess and yet is rooted in the very crystalline minerality that bequeaths its name to the special cuvée. One for the picnic (the abv is 11.22% or something equally quirky) with a few bottles to be locked in my cellar. Or the cupboard under my stairs that masquerades as a cellar. Which doesn't have a lock, but rather a large armchair wedged against it.
Billuke Petillant Naturel, AA Panevino
The Manca family call their small enterprise, Panevino. It was originally a bakery that had a few hectares of vines attached to it, perfect to base your life around creating the sacramental staples of life or, as Gianfranco poetically says: 'Simplicity itself… daily life turned into a celebration every day.'  Loafing and wining – happy activities.
Renowned for his reds, and an exceptional white wine, Alvas, Gianfranco also makes a tiny quantity of Pet Nat that would happily rub bubbly shoulders with the best of its Loire brethren. It's called Billuk-e-, short  for 'Billukedda',  the Sardinian suffix -edda meaning "sweet little", whilst Billuka denotes "bubble(s)". "We wanted to make this wine something playful to celebrate those easy, cheerful, lighthearted and carefree moments between friends, and to underline how important these moments  are in life."
Gianfranco uses Vermentino and Vernaccia to create the main part of the blend and then adds a little Trebbiano. Made by the metodo ancestrale (natural ferment using the residual sugar in the grapes to start the secondary ferment in the bottle, zero dosage or sulphur) Billuk-e is what our Aussie friends would call "damn good grog". Colour of pale ale – tick? Almost malty nose? Tick. Ginger-flecked butter aromas? Tick. Extreme moreishness connoting natural winemaking? Triple tick. This is summer as a merger of spring and autumn – wild flowers mingling with pulped orchard fruits, a sprinkling of rock dust and cooked macchia herbs thrown in for local colour, completing a marvellous brew that quenches thirst and eats bottarga for lunch.
2012 Testalonga El Bandito Grenache
Recommending a wine that is not even in bottle? Recommending a Grenache? For summer? From the Swartland? Methinks he hath been imbibing too much of the natural booze!
Stay thy skepticism, because this is Saffie Grenache, not as we know it, Jim, and barely as we dreamed it could be. On the mid side of red with pinkish tints, it has a lifted nose of herbs, red currants, liquorice and rock salt, the mouth is supple yet tart leading into summer berries spiced with prickly pepper. It has gulpability and a grippy seriousness that reminds one of red Jura wine, pitched somewhere between the palely loitering Ploussard and the rustic Trousseau, or closer still to one of Eric Pfifferling's "yin-yangers", a Rhone that sings of vines growing in hot fractured soils, yet simultaneously reveals the coolest, purest red fruits.
Check out the alcohol because this number is well under the influence. 11.7% (unofficially).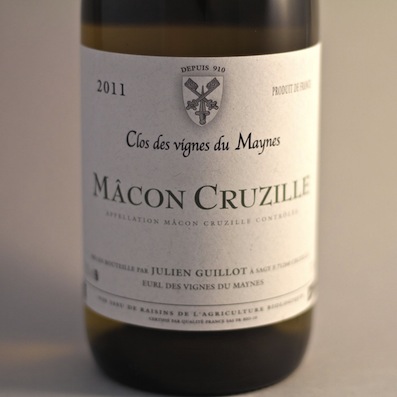 Macon-Cruzille Blanc, Clos des Vignes du Maynes
Once upon a time, dear reader, Les Vignes du Mayne (planted originally in the 10th century) belonged to the monks of the Cluny abbey and subsequently became the property of the powerful Comtes de Montrevel (1557).
Fast forward a few centuries and Pierre Guillot takes over the domaine and starts practising organic farming and vinification with conviction and dynamism ever since, respecting both the consumer and nature. Today, the Domaine des Vignes du Maynes comprises about 6.5 hectares. Facing due east, the vines benefit from the rising sun. They grow on a terroir of a clay and limestone mixture. Avoidance of weedkiller and modest yields characterize these authentic wines produced from Pinot Noir, Gamay and Chardonnay. From the time the grapes are picked by hand to the time the wines are bottled neither additives nor SO2 are used.
The pressing operation is slow, carried out on wooden wine presses dating from 1895. Fermentation takes the form of carbonic maceration over a period of ten days (Jules-Chauvet method). All wines, regardless of creed or colour, are left on the lees in oak barrels for eleven months producing wines full of character.
This Macon's striking appearance may be described as a lovely pale gold. Initially, the nose releases voluptuous aromas of exotic fruit and white flowers (acacia). Once it has opened up, the bouquet evolves and notes of citrus fruit and pineapple may be distinguished along with pollen, truffle and grilled almond. Pure tension and grappling acidity allied to a coruscating minerality (that word, again) as if flints or crystals were being repeatedly struck.