Favourite Qvevri
The clay jar on which I left my steaming wet pawprints at Makatubani, signed but not sealed with a loving set of dabs.
Favourite unpronounceable grape
Favourite Monastery
Ikalta – felt like a set for a Jane Austen movie (for some reason) with qvevris
Most Laid-Back Dude Award
Plenty of candidates for champion bus snoozers, but Fifi* was a study in ambient horizontal relaxation and cool t-shirts.
*Philippe Essome, 10 Bells, New York
Favourite Wine
Ramaz Nikoladze's Tsitska – aka the tea-seeker, earth to glass, pure class, a vivid wine with electrifying energy.
Iago award for hospitality
Iago Bitarishvili – generous dispenser of new-minted wine, beautiful food, good humour and chacha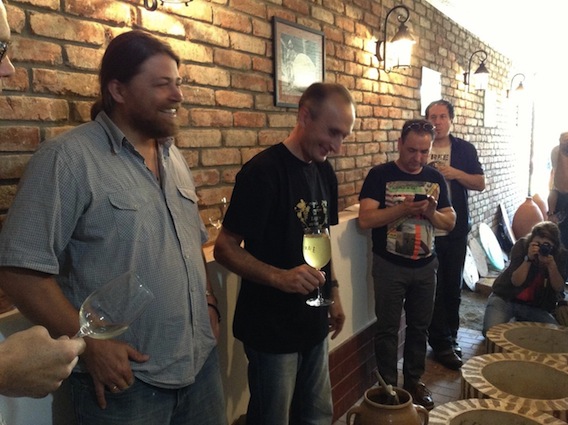 Brilliant behind-the-scenes organisation
Ia Tabagari – the trip ran on well-oiled ball bearings
Indefatigable good humour, profound mine of information
Queen Tamara of the microphone who perpetually bubbled to prevent toil and trouble
All-around Tamada, grand facilitator, steward of all good things
The one and only John Wurdeman
Best Natural Wine Bar in Sighnaghi (pop 2,900)
Pheasant's Tears. Actually, a superb wine bar with delicious food by any standards
Alien versus Predator scenario (AKA Cha Cha versus Wine)
Draining the horn versus chugging the cha cha.
Best Saperavi moment
Forcible baptism via jug. You know what I'm talking about.
Best Bread
Nazuki (the sweet bread) or Khachapuri (the love boat). The love boat wins by a short egg.
As Hoc Cake Award
This appeared out of clear blue sky. Of course, I didn't have any. Well, if you insist. Seconds? Don't mind if I do.
Best Beans
Lobio at Salobie – beaux kidneys.
Favourite Fruit
Wild strawberries, sour green and yellow cherries, mulberries, toms of various hue – all darn fine
Best Condiment
The ubiquitous Tkemali – a sour green cherry-plum chutney with dill that one slathers over chicken or pork dishes with alacrity. Special mention for the equally ubiquitous walnut sauce.
Best Singers
All polyphonically choral-tastic!
Best Non-Georgian Toaster
Our Alice proved that some of the best words are not just generated by Macs
Mein Other Host
Max Johnson proving that some of the best words are generated by Max
Lorelei award
Primoz Stager, a man prepared to sing for your supra
Most Surreal Meal
Freak-out-food-fest at Zghapari Riverside Restaurant. Duck all the way from the very local swimming pool, literally dressed-up kid with black olives for eyes, stuffed with chicken which in turn was stuffed with quail, and a whole giant carp that looked as if it was wearing lipstick.
Mention in despatches for dinner at Chateau Mere set a world record for the number of plates used for a meal in a quirkily furnished dining room with plinky-plonk piano churning out dirges whilst the pianist sluiced regularly from a pint glass of wine.
Best Fresco
Al Fresco lunch at Iago's
Youngest Assistant Winemaker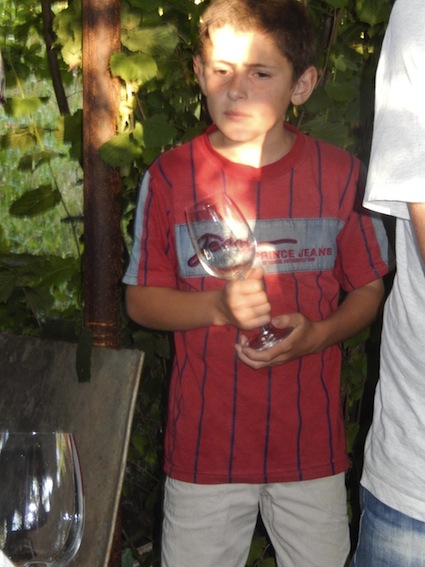 Alaverdi Monastery Award for skilful handling of corkscrew
Father Gerasim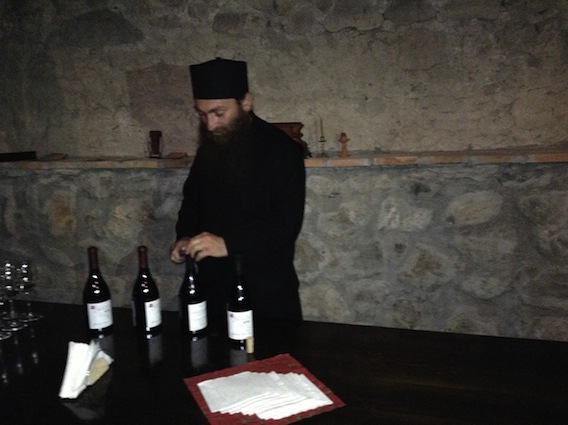 Most Interesting Coffee Experience
Waiting 20 minutes for a tall mug of espresso at Calypso's books in Tbilisi
Café ole in Kutaisi hotel? A combined sachet of coffee granules and milk powder to dump into a teacup of boiling water. Here's mud in your eye.
Norwegian coffee aficionado, Frederik Kolderup, the man with the foresight to bring his own coffee beans, hand grinder and filters.
Most Curious Thing Available to Buy at a Market
Snake-eating birds
"Tom-marlborough" Award For Interesting Market Stall Juxtaposition
Most Interesting Sales Pitch at Georgian Wine Expo
The Qvevri Cleaning Machine
Best Invisible Mountain Range on trip
The Greater Caucasus
Does What It Says On The Label Award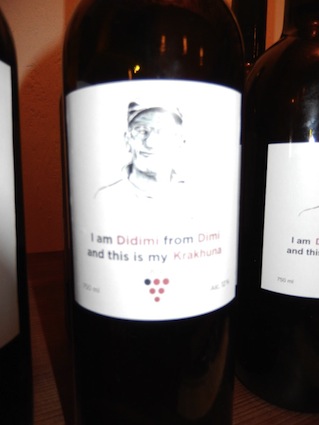 Doorway Which Most Sums Up Georgia