Here're a few more newbies to have snuck onto our list in the past few months–well worth a taste. Check out what Doug Wregg has to say about them:
2010  Ribeyrenc Noir, Thierry Navarre – Languedoc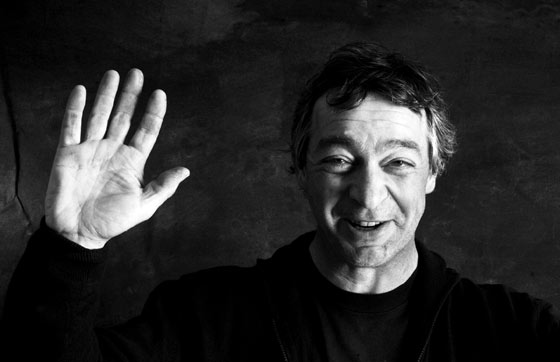 To the inveterate snapper-upper of ampelographical recondite trifles this should tickle your Ribeyrencs, not only because it inhabits the deepest part of cow corner in the left field of grapes, but also because the wine has a gentle joyful magic to it that is, quite simply, irresistible. As you may know, o best beloved, before the phylloxera epidemic, Aspiran (as Ribeyrenc is also known) was common in Languedoc, particularly in Hérault, where it once represented a quarter of the plantations in this department. The grape variety is probably named after the town Aspiran in Hérault. The severe frost in 1956 killed off much of the then existing vineyards. In 1988, only 7 hectares (17 acres) remained and the variety is not being replanted. Alas and alack. Step forward Monsieur Rescue Med Grape himself, Thierry Navarre, to archive this variety for aspirin' (sic) grape detectives. Ribeyrenc, in its Gris form also features in a wilfully obscure blend from Domaine Henry whilst the Domergues in Minervois also have a few vines, but this is the best opportunity to taste it in its purest and simplest form.
Thierry's version is a quite beautiful wine. It reminds me of scented violets with notes of cinnamon and muscat grape showing through, followed by a wild herbal twist. In the mouth the wine reveals limpid red fruit and a soft, velvety texture. By means of strict organic viticulture Thierry has managed to recover the freshness and finesse of the grape and link it to the terroir of Roquebrun.
Only a minuscule amount of this wine is produced. Tiny allocation only.
2009 Chinon Blanc, Château de Coulaine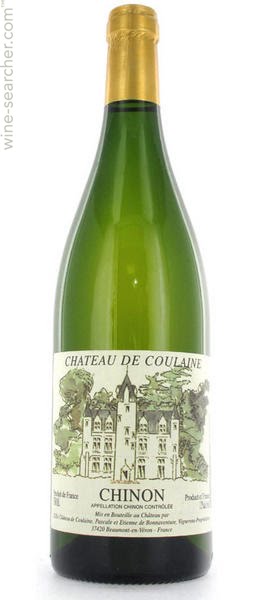 'Mon ami (dit le moine), laisse-le-moi (mon froc), car par Dieu, je n'en bois que mieux: il me fait le corps tout joyeaux. Si je le laisse, messieurs les pages en feront des jarretières, comme il me fut fait une fois à Coulaine'   – Rabelais, Gargantua 1535
Château de Coulaine is a family-owned estate rich in viticultural tradition which has been operating continuously since 1300! Check out your dog-eared copy of Rabelais' Gargantua for references to this historic estate. Since 1988 Etienne de Bonnaventure has assumed all viticulture and winemaking responsibilities and has grown the domaine to its current 18 hectares, all situated on Chinon's plateaux.Planted to 100% Cabernet Franc, the vineyards are organically farmed,  grapes are hand-harvested and vinification follows a relatively non-interventionist path.
Coulaine's low yields (around 35 hl/ha) result in a deeply concentrated, savoury and succulent expression of Cabernet Franc with ripe and polished tannins – a harmonious balance between traditional and modern style.  Les Picasses itself is from various parcels comprising 1.8 ha of Cabernet Franc vines, some 20 years young, some as old as 80 years, the terroir being clay-limestone on a bedrock of tuffeau jaune. Fermented in cement with malo and ageing in demi-muids of various ages 1/3 new, one and two year old respectively. The wine reveals the concentration of the vintage with  warmth, ripe fruit flavours. Etienne's Chinon Blanc, meanwhile, comes from a tiny clay-sand  south-facing parcel opposite the Château where they have some Chenin Blanc vines. The grapes are gently pressed and juice transferred into 7-10 year old barrels. The resultant wine is restrained and classy, exhibiting dried fruits and subtle butter, almond and woody notes, whilst being fresh, round and rich in the mouth.
2011 Alexandre Bain Pouilly-Fumé "Spring"
2011 Alexandre Bain Pouilly-Fumé « Pierre Précieuse »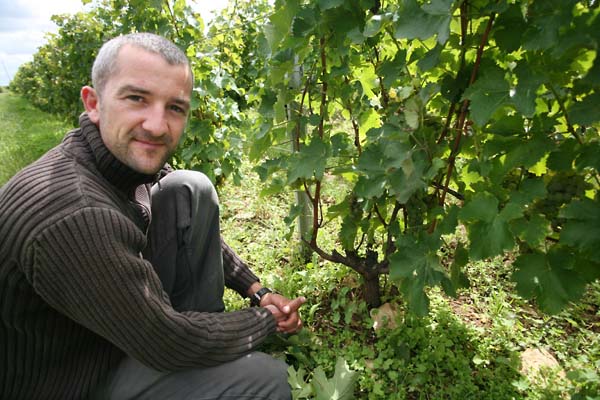 Alexandre Bain managed to start his own estate in 2007, by renting 4.90ha of vines in his native Pouilly-Fumé area and is in the process of slowly building up his vignoble
(read more)
 Most of Alex's vines grow on a Portlandian limestone subsoil (135 million years), with very shallow, poor and very stony topsoil: a warm terrain where grapes ripen well. A couple of hectares are on Kimmeridgean lime (140 million years, a type of marl with small compressed oysters), with richer clay as a topsoil. Although these plots are harder to work, they bring the wine its structure. Bain works his land organically and bio-dynamically and ploughs most of it with his horse, Pheremone.
Like many artisanal vignerons in France Alex believes that all good wine starts in the vineyard with excellent terroir and healthy vines. Pierre Précieuse comes from a parcel of vines next to the winery; it is a play on words referring to the plot's flinty soil and the name of his son, Pierre. The density of stones in the soil shows the mineral nature and these stones are what give his Pouilly-Fumé especial depth and minerality.

2011 Malbec Cuatro Manos, Vincent Wallard & Emile Heredia – Argentina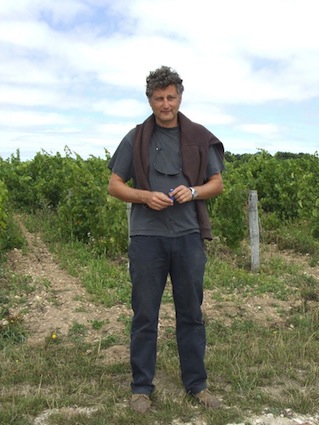 The four hands belong to two winemakers, Vincent Wallard, former wine bar owner, and Emile Heredia, doyen of natural wine in Vendomois and latterly the Languedoc.
Vincent journeyed throughout Argentina and Chile  "to  share  the  experience of  winemaking  that  Emile  has,  or to  share the  experience  of other  winemakers  whom  I  intend  to  take to  Argentina  or  to Chile,  in  order  to  spread  the  word  about  a  different  way  to  make  wines,  because  everything  is  controlled  in  Latin  America  which largely takes its  inspiration  from  the  American  approach –  where  the  notion  of  terroir  is   just a  marketing  tool  and  not  a reality." The culmination of this journey was the Cuatro Manos project.
The Malbec comes from organically-grown grapes the in Maipu/Junin zone south-west of Mendoza. The  wine  was  fermented  in a semi-carbonic maceration  'sandwich',  of  1/3  whole  grapes  in- between two  layers  of de-stemmed  grapes in a single 120-hectolitre  cement vat. After the fermentations the free-run and press juice  was blended, the resultant  wine racked with a  small  amount  of  sulphur  added and the  wine kept  in closed vats for  four  months.  After one final racking the Malbec was bottled  without  filtration, fining or  sulphur  in  mid-November.
A far cry from the dense chocolate nemesis style wine favoured by certain oenologists and critics this is a South American Beaujolais-style Malbec – which is not as transgressive as it sounds.  Red rather than black fruits are to the fore, redcurrants, cherries etc. and the wine is sapid and earthily refreshing the wine is reminiscent of a Côt from the Loire with the minty-herbal edge one might associate with the wines of Cahors.