This is a series profiling the producers on our list who make natural wines. Within this series I will be highlighting some of the extraordinary and rare bottles and vintages that have helped to shape our appreciation of natural wines over the years. Previous posts from our 100 Great Natural Wines series include Austria, as well as a hefty chunk of France, and can be found, here.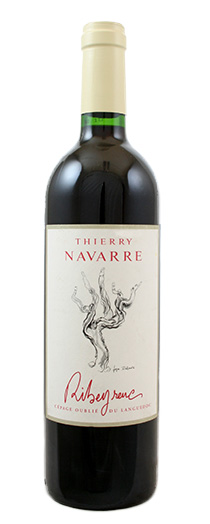 RIBEYRENC~ THIERRY NAVARRE
Our spare Ribeyrenc
Ribeyrenc, also Rybeyrenc, though grape encyclopaediae will have it under the more prosaic-sounding Aspiran noir), is a variety that was traditionally grown between Minervois and Clermont l'Hérault, but all but died out with phylloxera and the big frost of 1956. All was not lost, however, as Thierry Navarre's grandfather had some vines. The cultivar is well adapted to the Mediterranean climate, and intriguingly, it ripens late being picked towards the end of September, usually a recipe for high alcohol, but in this case always a light abv of around 11.5-12%.
Once upon a time the vineyards of the Languedoc essentially comprised one third Ribeyrenc, one third Oeillade and one third Picpoul. Although we think of them as natives, Carignan and Grenache Noir arrived from Spain in the 19th century, and were planted after phylloxera.
There are only three vignerons with Ribeyrenc in the whole of the Languedoc, namely Patricia Domergue at Clos Centeilles, François Henri in St. Georges d'Orques and Thierry.  Thierry owns just 1.75 ha and makes around 2,000 bottles a year! Talking of rare birds and hens' teeth, Thierry also has some Ribeyrenc Blanc that features in a blend with Clairette.
Ribeyrenc Noir prefers to be grown in the hills, rather than on the plain. This version derives from vines on south-east facing slopes on slate (brown schist). Yields are a measly 17 hl/ha, farming is organic with herbal preparations. Triage is done in the vineyard and the winery. Thierry does not destem as the skin of the grapes is so thin and fragile. The grapes gently fall into the small cement vats where they ferment. Ageing in cement vats for 6 months. No oak.
The wine itself is enchantingly demure. The colour is pale red, the nose has some light perfume (violets and peonies), the palate is very mellow, with some fresh cherry fruit and the merest whisper of garrigue and white pepper.
Thierry also works with another red grape variety called Oeillade. A fragile variety the Oeillade is fermented whole bunch for 8 days (carbonic maceration) in cement vats with the grape's own yeasts to preserve the aromatic delicacy and purity. A bonny bright red colour, appealing nose of confit fruits (strawberry and blackberries), light-body with notes of liquorice and a gentle dusting of herbs (wild myrtle), this oenological rarity flickers with delicate red fruits. A vrai wine of the country, limber, fresh, all in the fruit, all in the glancing moment, naturally vibrant. Definitely worth a second glance (or oeillade as we say in the Languedoc).
Why we love this: Forgotten grape varieties are a window into history when wines were not meant to impress superficially but just be. Yes, this is a vin de soif, but it has lots of interesting flavours and superb clarity.
If you like this: Jean François Nicq (Domaine Foulards Rouges) farms his vines organically and makes zero-sulphur wines near Banyuls in the south of the south. He picks early, thus ensuring that his wines have high-toned red fruit flavours. There's a carbonic element, but the wines are bright, light and refreshing. Fond de l'Air wines is from 80-year-old Cinsault. Ethereal and pretty. No added SO2. Light as a feather dipped in wine. File under superglou.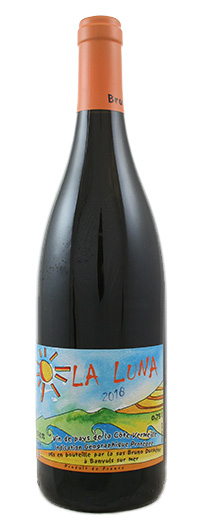 LA LUNA ~ BRUNO DUCHENE
One of our "fauve-rite" summer reds
Bruno hails from the Loire Valley, where his family had a thriving business selling farm machinery. Before starting his career as a winemaker, he was a wild mushroom distributor in the Loire Valley and Burgundy, which is when he became interested in wine; meticulously made, natural, non-interventionist wines in particular. He went to work with Frederic Cossard of Domaine de Chassorney in Saint Romain for nine months to learn how to make it. And drink it, he also says! He now resides in the town of Banyuls, where he produces wines from some of France's hardest-to-work vineyards.
He now owns 4 hectares spread over four parcels, all on schist but with a variety of expositions and micro-climates. The Côte Vermeille vineyards of Banyuls and Collioure are famed for being extremely low-yielding, and very difficult to work mechanically, which means an ever-increasing number of people have abandoned some of these legendary sites. He works one parcel with a horse, another one he allows the grass and flowers to grow between the rows of vines.
Bruno works his vines organically, and, because of the region's ideal climate, he averages only three sulphur applications per year – and never uses copper. The wines ferment spontaneously in tank; then are racked to barrel for ageing.  Sulphur is normally only used before bottling – if at all.
He ferments whole cluster with very little extraction – light pigeage, no remontage. The delicacy of his approach allows the wine to retain some translucency that gives a window to the flavours of a place. Fermentation takes place in wooden fermentation vats of 26 hl with native yeasts. Two thirds of the wine is matured in vats and the remainder in barrel. No filtration, no fining and minimal sulphur.
Bruno Duchene's "La Luna" is more than a vin de soif, it's a youthful Collioure, if such a thing exists. Unmistakable aromas of ripe Grenache fruit lead one into a palate with a sappy quality and a nice tug of minerals.  And a sizeable sachet of garrigue herbs. Schist + fruit + sunshine, an intoxicating combo. Chill it lightly and fire up the barbecue. Drink with sausages or lamb chops smothered in rosemary; chill it further and glug with garlicky ratatouille. If Raoul Dufy painted your lunch, this bottle would undoubtedly be part of the picture.
Why we love this: Bruno's wines effortlessly walk the line between exotic, sun-drenched supple red fruit and something fresher and more medicinal. They certainly take you to a place and a time.
If you like this: Not far from where Bruno ploughs his furrows is Domaine des Foulards Rouges. Jean-François Nicq took in 2002. It was then ten hectares and he planted a further two on beautiful schist and gneiss (very gneiss) slopes and began the conversion to organic viticulture. In his previous job he vinified the wines at the co-op in the Côtes-du-Rhône (Estezargues) where he worked without sulphur and maintained this practice of natural winemaking at Foulards for his first vintage. The terroir is Les Albères in the Pyrenées-Orientales, 10km from the sea and Collioure, where the maritime influence brings the freshness that enables the wines to reach phenolic maturity without excessive alcohol. The nor-nor –east exposition of the vines compounds this character and finally the soils which make up this ancient granitic area bequeath a delicacy and elegance to the wines. Purity is the watchword here; the first thing you notice is the freshness of the wines, and, dare one say, some pretty juicy fruit. Frida (all wines are labelled Vin de France) is from 50% Grenache and 50% Carignan (80-year-old vines) on shattered granite soils. The yields are a valiant 10 hl/ha (count those grapes). Grapes are destemmed and fermented at a low temperature on the wild yeasts for a month. No sulphur is added. Like Bruno's wines, Frida achieves that rare balance of power and freshness.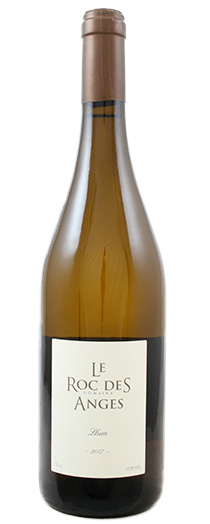 LLUM ~ DOMAINE LE ROC DES ANGES
Let there be light white
Marjorie Gallet created this estate back in 2001 alone, with 10 ha of old vines, in 2002-2007 she bought a few more parcels and extended her vineyards to 25 ha with an annual production of 45,000 bottles. In 2008, she was joined by husband Stephane to manage the estate and they moved the cellar from Tautavel to Montner. They also create the Domaine Les Terres de Fagayra in Maury.
The soil is composed of old rotten schists (570 million years old!) and traditional grape varieties dominate the cépages with Carignan and Grenache featuring amongst the reds and Grenache Gris and Macabeu dominating the whites. These decomposed flaky schists allow excellent drainage but encourage the vines to form deep root systems.
Everything done in the vineyard is traditional from the use of local stone to create low walls to divide the parcels of land, part of the philosophy of respect for the cultural heritage of the region. This is extended further into viticulture where respect for the environment is paramount. All work is based on seeking equilibrium for the vine and allowing it to find its "autonomie" (defined by vigour, yield, nutrition and natural defence), an essential factor in the expression of terroir. Other than leaf thinning and pruning of the vine to encourage the microclimate, operations in the vineyards are strictly limited. It is the light permeable soils themselves from where the wines obtain their unique texture and vibrancy. This is a work in progress, according to the vigneron; only a truly living soil will be able to liberate the essence of the terroir. In the cellar simplicity and authenticity are the watchwords.
Llum is a Catalan blend of Grenache Gris and Macabeu. Some of these vines are centenarians. Tiny yields, therefore, (15 hl/ha), fermented with indigenous yeasts in foudres and 228 litre barrels and matured in a mixture of barrel and tank.
Delicate nose with aromas of pear, citrus fruits, honey, almond blossom, and mineral notes. The palate is chiselled and tasty, with luscious flavours of pear, lemon and woody notes, accompanied by a nice minerality with salty flavours and a delicious bitterness, and a tense and salivating finish.
We also love the Iglesia Vella with its aromas of white flowers, citrus and ginger. The palate is mineral, fresh and clean, very balanced and with a good tension. Marjorie also makes a pure Macabeu, a dry Muscat and even a wine from a few rows of the almost extinct Carignan Gris.
Why we love this: We are fans of the pink-tinged Grenache Gris which informs this delicate wine with its mineral freshness.
If you like this: Fermented in demi-muids and aged for eleven months in barrel, Clos du Gravillas' Minervois Blanc L'Inattendu is mainly Grenache Gris from a stony vineyard with some Grenache Blanc and Macabeu. The wine is beautifully wrought. Dry and rich, it has a good balance of green apple and mineral flavours, and an elegant mouth feel. There is lovely custard apple fruit allied to dried apricot, vanilla, garrigue notes of herbs and all sorts of ginger and white pepper on the finish. The warmth of the alcohol does not detract but rounds the mouth; it is a textural wine with the reverberating minerality of terroir from those hot stones.
*
Interested in finding more about the wines mentioned? Contact us directly:
shop@lescaves.co.uk |  sales@lescaves.co.uk | 01483 538820
*Note: We are still open for business, doing deliveries, and keen to help everyone with their booze needs in this difficult time. Natural wine lovers can visit our online shop and order online!