–by Doug Wregg.
From the land that brought you the woomera, the stump jump plough, the mechanical pacemaker, ultrasound and the underwater PC comes another revolutionary idea…
How to pep up those big, beefy and bouncy mega-tastings, where the atmosphere is sterile and the faces are po?!
Here's an email we received recently from James Erskine, one of the founding fathers of the Natural Selection Theory and of his own range of wines called Jauma:
'Greetings from beautiful South Australia!
Next week I will be hosting The Adelaide Review Hot 100 Wines show of South Australia. For this year's Hot 100 SA Wines the Le Cordon Bleu (LCB) international culinary school have come on board as major sponsors of the show. LCB have sponsored an individual award for the most exciting 'Natural Wine'. Since 2011 Hot 100 SA Wines have been running a class of wines titled 'Wines produced without the addition of commercial yeasts or acids'. This year the prize for the most exciting 'Natural Wine' will be awarded a bespoke blown wine decanter from the craftsmen of the Jam Factory Studios in South Australia.
Coinciding with the judging of the 'Natural Wines' class we have decided to challenge the idea of tasting wines at wine shows in an inert environment and instead worked on creating an exciting environment, which should stimulate the senses and help the judges to find the most exciting wine on the day. To help stimulate the senses, percussionist and composer Eugene Ughetti of Speak Percussion composed a piece of music for one of South Australia's most celebrated pianists, Gabriella Smart, artistic director of the Soundstream Festival.
Eugene's composition is entitled Terroir. When Terroir is performed it can only be performed by a person who feels like they are in a place from where they are from i.e. their home or town in which they live. Terroir is a composition for any form of keyboard and Gabriella will be performing live for us on Wednesday the 19th of September, while we judge in one of the kitchens of the Regency Park Cafe where Le Cordon Bleu has its offices and teaching rooms. In order to share this great event with as many people as possible we will be streaming the event live via Ustream over the internet from 9.30am South Australian time. We welcome you to tune in and more exact instructions will be provided early next week on how to log on and view the tasting/performance.'
Here's what James says about wine judging conventionally:
We taste wines not knowing their variety or brand. We have no emotional connection to what we taste, so we as judges are confronted with only the wine. As a wine drinker the label, stories, history and the emotional connections of each wine provide much of the drinking experience. I want to provide an environment which forces the judges, wherever they are from, to think, feel and taste in a South Australian mindset to better understand the emotional, or non-geophysical, terroir of South Australia that influences the wine styles we are tasting. My aim here is to find the wines which shine under these external influences or reflect the feel of these South Australian influences.

Those Aussies are a musical bunch. Here's celebrated Aussie wine writer Max Allen at the Real Wine Fair this May playing a little ditty on his mandolin to accompany the tasting of one of the Natural Selection Theory wines: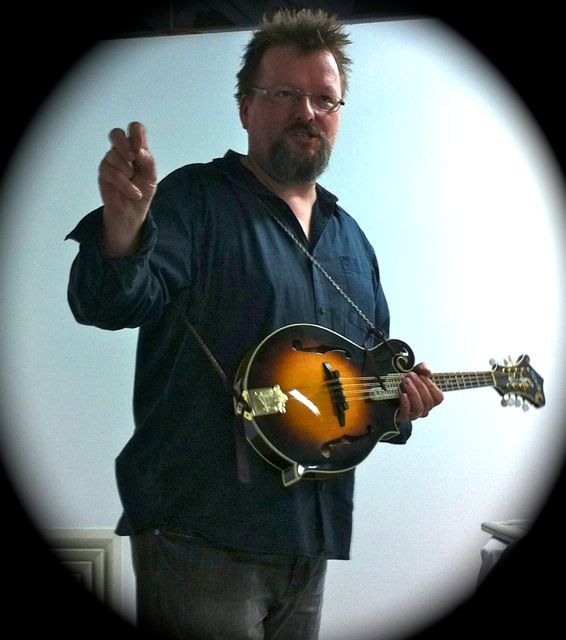 Here at Les Caves, we think this is a brilliant idea.
It won't happen in Blighty but I can somehow visualise Steven Spurrier percussively striking two pieces of flint together at Decanter World Wine Awards to assist the deliberations of the Burgundy tasting panels or the International Wine Challenge judging awards taking place in a gigantic bombinating spittoon.
One can only hope…