The summer months for the wine trade are notoriously quiet. While several of us at Les Caves were lapping up the sun and sea in faraway lands like the outer Hebrides and Cornwall, others were sipping and munching in the Loire Valley, for 'research' purposes in preparation for the rapidly approaching grand opening of our newest restaurant, Green Man & French Horn, which will feature wines and food de la Loire (more on this later). We were told our Loire team were working hard. But then Dan Lerner leaked this photo onto Twitter.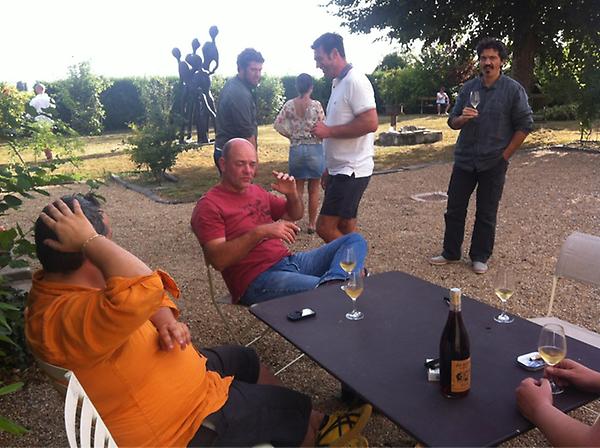 That's Les Caves's Grand Fromage Eric in the centre 'working' hard.
Needless to say, we didn't do much buying during the summer months. However, a few newbies have snuck onto our list under the radar. Here are notes by Doug Wregg on a couple of scrumptious vini Italiani for you to sink your teeth into:
NV Renosu, Romangia IGT,  Alessandro Dettori – Sardinia
2009 Tenores Romangia IGT, Alessandro Dettori – Sardinia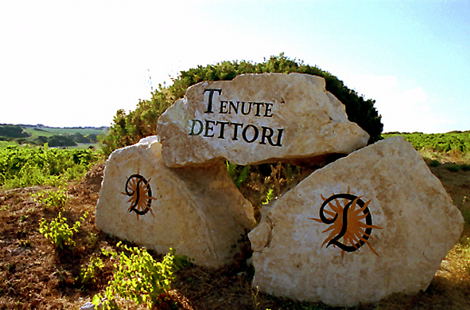 Dettori is located in the commune of Sennori in the sub-region of Romangia on the north west coast of Sardinia.
Dettori waxes lyrical about the importance of terroir. The definition of terroir specifies as well "…products from the earth that are unique, original, and inimitable." This means that a "terroir wine" should always be recognisable. But increasingly often I drink wines whose growing area I am hard-pressed to guess. Is this a wine from the north? From the south? Australian? The grapes are always different, yes, but what about the auxiliary products that go into both grapes and wine? What fertilisers in the vineyard, enzymes, yeasts, tannins, and all of the other products that are the same all over the world? In other words, let's say we cook five different kinds of spaghetti coming from five different areas of the world: Italy, China, Japan, United States, and Argentina. Then let's say that we sauce the five different dishes with the same tomato sauce from Australia. Will they be different in taste? Would we be able to distinguish the various terroirs of the original pasta?"Tenoresrefers to the tradition of Sardinian singing  This is from old low-yielding vineyards where only natural products are used such as sulphur, manure and silica in buried cow horns, and cover-crop mulching.  The grapes are de-stemmed but not crushed, then the must macerates on the skins in cement vats without the addition of any SO2. The length of maceration depends on the characteristics of the must; it can last from three to ten days. The wine is always drawn off by hand in order not to harm the skins. The wine then continues its journey in small cement vats until bottling, which comes usually two to three years later. No added yeasts, no enzymes, only a little sulphur at bottling. The wine is intense, pruny and wild; tamarind, cooked cherries and plums, spice, macchia and hot rock. Renosu is the grapes and wine that does not make the grade. In certain vintages such as 2006 it was declassified Dettori (the grand cru of his Cannonau vineyards), otherwise it can be a blend of vineyards.
2007 Vitovksa Amphora, Paolo Vodopivec, Carso – Friuli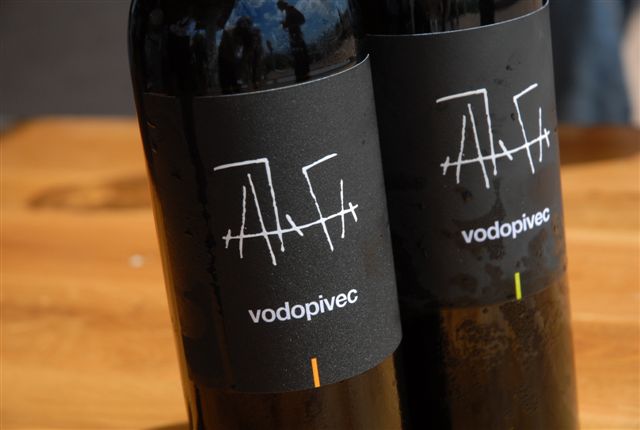 Fasten your tastebuds – it's going to be a titivating ride.  For this aficionados of the amber nectar this is reassuringly shockingly pinkish-orange and cloudy and biffs you with a mineral-peach-sage-smoke-honey combo that keeps changing with every sniff and sip, a wine thrilling in its richness and striking in its textural complexity. We are far in the small rugged commune of  Carso, where two enigmatic brothers, Paolo and Valter Vodopivec have earned an enviable international reputation for their distinctive wines. To discuss the terroir of Carso is to speak more about rock than soil. Carso, in fact, actually means something like "land of rock" in Celtic. Walter and Paolo Vodopivec actually had to physically break up the limestone bedrock to plant their vines. The rocky terrain leaves a firm imprint on the wine with an undeniable acid and mineral streak.
Made from the Vitovska grape, which is a crossing between Prosecco and Malvasia Bianco, the wine is first fermented in clay amphorae that are buried underground. These amphorae come from Georgia. We should also mention the ransom story. As it goes, brothers Walter and Paolo Vodopivec had experimented with aging their wines in wooden cask and Spanish amphorae (inspired by Gravner), but they weren't enamoured with the results. Paolo felt sure that Georgian amphorae would be superior, and so off they went to Georgia to source some. However, the local mafia held the clay pots for ransom. The story unclear whether their demand was "Given us the lari, or the qvevri gets it!", but the vessels were eventually ransomed and repatriated in Friuli as fermenters. Or as the anti-naturalists would have you believe, dementers.Back to the wine. Treat it with the respect it deserves. Upon opening it is intensely tannic and grippingly mineral. Decant once. Twice. The result, if you're patient, is a wine that have a purity and fascination that makes you want to roll it appreciatively around your mouth. Deep, rich (but not heavy) and aromatic with layers of dried peach, warm apricot and apple notes on both the nose and mid palate, a splendid Vitovska that is as bone dry as the rocks from which the vines eke out their precarious existence, yet somehow refreshing and curiously sippable with a very long finish that imparts further flavours of hazelnuts and dried fig. An ideal match for grilled trout, swordfish or sea bass or pork chops with fennel.
*For more info on getting your hands on these wines, contact Les Caves HERE.