Over the next few months we will be publishing diaries and journals featuring the various routines, practices and thoughts of the UK growers and producers that we work with.
Here Tim Phillips of Charlie Herring Wines (in Lymington, Hampshire) shares his thoughts about what still needs to be done before harvest and how he foresees the 2022 vintage.
I don't expect to pick anything until October, not least because I'm hell-bent on making a still chardonnay this year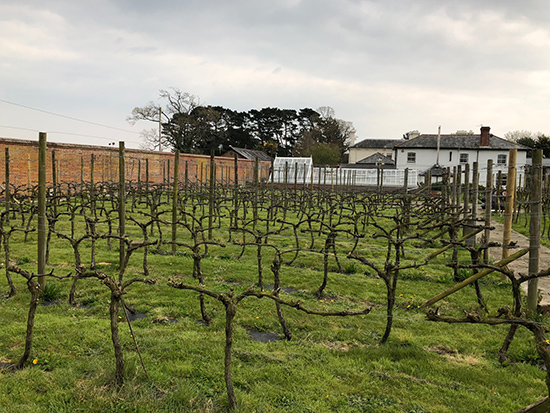 What are you up to as September begins?
As August turned into September the long awaited rains which began in mid-August continue and are lapped up by the dry ground. The earlier warmth has evaporated and things are set cool. Rainy days have given me time in the winery to assess what is still in tank from 2021 and think about space for the 2022 vintage.
Predicted date of grape harvest?
I don't expect to pick anything until October, not least because I'm hell-bent on making a still chardonnay this year (the first varietal I pick). Nature may, of course, change all that! With that in mind, all the blocks will need to be netted, therefore I am working through the vines to tidy the canopy followed by mowing/strimming to create the optimum environment before the nets go on mid-month. Funnily, I've not seen that many starlings this year, in a year where I have seen huge numbers of rooks.
What are the grapes looking like – health? Potential yields? How has the year been?
After 2021 which was a terrible year, 2022 has been dreamy. Good warmth and the lack of rain mid-year which has caused so many problems on so many other fronts is not an issue for vines. I've had some powdery mildew in one Chardonnay block, but it has not spread, and with selective green harvesting over the next month, it shouldn't affect quality, just drop volumes by a little.
What are you doing currently (or in the next few weeks) in the winery – bottling wines, cleaning equipment, ordering stuff in etc?
Having been through the tanks I have 4 or 5 cuvees to bottle this month – this will give space for the incoming fruit.
What is going to be different this vintage in the way you do things?
I'm in a very classical mood this year and hope to make three varietal still wines from Chardonnay, Riesling and Sauvignon Blanc. Skin contact will be minimal (max 5 days), so I'm going to be hanging in there for maximum ripeness.
Any concerns?
No real concerns at this point as I always have sparkling to fall back on with the Chardonnay and Riesling if the current cool & wet conditions persist.
Who is helping you?
I'm very much a one man band (by choice!) but have a couple of faithful pickers who will be at the ready come October.
Any events? Marketing initiatives? Other stuff on the farm/in the village?
Absolutely none!
*
Interested in finding more about the wines of Charlie Herring? Contact us directly:
shop@lescaves.co.uk |  sales@lescaves.co.uk | 01483 538820