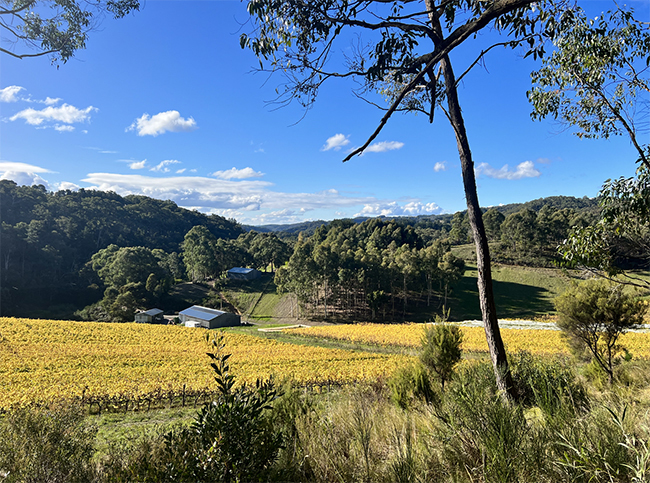 In 2014 Jasper Button and his sister Sophie returned home to help save their family vineyard called Fernglen. Commune refers to their project's continued happy reliance on community and shared values and work ethic.
The 2021 vintage – the first we shipped – was a cool growing season that brought out the best in grape varieties such as Chardonnay and Pinot Noir. The three Chardonnays are understated and fine (no new oak here, if you please) and the Pinot Noirs are delightful due to the addition of rosé wine.
The Commune of Buttons is found in the Basket Range on a property called "Fernglen" with 150 years of agricultural history. Its 70-acres fills an undulating hidden valley with slopes of all aspects to the sun, and an average altitude of 350m asl. It is surrounded by hilltop stringybark forests on all side. The ancient soils comprise red clay with quartz, schist and ironstone rocks over a bed of sandstone. The 3.5 ha vineyards are a mix of Chardonnay, Pinot Noir and Nebbiolo planted between 1993-95. The high rainfall and absorbent clay soils allow for the mature vines to be dry grown in this region. The vineyards have been managed organically for over a decade and a programme of regenerative pruning has begun to ensure that the vines have a strong future.
A small selection of grapes from each parcel of Chardonnay was added to a rolling ferment for the Macerated Chardonnay. The ferment was built as 50% of whole bunches on top of destemmed fruit and gentle pump overs were performed once a day to ensure minimal oxygen exposure and gentle tannin extraction. The ferment was pressed after three weeks and the wine was aged on lees for a further 11 months in stainless tanks. The wine is distinctively orange, is smooth and well-rounded, but the characteristic acidity of the Chardonnay lingers and tightens the finish.
ABC is a one-hectare parcel facing east on a gentle slope at the bottom of the valley with the sandstone shelf quite close to the surface. Hand-harvest Chardonnay fruit was pressed to tank and the juice allowed to settle overnight. Fermentation took place in 500l & 600l barrels with elevage on full lees for 11 months and occasional stirring. Quite a lean style of Chardonnay (due to the nature of the vintage) showing apples, pears, and honey, balanced by savoury undertones and an earthiness from the clay and minerals in the sandstone. Excellent acidity allied to a certain phenolic texture.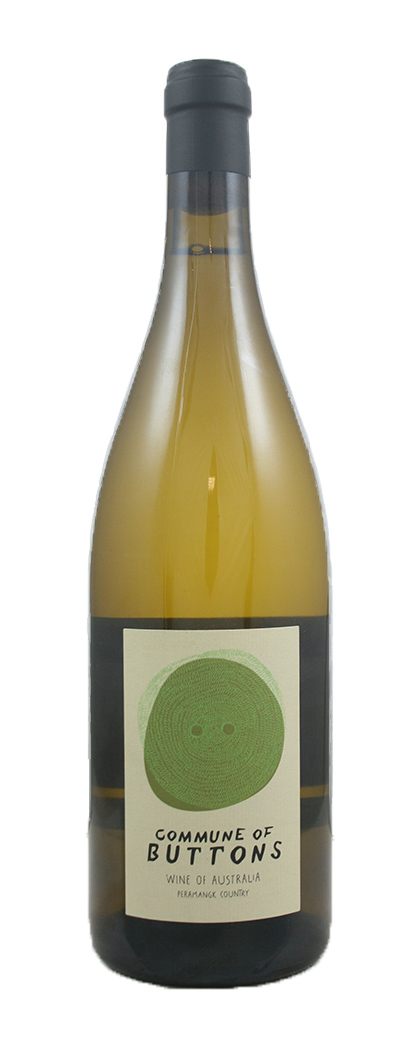 The straight Commune of Buttons Chardonnay comes from two parcels of fruit, facing north and east respectively. After direct pressing and cooling of must, the grapes are racked into 600-litre demi muids and then elevage occurs on lees (with stirring) for a further 11 months. A very well-balanced with yellow stone fruit (apricots) underpinned by characteristic Chardonnay acidity.
Commune of Buttons Pinot Noir also hails from two separate parcels, one called Gloria and one a south-west facing one on thin red clay and schist soils. The parcels were fermented separately in 3000-litre open top jarrah fermenters with 60% whole clusters. About 15% of the grapes were direct pressed with the juice poured over the top of the ferments. The rest was fermented for 14-days on skins, before being pressed to tank. The elevage lasted for 11-months in one 2500-litre tronconique oak vat on the fine lees before bottling. Lovely Pinot – earthy and dark-fruited with forest floor notes yet imbued with freshness and a certain levity by the addition of straight-pressed juice.
Gloria Pinot Noir derives from a 1-ha east-facing plot of vines. 80% whole cluster and 20% destemmed fruit is transferred to a mix of tronconique oak vat and 2000-litre jarrah vat. Again around 15% straight pressed Pinot juice was added to the ferment, where gentle pump overs took place over the course of two weeks. Elevage took place for 11 months in fibreglass vats. Beautiful wine – bright, acid-driven and red-fruited, but with deceptive structure.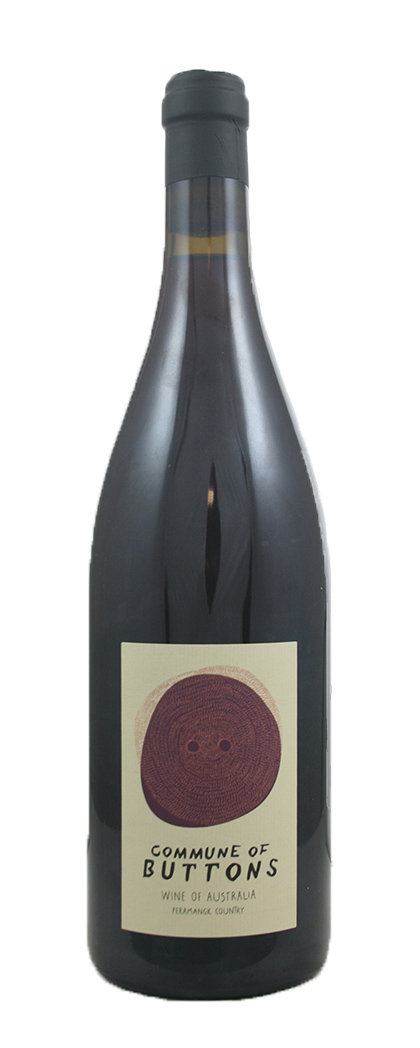 The Nebbiolo Rosé is certainly a product of the vintage. The grapes were picked earlier to make a brighter, fresher style of red wine. They were destemmed and left on the skins for a 6-day pre-fermentation maceration, then pressed and fermented in 500-litre puncheon and 300-litre hogshead. Elevage was 11 months on the fine lees before bottling. Tightly-wound, acid-driven light red-meets-rosé. Raspberry fruit and almost ash-like tannic profile. A gastronomic wine.
2021 Macerated Chardonnay
2021 Chardonnay
2021 ABC Chardonnay
2021 Pinot Noir
2021 Gloria Pinot Noir
2021 Nebbiolo Rose
*
Interested in finding out more about Commune of Buttons wines? Contact us directly:
shop@lescaves.co.uk |  sales@lescaves.co.uk | 01483 538820