"Stumbling on melons as I pass…" ~ The Garden by Andy Marvell (1621-78)
You can eat an oyster now all year round without fear of gastro-intestinal reprisal. You could always drink Muscadet any day that you wished if you were a sucker for punishment, but the wines from this part of the world have improved beyond all recognition in the past 15-20 years and there are many examples of pure, layered gastronomic Melons. Once upon a time, overcropped, over-sulphured and over everywhere. Once upon a time mere lavasse, little more than an oyster-decking excuse, now they got structure and are more than worthy of consideration.
Pierre Luneau and Monique Papin set up Domaine Luneau-Papin in 1993. Their son, Pierre-Marie (who is the eighth generation of the family to be a vigneron) joined them in the family venture in 2005. Pierre and Monique were both born into prominent local wine-producing families; Pierre's family, the Luneau family, in Le Landreau since 1680, and Monique's family, the Papin family, in La Chapelle-Heulin since 1660. In 2008, Marie, (Pierre-Marie's wife) joined the adventure and took charge of the commercial side, marketing and communication. In 2018 Pierre and Monique retired and stepped back from the family estate. Monique and Pierre's personalities are inextricably linked with Domaine Luneau-Papin. They have preserved and perpetuated the century-old traditions of these two families of vignerons in Muscadet de Sèvre et Maine.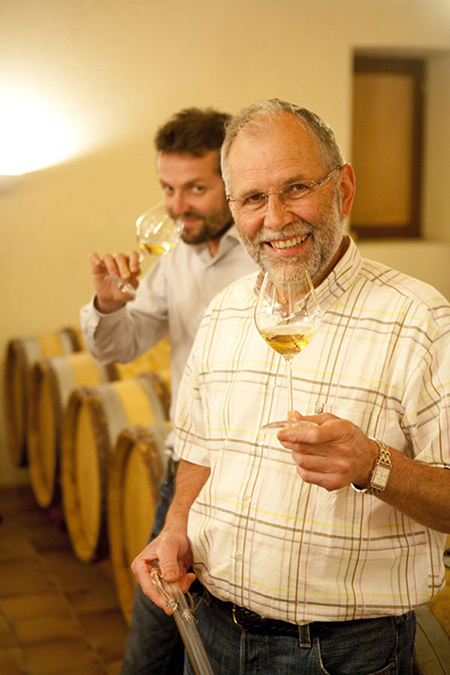 Farming throughout is organic and biodynamic and critically important to this enterprise which is certified by Ecocert and Demeter. Spring soil preparation has been performed in a traditional manner (earthing down and hoeing) throughout the entire estate since 2009. The family treat and take care of the vines with natural preparations (no chemical products) and sow cover crops such as pulses and cereals at the end of summer, with close attention to the needs of each crop. They seek to stimulate soil life with one or two applications of horn dung; (preparation 500) in spring and apply a horn silica (preparation 501) after bloom and before harvest if necessary. Vines are short cut pruned (single guyot) during winter. Vine density is 6,500 plants per hectare. Careful sorting is carried out in the vineyard by grape harvesters and yields are correspondingly low, often less than half the permitted rendement for appellation.
Vera Cruz illustrates how good old vines Melon can be
The vines for this wine were planted in 1974 in the village of Vallet. On a bedrock of mica-schist and gneiss with two micas. The plot is officially registered under the name Vera Cruz.  According to history, a sailor stranded in these lands gave the name of Vera Cruz to this particular place. The family also say: "Vera Cruz in old Spanish signifies 'true cross', this wine warms the soul and heart with its Hispano-Loire aromas."
Full exposure to the south means the grapes mature perfectly. These are then pressed in a pneumatic press, strength and length of pressing is adapted to each vintage. Spontaneous fermentation using only natural yeasts take place with fermentation and maturation on lees in tuns and barrels for 9 months, and without racking. until bottling during the following summer.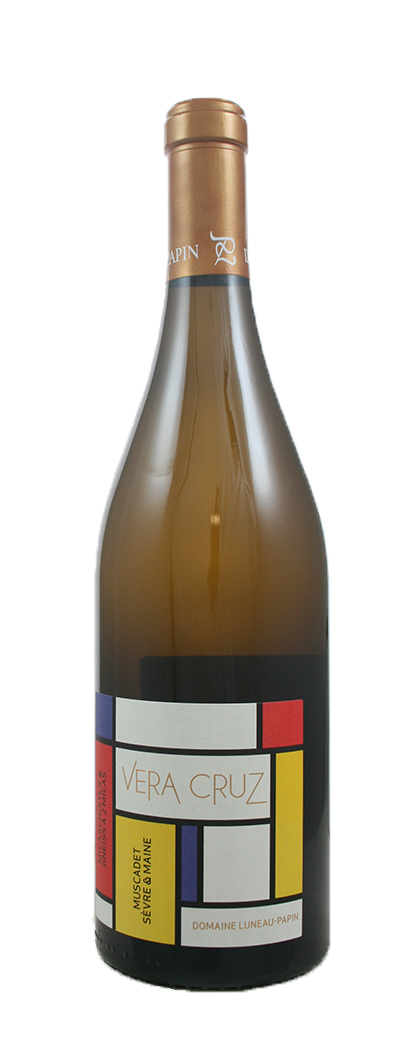 Vera Cruz illustrates how good old vines Melon can be. The wine initially reveals aromas of apricot, citrus and seagrass that might make one think of Riesling. The palate is delicate, yet with good density and detailed with a fine and vibrant acidity. Salivating and saline finish reminiscent of oyster shell (in season!).
The colourful geometric label on the bottle is very inspired by the works of the painter Piet Mondrian (1872-1944). It resembles a puzzle representing the plots of vines and their geological diversity. When one tastes the different wines of Domaine Luneau Papin, one discovers fine nuances of shell, stone, petrichor, all the elements one associates with variegated terroir that can only be channelled and brought out through excellent farming practice and precise winemaking.
2022 Muscadet Vera Cruz
*
Interested in finding out more about the wines of Domaine Luneau-Papin? Contact us directly:
shop@lescaves.co.uk |  sales@lescaves.co.uk | 01483 538820