There is a saying in the wine world, that we sometimes need to look back to look forwards. This is certainly true of Georgian wine culture, which is not merely historical in the archaic frozen sense, it is a form of living history, both inventive as well as respectful.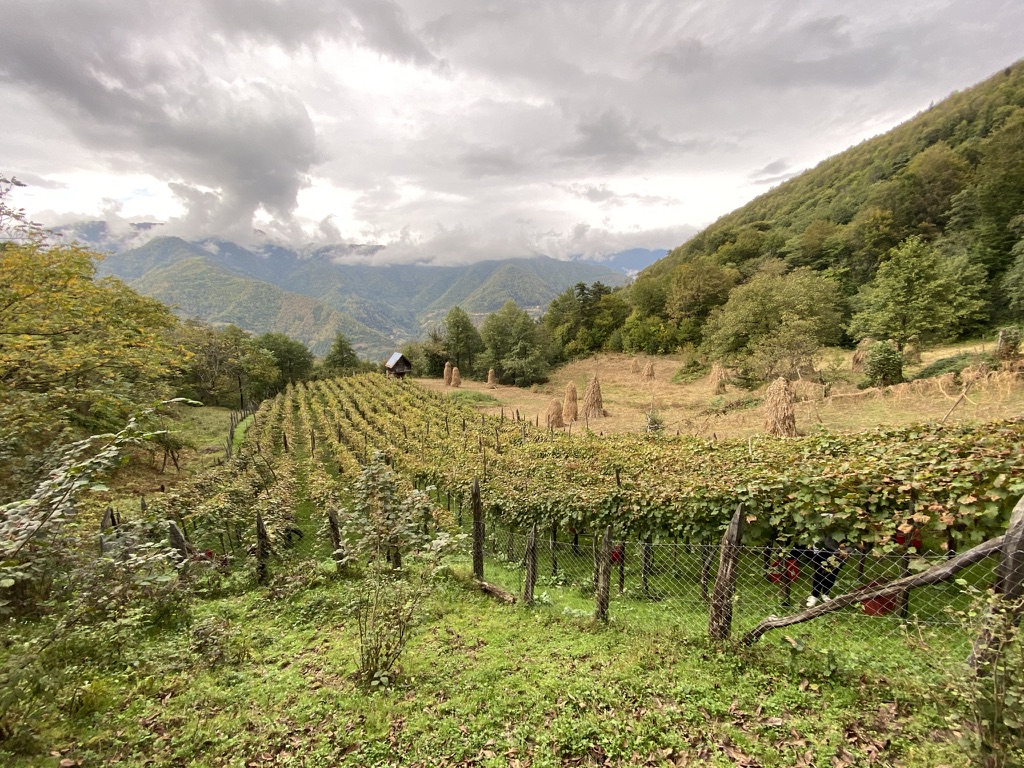 Instant associations spring to mind when one thinks of Georgian wine, primarily skin-contact wines and those vinified in qvevri. Also, because the majority of wines which people first encounter tend to be made from varieties such as Rkatsiteli and Saperavi, there is the predominant supposition that all Georgian wines are necessarily intense, tannic and powerful wines that require bold food. My earliest recollections of Georgian wines were of ones that filled the mouth, coating it with layers of intensely rich dried fruit, astringent tannins, and spice. These wines were deep and textural because of prolonged maceration and the inclusion of stems. Everything was left in the mix. Georgia, however, is not, and never has been, a homogenous wine culture. Different grapes, after all, are grown in different regions; climate and micro-climate play a significant role in determining the styles of the wines, as do respective soil types and local winemaking techniques.
Then there is generational change. Although deep roots can be the foundation of a strong wine culture, the capacity to move with the times and innovate will prevent it from becoming moribund. Innovation does not necessarily mean application of more technology, rather it is a response to changing palates, continued questioning why methods are used, experimenting, and forever seeking improvement in farming and winemaking techniques with the end of pure drinkability. Innovation is a kind of never-ending dialectic.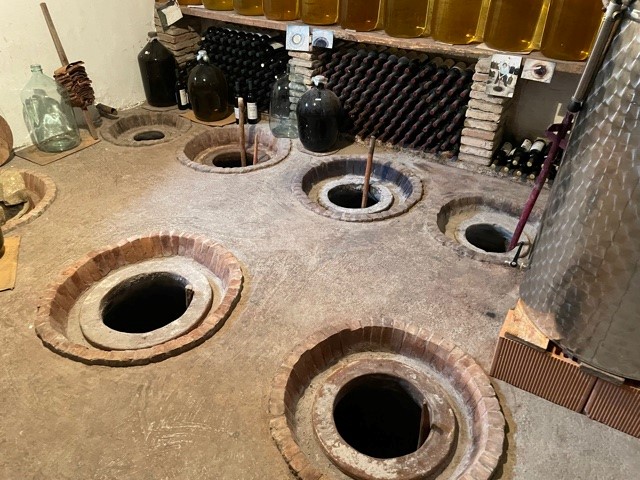 Current Georgian winemaking trends reflect this generational flux. The new breed of vignerons is inspired by styles of wines (and winemaking) that lie beyond the borders of their country. Those who, for example, have tasted and love western European natural wines, may well dedicate themselves to crafting wines that are lighter in timbre, where extraction is dialled down, and fluidity is sought. We certainly tasted many examples of reds where macerations were significantly shorter, and the grapes were being gently handled. Techniques such as carbonic maceration were also in evidence, and stainless-steel vessels more prevalent in cellars, being the preferred choice of vessel to finish the wines in.  There seemed to be more precautionary winemaking and less certainty about the qvevri process and greater acknowledgement of the possibilities of bacterial contamination of the wine.
[…] both red and skin-contact, are now being made with less extraction. Reds, from the Saperavi grape, were noticeably reined in. I don't think this is diluting a traditional style, so much as trying to discover a balance in the wines.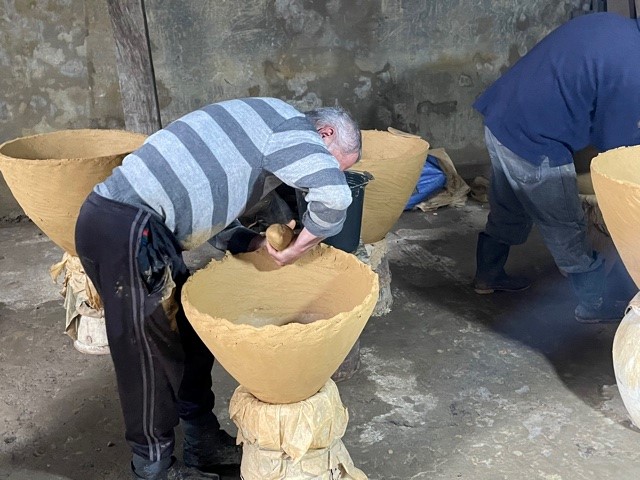 The qvevri is an iconic vessel, inextricably associated with Georgian wine culture. Buried in the ground, it interacts with, and shapes the wine, in a unique fashion. As with all fermentation and maturation vessels, it must be cleaned properly and maintained thoroughly, so that the wine that eventually leaves it is free of taint. Solving the problem of muffa – an ever-present problem – is paramount. Whether it arises as a result of  the lining of the qvevri being damaged and bacteria becoming embedded in the pores of the clay vessel, or is due to underground cellars with minimal air circulation where mould thrives in the humid atmosphere and the earth, remains to be seen.
***
On my recent trip to Georgia, I saw several reasons to be cheerful. One is the continued cultivation and vinification of new (i.e. old) grape varieties. The aim being to rediscover distinctive flavour profiles and to understand the potential of such grapes, both how to grow and make wine from them. That Georgian producers value their incredible grape heritage is encouraging.
Secondly, and something already alluded to, is that many wines, both red and skin-contact, are now being made with less extraction. Reds, from the Saperavi grape, were noticeably reined in. I don't think this is diluting a traditional style, so much as trying to discover a balance in the wines.
Then, reinforcing the broad Georgian east/west divide, we tasted the wines of Imereti, Lechkhumi and Guria in contrast to the weightier examples from Kakheti region. Not only were the grape varieties different (no Rkatsiteli, Mtsvane, Kisi or Saperavi), but the climate was what they describe as sub-tropical, with a noticeable influence from the Black Sea, leading to higher humidity and milder summer temperatures. Harvests start weeks later in the west, and some grapes (such as Ojaleshi) are picked in November. The wines are generally higher in acid, lower in alcohol and with zero or moderate skin-contact, they illustrate that in the modern Georgian wine house there are many mansions.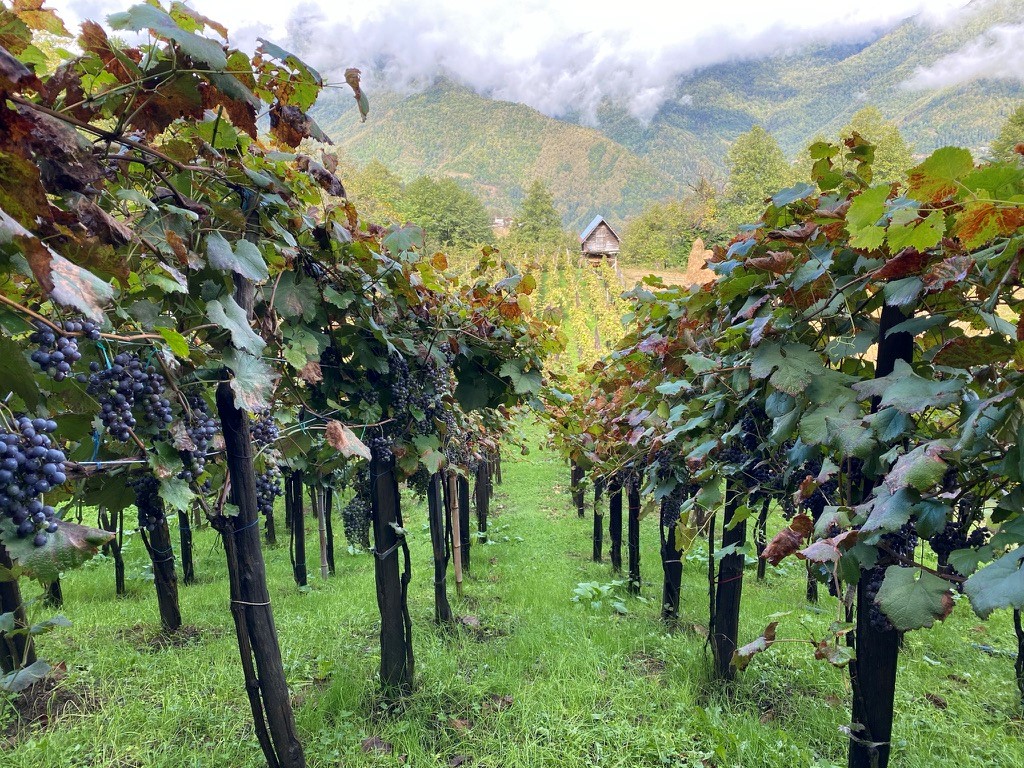 If one looks at the balance sheet, Georgia and her wines are in deep credit. Many new small producers have arrived on the scene in the last couple of years and are now making their first vintages. There's lot of experimentation – some successful, some not. The price of wine is, by and large, fair, considering the worldwide cost pressures. Georgian wine culture seems thriving – over 200 natural producers, one major natural wine fair and two smaller offshoots, wine bars and restaurants dedicated to Georgian natural wines, bustling food and wine tourism, and not least, eloquent and passionate spokespeople such as John Wurdeman, an ambassador at home and abroad for the best of Georgian gastronomic culture.