Herefordshire cider house rules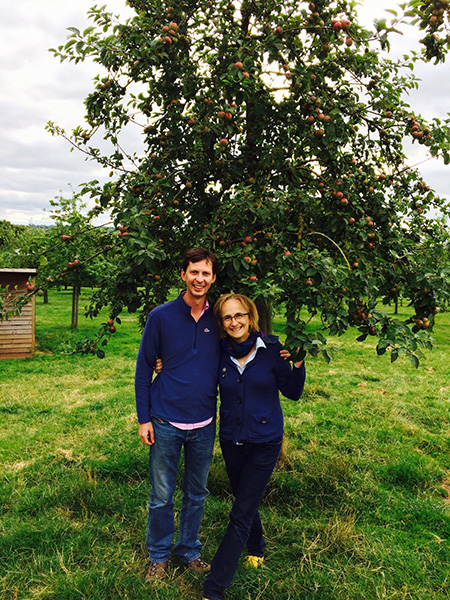 It is said that the first recorded references to cider in this country date back to Julius Caesar's invasion of Britain where his armies found the native Celts fermenting crab apples, those ancestors of the bitter sweet and bitter sharp varieties used by today's English cider makers.
Cider has come a long way. On the one hand, we are all-too-familiar with the mass-produced fizzy that is pasteurised, carbonated and cold-filtered and uses flavouring agents to get its essential "appliness". At the other end of the scale, is the rough, full-bodied homemade drink called "scrumpy". Cider can be so much more. With rigorous selection and careful "pomology" one can find delicious and sophisticated beverages that merit the same respect as wine.
Yes, cider with its noble heritage, might be called the wine of Britain. We have the climate, we have the native apple varieties and we have the tradition. What is lacking is the confidence to work with apples in the same spirit as natural vignerons work with grapes, in other words, to let natural processes take their course, to ferment wild, to show vintage variation, to mature in barrels to give an extra dimension and textural layers, to bottle without further additions, not to filter out the cidery goodness. James and Susanna Forbes do all the above at Little Pomona. The small-batch cider-making approach allows them to be inventive and take risks. As a result, they produce so many different styles, demonstrating the sheer versatility of cider.
Little Pomona ~ Cider, naturally
Little Pomona has an orchard planted to 4 heritage apple varieties
They also work with the most talented orchard growers in the West Country
Hand selected heritage apple & pear varieties
They use progressive natural fermentation techniques to reflect the vintage
They showcase single varietals, but also co-ferment and blend creatively
Fermentations are done with native ambient yeasts
They craft still ciders (matured in various types of wood)
They make bottle-conditioned sparkling ciders and "mash-ups" of apples and other fruits
They make perries from perry pears
They make delicious low abv pet nat ciderkins and "perrykins" from rehydrated second pressings
No filtration, no fining, no sulphites added – authentic ciders
All styles – from fun, crushable picnic drinks to serious gastronomic ciders
Cider, like wine, is a versatile drink. With its texture, tannic structure, natural acids and complexity through careful elevage, it can be drunk at any time of year, on any occasion and pairs with a wide range of different foods.
Cider can be so much more. With rigorous selection and careful "pomology" one can find delicious and sophisticated beverages that merit the same respect as wine.
Some of the various releases that that Little Pomona currently hold in stock:
Sparkling ciders/perries/mash-ups!
Table cider- sparkling
Egremont Russet, Dabinett, Browns, Ellis Bitter, Ashton Bitter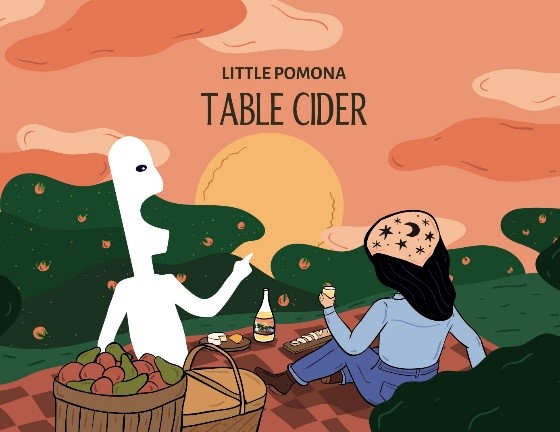 Note: Released seasonally in rolling small parcels, Table Cider reflects the sheer joyous drinkability of great cider, its natural affinity with food and its ability to capture the essence of each harvest in every glass. 
Table Perry – sparkling
Perry pears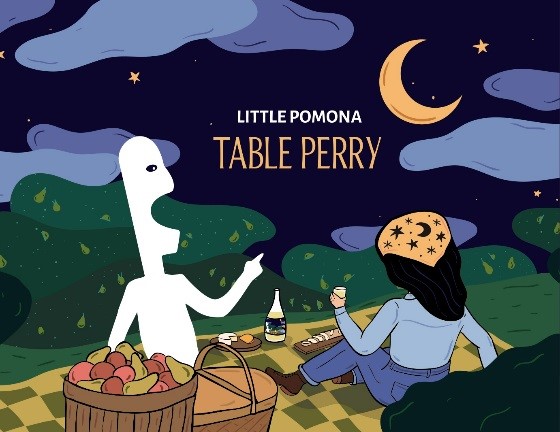 Note: Joyously accessible introduction to this rare drink. With its creamy texture, juicy fruits, soft sparkle, gentle tannins and modest alcohol, it is a delight. Note the presence of "perry diamonds", small (harmless) clumps of crystals formed by tannins aggregating after bottle.
Wading In – sparkling
Egremont Russet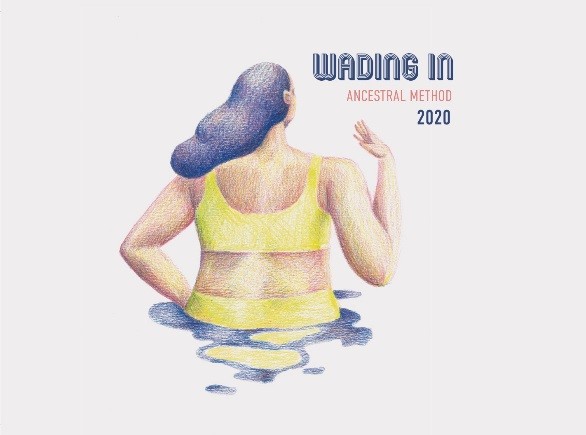 Note: This gently pétillant cider is a 100% expression of the wonderful Egremont Russet, wild fermented in tank before bottling with a little cryo-extracted juice to bring about a small, second fermentation in the bottle. Pretty florality, succulent yellow and green fruits, aniseed, nut skin and juicy acid in a beautiful, glacially fresh and textured cider.
Bright Lights – sparkling
Bramley x Dabinett
Note: Fermented wild, the transformation from sweet juice into a spine-tingling mouthful of juicy, bright citrus, perfumed flowers and blossom honey is something quite mesmerising.
Tiny Dancer – sparkling
Dabinett x Harry Masters Jersey – 2 Cognac barrels + 1 Chardonnay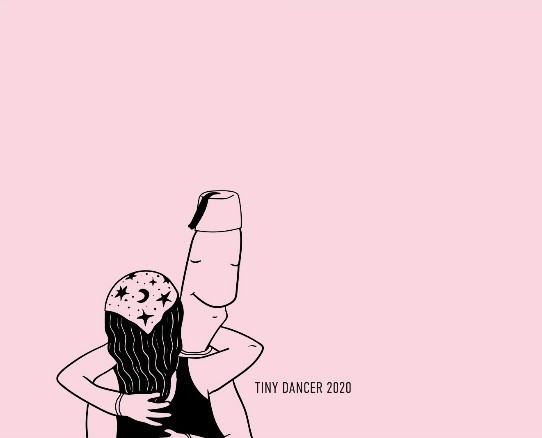 Note: White grape, peach, resin and a kiss of smoke on the nose. It's crisp green apple and apricot on the palate, with prickly carbonation and soft tannins dancing together for a long finish.
To Boldly Go – sparkling
Bacchus grapes (Dunleavy vineyards) x Herefordshire perry pears – Green Horse x Hendre Huffcap – made as pet nat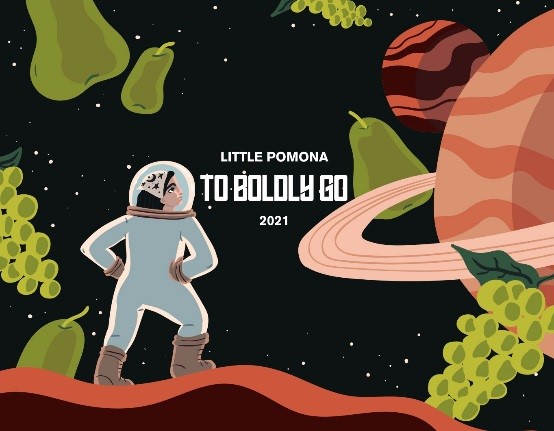 Note: Insanely aromatic, all peach, elderflower and hedgerow flowers. The sparkle is extremely fine, making it soft and creamy in the mouth. There's flavours of lemon zest, grapefruit pith, passion fruit, basil leaf, lime oil and just a hint of sweetness. 
Do It Puritan Quince – sparkling
Co-ferment of apples and perry pears x quince from barrel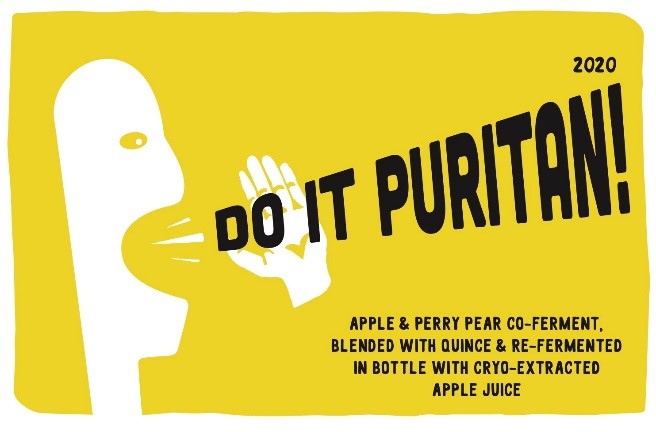 Note: Quince dominates the nose, all tropical fruit, exotic blossom and rose water. In the mouth it's crammed full to bursting with super juicy, perfumed and citrussy tropical fruit. The perry pears bring a creaminess to the mouthfeel along with some greener notes whilst the apple lends fullness and subtle tannins.
Glad To Be Plaid – sparkling
Ellis Bitter, Ashton Bitter, Harry Masters Jersey and Browns Apples in ex-spirits barrels for 18 months – one a former bourbon whisky barrel, the other a former cognac barrel – then finished in bottle.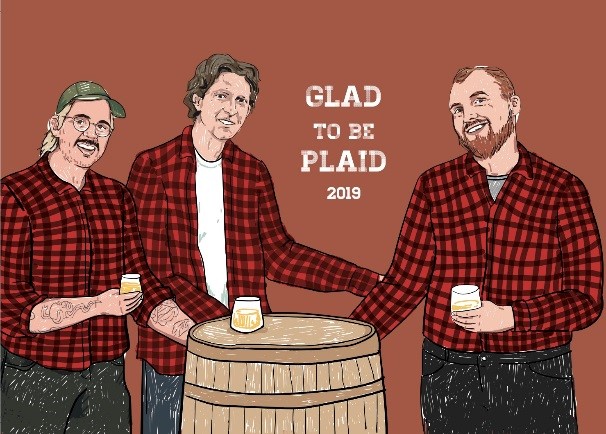 Note:  Bursting with aromas of tropical fruit and heady barrel perfume, it's intense in the mouth, with green citrus, mango, peach, sweet spice and exotic flowers. The tannins have been finely polished over time and all of its elements linger long.
Harvest Cider – sparkling
Browns Apple (60%), the addition of three classic late season varieties – Yarlington Mill, Dabinett and Harry Masters Jersey – barrel aged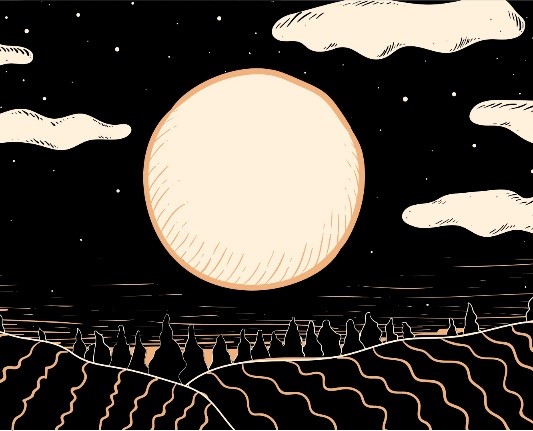 Note: The fresh, citrus vibe of Browns Apple tames any overt sense of the barrels and lifts the intense fruit richness of the late season apples. In the end it's bright, juicy and full of ripe fruit. It's fully reminiscent of the tastes, smells and feelings of warm orchard days and the long shadows of harvest time.
Brut Zero – sparkling
Created over 6 years and a blend of three different vintages, 2016, 2017 and 2019, and three different apples, Foxwhelp, Ellis Bitter and Ashton Bitter, all of which had been fermented – and in some cases – partly matured, in barrel. Champagne method – zero dosage.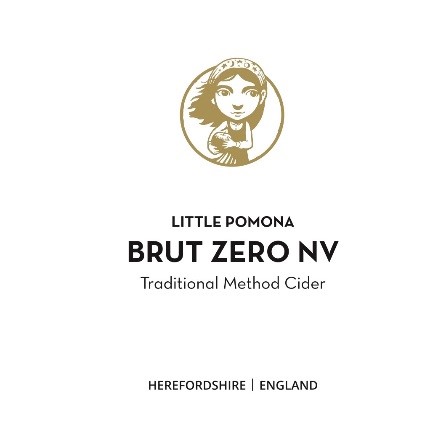 Note: Burnt gold in colour, the tarte tatin aromatics lead us to something that is rich and complex in the mouth. Creamy and softly textured, yet bright and racy in its acid. The fruit is a mix of baked spiced apples, citrus and red berries with some soft lingering tannins appearing at the finish. 
Disco Nouveau – sparkling
Discovery apples with a little Foxwhelp, pet nat – first release of the new year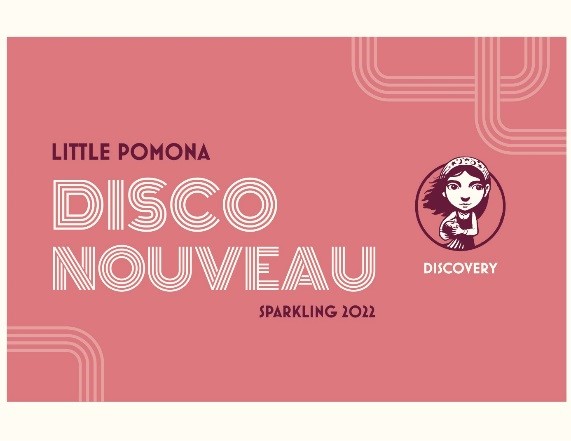 Note: Disco Nouveau showcases the Discovery apple in its purest form. Wild fermentation has brought out its gorgeous aromatics, all strawberries and cream and fruit laces, and with its lovely berry fruit lassi creaminess and gentle sparkle, it's super fresh and uber-crushable!
Still ciders
Sum of the Parts Act 1 – still
Foxwhelp x Ellis Bitter – fractional blending, solera system (2017)
Note: Act 1 brings together some of the younger components of the solera into a fine, bracing creation. Crystal clear, sunshine in a glass, the aromatics are pronounced and beautiful. Honeysuckle, lemon blossom, lime leaf and pith as well as a hint of menthol coolness. It has a tingly, core of polished acid giving vibrancy and energy to flavours of apricot, baked apple, pineapple, red apple skin, white peach, nutmeg and vanilla. With a glossy weight to it the tannins are refined and ripe.
Sum of the Parts Act 2 – still
See above – the older part of the solera – super complex and multi-layered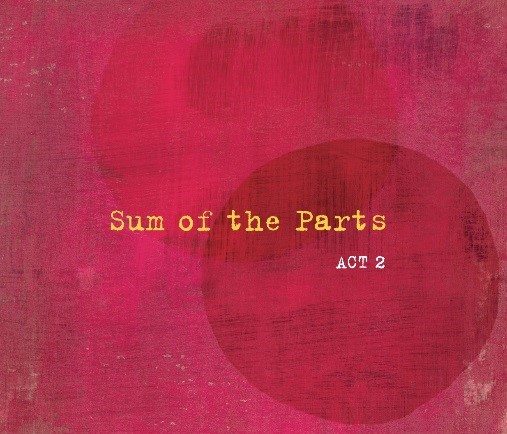 Note: Act 2 brings the older parts of the Solera together into a complex, cerebral drink. Here the aromatics are a joyful mix of berry fruit pastilles, sweet wood, lanolin and Turkish Delight. This is a rich, succulent, dry cider, glossy and plush in texture with an almost pot-pourri-like perfume running through it. Red apple skins meet red berries before very fine tea-like tannins emerge at the finish.
Dead Flowers – still
Dabinett apples aged in bourbon barrels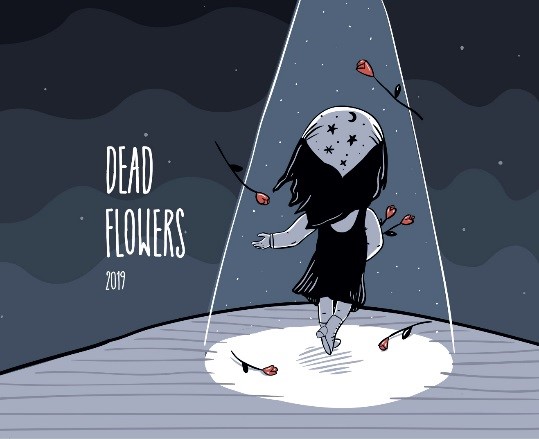 Note:  Glows orange/amber in the glass and the whole thing is really a study in orange. There's the ripe tanginess, the blossom, the pith and oil from the rind. There are also candied and burnt orange notes but it ducks in and out of apricot and peach too. Then comes the spice – clove oil, vanilla, sandalwood – before the soft wash of tannins – think fine black tea – kicks in at the finish. It's a thrilling ride and if, like us you're a fan of skin contact white wines or Lambic beer styles, you'll simply love this. 
Somerset Redstreak – still
Somerset Redstreak apples matured in used Chardonnay barrels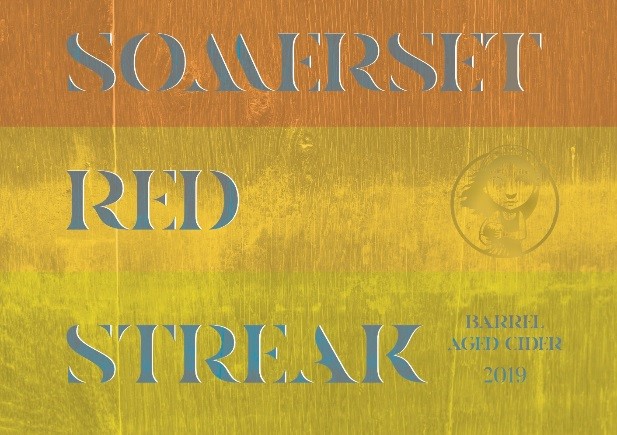 Note: On the nose it's unique, all seaside brine and subtle smoke and orange fruit. Some of this continues onto the palate, where it is met by crunchy, juicy citrus and apricot, herbal notes, subtle vanilla and spice from the barrel and ripe tannins.
Art of Darkness- still
Ellis Bitter, Ashton Bitter, extended barrel maturation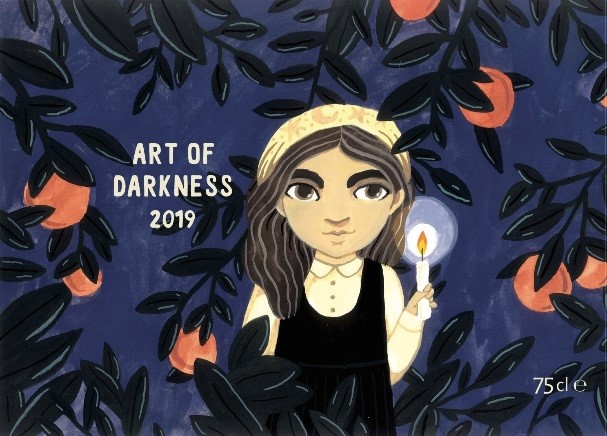 Note: The golden yellow liquid is pristine with honeyed apricot and tarte tatin vibes, perfumed like incense and warmly spicy. There's plenty of ripe tannins here too, to give it both beautiful structure and depth of flavour.
Still Life with Quince – still
Barrel-aged cider with quince wine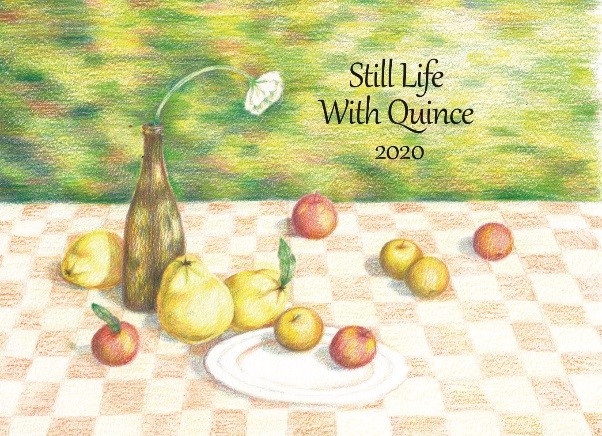 Note:  Tropical flowers and the sweet, woody scent of incense and spice and rose oil appear to fill the air. To drink, it's pure, juicy tropical fruit – think mango, tangerine and pineapple – interlaced with floral perfume, sweet barrel notes, and succulent, ripe citrus.
Orange Cider – still
Brown snout and Dabinett matured in ex-brandy casks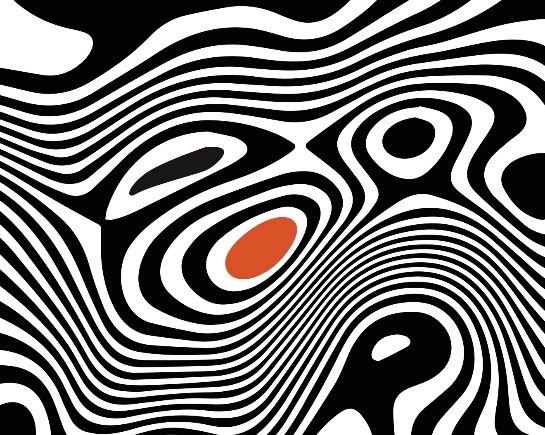 Note: The aromatics are beautiful, all sweet orange and temple incense, and when you taste, it really is just pure, delicious juice – peach, plum, apricot, yellow apples, mango and yes orange! You can almost feel that juice running down your chin – joyful drinking without, but especially with, good company.
Ciderkins/perrykins (all sparkling/pet nat)
Piquette style drinks (low abv) made from refreshed apple and pear skins and pulp.
Hard Rain Hot Pink – sparkling
Kingston Black apples, organic blackcurrants and Chinook hops.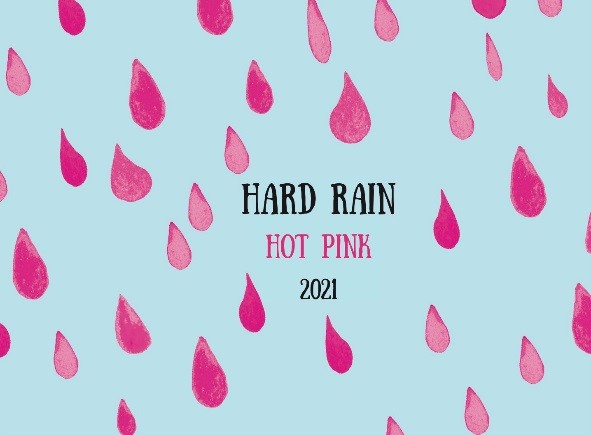 Note: Naturally sparkling juice bomb that marries the grapefruit of the hops with the intensity of blackcurrant and the crunchy bite of the apples in a truly astonishing and delicious way.
Hard Rain Simcoe Perry – sparkling
Perry pears –Green Horse and Hendre Huffcap – together with whole cone Simcoe pear.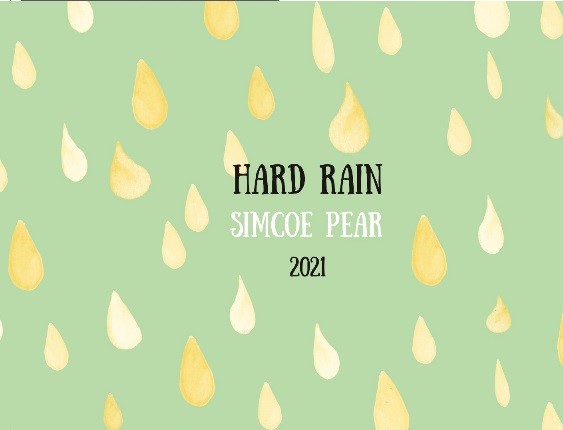 Note: combo of white peach, passion fruit and pine, this one is zippy and sour, like a farmhouse gose beer infused with stone fruit and lemon zest and, with its bright sparkle, it's a thirst-slaying crusher. 
Hard Rain Perry-quette – sparkling
Bacchus, Solaris and Seyval Blanc grapes — together with two French varieties of perry pears, co-fermented spontaneously and bottled as a pét nat.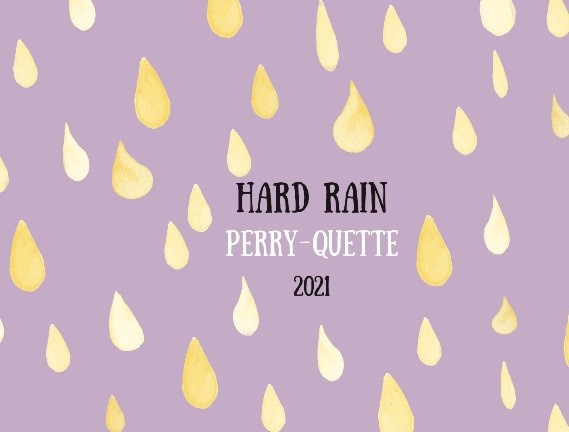 Note: Hazy blue/green in colour, it's super tropical and grapey on the nose. With a cool, herby edge and creaminess coming from the perry pears plus juicy citrus from the grapes, it's been made uber-moreish and joyfully crushable by some glorious funky acid.