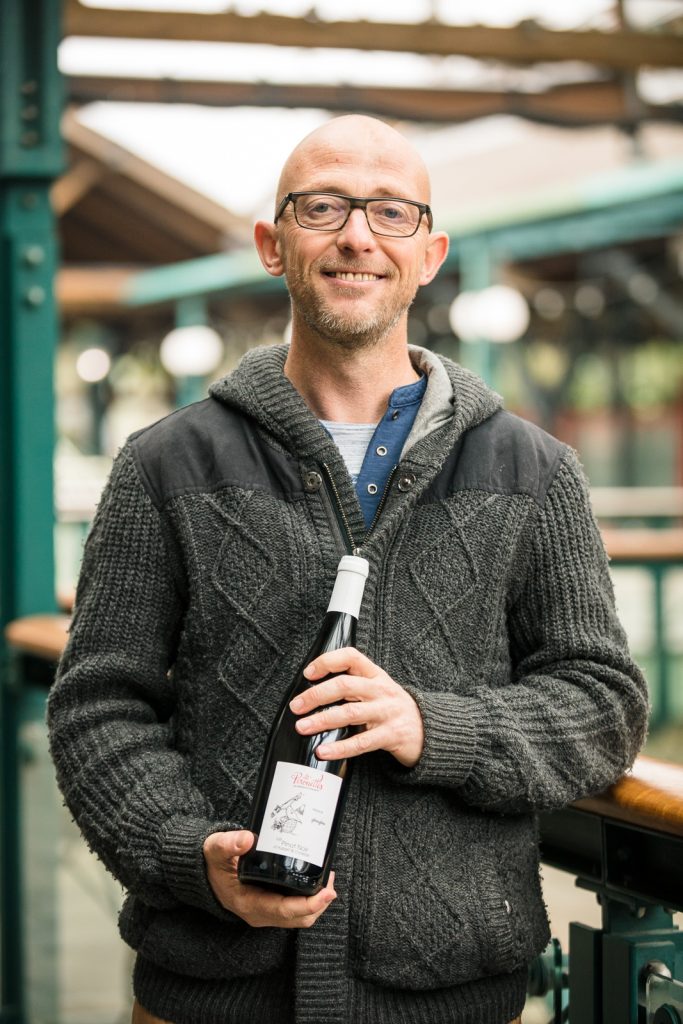 Organic practice for 15 years (although vineyards have never had chemicals) – Ecocert
The Binners have practised biodynamics for many years using preps 500 – 507 – certified Demeter in '20. They dynamise their own preps, and also make herbal teas to spray on the vines.
Only ploughing on Schlossberg hill (by horse).
Otherwise, no ploughing in the vineyards, instead loads of grassing and cover-cropping to fix the nitrogen.
The importance of building soil structure and humus and encouraging deep root systems.
Terraces were rebuilt on the Schlossberg to guard against soil erosion (decomposed granite).
Alsace is the place where all the major terroirs meet! Granite mainly, but also limestone, loess, schist. Mix of shallow soils and deeper soils giving different expressions. Different expositions, of course.
Moving to perma-and-polyculture, experimenting with pergola and planting in the shade of trees, natural vineyards without training, wires, rows. Will experiment with no pruning too.
Christian believes that the vines naturally want to grow and he wants to encourage this.
He believes that doing this will eventually give his wines even more balance.
The Binners harvest late to ensure maximal maturity.
Totally natural – zero sulphur added to wines for the last 5 years. You can only do this when you have beautiful maturity in the grapes.
Now a member of the Vin Nature group.
The cellar is purpose-built. Thick earth walls keep it cool, excellent for long ambient fermentations.
All wines are aged on their lees in foudres of around 100 years old. The oldest dates back to 1899.
Always topping up the barrels. Bacterial problems tend to arise towards the top of the barrel, rather than in the wine itself.
Aiming for maximum intensity, natural ripeness, vinifying to dry.
His wines are always gastronomic (intense, full).
He's creating a solera system for Si Rose (a blend of Gewurztraminer & Pinot Gris – the next edition will feature 2017-20 inclusive).
He says that Alsace is the logical heart of France for skin-contact wines. The aromatic grapes such as Gewurztraminer, Pinot Gris and Muscat lend themselves to this and the bitterness gives structure and definition to the wines.
*
Interested in finding more about the wines of Christian Binner?
Contact us directly:
shop@lescaves.co.uk |  sales@lescaves.co.uk |
01483 538820
*Note: We are still open for business, doing deliveries, and keen to help everyone with their booze needs in this difficult time. Natural wine lovers can visit our online shop and order online!