Sparkling new adventures in "Corpinnat-shire"
Bufadors (the name "Bufadors" refers to the Puig dels Bufadors, the hills of the Black Mountain of Cadaqués), is a new label created by Ton Mata (director of Recaredo) and his wife Encarna. Encarna and Ton originally met in Champagne in 1998, and since that time have always dreamt of working on a small wine project together. They began to research the possibilities for this in 2013 and now it is bearing first fruit. In the beginning, they were producing the wines in Recaredo, but now have their own tiny cellar, not far from Sant Sadurni and someday hope to make it a full-time family concern.
They currently own 3.5 ha in Penedès, as well as a little vineyard in Cadaqués-Empordà, where Encarna is from. Cadaqués vineyard was planted in 2018 and the first vintage will be the 2021 – the wine won't be ready for a few years, however. In Bufadors, in Penedès, the grapes are used for the two Corpinnats: Les Voranes and Vinya del Rascarà.
The first Bufadors wine is sparkling, made according to the traditional method of secondary fermentation in the bottle. But, more specifically (and uniquely), all the elements are native, beginning with the Catalan grapes themselves. This then is a "terroir" wine from a single vineyard, called Vinya del Rascara, located in Can Rossell de la Serra, a 1.5 ha plot of 100% Xarel·lo, planted in 1999. The plant material derives from a massale selection from the legendary Turó d'en Mota vineyard. Two other small vineyards in the same area of Can Rossell,  are called "Les Voranes", and from these they make a second Corpinnat with Xarel·lo and Macabeu.
Both Corpinnat wines are made following a very special "interpretation" of the traditional method, in order to establish a direct link to the "terroir".
One of these Vorana vineyards is trellised and 30-years-old, the other grows in traditional bush formation and is about 60-years-old. They try to plough as little as possible and leave the cover crop in the middle depending on the water supply. Yields are around 21 hl/ha. The farming uses both organic and biodynamic methods.
Vinya del Rascara is based on exceptional calcareous soils containing the presence of small irregularly-shaped calcium stones and is a perfect balance between clay and sand. The grapes are harvested by hand and fermented in old 300-litre wooden barrels, before ageing on the lees for five and a half years. Malo occurs spontaneously and the wine is bottled without filtration, fining or added sulphur.
Both Corpinnat wines are made following a very special "interpretation" of the traditional method, in order to establish a direct link to the "terroir". Consequently, the second fermentation in the bottle is carried out with fermenting must from the vineyard itself. There are no added elements, no sugar, no commercial yeasts, no fining agents and zero-added sulphites. Nor has the wine been filtered, or cold-stabilised. Ton and Encarna believe in bottle ageing with the presence of the lees as enriching and protective natural elements of the wine that participate in the evolution and complexity of its aromas and flavours. Les Voranes, therefore, spend 30 months on lees; Vinya del Rascara no less than 66 months. All ageing is carried out with a natural cork stopper and the "disgorging" is done manually without freezing.
Les Voranes is fresh with aromas of white fruits such as apple and pear, as well as hints of fennel and white flowers and a suggestion of creamy notes arising from contact with the lees. In the mouth it is subtle yet displaying both breadth and density. A soft finish, with light notes of tannins, completes this fine fizz.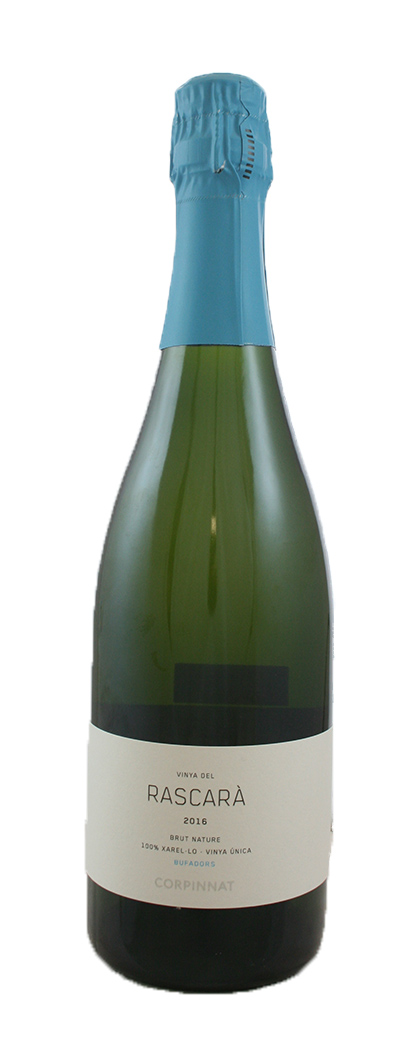 Rascara demonstrates a clear relationship with its calcareous origins, revealing fresh citrus and aniseed character with delicate hints of white flowers, amplified by the character of lees-ageing with dry white spice notes. In the mouth the wine is vertical and direct, with a tannic character and a characteristic elegant bitter finish. A beautiful classy gastronomic natural sparkling wine which is so much more than the sum of its bubbles.
Both the wines are brut nature, crispy, crunchy and chalky, slimline, salty and satisfying.
2018 Les Voranes Corpinnat Brut Nature
2016 Vinya del Rascara Corpinnat Brut Nature