Pic of Satisfaction
Deep in the Forez something stirs – The Wines of Vin & Pic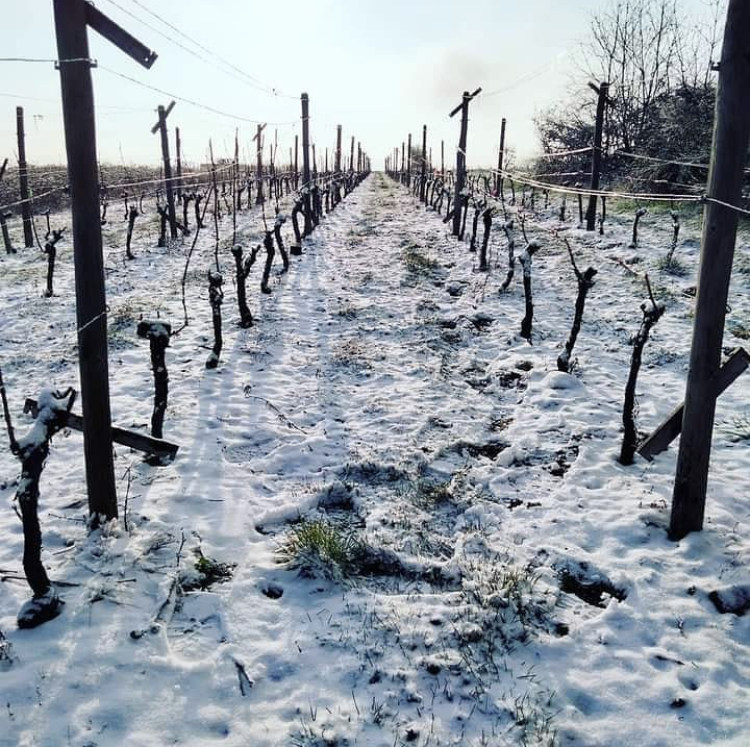 When Laurent Demeure moved to the southern part of the Côtes du Forez, he'd already left his initial career behind as an industrial worker in the Rhône Valley. He became a winegrower in this small, oft-forgotten wine region, dotted with volcanic peaks and bordered by the Monts du Lyonnais, the Loire, and the Monts du Forez.
The first vines were those belonging to the historic village of St-Romain-le-Puy, on a steep hillside, impossible to mechanise, and where only human physical endeavour could enable the vine to be cultivated. With Christine, his wife, who joined him in the venture, they became not only committed to breathing new life into these historic plots, but also passionate about bringing to bottle those hybrid varieties that had an important role to play in the history of French vineyards. Alongside the main grape of the region – Gamay St-Romain – and "classic" grape varieties such as Viognier and Syrah, Laurent and Christine also craft cuvées from old vines of Baco, Plantet, Ravat…
With their son Maxime, they farm and manage 8ha of vines across 7 different communes and produce 25 cuvées from a dozen different grape varieties!
The winery is more precisely located in Boisset St Priest in the administrative area of the Loire, some 30 km from Saint Etienne, 10 km from Montbrison, in the magnificent foothills of the Monts du Forez, in the Côtes du Forez. The vines for the cuvee called Diana are on the upper part of the volcano of St-Romain-Le-Puy, (the soils being of basaltic origin) and are planted facing south, at 450m above sea level.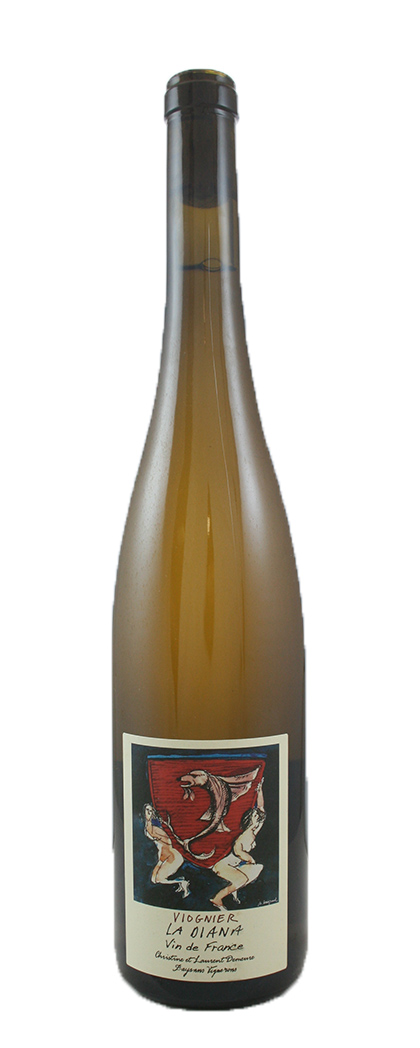 The grapes for the Diana Viognier are manually harvested, destemmed and direct-pressed, before being fermented in stainless vats with indigenous yeasts at cool temperatures to focus the fruit flavours. The wine undergoes malo and is aged further in tank for 4-6 months. Pale gold, Diana has an expressive nose with floral notes of violet, citrus fruits and apricots. The palate fills out with flavours of pear, ripe citrus fruit and white spice and there is a certain nuttiness also.
Boutonnière is from a century old plot, located 700m above sea level on a south-facing slope. The soils here are granitic and sandy. A blend of 50% Gamay St-Romain, 50% Seibel, the grapes are 100% destemmed and given a semi -carbonic maceration for 10 days in a fibreglass tank. The wine then spends 10 months in used barrels and three grams of sulphur is added at bottling. Dark garnet colour, leading to an expressive nose which reveals an array of candied black fruits and spices. The mouth is round, an explosion of fruit and freshness. A delight! Seibel, incidentally, is a hybrid developed to increase disease resistance. Descended from Aramon and Alicante Bouchet; one wild American grape, Jaeger 70 and one rootstock, AxR1, which was created by crossing Aramon with a wild American V. rupestris, it was once more commonly seen, especially in the 1950s, but has vanished since French appellation laws do not allow for hybrids.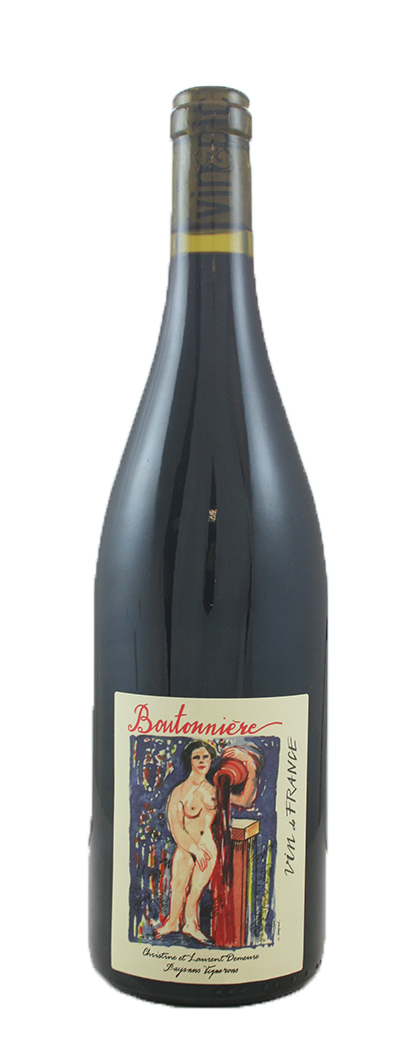 Sanguine means 'bloody' which perfectly describes the colour of the wine that the Gamay Teinturier produces. Teinture means 'dye/stain/tint'. Grapes for this wine are 80% destemmed, pneumatically pressed and undergo a 10 day semi-carbonic in stainless tank, before ageing 10 months in used oak. Deep red with forest fruits and blueberry on the nose and a palate brimming with dark red cherries.
The Cuvée Baco vines, planted in 1935, face north and south at 380m above sea level, and are harvested when slightly overripe. The soils are granitic and sandy in this vineyard. Whole bunch ferment, semi carbonic for 15 days in fibreglass tanks and then ageing in used barrels with a dose of 2g sulphur before bottling.
Baco Noir's origins go back to 1894, when French grape breeder François Baco crossed Folle Blanche with an unknown member of the Vitis riparia family. The intention was to create phylloxera-resistant vines that retained their French character. At one time, Baco Noir was grown in Burgundy and parts of the Loire, but it was gradually ushered out of the Old World and has since become one of North America's more successful hybrids.
With its light to medium body, decent acidity and preference for cooler climates, Baco Noir is seen a grower-friendly alternative to Pinot Noir. Nor does it express the distinctive foxy aromas and flavours of other Vitis riparia varieties, but instead shows rich fruit tones, typified by blueberry and plum.
The nose on the Vin et Pic Baco is very open and displays forest fruits and pepper. It is fresh in the mouth with notes of blueberry and liquorice and more lashings of pepper. French Baco? Consider our curiosity piqued!
2020 Diana
2020 Boutonnière
2020 Sanguine
2020 Baco