This is a series profiling the producers on our list who make natural wines. Within this series we will be highlighting some of the extraordinary and rare bottles and vintages that have helped to shape our appreciation of natural wines over the years. Previous posts from our 100 Great Natural Wines series include Austria, Spain, and a hefty chunk of France & Italy, and can be found here.  
Ghetto-ising Georgian wines and saying that they merely exert a strange fascination, is not to see that they have a wider role in today's world of wine, by reacquainting people with the historical and cultural background of wine. It is not fanciful to say that Georgia is giving back something very special to the wine world.
One thinks of how wine has been recently shaped by the market-place and commercial requirements as well as the demands of regulatory bodies (all pushing towards homogenisation). Georgia has been somewhat insulated against these forces and survives with its confident cultural identity intact.  Georgia is, of course, the birthplace of wine and the country with the oldest and most continuous tradition of winemaking. The etymology of the word 'wine' is said to stem from the Georgian word gvino. Wine for Georgians is much more than just a beverage. Historically, wine was not only the basis of economic wealth, but also part of spiritual culture.
When one thinks of Georgia now, one thinks of the skin contact wines, the qvevri, the natural winemaking and the amazing gastronomy of the country. Wine is sacramental in Georgia; there is a hard ethos of hospitality and celebratory drinking, something that we have lost over the years as wine becomes a product fit for purpose. Wine is certainly hard-wired into the Georgian mentality.
But Georgia is by no means a homogenous wine country. There are different regions – Kakheti, Kartli, Imereti, Guria, Samegrelo… different and proud local traditions of winemaking, and, of course, 500 + grape varieties to choose from, many of which are being rehabilitated as we speak.
And then there are the qvevri. A pot is not just pot. Qvevri-making is a UNESCO protected craft. The symbolism of the qvevri is potent and integral to Georgian wine culture. The pot is made out of clay, lined with beeswax, and then buried in the ground where it remains. It holds the wine during the fermentation, and, symbolically-speaking, gives birth to it. (There is notion that the qvevri is like a womb, the skin, stems and pips are the mother and the wine is the baby). The qvevri shapes the wine too; bequeathing subtle but tell-tale flavours.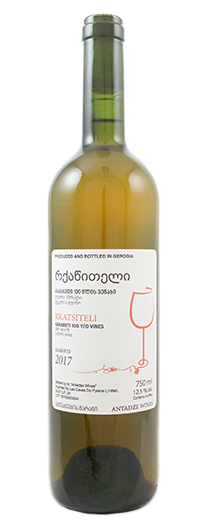 RKATSITELI KAKHABETI 100 YEAR OLD VINES ~ NIKI ANTADZE
Rkat got your tongue
Niki Antadze works in the highly regarded PDO (Protected Designation of Origin) Manavi region of Kakheti. His family owned vineyards and plots of land in this particular region, until the Soviet period, when the lands and possessions were expropriated.  In 2006 he purchased a small part of his family's former property in Manavi, the name of this vineyard being known as "Royal Cru", because the wine previously produced here was a favourite of the royal family.
He now farms his vineyards, which are situated at 750m a.s.l. on alluvial soils rich in limestone, as naturally as possible, uses no chemicals in his marani and only traditional techniques to produce a variety of qvevri styles from the Rkatsiteli, Mtsvane and Saperavi grapes. He owns around 3 hectares and has one particularly old plot of vines (around a hundred years old). The marani is ramshackle – and then some!! The wines are the thing, however, and have real soul, just like the man himself.  They exhibit terrific concentration and deep layers of complexity with a very complete texture.
The Rkatsiteli undergoes a natural fermentation with wild yeasts in traditional qvevri lined with beeswax and in accordance with Georgian tradition is left on skin and stems for three months to gather colour and tannic structure. The qvevri are buried in the cellar floor. Malolactic occurs naturally and the wine is bottled without filtration or fining and with a little sulphur added to prevent VA.
The wine has a deep amber colour, warm nose of roast spices, butternut squash and apricot, bitter fruits on the palate with hints of ginger and white pepper, moderate acidity with textural tannins.
The length and breadth of this Rkatsiteli are truly impressive. Old vines have given the wine huge concentration and it is not as heavy and square as many Rkats are.
Why we love this: Wild and exotic, this wine has just enough VA to bring the ensemble into focus. Remarkable energy throughout.
If you like this: Joni' Okro is one of the most respected natural winemakers in Kakheti, Eastern Georgia, where he concentrates on traditional long skin-contact amber wines and increasingly a small range of delicious pet nat and ciders. His vivid Saperavis are some of the best examples around. He also has vineyards in Imereti where the focus is on wines without skin contact. His Rkatsiteli, from vines grown at altitude, is especially fine. Wild, with fine tannins and bone dry with six months on its skins, it is orange in colour with a ripe core of rosemary and mandarin aromas.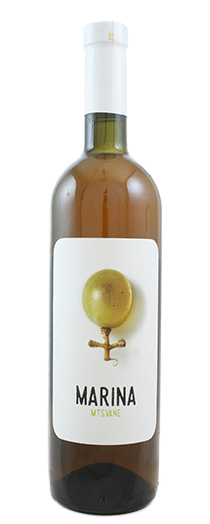 MARINA'S MTSVANE ~ MARINA KURTANIDZE
Marina-ting the Mtsvane
Marina Kurtanidze chose the Mtsvane grape to work with because she loved the wines that came from it, and was also able to buy wines from healthy, organically-farmed vineyards. During this process, she had the help of her husband, Iago, friends, and encouragement from fellow qvevri producers. Georgia has a very tight-knit wine community, vine growers and wine producers are being nurtured to grow, both in their outlook and in their businesses. Winemaking in Georgia may have an 8,000-year heritage but it still feels like something done on a wing and very many prayers!
Here the grapes for the wine are grown in the Manavi region of Kakheti in vineyards at 500m above sea level on stony clay soils, although the wine itself matures in the marani in Kartli. The grapes – skins, stems and pips (the mother) are left in the big terracotta clay qvevri buried in the earth for six months, wherein they undergo their primary and malolactic fermentations. The vigneron can't monitor the wine during this lengthy gestation period, so after the primary fermentation is completed, the qvevri is sealed and the wine is left to tick over and receive its nourishment from the "mother".
Many Georgians will say that the opening of the qvevri is like giving birth to the wine, literally putting it on its feet.
The Mtsvane is slightly more come-hither than the Kaketian Rkatsiteli and more al dente (if that's a wine term!) than the Chinuri grape which flourishes in the Kartli region in central-eastern Georgian. Marina's version is simply gorgeous. The salmon-pink colour is inviting, the nose speaks of so many things including roasted apricots, crystallised citrus even grilled mushrooms and the palate encompasses tea, sake and a pink grapefruit tangerine-tang. Like the best Georgian wines, it possesses earthiness and real umami flavours balanced by energetic acidity and fine-grained tannins. Texture is an important dimension in wine, but it requires fluidity to bring all the components into relief. This wine has that fluidity. Like so many wines that have experienced extended skin contact, they come into their own a couple of years after release onto the market.
Why we love this: The colour is bewitching. It is a strong amber, dense with promise and seems to hold the light. We drink with our eyes sometimes.
If you like this: Iago works with only one variety – the light-skinned and late-ripening Chinuri – although he makes two versions of it; one with skin contact and one without.  Skinless is stomped by foot whereas skinny is gently crushed before the whole bunches are surrendered to the clay and remain there for three to six months to accrue colour, body and tannin. Nothing is rushed here, however. Iago's clean skin wine is left to nestle in the earth for two years before bottling, although it is transferred from one qvevri to another during that time. With a strong yeast population, the ambient fermentation will proceed healthily and at its own pace and Iago will break the cap to allow the gases to escape. The malolactic proceeds naturally once the qvevri have been topped up and at the end of the year the jars are sealed wherein a large flint stone or a piece of glass is placed over the aperture and itself is then further sealed with wet clay and covered in damp sand. The skin contact Chinuri bristles with life and textures – cashmere, corduroy (the latter being the texture I encountered most on these whites in Georgia) – are a whole experience in themselves and then there are the aromatic notes of wild mint and fennel.  As Iago says: "I believe that everything natural is always better than anything artificial. This is a part of truth and reality. When you do this, it is an expression of your faith. It is not a marketing gimmick. And then it doesn't matter how many people tell you that you should do it differently. You still do it your own way".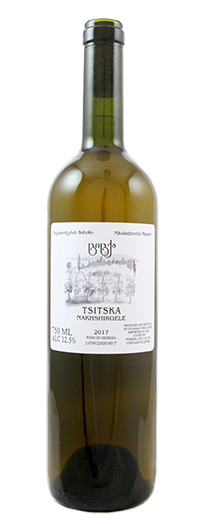 RAMAZ NIKOLADZE ~ TSITSKA NO SKIN
Skinless wonder
Not all great wine tasting experiences are to do with tasting the finished wine from the bottle. A visit to Ramaz Nikoladze, Imeretian grower and winemaker extraordinaire, and also host of Gvino Underground Wine Bar in Tbilisi, was an example where the spontaneous joy of discovery gave a wine an extra dimension.
Ramaz is based in the village of Nakhshirghele, just a few kilometres from Kutaisi, and he started his small domaine in 2007 on the grounds of his grandparent's parcel. He set up his cellar on the basement with a few qvevri buried to their neck. His own vineyards comprise 1.5 hectares in total and his annual production is around 4000 bottles. In addition, he sells the wine of his wife's uncle (Didimi) who is 85 years old and also makes wine the traditional way in a village 30km away.
To boost his relatively tiny production Ramaz occasionally buys from small family growers as long as they farm naturally in the vineyards.
The vineyard lies on a gentle slope, just below the house, surrounded by forest. Extensive cover-cropping reinforces the sense of greenness. The climate is what they call "sub-tropical", fewer extremes of temperatures than eastern Georgia, and very humid, requiring several application of Bordeaux mixture.
Ramaz works with Tsolilouri and Tsitska from his own parcel (some of the vines are over one hundred years old) and makes Tsolikouri from another vineyard in Lechkhumi on limestone-rich soils.
My first encounter with Ramaz's wines was on a trip to Georgia in 2013:
Then back to Ramaz's house to witness our second qvevri-opening in a few hours, but whereas Iago's clay jars were buried in a spick 'n' span winery, these were sealed outside in the earth under a rickety pergola.
Ramaz cut and levered a disc of mud out of the earth and carefully swept away the residual dirt (so that it didn't fall into the qvevri). Glasses were filled with pale-gold Tsitska. Synonyms of this variety are Shanti and Mamali Tsitska and it is considered to be one of the best and most widespread cultivars in Upper and Central Imereti. This fresh-minted version had a wonderful herbal note and pure raw flavour as if it had just been dragged out of a long sleep.
We then tried two wines which had been bottled the previous year. The first, a Tsistka, was THE wine. Shimmering green-gold, breathing apple-blossom and wild herbs, it surged across the tongue with brilliant acidity and lithe mineral energy. This wine was complete – the perfect wine for the perfect moment, seemingly capturing both the light of the sky and the blood of the earth. For all that science might wish to compress wine into a narrow microbiological liquid brick, this taste elicited (amongst all of us) a spontaneous joyful reaction, a temporary suspension of critical faculties, a leap of wine faith, as it were.
Why we love this: Although Ramaz makes wines using skins and stems, this wine is a nod to the classic Imeritian-style. It is fresh, graceful and fluid – those whose palates are more European in inclination would appreciate this Tsitska.
If you like this: Archil Guniava Wine Cellar and Vineyard is located in Zestaphoni, Kvaliti Village, at the family home, where generations of the family have lived. Vines are planted across 1.5 hectares of vineyards. This location provides excellent soil structure and a conducive climate for grapes. The vineyard plot is planted to many grape varieties: Tsolikouri, Tsitska, Krakhuna, Otskhanuri Sapere, Dzelshavi, Dondghlabi and Mgaloblishvili, the latter two being very rare and whose reputation Archil is dedicated to restoring. Everything is fermented in old qvevris buried in the marani (cellar). Natural winemaking methods are naturally employed with native ferments and nothing added; normally the wines would be made Imeretian-style with approximately 15% maceration on skins, but in the lighter 2019 vintage they were made without skins. Grapes are harvested by hand, destemmed and crushed into the beeswax-lined qvevri. Ferments are ambient and take around two weeks to complete. All wines undergo natural malolactic fermentation and are bottled without filtration, fining or sulphur added.
In a country overflowing with ancient grape varieties, Krakhuna is one of the oldest. And is happily easier to pronounce than many other Georgian grapes! Indigenous to Imereti in the west of the country, grown in and around the villages of Sviri, Obcha and Dimi, 'Krakhuna' means 'crisp' in the local dialect. It's an appropriate nickname for this high-acid grape, which winemakers often describe as 'crunchy' in texture. Given the humid conditions of west Georgia, it can be challenging to grow with its naturally thin skins which make it susceptible to rot and mildew. As a consequence, Krakhuna produces only moderate yields and the grapes must necessarily be harvested by hand and sorted. Krakhuna is often blended with Tsolikouri and Tsitska to make delicious white wines. Archil's delightful version offers notes of apricots, ripe citrus, vanilla with honeyed tones and lovely acidity to balance.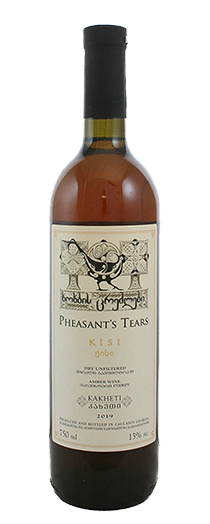 KISI ~ PHEASANT'S TEARS
"Only the finest wines can compel a pheasant to cry tears of joy"
Pheasant's Tears is the project of John Wurdeman and Gela Patalashvili. They met in 2005 when Gela saw John painting a landscape near the village of Tibaani. Gela invited him to his house for dinner and there the (grape) seeds for Pheasant's Tears were planted and with some investment they started their project in 2007. It was not just to make natural wine, but to conserve in a real way and to celebrate Georgian cultural heritage.
Pheasant's Tears estate vineyard plantings flow down the slopes of the eastern Georgian Kiziqi province overlooking the Alazani Valley and snow-capped Caucasus Mountains. The site itself is located near the village of Tibaani in the shadow of the 6th century monastery of St. Stephen. The terroir here is special, with long summer sunlight of over 14 hours a day and evenings cooled by the breeze from the gorge. The soil is composed of limestone, chalk and dark clay on the surface, whilst a metre deep lies a sandy loam mixed with gravel, providing excellent drainage for the vines' root systems. Gela, and Malkhaz grew up in a farming family learning from their grandparents and parents how to grow grapes and make wine in qvevri.  In 2007 they approached John to help with investment and to be a bridge to the outside world in order to enable the wines to reach more wine lovers that wanted an authentic Georgian wine, they were saddened that there were too many big wineries, with winemakers detached from the land and from Georgian traditions.
They saw an 8,000-year-old tradition with hundreds of autochthonous varietals under the threat of becoming internationalised and homogenised.
Gela's desire is to preserve the traditional winemaking techniques that have made Georgia a home for viticulture since 6,000 BC. A combination of high-quality soil and diligent vineyard care helps achieve the quality of fruit necessary to create these traditional but elegant wines combined with the commitment to organic principles (which started with the purchase of the Saperavi vineyards in 2007 which has subsequently been certified), are essential practices both to protect the land from misuse and harsh chemicals and also to help develop the rich terroir that is reflected in each of the wines. The variety of soils include those from Tibaani: brown carbonate, and stony with limestone mixed in; Bodbiskhevii, black carbonate soil over sand; Manavi: yellow sand with pink quartz and Kartli/ Mukhrani which features mainly limestone and brown carbonate with sand found at 30cm beneath the surface.
Pheasant's Tears are also committed to seeking out rare indigenous varietals and bringing them to market. Georgia has over 500 species of grape, many limited to tiny micro-regions at specific elevations and most unfamiliar even to the knowledgeable Georgian wine consumer. This rich heritage is in danger of being lost entirely, relegated to DNA databases and laboratory experiments.  Qvevri were the first vessels ever to be used for wine fermentation, with archaeological finds dating back to 6000 BC. Qvevri are clay vessels lined with beeswax and completely buried under the ground where the temperature stays even throughout the year, allowing the wines to ferment in the natural coolness of the earth.
Pheasant's Tears' qvevris vary in age but some date back to the mid-19th century. The cellar is built in the vineyard itself to minimize the damage to the grapes in transportation, allowing harvesting and process before the heat of the day takes effect. In accordance with Georgian traditional winemaking methods, the ripest of stems are added to the grape skins, juice and pits, for both reds and whites. The maceration time depends on varietal and the size of the qvevris and varies between 3 weeks and 6 months.
Sometimes you only have to look at a wine to see that everything is in the right place and being held together by a powerful internal force. The Pheasant's Tears Kisi is an extraordinary deep amber with beautiful depth of shiny colour. A sensory feast, an amalgam of golden and yellow flowers, white tea and tropical notes of pineapple and sweet spice. Turbo-charged orange wine and the best Pheasant's Tears wine I've tasted.
Why we love this: There's a bit of everything going on in this wine. The lengthy skin-contact and extended time in qvevri gives the structural bones and there are so many layers to the wine. Like the very best Georgian wines this wine feels more like an infusion than an extraction.
If you like this: Jane Okruashvili is the sister and business partner of John. A trained political scientist, Jane committed herself to winemaking after deciding that she wanted to reconnect with her cultural heritage and preserve/promote the traditions of her community. The Okrouashvilis have 7 hectares in different places in the Alazani Valley below. They work with eight varieties; Tsolikouri, Tsitska, Tavkaveri, Kisi, Kakhetian Mtsvane, Rkatsiteli, Saperavi and Budeshuri Saperavi but are also planting more varieties. All wines are made in their 12 qvevri at the house plus two other cellars totalling 20 qvevri in all. Her Tavkveri Rose in 2017 was a sheer delight. Like her exotic Kisi, it combined grace and power in equal measures and had the trademark Tavkveri smoke and pepper on the finish.
Interested in finding more about the wines mentioned? Contact us directly:
shop@lescaves.co.uk |  sales@lescaves.co.uk | 01483 538820
*Note: We are still open for business, doing deliveries, and keen to help everyone with their booze needs in this difficult time. Natural wine lovers can visit our online shop and order online!