This is a series profiling the producers on our list who make natural wines. Within this series we will be highlighting some of the extraordinary and rare bottles and vintages that have helped to shape our appreciation of natural wines over the years. Previous posts from our 100 Great Natural Wines series include Austria, Spain, and a hefty chunk of France & Italy, and can be found here. 
Emilia-Romagna is a sizeable region. There is Lambrusco – and there is life beyond Lambrusco. There is plenty of Sangiovese, the famous Gutturnio from the Piacenza hills (a blend of Barbera and Bonarda), Malvasia di Candia, Sauvignon and Trebbiano – and many others including the local Albana grape.
There are plenty of small growers producing interesting sparkling and skin contact wines now.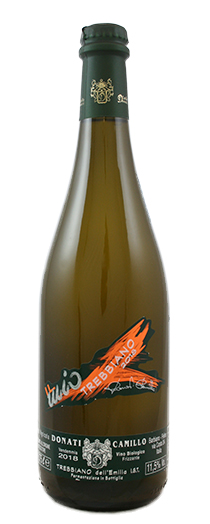 TREBBIANO FRIZZANTE ~ CAMILLO DONATI
Trebbbiano at t'mill
Sparkling doesn't quite describe the wines of Camillo Donati; yes, there are a few beaded bubbles winking at the rim of the glass, but the petillant facto is on the very gentle, almost tranquil, side. Some wines are a vehicle for bubbles, and indeed we may buy and drink those wines for their refreshing snap, crackle and pop. But they are either hollow wines or manufactured constructs, built not on fruit, rather on the process of getting bubbles into grape juice and retaining them, and compensating for the lack of quality in the fruit by blending or using lees and sugar to create a flavour profile.
Donati's wines are naturally-made and he would not have it any other way. When he refers to wines made by the charmat or tank method, he talks about those wines having nowhere to go and being effectively dead – lacking energy. He himself wants the essential life of the vineyard, those biodynamically-farmed vines and carefully-nurtured grapes, to be translated into the wine itself. By the way, the reason why we have bubbles and not still wines with Camillo, is all to do with the importance of the local cuisine. A former sausage maker himself, and dwelling in the land of porchetta, Camillo is versed in the lore that the traditional wine of the region must be fizzy, all the better to cut the fat of the meat and help one digest. His sparkling wines consequently are certainly not ephemeral aperitifs; instead, they are intended to be gastronomic and even possess the capacity to age. Which is not to say that you can't drink on any and every occasion!
On his decision to make pet nats Camillo remarks:
"Sparkling wines had been made the same way for centuries, but in the 70's everyone started producing frizzante wines with the charmat method. I believe that charmat kills the wine. A dead wine goes into the bottle, and many, many preservatives are needed to keep the wine going for 6 or 7 months. On the other hand, a natural frizzante wine can last 10, 15, 20 years. Logically, you will no longer have predominant fruit after the 3 or 4 years where the secondary and tertiary aromas surface, but the wine is alive and it ages and matures slowly, just like we do.
"If I kill a wine beforehand just so that I don't have sediments or to have clarity, then what is the point? Charmat is a dead wine that cannot go beyond 6 months to a year. After that it becomes undrinkable because it's dead. A chemical preservative is not capable of sustaining something dead."
(Interview for Dressner by Kevin McKenna in 2011, translated by Pietro Straccia)
His Malvasia Rosa Rosato Frizzante, a mouthful to say and a mouthful to drink, is a personal favourite.
It is a pet nat usually, sometimes called metodo ancestrale. Unlike the classic method of making sparkling or the charmat/tank method referred to previously, this is the result of a single fermentation of the juice. The wine ferments with its natural yeasts and then if the juice is good and the yeasts are healthy and active, is bottled, where it continues to ferment to dry and the bubbles are captured. Sometimes, to help the process continue, a wee bit of unfermented Malvasia (in this case) is added. When the wine has completed the fermentation (usually to dry) it is allowed to settle and then is disgorged off the gross lees.
The colour is beautiful, a reddish-pink, middling hazy, there are the Malvasia aromatics but also a suggestion of something deeper, a touch herbal in the background. Then into the mouth, a melange of red fruits and ripe citrus, and a gentle phenolic aspect from skin contact (all his sparkling wines spend some time on skins) with a dusting of white spice from the lees. It is a joyous, perfectly uncomplicated wine, yet it makes you hungry.
However, if banished to a desert island, I would probably take the Trebbiano Secco Frizzante. Fermented with skin contact with native yeasts, it takes this humble grape to a new level. Turbid with soft bubbles, the wine has surprising development on the palate, with notes of golden apples and pears and ginger cordial.
Why we love this: A wine that relies on the superb quality of the grapes, not the autolytic process for the depth of flavour.
If you like this: We stay with Donati for his Lambrusco Rosso Frizzante. Slow food pilgrims who take their hunger, scrip and staff to Bologna and environs know that it's possible to find interesting, well-balanced Lambrusco from artisanal producers and go-ahead co-operatives. We are talking frothy and refreshing wines that one can sip on the piazza or enjoy with a pizza. Little of the quality Lambrusco escapes Emilia-Romagna, however, and the reputation of the wine has lapsed. Camillo Donati's version is a happily serious little warbler from the land of Verdi. Camillo prunes the vines severely in order to acquire grapes with greater concentration, farms biodynamically and picks at full maturity. Vinification takes place with the maceration of the grapes on the skins to obtain a wine rich in colour and body. After a gentle pressing of the grapes the must is repeatedly pumped over to extract the most possible colour and body. The wine undergoes an entirely natural fermentation – no yeasts, no enzymes, no sugar added. It is then left to rest until December or January. This process allows the wine to filter naturally from impure substances. The resultant wine is then transferred to bottles where it continues its fermentation until dryness.  Flick open the crown cap (the approved seal) and pour it a proper wine glass to see a wine with inky dark purple colour, and persistent raspberry-colour froth. Black plum and strawberry aromas tickle the nose with a touch of fizz and the dark cherry-berry flavours are shaped by crisp acidity and distinct peach-stone bitterness in the finish. And a decent amount of tannin.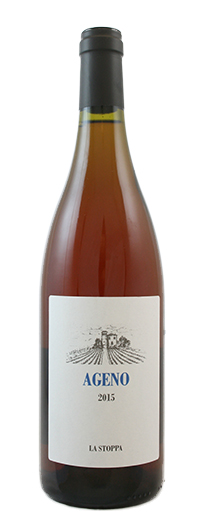 AGENO ~ AZIENDA AGRICOLA LA STOPPA
Candid and aromatic

The Pantaleoni family bought the vineyard in Rivergaro (near the city of Piacenza) in 1973 although that vineyard had existed for over a century previously. They then renovated the winery, and planted local grapes such as Barbera, Bonarda and Malvasia di Candia Aromatica.
Elena (born in Piacenza), studied languages and worked abroad. She then joined her mother at the vineyard in 1991, helping her with the commercial and administrative side of the business. In 1997, when her mother emigrated to Chile to set up her own vineyard, Elena became sole proprietor of the family vineyard. Giulio Armani has been her right arm in this venture, making the wines, as well as working on his project "Denavolo".
The estate uses only organic farming (just a little copper and sulphur is used) and encourages grasses and other plants to grow between the vines for green manure. Everything is done by hand in the vineyard and the vines are treated like family.
The Ageno (a reference to the previous owner of La Stoppa who believed in the great potential of the wine region) is made from a blend of 50-year-old plus Malvasia di Candia Aromatico (60%), Ortugo and Trebbiano. The grapes are destemmed and then undergo thirty days maceration on skins in tank. Fermentation takes place with native yeasts; ageing is for 12 months – 6 in tank and 6 in small used French oak barrels – whilst the wine is normally released after four years.
Brilliant amber with intense aromas of caramelised cedar, walnut and spices. The palate is elegant, reflecting the notes found in the bouquet, and persistent.
A vertical tasting held in London ten years ago revealed the terrific ageworthiness of the Ageno wines. They are vintage sensitive – this part of Emilia-Romagna is very warm indeed. Sometimes the wines are bronze and powerful, with meaty-umami notes. In the cooler years, there is a nice streak of acidity that provides a backbone for the wine and tightens them up a notch.
Why we love this: This was one of the seminal "orange" wines for us and incredibly popular at Terroirs Wine Bar in the early days. It is unashamedly bold and if you close your eyes, you could be drinking a red wine with all its tannic power and leathery notes.rroir versions of Teroldego: Morei and Sgarzon, both vinified in tinajas, but from different sites. Both delicious.
If you like this: We mentioned Giulio Armani, the winemaker at La Stoppa.  AA Denavolo is named after the mountain on which his superb small vineyard in located. Giulio is forever experimenting: oak versus tank, parcel selection versus whole vineyard, long versus short maceration, but certain things remain a constant. Dedication to harmony with nature, natural fermentations and processes, skin contact and no filtering are all carved into the rock of his principles for the foundation of the best wine he can make. The Denavolo label began in 2005 with the first release in 2006, and comes from five hectares of vines planted in the Colli Piacentini area on steeply inclined slopes of sandy, limestone-rich soils at 350-600 metres above sea level. Dinavolo is the name of an amber wine made from 25% Malvasia di Candia Aromatica, 25% Marsanne, 25% Ortugo, and 25% yet-unknown varietal. This blend comes from 28-year-old vines grown on the highest portion of Giulio's sloping, calcareous vineyards (except for the young vines Catavela which are 600m asl). All destemmed fruit first goes into a steel tank and is left to ferment for one to three weeks on the skins. There are seven to eight pump-overs per day to agitate, and only natural yeast is used. The wine is then transferred to older oak barrels for three months to age. In total, about four months are spent on the skins, with minimal amounts of sulphur added at bottling.
The wine is very different to the more base-noted Ageno. This is very turbid golden yellow colour due to maceration on the skins and no filtration, the nose has aromas of sweet citrus fruits and flowers, honey, rosemary, sage and capers. In the mouth it is vibrant and high-toned with good structure with fresh and perceptible tannins. The Dinavolino, similar blend, different selection of vines, is more high-toned still with pronounced acidity and limestone inflections.
Interested in finding more about the wines mentioned? Contact us directly:
shop@lescaves.co.uk |  sales@lescaves.co.uk | 01483 538820
*Note: We are still open for business, doing deliveries, and keen to help everyone with their booze needs in this difficult time. Natural wine lovers can visit our online shop and order online!