I rarely write about sweet wines, because, in all honesty, I rarely drink sweet wines. I find them interesting, rather than loveable, although perhaps my love of wine is the desire to drink it, rather than sip thoughtfully and sweet wines are less neckable and more nectar-full.
As with all wines, balance is the key to a great sweet wine. Being stickier than a sticky stick is only impressive when there is the compensation of acidity, a spine for the sugar to spin itself around. The greatest of sweeties is their capacity to age and once they begin to develop secondary and tertiary aromatic character, then they become truly fascinating.
Simply Sweet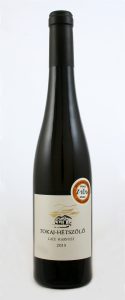 A category where the wines that are more mellow and marrow rather than out-and-out candid candy, usually harvested late without the influence of noble rot. They can be drunk as an aperitif with slivers of hard or blue cheese and salted almonds.
Clos Lapeyre Jurançon (the moelleux is a given) from Jean-Bernard Larrieu, is the classic French four o'clock wine, redolent of grapefruit and almond pastry. Tokaji Late Harvest Hetszolo falls into a similar taste category, a fruity, grape-tastic blend of Furmint and Harslevelu (Sean Connery's favourite grape – go on, say it in a Sean Connery voice). The Muscat de Rivesaltes, Chateau de Jau, is also on the quaffing spectrum, being a simple fortified wine with pleasant tangerine marmalade flavours.
Variations on Muscat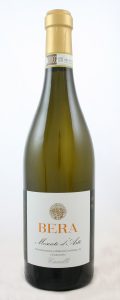 Speaking of Muscat… Most sweeties don't make happy marriages with desserts. All the sugar clashes, and the effect is cloying. The wine that does tend to succeed, functions primarily as a kind of sorbet to cleanse the t0ngue with its jolly frothiness. The Moscato d'Asti Vittoria Bera does this, and goes even further. This wondrous potion from old organically-farmed Muscat Canelloi vines is a serious joy. You have grape quintessence and orange-blossom notes, but as well complexing undertones of wild mint and chalk.  Ca d'Gal's version called Moscato d'Asti Lumine is effervescent on the tongue. Flavours of white peaches and pears melt on the tongue like cotton candy, perfectly light and balanced. Just a touch of fragrant bubbles to brighten the mouth.
Drink joyously as an aperitif, as a sorbet-like palate-cleanser, with strawberries, fruit pastries, torta di nocciole (hazelnut cake) and zabaione.
Moscatel wines are produced in the region of Chipiona. With three Moscatel cuvées that include Moscatel Dorado, Especial and Pasas, César Florido has single-handedly rescued the latter from extinction. Fermented with indigenous yeasts, the Moscatel Dorado is made from grapes that are not air-dried, but crushed and fermented to approximately 15% abv, before spending one year in the solera. Moscatel Pasas is made from grapes that are hand-selected on the vine and then dried on fields of sand for two to three weeks to better concentrate the effects of the sun.  Once the fermentation is halted by the addition of neutral grape spirits, the wine is then aged in the solera for five to nine years before bottling. This is fascinating – the ageing in chestnut gives a flavour of that wood, alongside notes of honey and crème caramel.
Douce Providence is a sweet invitation to drink a beautiful Muscat de St-Jean-de-Minervois. Nicole and John Bojanowski (Clos du Gravillas) make a delightful fragrant version from the Muscat a Petits Grains. Made from organic grapes, naturally fermented and fortified with mutage sur marc, it is sunshine grapes on limestone gravels in a glass.
Attack of the Killer Bots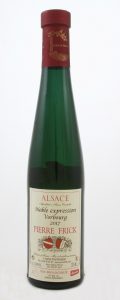 From no bot to full-throttle bot, we're talking rot – I am always talking rot – of the noblest kind. Botrytis cinerea, if we must get all Latiny about it.
The king of Bots is Tokaji – here we have the Tokaji Aszu 5 Putts Hetszolo, being high quality 'aszú' berries harvested from many parcels. The wine ferments very slowly in new Hungarian oak barrels and is aged in the same for two and a half years, before going into bottle for further maturation. The complex nose offers notes of apricots, tangerine and galia melon, accompanied by nuts.  Rich, full-flavoured palate with dried fruits, walnut, a hint of caramel and vanilla. The high sugar levels (around 150 g/l residual) and waxy botrytis texture are balanced by the crisp acidity (over 10 grams/l).
There are two Alsatian entries brandishing sticky credentials from the biodynamic firm of Frick and Binner. Jean-Pierre Frick works biodynamically in and around Pfaffenheim, in the south of the Alsace region. The wines are made naturally and aged in big old foudres. His Pinot Gris Grain Noble Expression Vorbourg from noble grapes, has 120 + g/l residual sugar and an acidity of around 10 g/l. The Fricks recommend it as an after dinner meditative drink. The wine has golden orchard fruit flavours, notes of honey and apricot jam and a gentle spiciness on the finish.
Muscat Grand Cru Hinterberg Grains Nobles hails from a parcel 'Hinterburg' planted on an extremely steep south-east facing slope, the vines' roots plunging into deep clay-granite soils. The combination of this soil type, the altitude of plantation, the warm microclimate and the exposition produces excellent vendanges tardives wines that display both freshness and elegance.
Domaine de l'Ancienne Cure's Monbazillac Cuvée Abbaye is a mouthful to say and a mouthful to drink. Here Semillon combines with Muscadelle and low yields to produce a Sauternes-style nectar of peaches and cream and a little peppermint.
"Quintessence"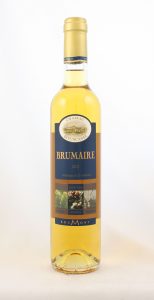 Please try the unpronounceable Pacherenc du Vic-Bilh "Brumaire", a November harvest dulcet-toned wine made from Petit Manseng with a nose of almond pastry, pain perdu, cinnamon and caramelised pears. Brumaire means misty by the way and is also the name of the month on the old calendar. This is a wine that says "I doux" with blue cheese and apple tarte tatin.
Back with Jean-Bernard Larrieu La Magendia de Lapeyre, his later harvest, lower yielding number from the intense noble small-berried Petit Manseng. beautiful nose of ripe (and exotic) citrus. Vibrant in the mouth with the sublime expression of sweet fruit: mangoes, coconut, grapefruit bound by crystal-pure acidity.  Great length, but fantastic freshness more than offsetting the sweetness.
Magendia means best, made from passes through the vineyard. If Magendia means best, how about Jean-Bernard's Vent Balaguer? Well, this is better than best.
Arguably, the best sweet wine you've never tasted.
Vent Balaguèr means "southern wind" in Occitan. It is the warm wind that comes from Spain, up from behind the Pyrenees.  The Petit Manseng grapes are late harvested and then put in trays to perfect the process of "passerillage". These trays are laid outside on the sun during the hot and sunny days and brought inside the winery in damp and rainy weather. Besides dehydrating, the grapes change in colour, turning from a golden-yellow to russet and brown. Their flavour also changes and hints of apricot, candied orange peel and medlar fruit appear.
This deserves a Schildnechtian tasting note: Bright amber colour. Intense, profound nose, returning to haunt one with its multiple nuances: new wood, honeydew, apricot jam, confit of orange and lemon, Corinth raisins, blond tobacco and spiced bread. The mouth is lively, spicy with cooked fruits, also floral with superlative concentration. The tactile sensation is unctuous and rounded, giving the impression of biting into perfectly ripe grapes with poised citric notes. The vanillin flavours are integrated into a rich texture and enrobed by a truly noble acidity. The finish is long and harmonious with mirabelle plum, peach and apricot. This is an extraordinary wine with exquisite equilibrium that will last for decades.
Hard a port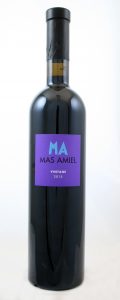 The expression "port substitute" came into the wine lingo when people first became aware of the wines of Banyuls and Maury. Made from local Grenache Noir (white versions come from Grenache Gris and Blanc), these fortified wines are never too heady. In fact, they have an agreeable savoury quality that balances the sweetness and makes them quite gastronomic. The Banyuls Domaine de Valcros from vineyards near the Mediterranean, is replete with red berry fruit, and is almost summer puddingish with a touch of mocha and raisin. Two Maurys – one from Mas Amiel, the other from Les Terres de Fagayra reflect the wilder terroir of origin of the Montagne Noir (the geological scrapyard of the Roussillon hinterland) and are spicier, headier and more mineral.
Solera, soleo and thanks for the mat finish!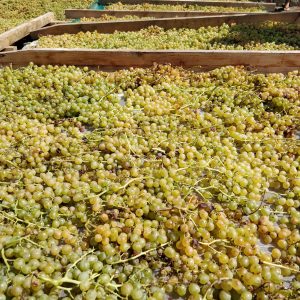 These wines might also be called "the wrinklies". Sometimes the shrivelling is done on the vines, sometimes on straw mats, sometimes in boxes in well-ventilated rooms. Whichever way, the grapes raisin, concentrating the must. Then comes normally a lengthy ageing process, occasionally a slow ferment and a long maturation in a single barrel, occasionally the wine is m0ved from barrel to barrel to accentuate an oxidative element.
Marco de Bartoli's Bukkuram Padre della Vigna comes from the volcanic plug of Pantelleria, west of Marsala, and is made from Zibibbo. 50% of grapes are dried in the sun for a minimum of 4 weeks, the remaining grapes left to mature on the vine. The dried grapes are added once fermentation has started and left macerating for about 3 months.
Amber in colour, the Bukkuram's bouquet is complex with notes of ripe apple, anise seeds, dill, capers and green olives, but there are also more classic fragrances of dried fruits, caramel, candied citrus, honey and cocoa. The taste is dense and rich, enveloping and consistent with the nose and its sweetness is almost disarming with extraordinary persistence.
The De Bartoli family also make legendary and captivating Marsalas – in every style imaginable – but that is for another blog.
Elena Pantaleoni does marvellous things with old vines Malvasia in Rivergaro in Emilia. Best known for Ageno, a dry and meaty skin-contact amber wine, she also makes La Stoppa Vigne del Volte, a blend of Malvasia di Candia Aromatica and Muscat. The grapes desiccate in the sun for about 15 days, before fermentation in oak barrels and stainless steel. After pressing the sweet juice is matured for 10 months in French oak barrels and at least 2 years in bottles. The nose is aromatic, clean and pleasing with extremely elegant notes of ripe apricot, candied fruit, caramel, dried fig, honey, almond and vanilla. The palate is sweet, soft and fresh, with a long finish of apricot and caramel.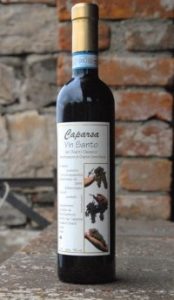 The Caparsa Vin Santo is made in the traditional fashion with Trebbiano, Malvasia Bianco and Nera and Canaiolo grapes dried on columns and mats from September to December and successively pressed and fermented/matured in "caratelli", small barrels in Caparsa's 500-year-old maturation cellar, for 10 years. It then remains in bottle until released. Everything is done with native yeasts; the wine is bottled without filtration and minimal sulphites. The wine itself takes years to ferment. Rich and perfumed, honeyed nose. Viscous and nutty on the palate. Raisins, dried figs and apricots, almond and toffee abound, with a long complex finish.
Need a category of their own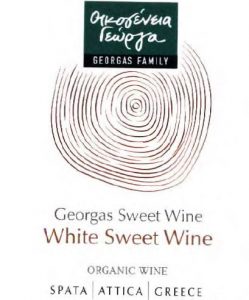 Chaudelune, Vin de Glace, Blanc de Morgex et de La Salle is from the native Valle d'Aostan Prié Blanc grape and is harvested in December when the vineyards are swathed in snow. In this case, unusually, it is the wine that is the vehicle for the wood rather than the other way around. Cherry, juniper and chestnut – amongst others – infuse the final wine with their particular flavours. This wine of ice and snow has aromas of golden apple, leading to ripe apricot, honey, cinnamon, and chamomile flowers, accompanied by mineral notes. The palate it is gently sweet, in perfect union with the aromatics.
Throw a servant on the roaring log fire and sip this elixir with some hot roasted chestnuts whilst humming a few bars of "Edelweiss."
And finally, a wine that does what it says on the label: Georgas Sweet White Wine. The Georgas family make various iterations of the Attican Savatiano grape and this comes out at 200 g/l of residual sugar. Spontaneously fermented in stainless steel with 6 days of skin contact, aged for 5 years in old French oak barrels without any sulphur added. This sweetie is mid copper-coloured oozing with nuts and dried fruit on the nose, and has a complex palate with baked orange and peach with long sweet aftertaste.
*
Interested in finding more about what's sweet? Contact us directly:
shop@lescaves.co.uk |  sales@lescaves.co.uk | 01483 538820