Natural artisan ciders (and perries) from Herefordshire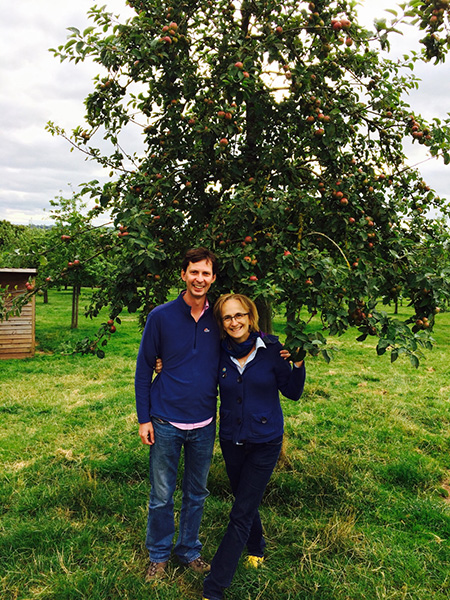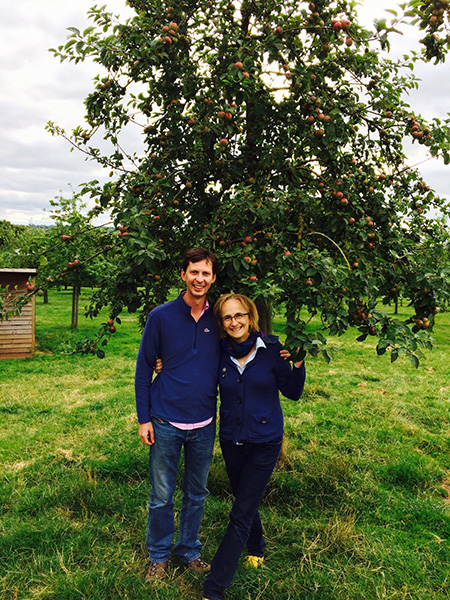 We are delighted to announce that we will be distributing the naturally-made English ciders of Little Pomona Cidery & Orchard, a project set up by Susanna and James Forbes in 2014, with the first products launched onto the market in 2017. Their orchard, with its 120 trees of four classic varieties, is based in North Herefordshire, on a gently sloping five-acre plot of land, below an ancient hill fort in the historic Marches region within sight of the Malvern Hills. While the cidery began alongside the home orchard, in 2019 they expanded into a contemporary facility complete with tasting room on a farm a few miles away near Bromyard. Inspired by encounters and tastings with notable producers, the quest for them and their assistant cidermaker, Canadian Blair Côté, has always been to work with the best possible fruit, Inspired by the tastes and vision of notable producers, their quest became to work with the best possible fruit using natural methods to fashion ciders and perries with true flavours and with the character and structure to match with food.
Little Pomona Orchard & Cidery is the name of the project, Pomona being the Roman goddess of fruit trees and the orchard.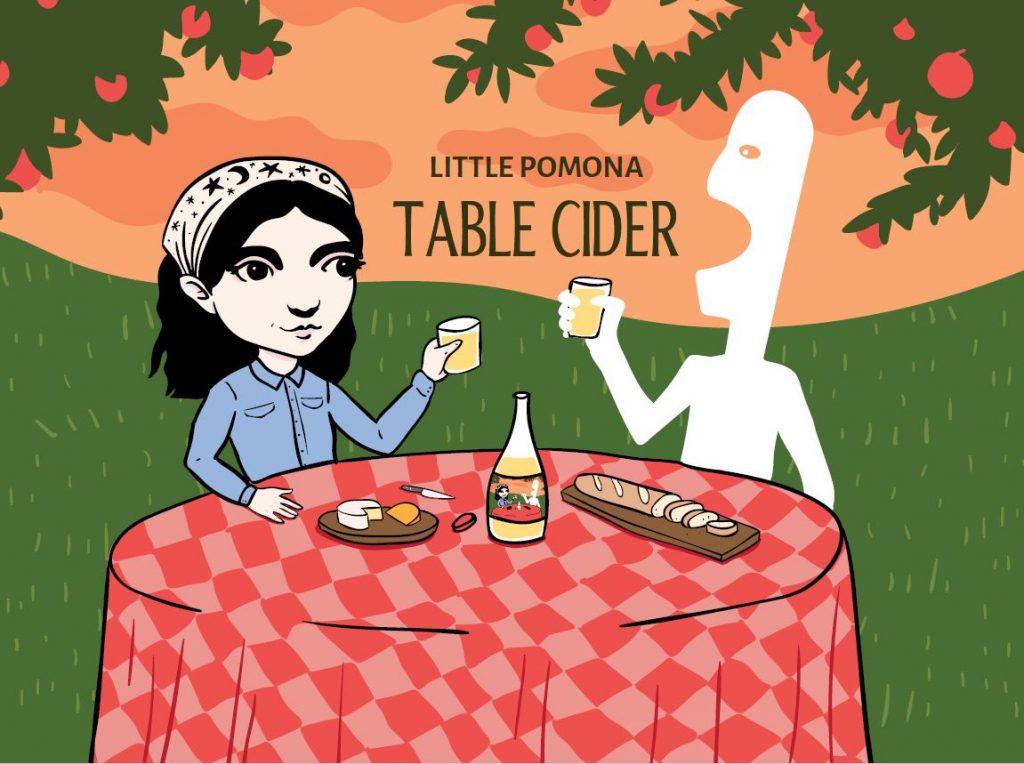 Table Cider is released seasonally in rolling small parcels. This version is a blend of Browns Apple (67.5%) from Throne Farm in Weobley, Dabinett from the Home Orchard (17.5%), and an orchard blend containing Yarlington Mill, Michelin and Dabinett (15% total) from Oldfields Farm, Tenbury Wells.  The Browns Apple was fermented wild in steel, racked close to the end of fermentation and blended with a component of wild fermented Dabinett. Part of this blend was run into a single ex-rum barrel and left to mature for 4 months. The orchard blend was pressed and fermented together in steel.  In May 2020 the components were brought together with the addition of yeast and sugar, bottled and left to complete a second fermentation without disgorging.
It reflects the sheer joyous drinkability of great cider, its natural affinity with food and its ability to capture the essence of each harvest in every glass.
With its juicy fruit, gentle sparkle, supple tannins and modest alcohol, Table Cider makes for happy company in any conversation or meal.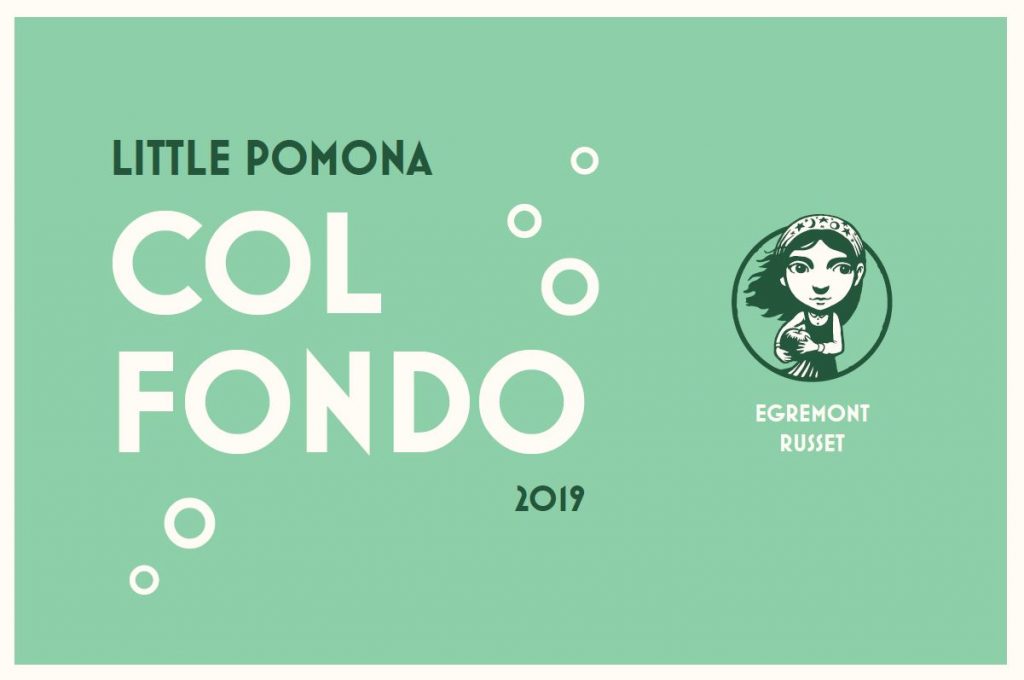 Col Fondo Egremont Russet sees hand-selected apples pressed into stainless steel in early December, and left to ferment naturally on their own yeasts (normally). With fermentation not happening in this vintage, Susanna and James had to inoculate with a tiny bit of yeast. Close to the end of fermentation they racked the must, with some of the juice going into special barrels that had just been emptied from the Art of Darkness 2017 project. Later, these barrels were blended and still-fermenting juice was added to the bottle it to complete the secondary fermentation. The cider was unfined and unfiltered with no SO2 added. Aromas of russet apples along with honeydew melon and blossom. It's a lovely green-tinged, slightly hazy yellow colour. In the mouth, there is a pillowy sparkle, flavours of kiwi and lime zest and that characteristic spice and slight tanginess associated with the col fondo method.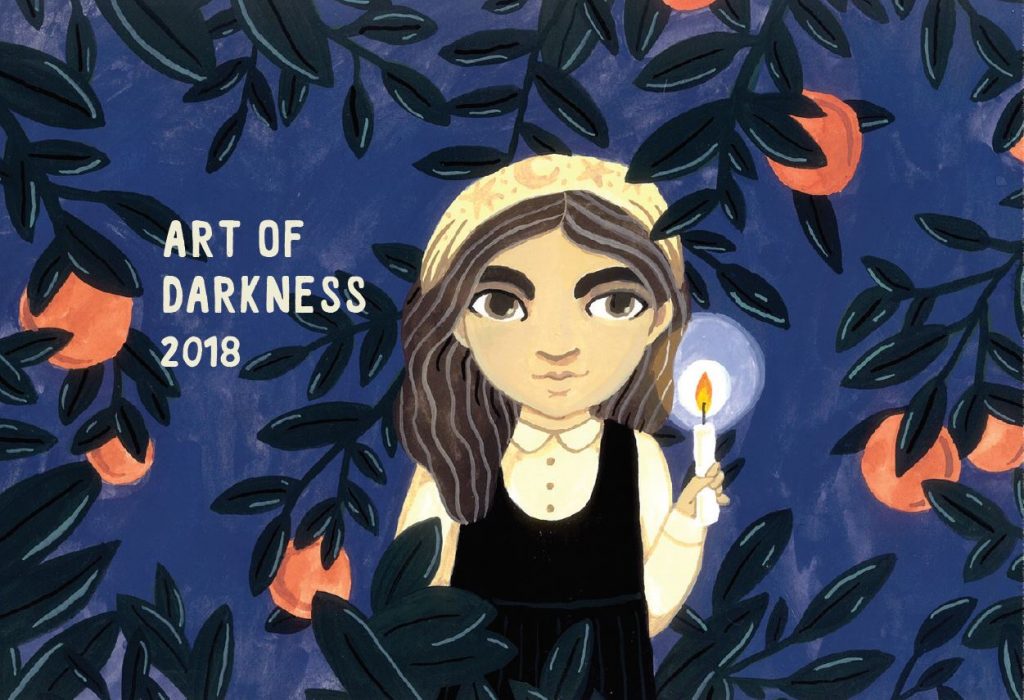 Art of Darkness is Little Pomona's journey into the barrel and beyond. Always a blend of spontaneously fermented Foxwhelp and Ellis Bitter, it begins life in tank before being racked into barrels. They set out to make just one cider, but were so intrigued with the differences and quality of three barrels in particular, they decided to bottle each separately. This bottling focuses almost exclusively on Ellis Bitter. The juice is fermented wild in tank and racked during the spring into ex-whisky barrels – one lowland, one highland and one bourbon. It's left for 16 months before blending and bottling, still and dry, without fining, filtration or sulphur added.
Golden yellow, sweetly aromatic, layered with fruit, embracing the entirety of the apple from skin to core as well as heady scents of barrel, perfume and spice.
Ripe tannins, with the feel of wet slate, build and persist through to the long finish.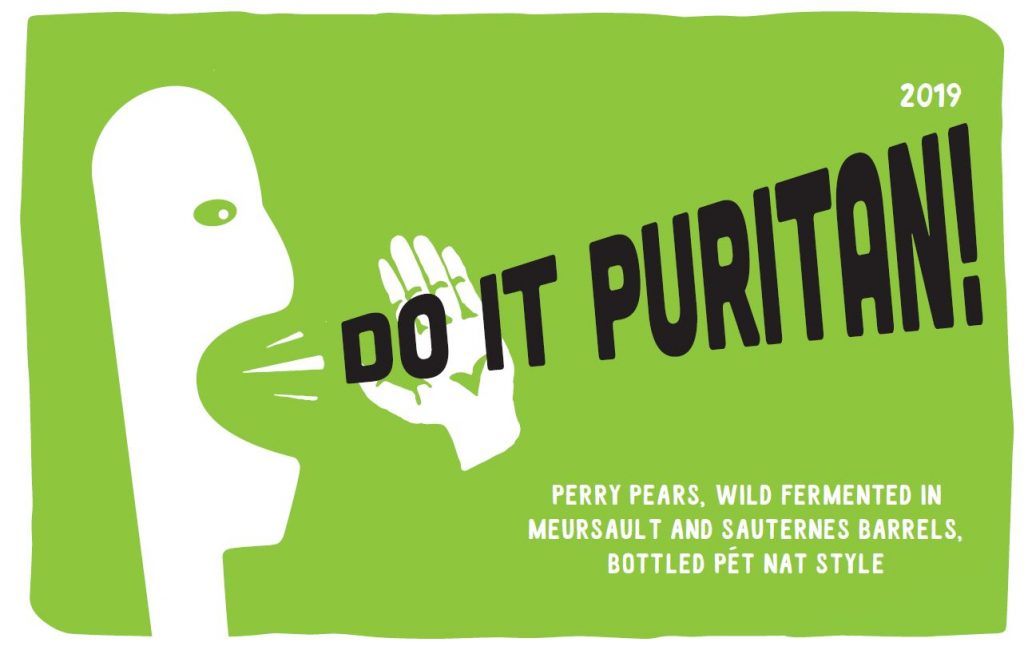 Do It Puritan Perry is a blend of predominantly Gin Pear (so called because of its botanical nuances), accompanied by Butt, Oldfield and Rock. Pears are difficult, fickle things to work with, one day hard and mean, the next day brown and mushy. It gets more difficult when working with multiple varieties but they managed to press at just about the right time with the right consistency. After a 36-hour maceration the pears were pressed and the juice run into two fine and very active barrels, one ex-Meursault and the other ex-Sauternes. Spontaneously fermented, the juice in these two barrels took very different paths. The Sauternes barrel, reflective of its previous contents, turned out to be something exotic and high-toned, whilst the Meursault barrel became something refined and beautifully-framed. Whilst pressing the pears they picked and put into a deep freeze a selection of apples. These frozen apples were pressed to extract tiny quantities of super sweet apple nectar, which was blended with the contents of the two perry barrels, effectively adding sugar and yeast. Bottled unfined and unfiltered with no SO2 again. A super intense perry, floral and herbal, citrussy, tropical, and candied with a funky twang. With its little bit of residual sugar, it matches superbly well with fragrant, spicy dishes especially involving seafood.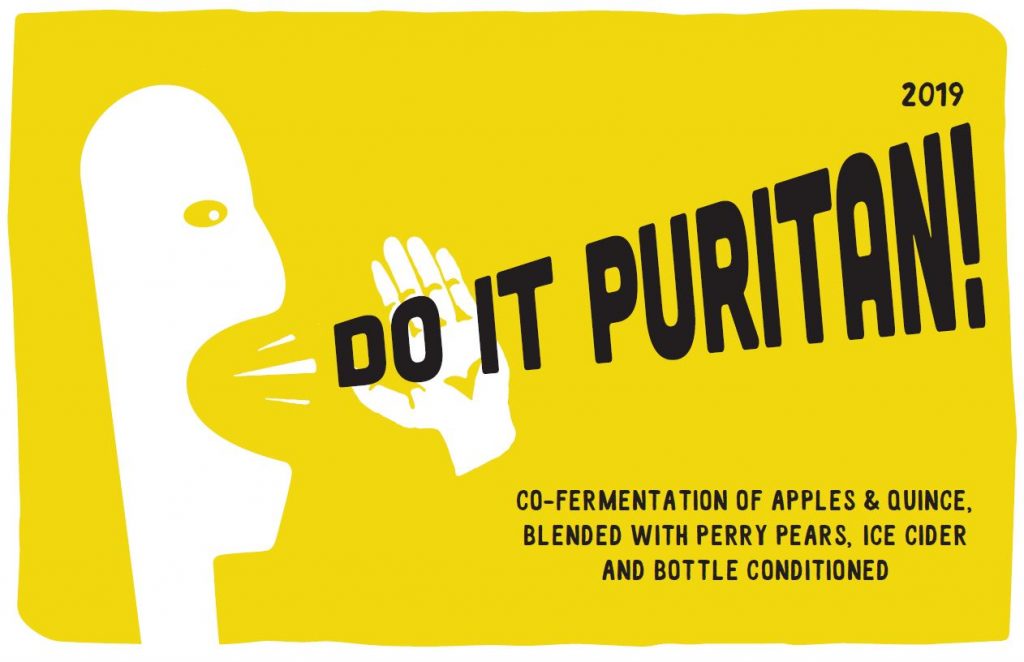 Do It Puritan Quince is a blend of two apple varieties from their home orchard, Dabinett and Harry Masters Jersey, Quince (Vranja and Meeches Prolific) from Dragon Orchard and Perry pears (Gin Pear, Butt, Oldfield and Rock), hand harvested in October/November 2019. The apples and the quince were pressed together to ferment spontaneously. They later racked the still fermenting liquid into white burgundy barrels to complete fermentation. Finally, they blended it with some of the perry that would become Do it Puritan Perry as well as the fermenting ice cider and bottled it to complete its fermentation without any additions. The result is just a little bit special. The aromatics burst from the glass, all exotic blossom, rose water & citrus zest. In the mouth it's tropical, with lemony, citrus quince leading the charge, followed by the spice and yellow fruits of the cider apples & the green, limey, herby flavours of the perry.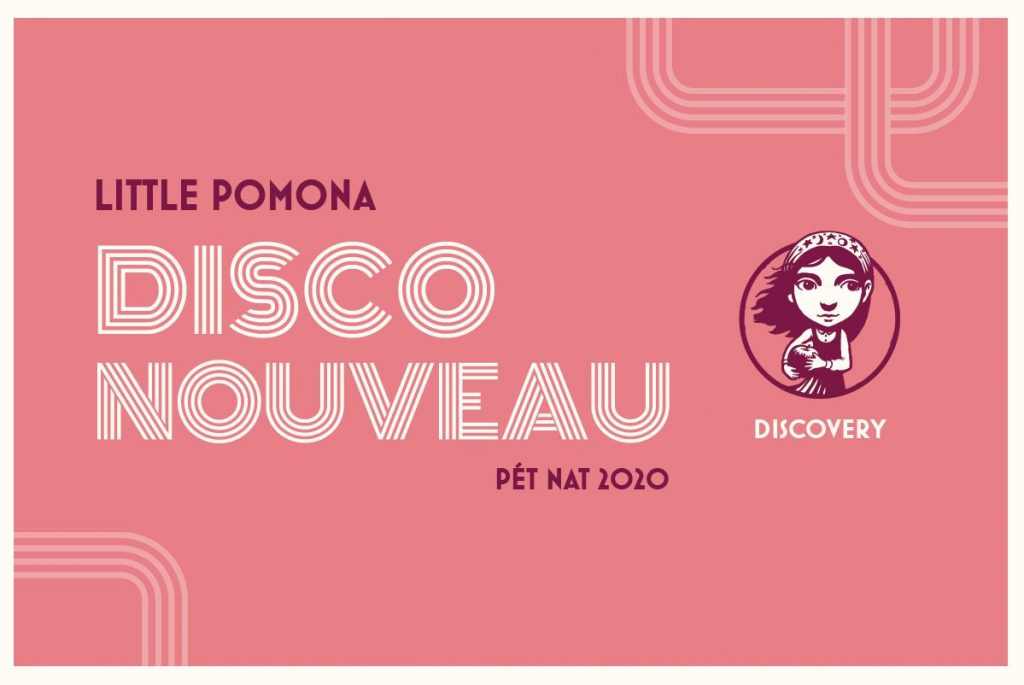 The groovy-sounding Disco Nouveau is from Discovery apples (fruit sourced from Cotswold Orchard, Worcestershire), hand-picked in August 2020. This is very simple cidermaking. The apples are milled into the press, blanketed in CO2, and then left for 36-hours before pressing (a very short carbonic maceration, in other words). Fermenting as it left the press, it was subsequently bottled from tank as a pét nat. The idea behind this cider is firstly to challenge the perception of cider being just a summer drink and secondly to focus on the vintage nature of fine cider.
Discovery (Disco for short) is a variety with a distinct personality and the objective is to capture all its vibrancy.
It has a pink marbling to the flesh, sometimes slight, sometimes quite pronounced, and the maceration has helped draw this out, resulting in a cider is peachy pink. On the nose, it captures the whole apple – skin to core – and follows with strawberry and apple-lassi style flavours on the palate. It's dry, bright and super fresh with a gentle, creamy sparkle. Great with a classic raclette, also good with modern vegetarian food – think risotto primavera or roasted courgettes with young goat's cheese.
Table Cider
Col Fondo Egremont Russet, 2019
Art of Darkness, 2018
Do It Puritan Pet Nat Perry, 2019
Do It Puritan Quince, 2019
Disco Nouveau, 2020
*
Interested in finding more about the ciders mentioned? Contact us directly:
shop@lescaves.co.uk |  sales@lescaves.co.uk | 01483 538820
*Note: We are still open for business, doing deliveries, and keen to help everyone with their booze needs in this difficult time. Natural wine lovers can visit our online shop and order online!