The Mighty Boeuf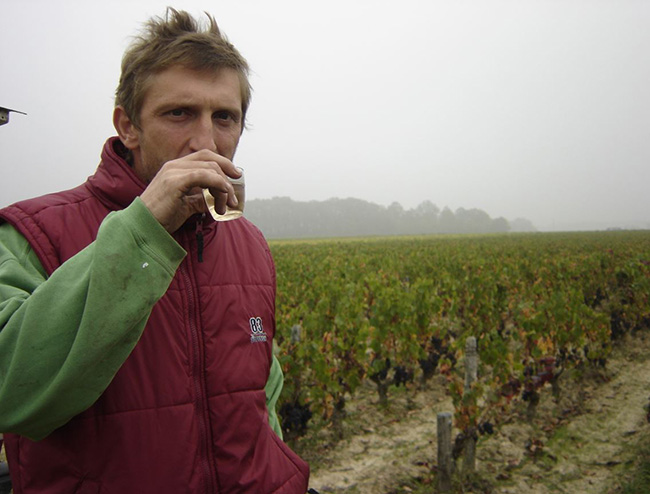 Since the Middle Ages, there have been records about the lieu-dit "le Tue-Boeuf" and its excellent wines which were enjoyed by the local nobility and the kings of France. The family name Puzelat is mentioned in 15th century documents.
History, though, is not the story here. It's about two brothers, Jean-Marie and Thierry Puzelat, who tend their 10-hectare family estate in Les Montils (in the Cheverny AOC) and rent six hectares in a village nearby, in the Touraine AOC. The region, near the hunting grounds of Sologne, has always used a wide variety of grapes. Since the 60's, the Puzelats' father had been making his own selections of vines to replant, and left them with vines of Sauvignon Blanc, Chenin Blanc, Chardonnay, Pinot Gris, Menu Pineau (or Arbois), Pinot Noir, Gamay, Cabernet Franc and Côt (or Malbec).
Jean-Marie (the older brother by 10 years) was joined on the estate by Thierry in the early 90's and they began converting their vines to organic viticulture. When the Cheverny AOC was created with the 1993 vintage, some varietals became outlawed from the blends, and the brothers started a yearly struggle to get their wines accepted under their appellation. Now, when a wine is rejected, they sell it under a Vin de France label; their customers know and trust their work and methods.
Jean-Marie has effectively retired, and Zoé is helping Thierry with the day-to-day running of the domaine. Vintage variation apart, the wines remain the same, a mixture of cuvees of Touraine, Cheverny and Vin de France.
From a vineyard with 65-80-year-old vines Brin de Chevre is from the rare Menu Pineau variety. Only a small handful of growers currently work with it. It is also known as Arbois and Orbois. This white is never shy of acidity, exhibiting oodles o citrus, honey, crystallized ginger, all angles covered!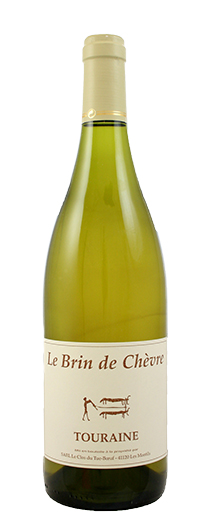 Petit Buisson is a tangy Sauvignon. As with all Puzelat's whites, this is pressed and decanted directly into old barrels for ageing on the lees. A tangy Sauvignon, naturally fermented with orchard fruits to the fore (green and yellow plums and cherries) and an invigorating "currantiness."
Buisson Pouilleux, from a 1.1 ha block, is the Petit B's elder-vines brer and almost unlike any other Sauvignon Blanc that you can imagine. Once picked, the grapes are transferred to the winery, by refrigerated truck if necessary, and are fermented with absolute minimal intervention; the juice is pressed and decanted and transferred for fermentation into cask, where the wine remains on its lees until it is bottled straight from this vessel, without racking. Bright light lemon with intense minerality and brilliant notes of honeysuckle, verbena and even persimmon. So exotic. Great palate-coating depth. One of the great natural Sauvignons of the world.
Cheverny Frileuse is a blend of Sauvignon Blanc, Fié Gris and Chardonnay grown on clay and flint soils from vineyards up to 45-years-old. Aged in demi-muids and used Burgundy barrels, this powerful white is a yellow-tinged, full-bodied white with waxy pear and melon fruit, some spice (cinnamon) and a hint of herbs. The 2018 stopped fermenting for a period, such was the nature of the vintage, and the wine is fascinating texturally with lower-than-normal acidity and a buttery malo character.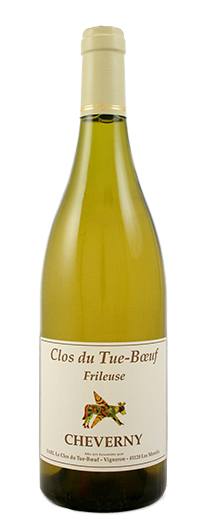 The Romorantin comes from a tiny 0.4 ha vineyard on clay and flint. One third of the vineyard is 110-year-old-vines, the rest is 40-years-old. On the nose you'll find aromas of citrus fruits, white flowers and mineral notes. On the palate, the wine is tight, lively, balanced, with good volume and minerality.
A blend of Pinot Noir and Gamay from a 1.9 ha on Blois chalk, Cheverny Rouillon is made from whole bunch grapes with carbonic maceration in open wooden vats. The wine is naturally fermented and aged on the lees, before bottling with minimal addition. The palate is ripe with wild strawberry, plum skin, earth and spice. The finish is long with citrus and mineral flavours and a bit of tannin.
La Guerrerie (Côt/Gamay) has beautiful lush blackberry and black raspberry aromas, floral, minty, ripe and deep; the palate is sappy and supple with bright blackberry and redcurrant liqueur, the finish long and balanced with lemony acidity.
2019 Le P'tit Blanc
2019 Petit Buisson Blanc
2019 Buisson Pouilleux Blanc
2018 Cheverny Blanc "Frileuse"
2018 Brin de Chevre
2018 VDF Romorantin "Frileuse"
2019 Cheverny Rouge "Rouillon"
2019 La Guerrerie Rouge
Interested in trying the wines of Clos du Tue-Boeuf? Contact us directly:
shop@lescaves.co.uk |  sales@lescaves.co.uk |
01483 538820
*Note: We are still open for business, doing deliveries, and keen
to help everyone with their booze needs in this difficult time.
Natural wine lovers can visit our online shop and order online!