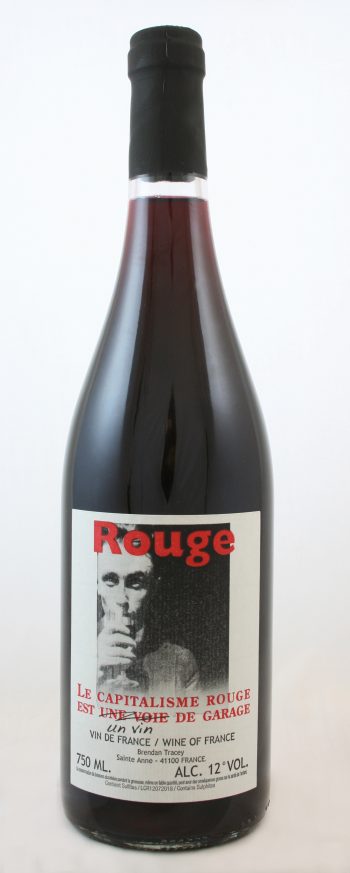 Is this the most allusive wine label ever? I bloody hope so. But probably not.
Before I explicate, a word from our sponsor, Monsieur Brendan Tracey, who has a technicolour past. 
Brendan was born in the United States, in 1954, to an American father and a French mother. One could easily describe Brendan as a rock and roll wine-maker, or perhaps a more suitable moniker would be un punk rock wine-maker, which he actually calls himself. His journey that ended with him as a vigneron in the Loire (the region rather than the river) took the scenic route.
When he was sixteen, Brendan was sent to stay with relatives in the Loire Valley where he studied philosophy, French literature, fine art, and film criticism. His work experiences then included being an architect's assistant in the States, a singer in a successful punk rock band, and a founding partner, programme director, and presenter for a local radio station in Blois. He then studied for a professional wine-making and viticulture Baccalauréat where he met and worked with two local Touraine wine producers both renowned for their natural wine-making methods: Thierry Puzelat and Pascal Simonutti. He set up his own wine-making business in 2010.
He's based in the village of St Anne in the Vendome, located at a point where maritime and continental influences meet, a series of east-west facing valleys where the continental influence is less harsh; ideal conditions for the creation of microclimates that are especially favourable to vine-growing.
"Hey, ho, let's go!!
The Ramones' battle cry has been a constant source of inspiration since I got started out in wine making, back in 2010. The punk rock movement taught me a few positive things about getting the nerve to do my own thing in viticulture. What's foremost to me is the inspiration of the moment and the spontaneous energy it takes to make it all happen, without regards to conventional practices or being worried about what people might say. For example, I don't filter my wines. I discovered organic and natural wines thanks to Thierry Puzelat, one of the pioneers in the Loire Valley. This man simply went back to basics, renewing with ancestral methods that were in vogue before the post-war industrial onslaught. Low cost, extensive production, in order to feed the starving masses, with little, or no regards to long term effects on human health, or the environment. That was the "noble" argument of the time. In my opinion, a winemaker is a humble assistant to nature. He, or she, use their technical abilities, and their creative inspiration, to make the best of an ever-changing cosmological context. Every year, each variety, terroir, and climatic situation imposes decisions on the way grapes are grown, harvested, and fermented. In that glass of wine you behold, you can see, breathe, and taste, a concentrate of an eighteen to twenty four month cycle that is the result of passion, energy, and an alternative to standardisation."
Brendan started working with purchased fruit and now has 5ha of his own and has the full gamut of Loire varieties at his disposal: Cot, Gamay (including Gamay de Bouze), Pinot Noir, Pineau d'Aunis, Cabernet Franc, Romorantin and Sauvignon. Blends change effortlessly from vintage to vintage, but the styles remain fairly consistent with natural ferments, semi-carbonic maceration (for the reds), and zero intervention. The Pineau d'Aunis from old vines sees a certain amount of elevage and is a serious version of this grape.
This label refers to the youthful period of his life when he flirted with the Trotskyist dream
Rouge, to give the wine its brief moniker, is the first wine that Brendan made. In 2018 this is now Pinot Noir and Cabernet Franc. The label is striking (natch) with Rouge (Red) emblazoned in big red letters at the top and then underneath "Le Capitalisme Rouge est une Voie un Vin de Garage", a play of words with red capitalism (a slur for Trotskyists), dead-end way and garage wine…There's a photo of a man holding a glass on the label, the legendary surrealist artist Yves Tanguy (friend of Jacques Prévert and Andre Breton).
This label refers to the youthful period of his life when he flirted with the Trotskyist dream, Rouge apparently being the name of the Trotskyist newspaper in France then. The slogan on the lower part of the label happens to be one of the slogans used by the leftist newspaper.
Red politics to red wine. The soils are clay and limestone with silex on the surface; farming is organic and harvests are by hand with a strict selection of the fruit. Winemaking is properly natural, with a semi carbonic maceration, fermentation with indigenous yeasts and without temperature control. The wine is blended after one month in vats and then aged in bottle. There is no filtration, fining or sulphur added.
The Rouge blend changes each year. In 2018 we have an equi-blend of Pinot Noir and Cabernet Franc. There is a touch more firmness to the fruit in the mouth, phenolics to balance out the carbonic juiciness. Although it is supremely drinkable. The nose is suggestive of tangy sweet tea leaves, cherry zest, cocoa bean and pomegranate and maybe a menthol note in the background. A very nice effort indeed.
2018 Le Capitalisme Rouge
*
Interested in finding out more about the wine mentioned? Contact us directly:
shop@lescaves.co.uk |  sales@lescaves.co.uk | 01483 538820